Looks like everyone had a good time last Wednesday night at the fun drags and here is a report from Scott Smith:
We were four Zs strong and also had a bada$$ 510 of Matt's. Rob Fuller set the bar in Chuck Gross's TT 350Z with a get-you-kicked-out best-run of 11.452 @ 119.51mph. A roll bar, side bars, and fireproof jacket are required for runs under 11.5s. John Tacchi ran a fast 12.883 @ 116.57mph in his upgraded Z32TT, and made it through two rounds of eliminations, and lost with an uncharacteristic 14.4 run with on a 13.0 dial in. He must have spun the tires off the line and lost time, as the temps were getting cooler. Walt Leonard broke out on his first-and-best timed run with a 12.914 @ 104.62mph compared to his dial of 13.07(black s/c'd Z above). Scott Smith ran his wife's 2007 350Z Roadster, and was also eliminated in the first round. He dialed 14.60 and ran 14.61, but was beat at the tree. His best of the night was 14.477@98.51mph. Matt Gardella ran his turbo 510 hard, but also lost in the first round. He dialed in 13.00 and ran 13.538 @ 95.89mph, but his best of the night was 13.126 @ 103.62mph.
Stay tuned for an announcement of the final ZCG drag racing series date in November!
Matt's 510(note faster dial-in than the STi or M3 :)) and John's Z32TT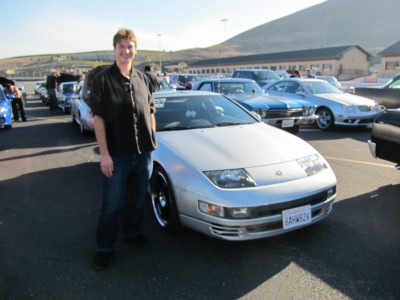 Here are a few short video clips of Matt's 510 and Rob piloting Chuck's TT 350z: