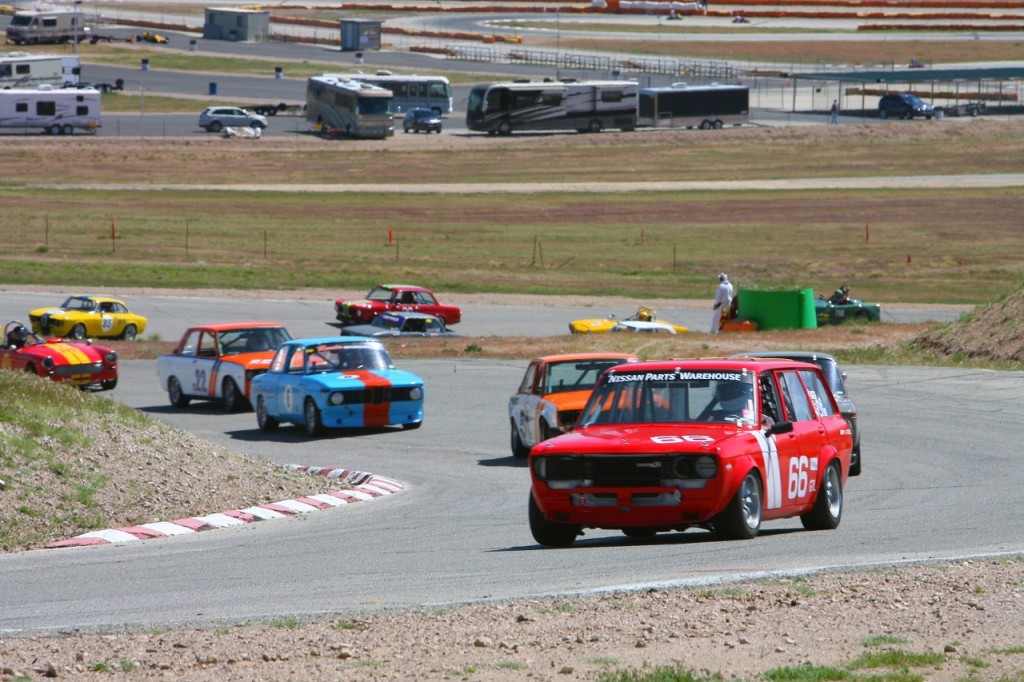 It's red. It's fast. It's a Datsun 510 wagon! Troy T is the owner of this unique vintage race car, I mean racing wagon:) Rob at ZCG helped
dyno tune
this beast on the dyno last year with great results. Catch the wagon's full build-up on Troy's site,
RacingOnTheCheap
. Here is Tim A with a full race report from the VARA High Desert Challenge last month:
I was invited to co drive in an Enduro race with friend Troy Tinsley's Datsun 510 Wagon race car. Yep wagon, wood roof rack and all. It is actually a full cage race car that looks like a Nascar under the skin, but it makes for a great conversation piece when it is not on track. The car was built by Paul Moore's Race shop in Seaside CA, Moore Speed, from a rolling shell. Troy helped over the last two years or so to build the car. The car was finished up a few months ago and Troy has run the car at a few track events and a couple of races so he is getting comfortable with the car and was ready to go back to Willow springs as he had not been there in years, and the VARA event originally had three flag races he could enter, so he could not pass the opportunity for so much track time.
Unfortunately after about revision four to the schedule, two races, the VARA annual evening two hour enduro, and the Classic Motorsports Magazine small bore challenge race were combined into one run group that was one hour long. So the requirement for a co-driver was removed as the race was shortened to one hour. Since two changes to the schedule were made that eliminated separate run groups and then cut the time on the enduro eliminating the second driver, I was not needed to participate in the Enduro. However I had scheduled the weekend and figured Troy would probably like the company and some crew help even if he had to suffer my incessant chattering in the car on the trip. Fortunately all worked out with my home schedule and I was able to go along …[read more]