Atila B. started out as the proud owner of a 2003  Lemans Sunset Z33.  Although he loved the Z he eventually stepped up to a 2009 GT-R and enjoyed taking that R35 to open track events for about 2 years. When the press announced that Nissan was coming out with an even more powerful, upgraded GT-R, Atila waited patiently and ordered this stunning silver 2013 beast you see before you!
This GT-R will not be relegated to car shows and cruising, Atila wants to take it to the track so ZCG prepped and upgraded the braking system. New rotors, brake pads, stainless flex lines and Motul brake fluid were installed: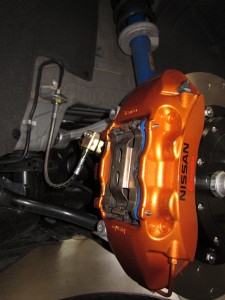 The GT-R can now be happy in its native habitat…tearing up the apexes and straights at a Northern California racetrack near you!