Here at Z Car Garage we LOVE to drive our cars on the racetrack. Open "Track Day" or High Performance Driving Events (HPDEs) are excellent venues to familiarize yourself with a car and its limits while having fun in a safe, controlled environment.  Two of our customers recently shared their first track-day experiences with us and they had a blast!
We supercharged Robert C's G35 last year and he decided it was time to do his first track event at Laguna Seca Raceway. He's added these gorgeous RAYS Gram Lights 57Xtreme wheels since his last visit:
"Rob!
Just want to tell you I had a incredible day at Laguna. David Ray is a great guy and awesome teacher. We spent the first three session working on line, smoothness and consistency with both until I had all 11 corners worked out. The 4th session we put it all together as he pushed me and it was phenomenal! When I IR'd the front rotors after the session I was over 500 degrees and they were smoking. Happy to report brakes are still great and no warpage on the rotors. Ironically David mentioned doing an ST40 upgrade which we already quoted earlier so know that is still on the radar for my next track day. Nice to have someone just back up a buying decision without asking. I did graduate to Solo and was told to register for Group B next time so pretty pleased about that. On the upside I have marked "Drive my car at Leguna and hit the corkscrew" off my bucket list. On the even bigger upside I've added "1) Go drive Laguna more. 2) Drive Infineon. 3) Drive Thunderhill and 4)Drive Buttonwillow." to the list.
David had praise for the current work done on the car and I have to agree. The work you and team have done since October last year has made this car even more enjoyable and something to proudly run on a track. The car had zero issues and feels no worse from the day."
Robert C.
In October we added some bolt-ons and tuned Garth J's 350z preparing him for a day at Thunderhill Raceway:
"Hi Rob,
Thunderhill track day was awesome a few weeks back. Car felt great. The Bridgestone S04's were a major upgrade. Thanks for preparing the car for a great experience. I'm thinking about auto-crossing next season.Will be needing some routine maintenance in the new year. Can we schedule something mid January? Happy Holidays."
Garth J.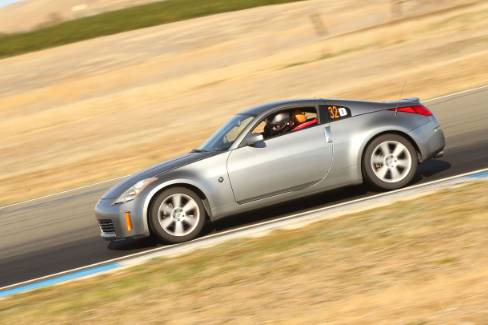 Ready to experience your Nissan/Infiniti on the track? We can help!