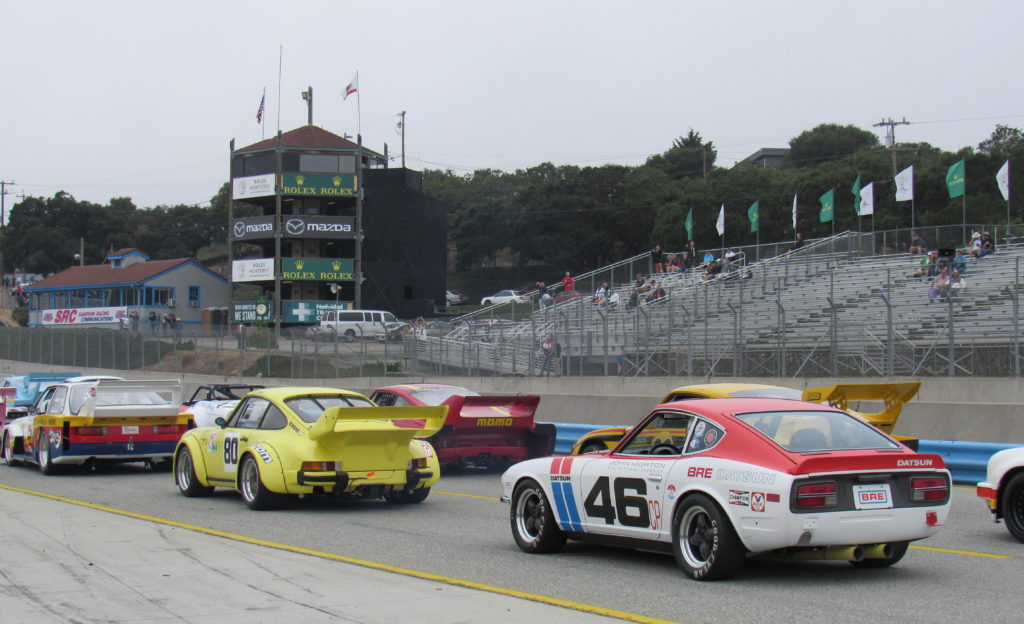 There are vintage races every month of the year, but few draw such amazing metal as the Rolex Monterey Motorsports Reunion. Now in its 44th year and commonly known as the Monterey Historics, the Reunion is a highlight of the famous Pebble Beach "car week" in August. This event features the best of every decade of racing history, all condensed into four days of qualifying and competition at Mazda Laguna Seca Raceway.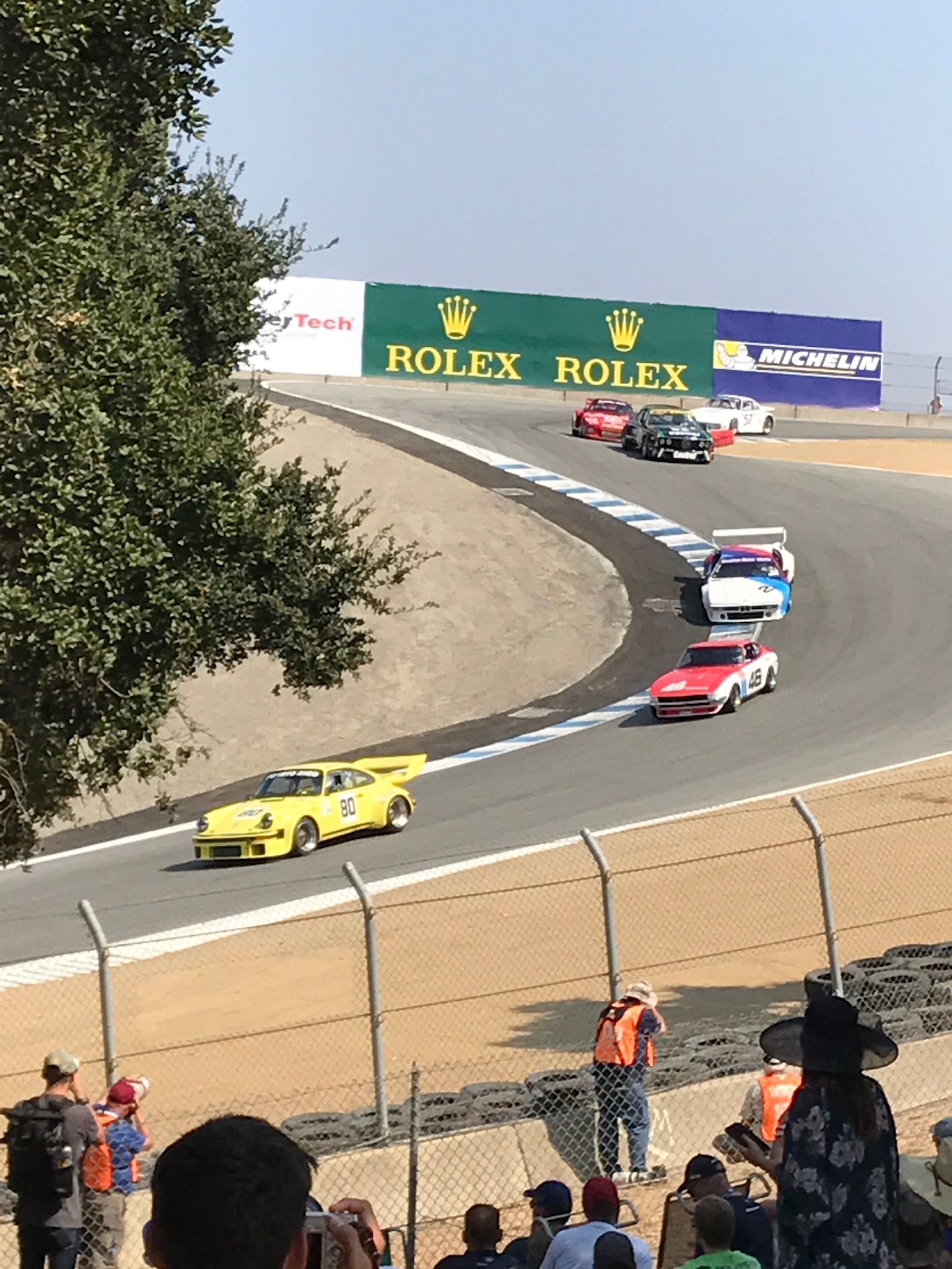 The action on the track is only part of the story at the Reunion. The real fun is in the paddocks, where hundreds of cars stand ready to race, attended by their anxious owners, drivers and prep teams (sometimes all the same person).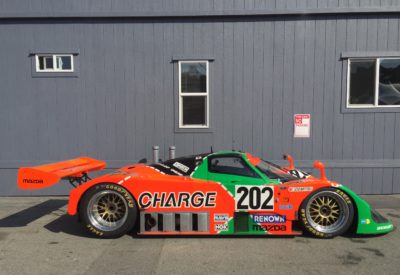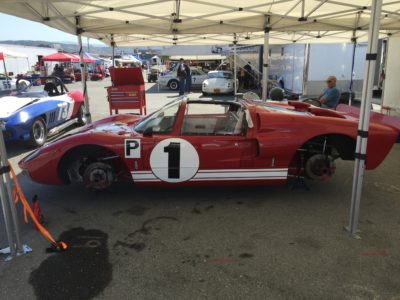 We had a blast at the RMMR and I was once again fortunate to be on the pit crew for a significant Datsun race car. Read further for our report, illustrated by a 200+ shot gallery with videos. Enjoy!
The BRE Datsun 240z driven by John Morton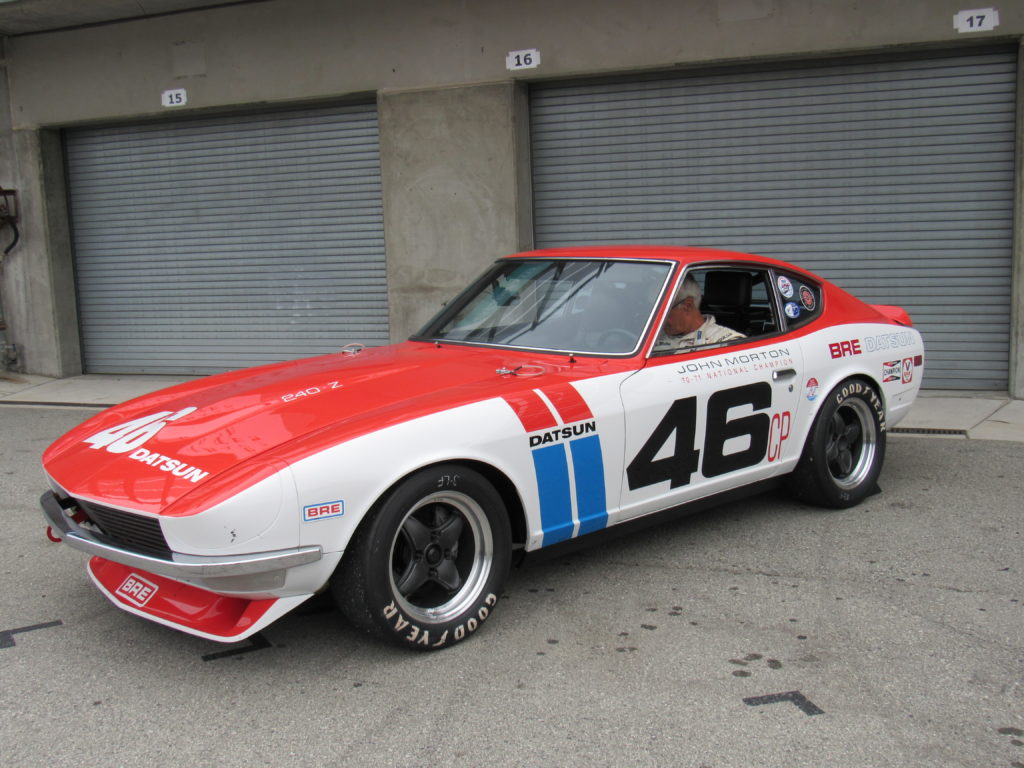 For this year's Reunion, Z Car Garage prepared and supported the #46 BRE Datsun 240z piloted by our hero John Morton. Owner Randy Jaffe restored this Z over several years with fanatic attention to detail. Briefly, the original 1970 car was wrecked in 1977 and sat idle until Randy located it in 2016. The car was rebodied and reconstructed using all of the original surviving parts with help from Peter Brock, John Morton, John Knepp, and Jon Caldwell from the storied BRE team. Stay tuned for an in-depth look at the build.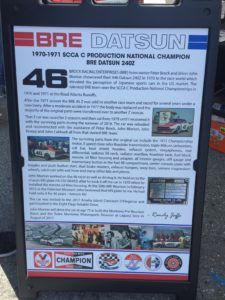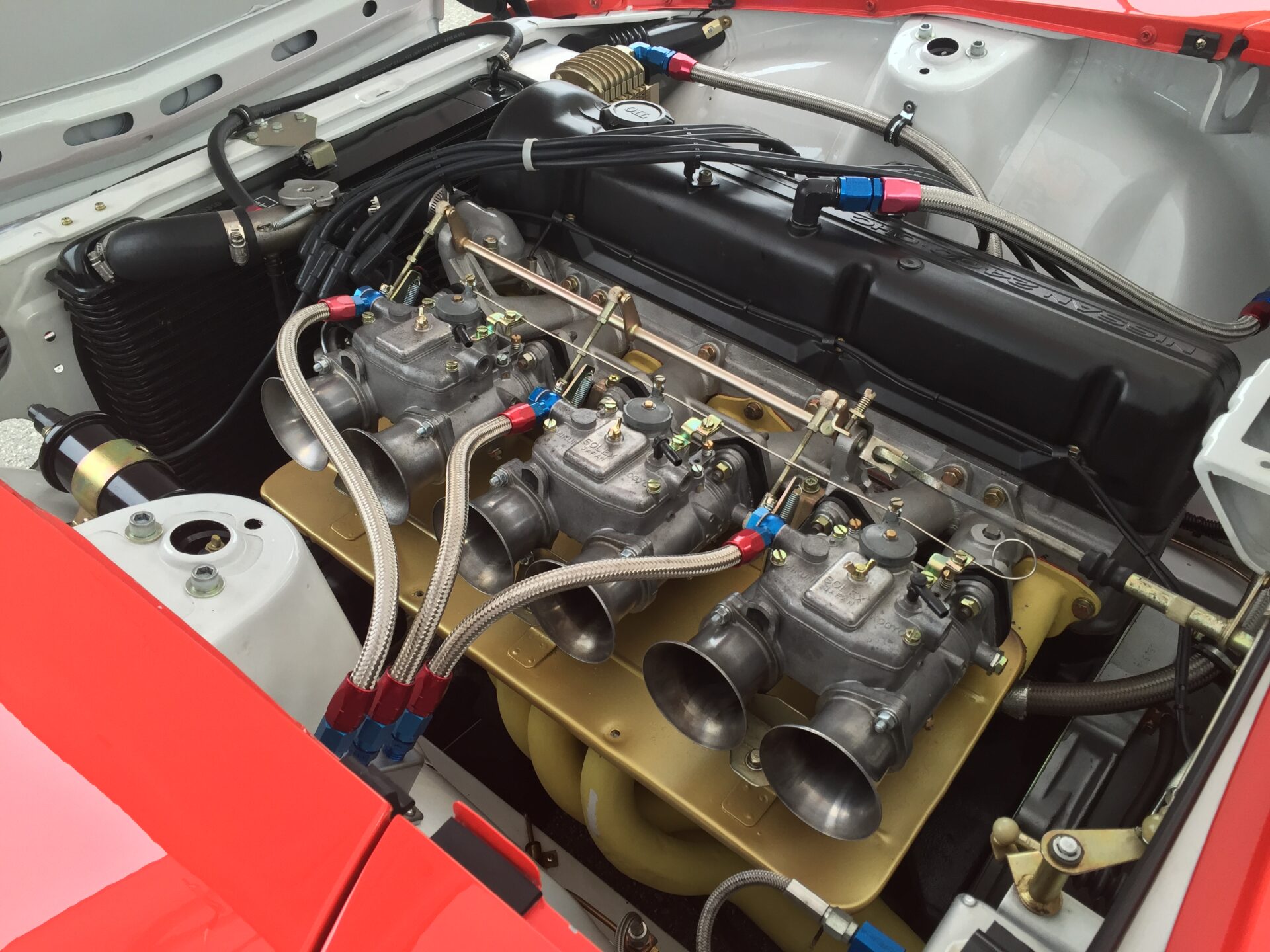 A sampling of the original parts is shown below including the exhaust header with megaphones, SW gauges, and BRE remote oil filter/cooler. Original BRE heat shield and fuel block pictured above.  All assembled by the crew at ZCG prior to testing: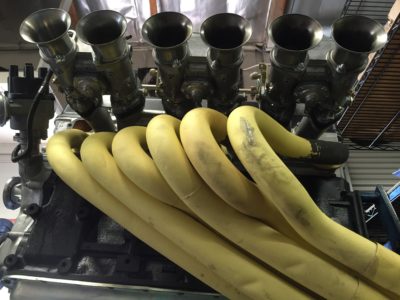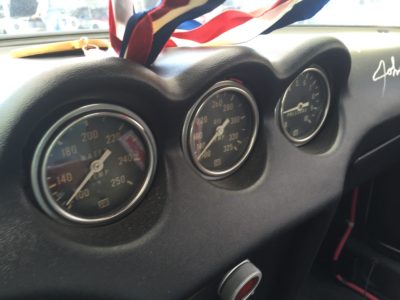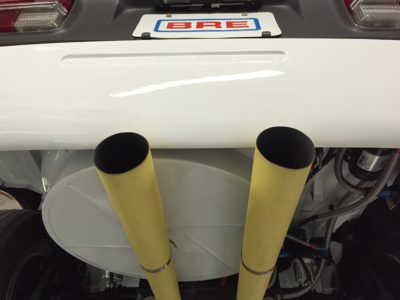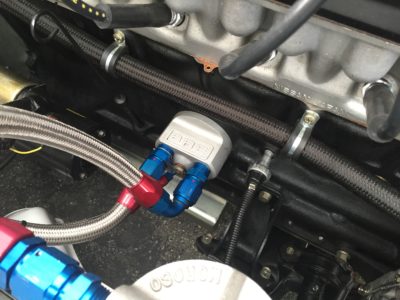 Randy approached us at the 2015 RMMR and expressed his vision to complete the car and have John Morton drive it at the Historics.  Randy made a fantastic, highly (the most accurate to date) correct BRE tribute Z, but it would need full race preparation to compete at the Historics. After taking the Z to several shops Randy shipped it to us from his hometown in Georgia and we began prepping the car. Here is the Z the day it arrived at the shop and in-progress: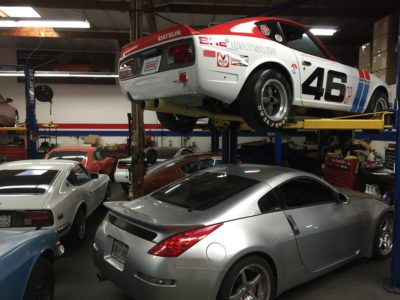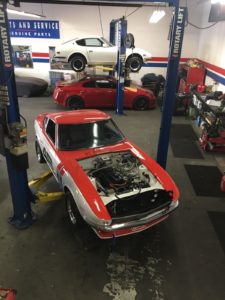 On the dyno making some beautiful, triple-Mikuni carb'd, straight piped, L-series music. We were now ready to run the Historics:
The paddock life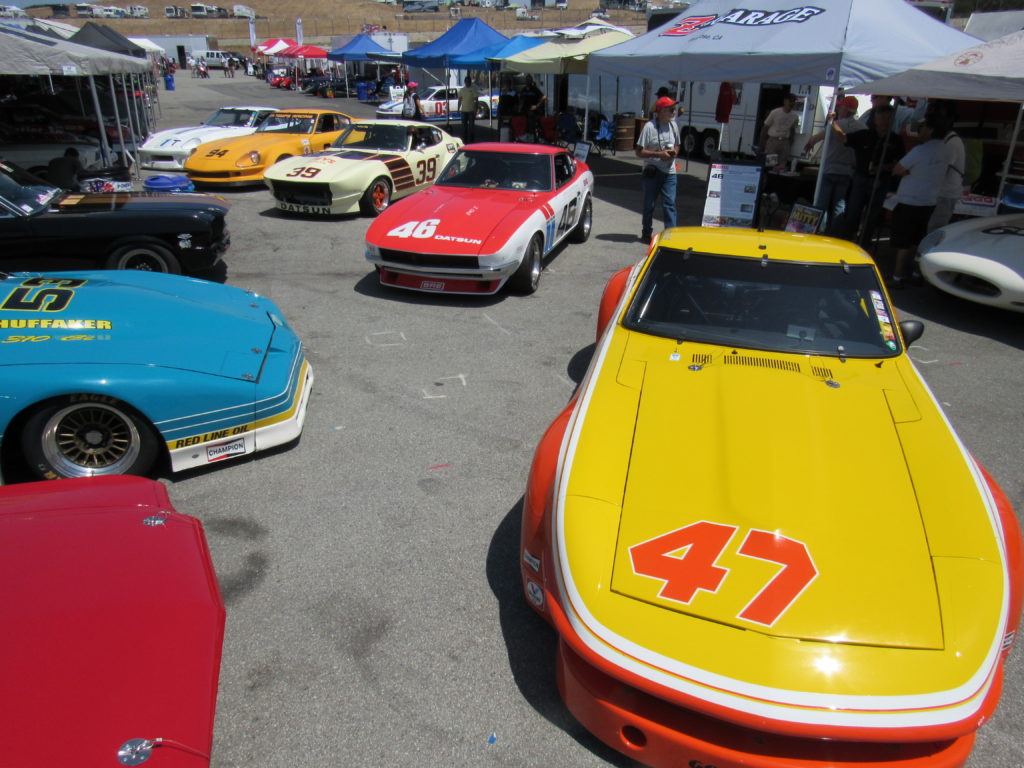 It's one thing to be at Laguna Seca's famous Corkscrew to watch the cars wind down that 5-story twisting drop, but it can be just as much fun to walk through the paddock, getting a close look at the race cars and talking with their owners who are happy to answer questions. Before we look at #46 on the race track, let's first take a trip through the paddock and visit our fellow racers:
Upon my arrival Thursday morning I was pleasantly surprised to see #46 pitted with several fellow Datsun Z racers from Group 4A: 1973-1981 FIA, IMSA GT,GTX,AAGT Cars.  All of these Z's were tuned by Rob at ZCG! The camaraderie and good times spent with these folks was memorable. We shared pit space with our friends and fellow vintage racers Glenn Chiou, Dave Stone and Larry Oka. Dave Stone returned to the Historics in his '73 260z built by Troy Ermish.  Lots of neat details of this one in the photo gallery: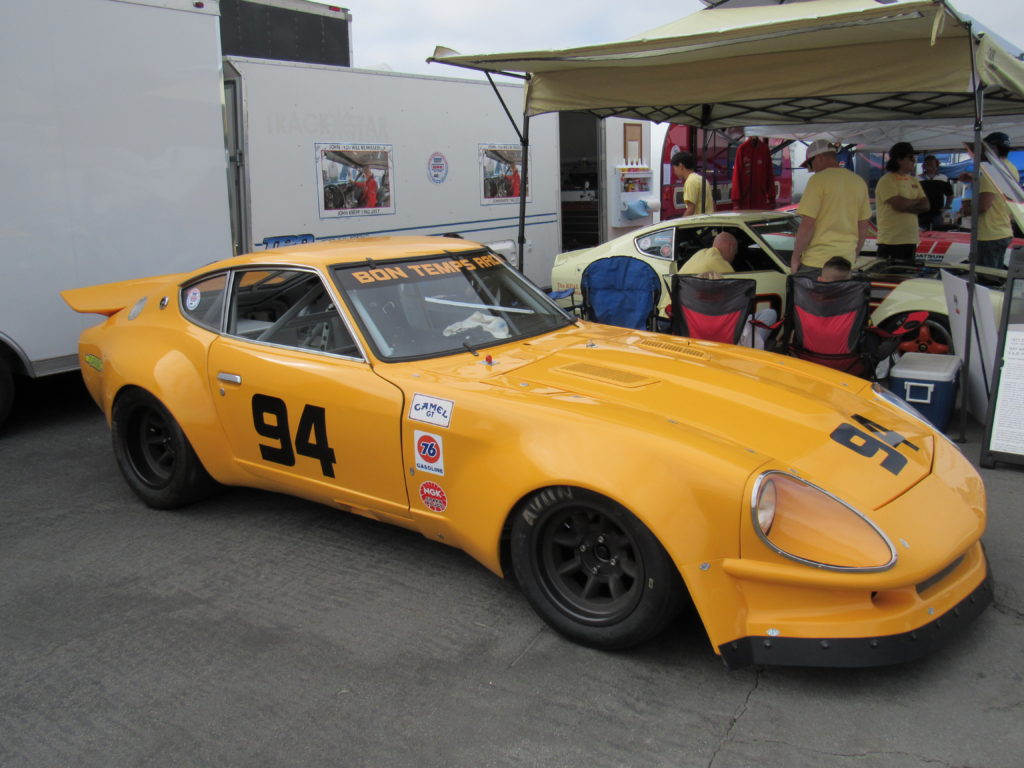 Glenn Chiou's RMMR debut in the Loren St. Lawrence 1971 240z: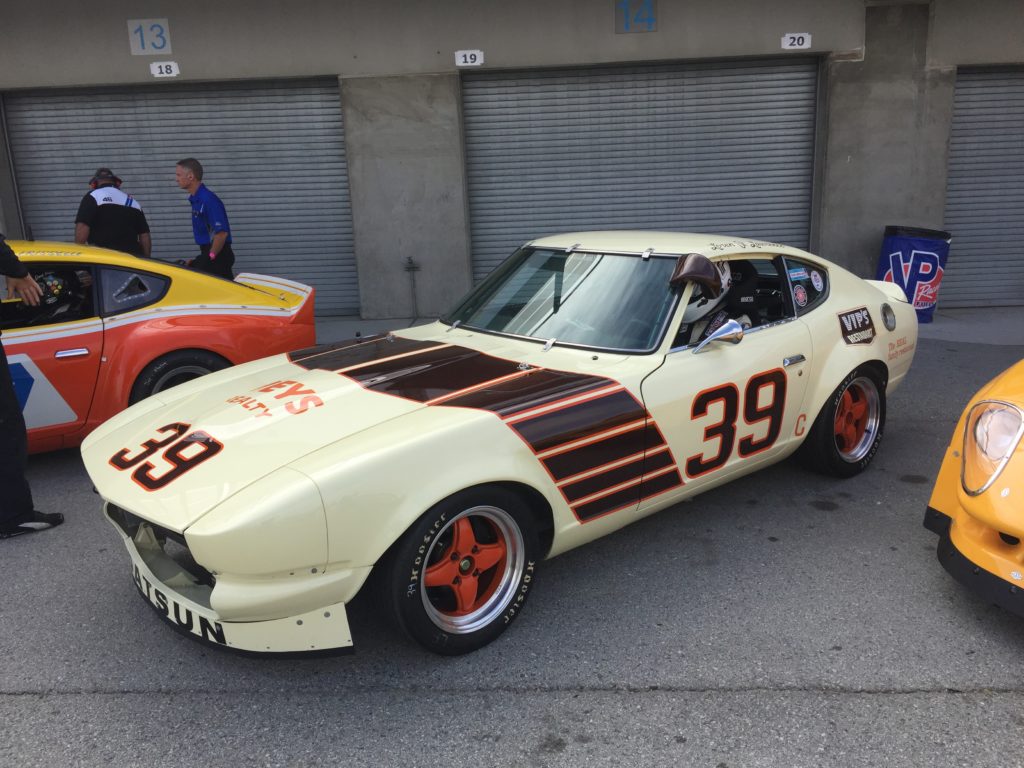 David Martin's crowd-favorite Frisselle 1972 240z: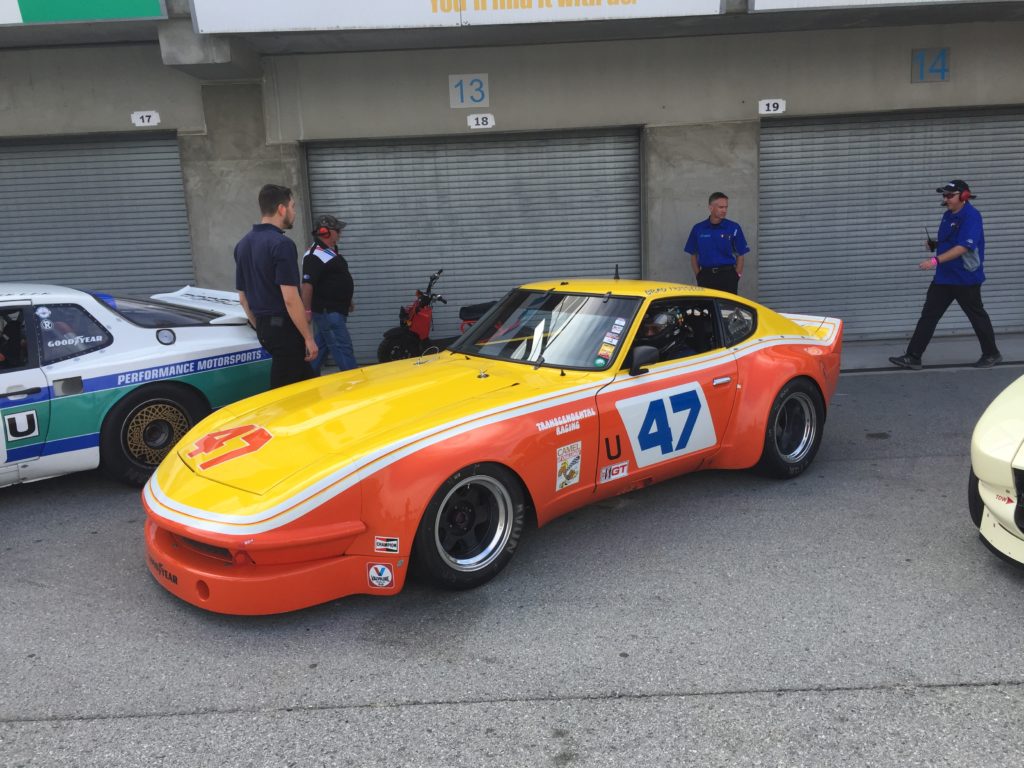 The S30s looked awesome together out on the track!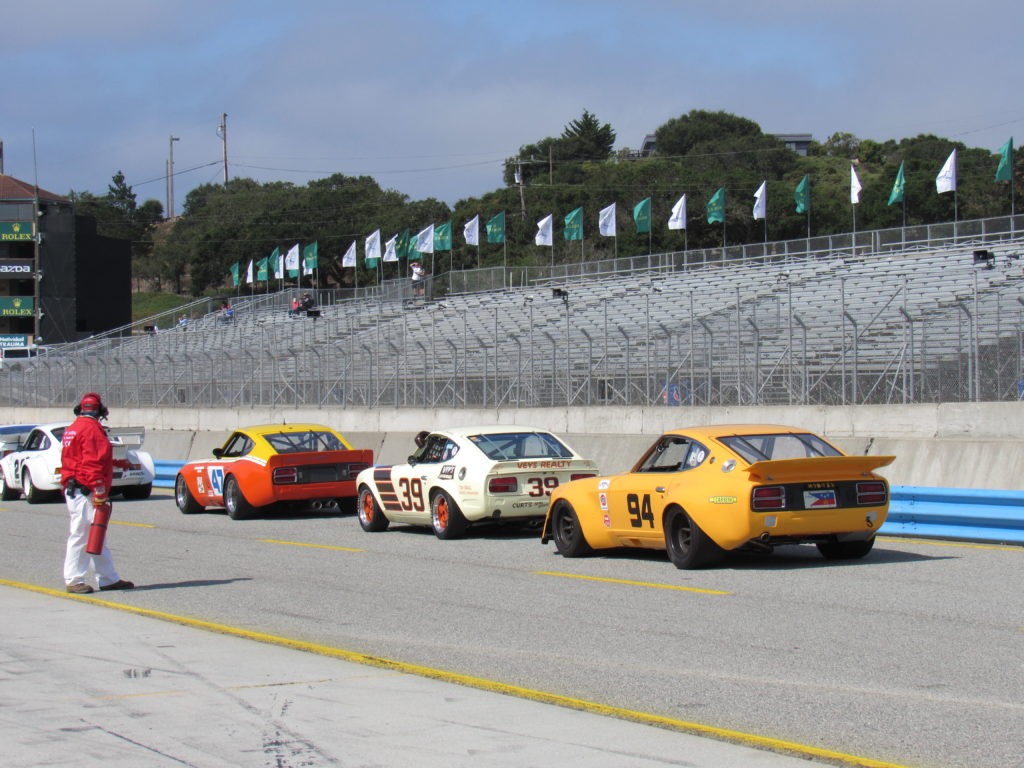 A rare sight indeed, four Datsun roadsters were racing at 'Seca! Michael Sweeney's '65 1500, our friend Ron Carter running his 2nd Reunion in his '67 2000, Phil Mendelovitz's '67 2000 and Michael Chandler's '66 1600.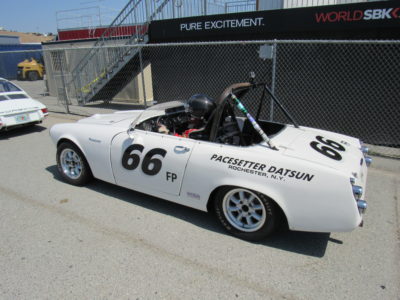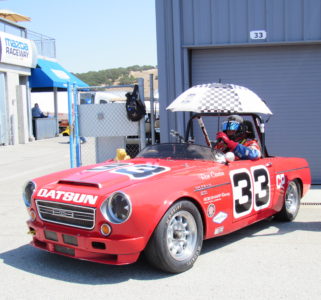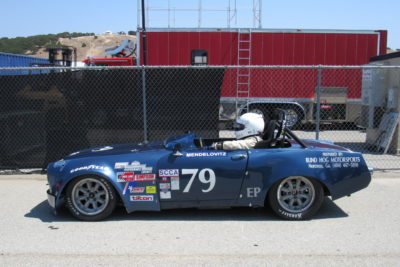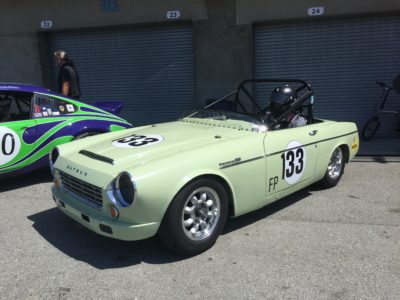 Rounding out the Datsun contingent were Jonathan Ornstein's 1979 Datsun 280ZX, prepared by Les Cannaday and the Leitzinger IMSA GTU 240sx owned by Phil Mendelovitz: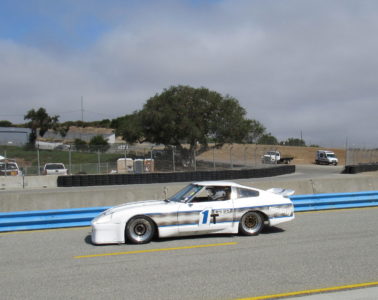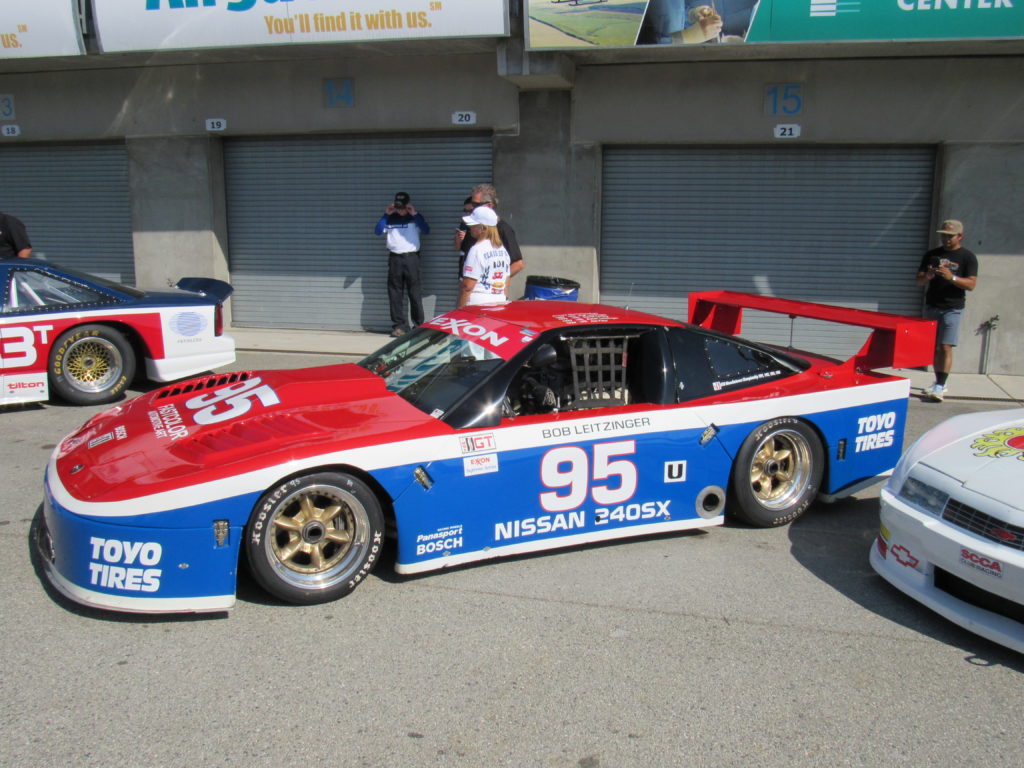 We'll visit more paddock candy later, now let's take a look at these cars on that 2.238-mile, 11-corner wonder officially known as Mazda Raceway Laguna Seca!
Race Day: Keeping Up With John Morton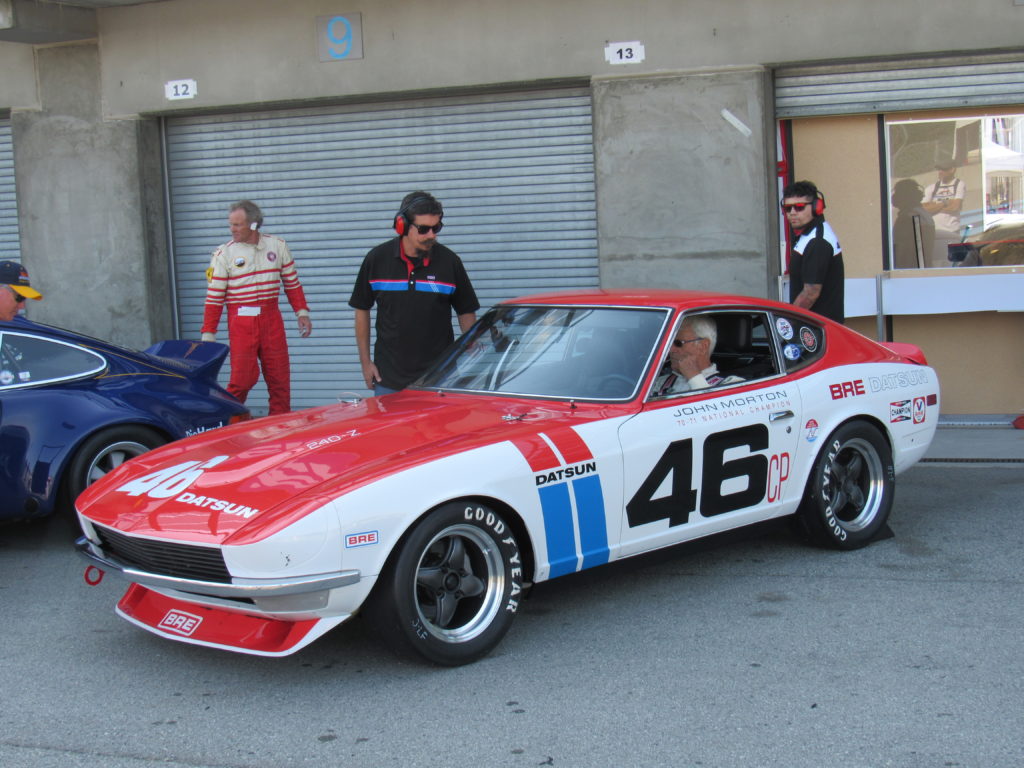 The RMMR was preceded by a "shakedown" event a week earlier called the "Pre-Reunion".  We had a successful Pre-Reunion race week where John Morton finished 6th and 8th place in a sea of high-powered Porsche RSRs and 934/935s! The#46 BRE 240z ran flawlessly and John was turning faster lap times with each session clicking off 1:41s down to 1:40s: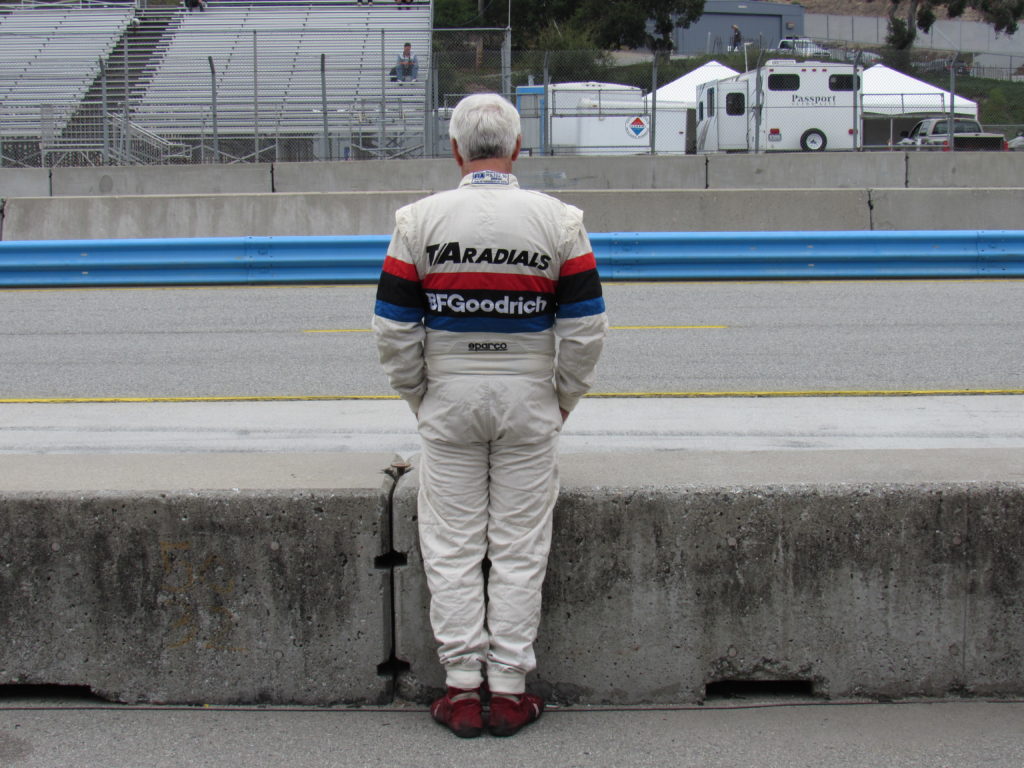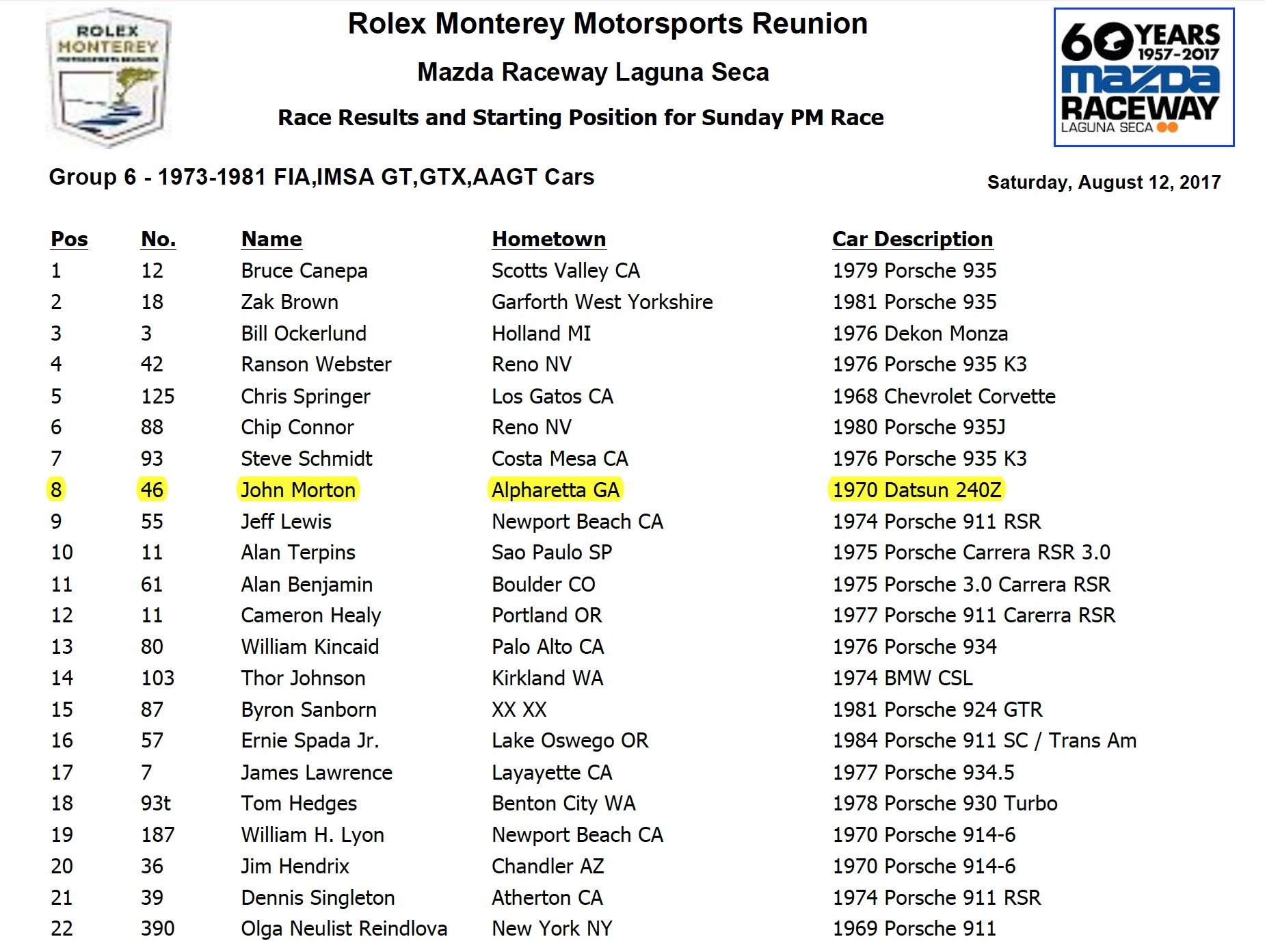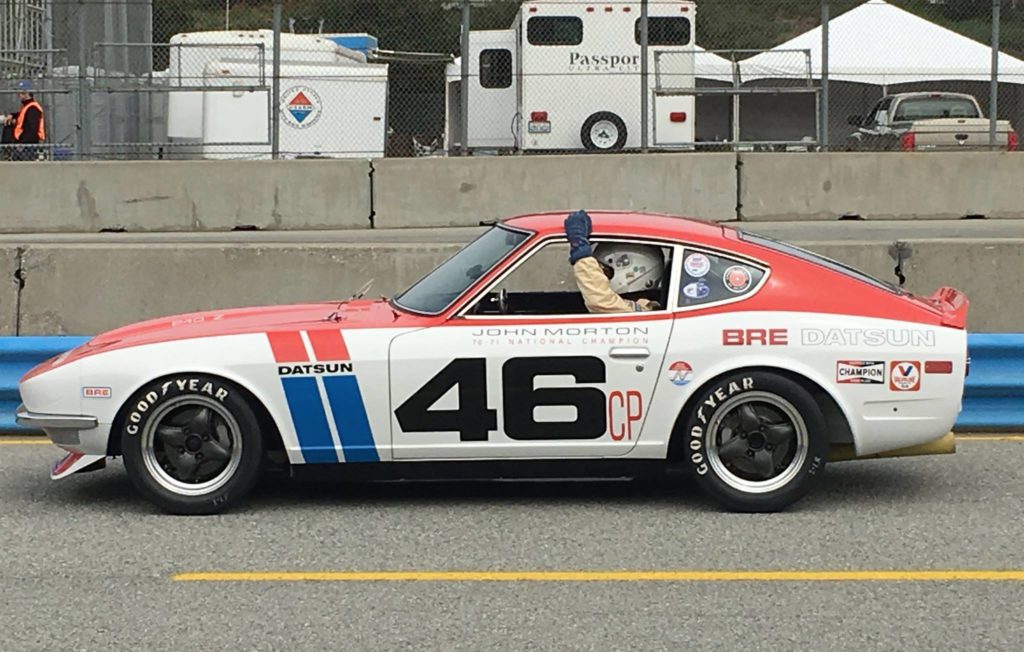 With the Pre-Reunion completed and the Z dialed in it was time for our big race at the RMMR on Saturday in Group 4A.  John put on another stellar performance running consistent 1:40's with a best of 1:39.6 during the practice/qualifying sessions.  Although the routine of running pit crew was familiar to me it never gets old. From fuel filling, engine warm-up to tire pressures and checklists I love sharing the sights and sounds from each session.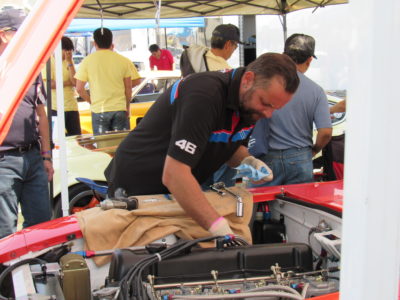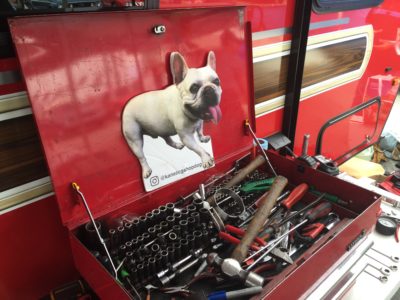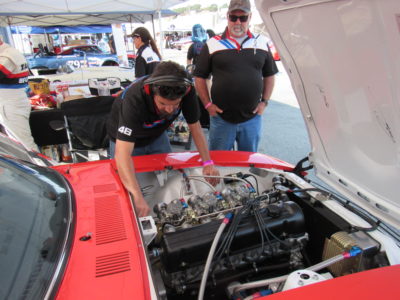 John was happy with the Z's performance. Sylvia Wilkinson, John's lifelong partner also told us good things by giving us a breakdown between sessions complete with lap times and feedback from John. After qualifying 16th place Saturday morning the only change we made was a fresh set of spark plugs.: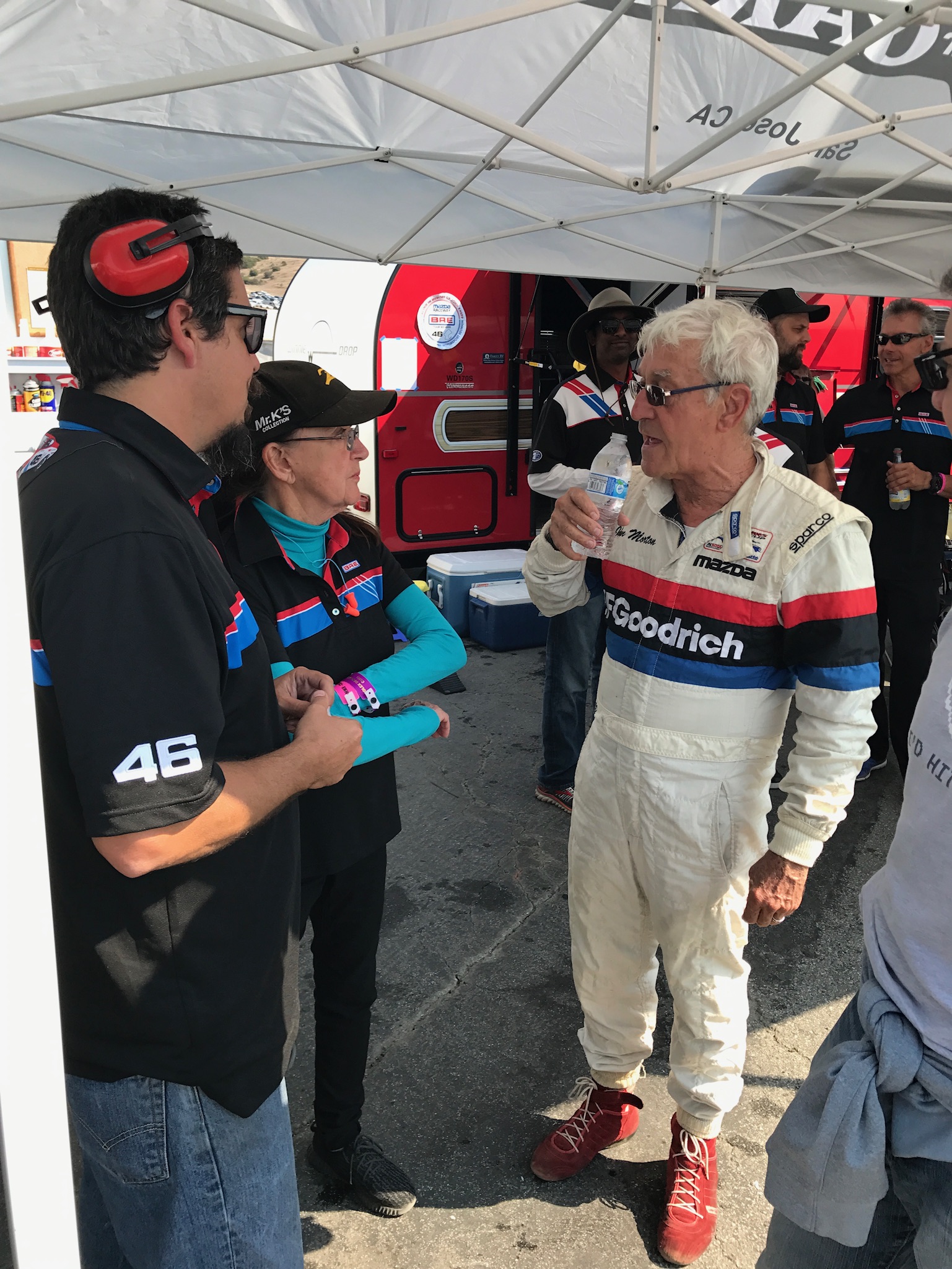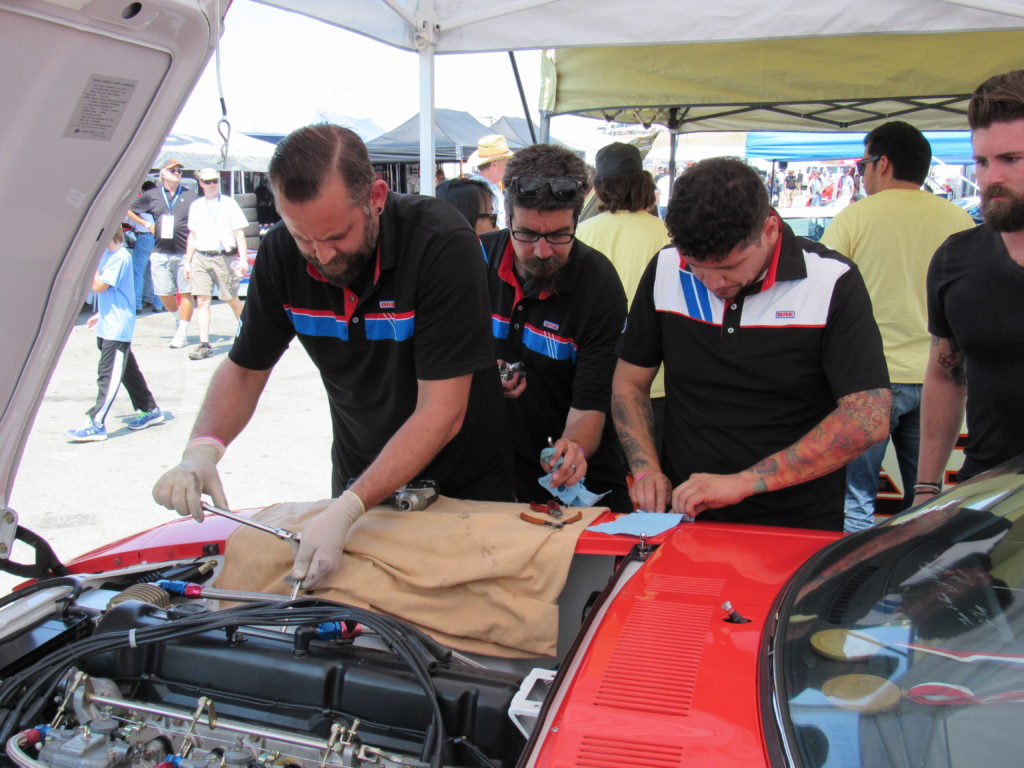 After the Z was ready for the big race, John got strapped in and he motored away to the starting grid. John Morton was driving #46 again.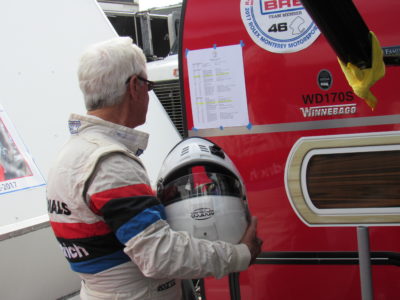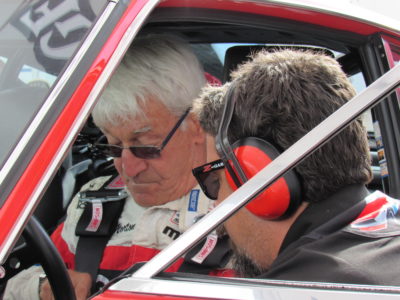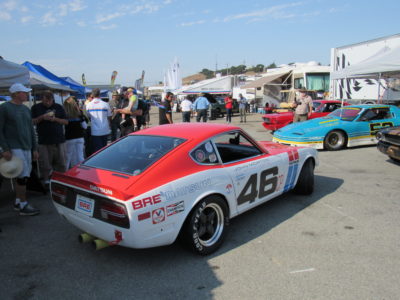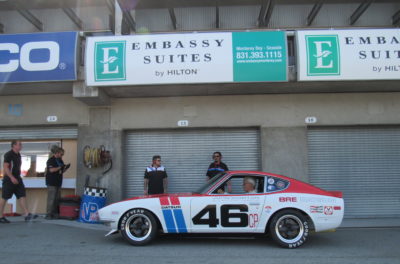 We anxiously followed John on foot to the starting grid. A wave of colors from vibrant livery was displayed as the cars staged. I was in heaven because all of the rad machinery in one place…with #46 in the middle of it: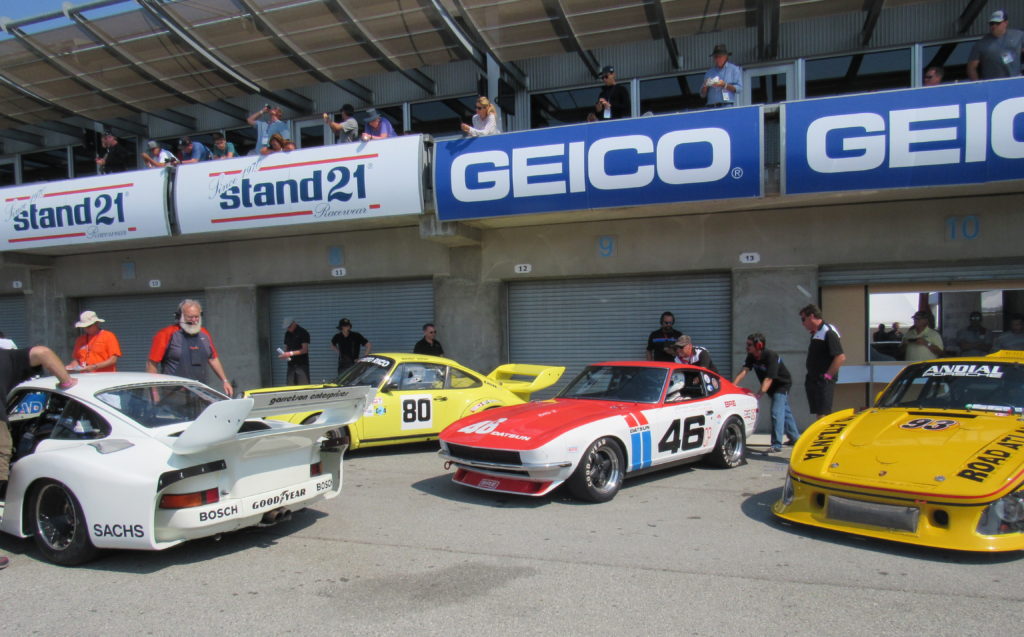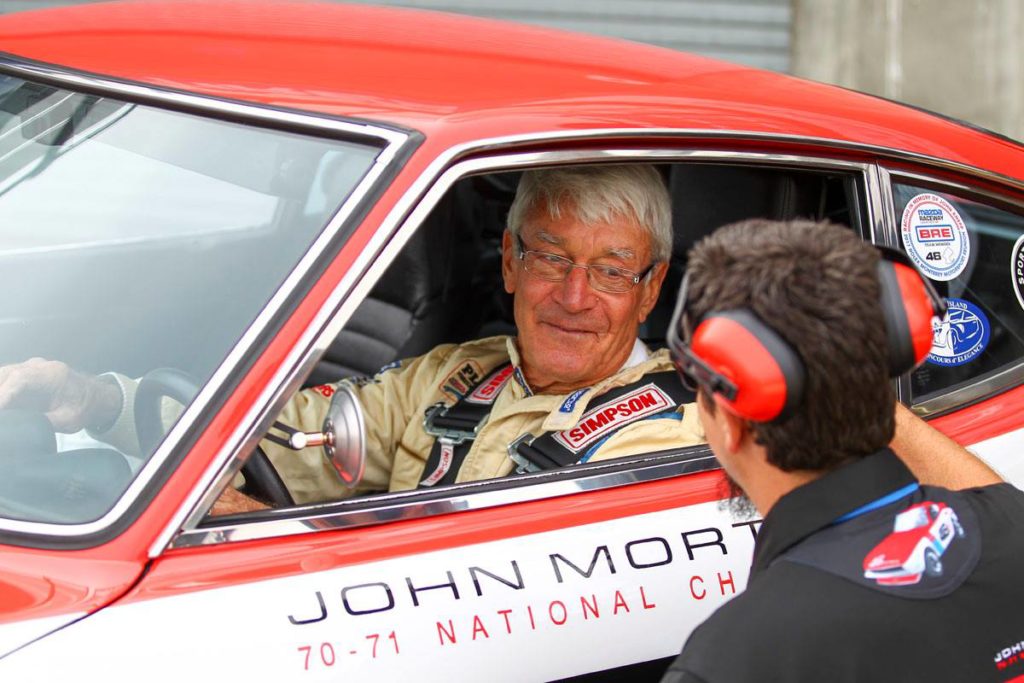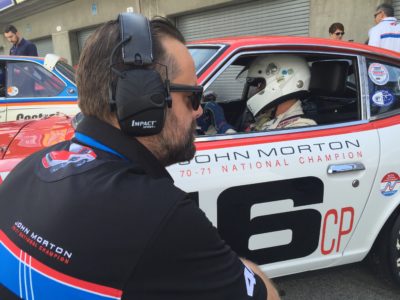 The signal was announced and group 4A rolled out to the starting grid.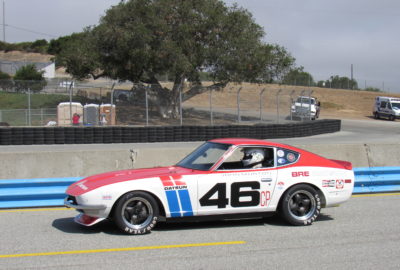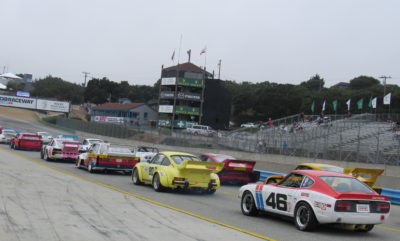 This video coverage of the group 4A race from Motor Trend and Travis Baraki gives you a sense of the staging, rolling start and a few turns, watch for #46!
Want to know what it's like behind the wheel of the BRE Datsun 240z? Take a few laps with John Morton in #46 in this video we compiled from in-car GoPro footage. Lots of multi-camera angle action highlighted here from dicing it up with Porsches to passing BMW M1s 🙂  Turn up the volume and enjoy!
Great on-track shots of #46: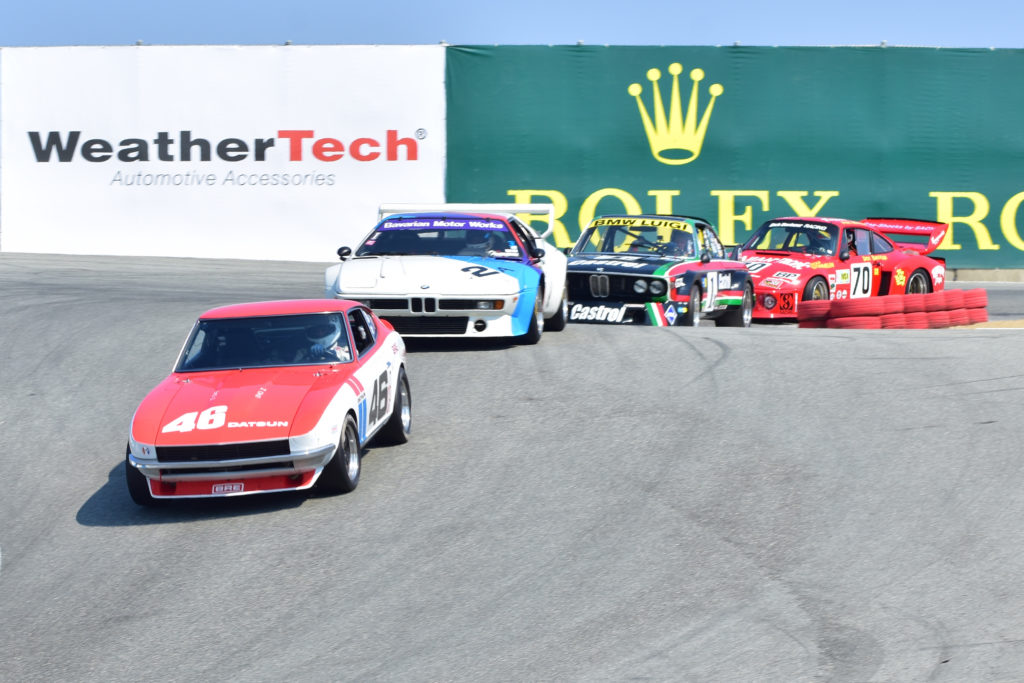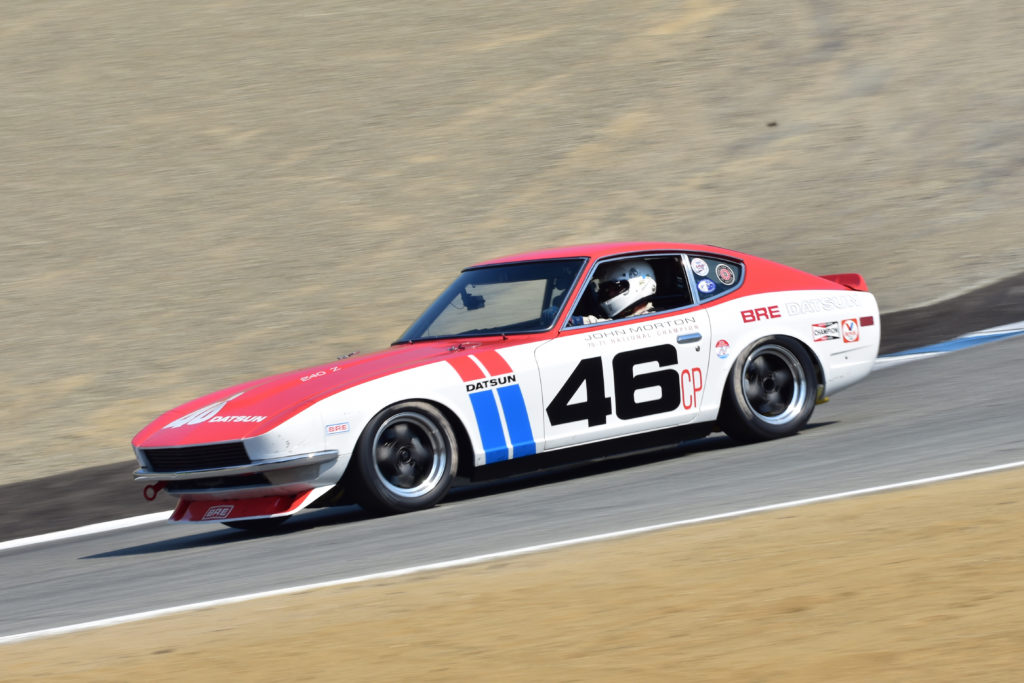 John's fastest lap (1:39.6) with telemetry from Harry's Lap Timer:
The race was exhilarating and both nerve-wracking to watch. John was driving insanely well yet again, even battling an M1 and 934 for several laps! With only 4-laps to go and in 12th position the halfshaft failed exiting turn 3 and John (thankfully safe) waited to be towed back into the pits. It was heartbreaking but that is racing. We will be back! With help from our friend Glenn a new halfshaft was installed Sunday so we could load up the Z. Thanks Glenn!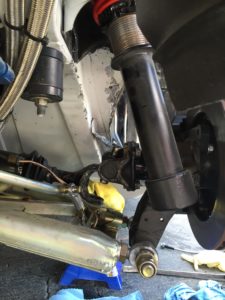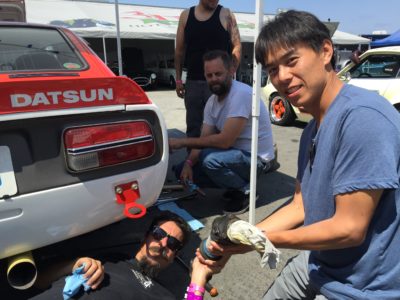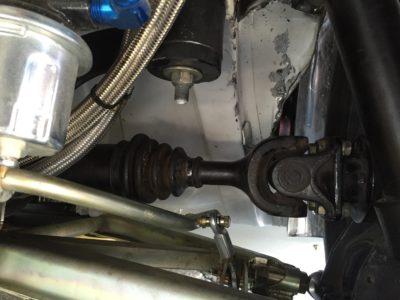 We were thoroughly impressed by John's skills (at 75 years old!) and how the Z battled big-dog cars running full aero with massive rubber.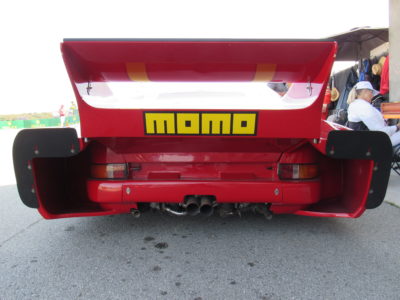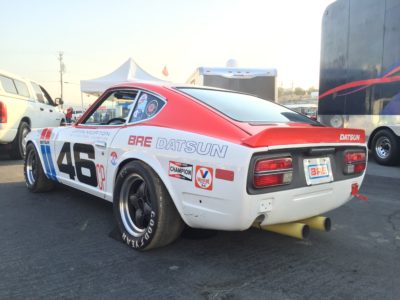 John said on several occasions, "This is the best prepped race car I've driven". We couldn't have been happier to hear this. Worth toasting to!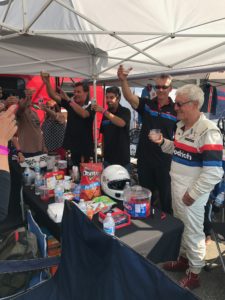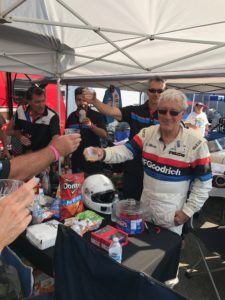 Of course none of this would be possible without a great team so we give a huge thank you to family, friends and the crew at Z Car Garage.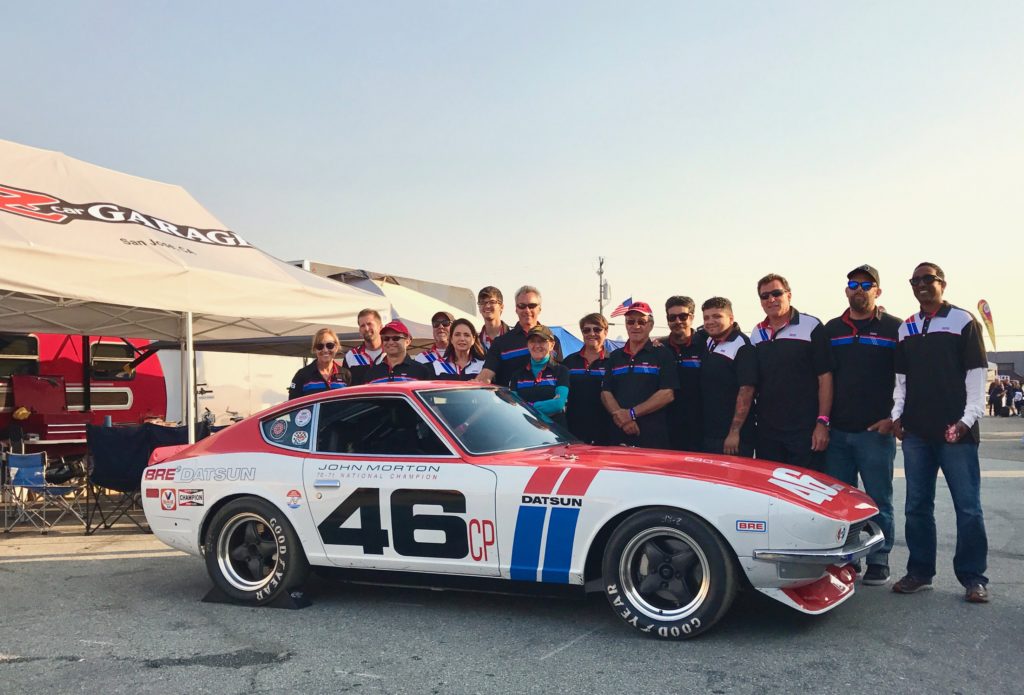 The Z was a success off-track as well. Randy drove the BRE car along with other racers via police escort to the Carmel-by-the-Sea Concours on the Avenue Show. Icing on the cake: he even won an award with John Morton riding along: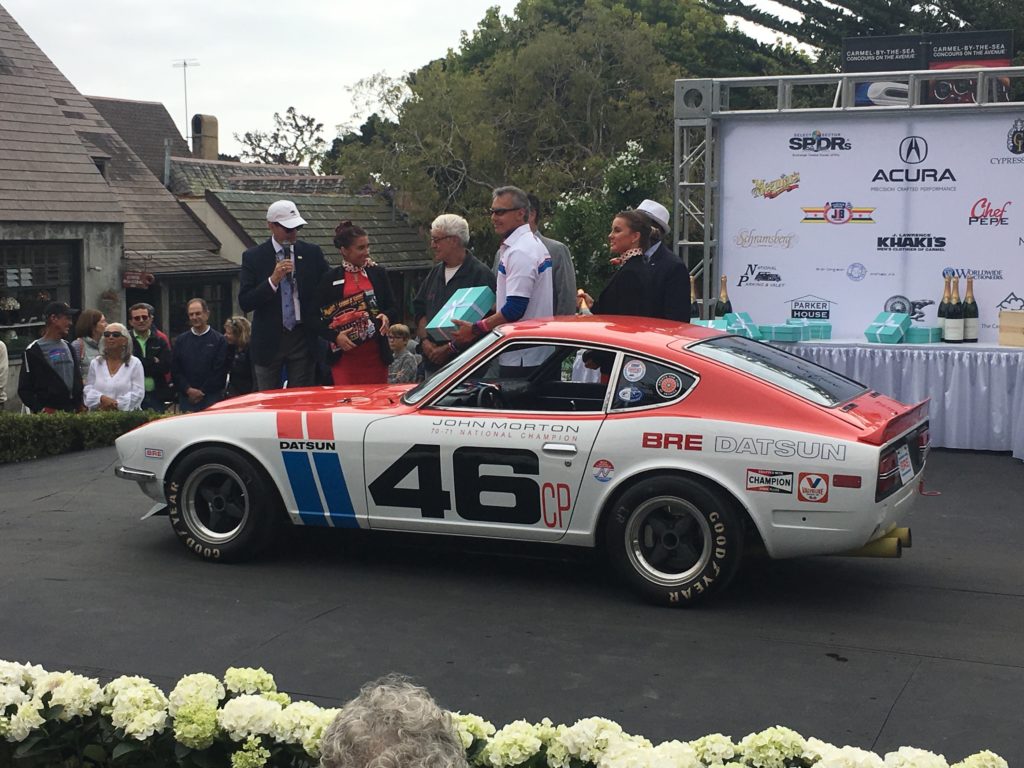 Enjoy this video from the event including the police escort, nice revving amongst expensive show cars and some good times with Pete Brock and John Morton:
Paddock Highlights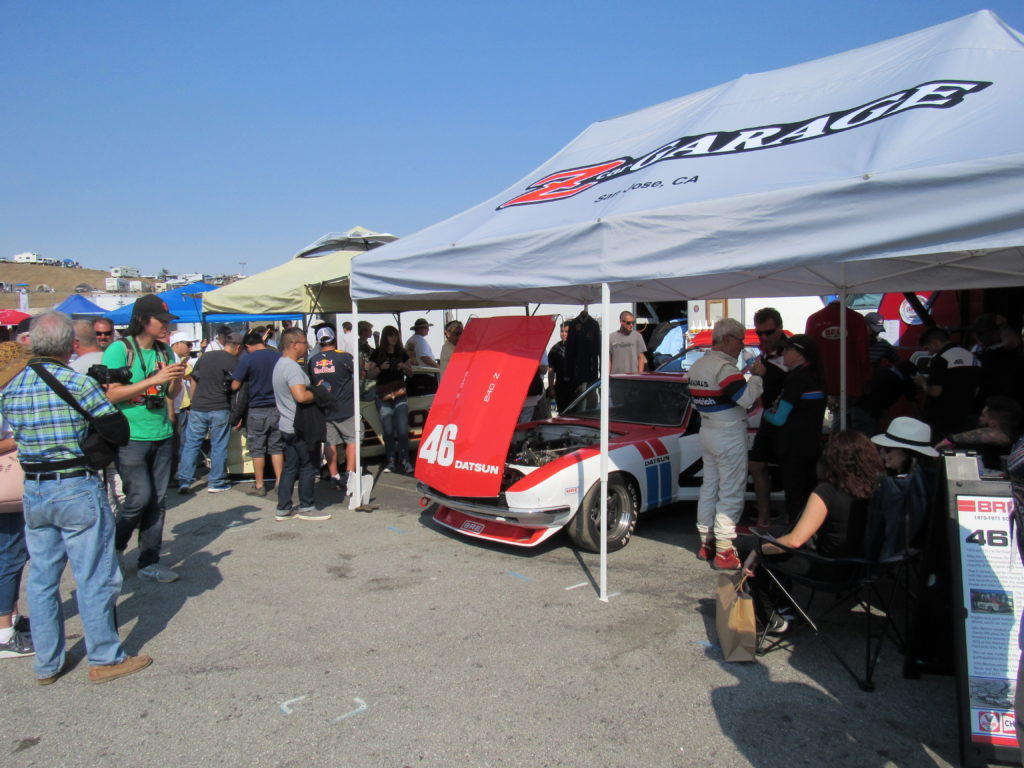 This year's RMMR was the most enjoyable because of the wonderful people that we pitted with and folks that stopped by to visit. Randy Jaffe really put in a tremendous effort creating a Datsun-lover-friendly atmosphere. In addition to commemorative stickers he placed posters up for friends to sign in memory of John Knepp: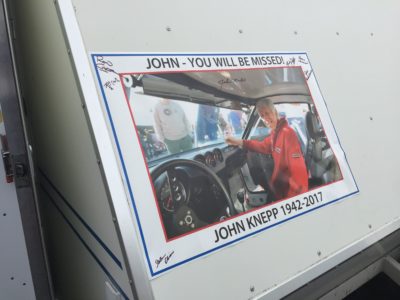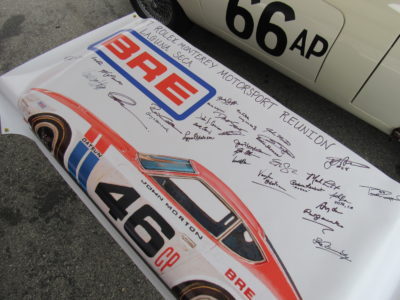 John Morton spent time signing memorabilia and taking photos, a true class-act.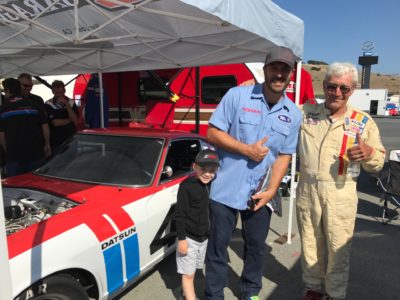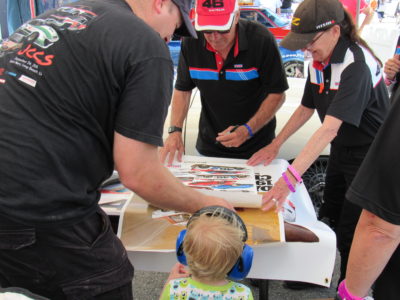 Another aspect of the fun is family. Randy invited his sisters to be part of the race weekends and Josh's father Keith Corwin was an integral part of our team: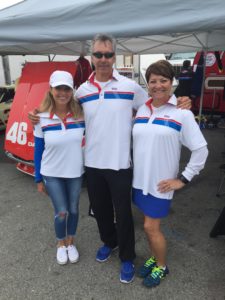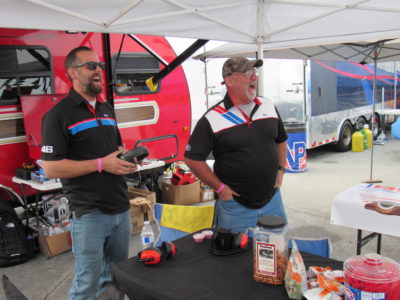 We were humbled by the number of people that stopped by including Pete and Gayle Brock and Mike Joy. I caught Pete Brock taking iphone pics of our engine bay!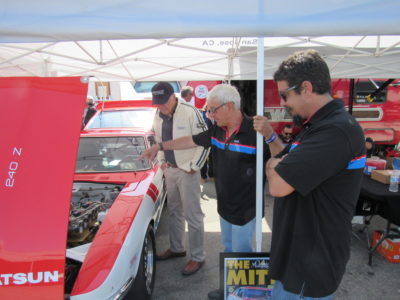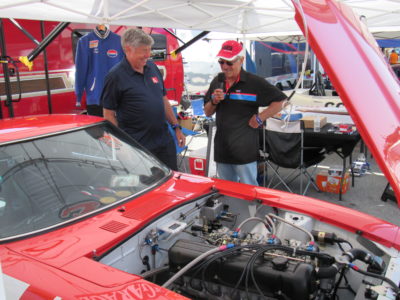 Here is Mike's interview with John for Motor Trend's race coverage:
Our pit-buddy Glenn Chiou was great to be with. The vintage Datsun race world had better keep an eye out for this rising star!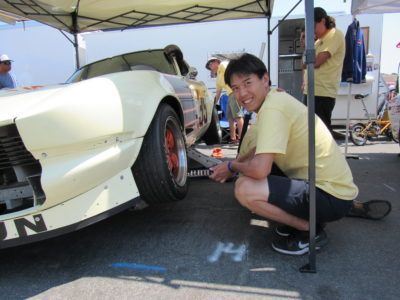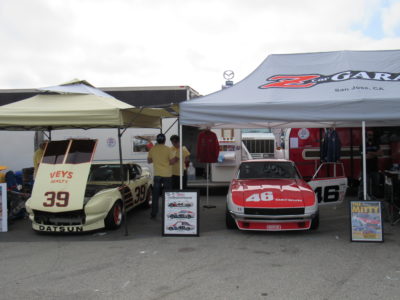 Rob and crew always willing to lend a hand, even if it's for the competition!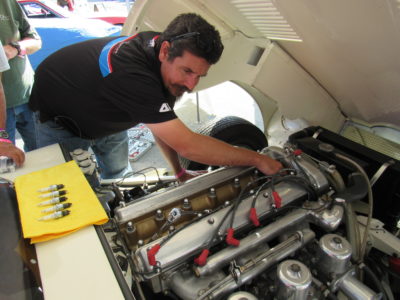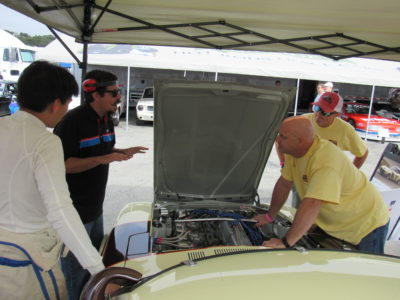 It was great to see our friends from Bring A Trailer who had a tent with several cars on display including a Lancia Delta Integrale: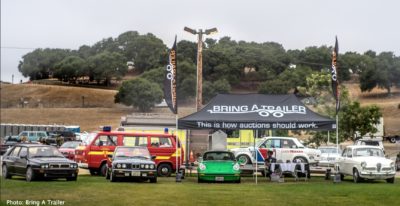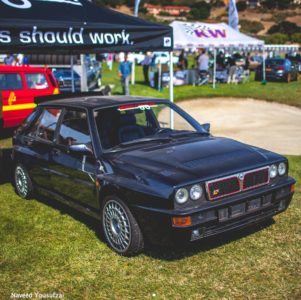 Epic Racers
At every corner there is wicked metal with history begging to be told. Please visit our photo gallery for more! Here is a Shelby Cobra factory team car CSX2136: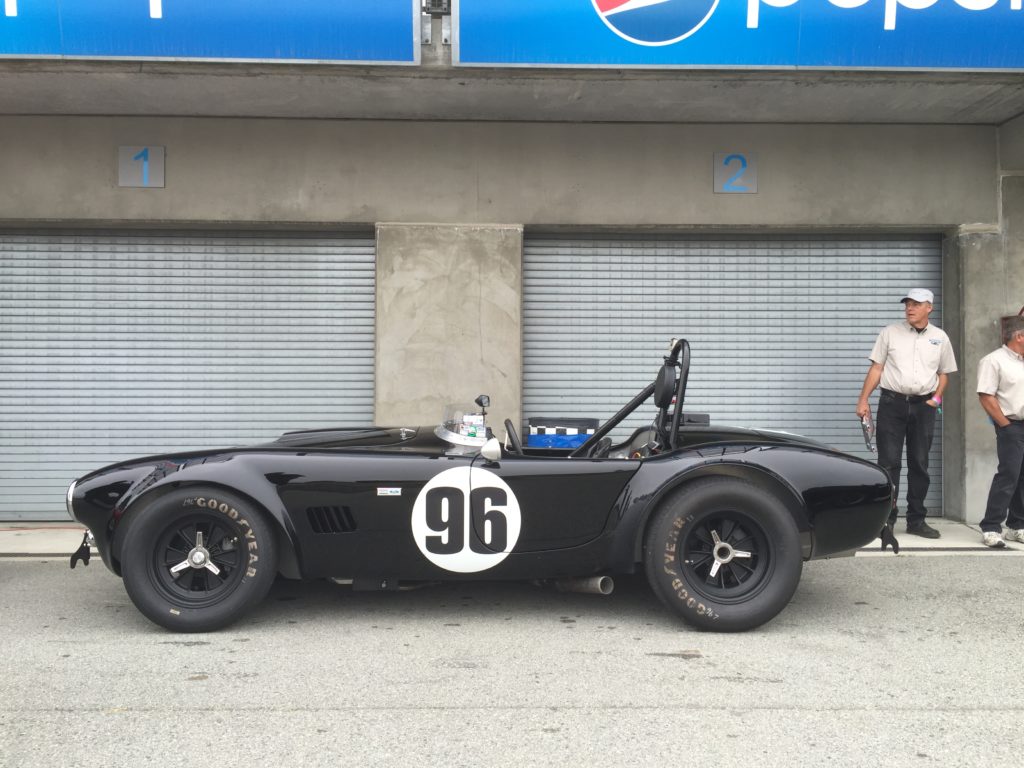 One of several gorgeous Porsche 934s. This one mixed it up with John for many sessions: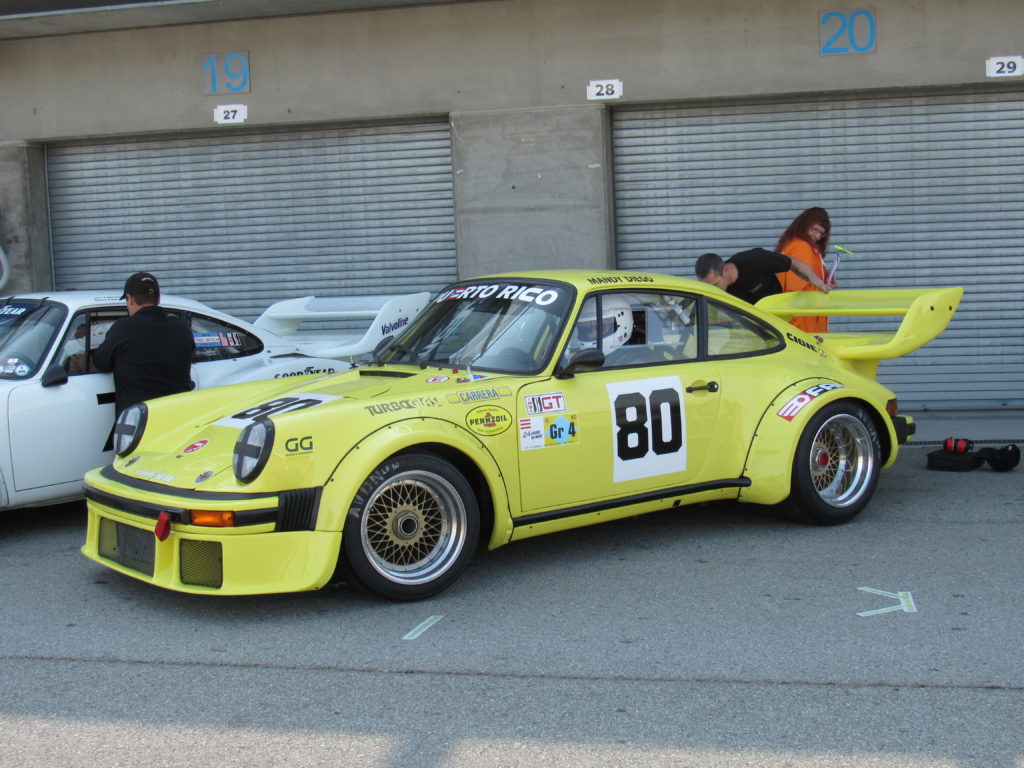 Mazda's incredible collection of racer cars from the 767B to MX-6: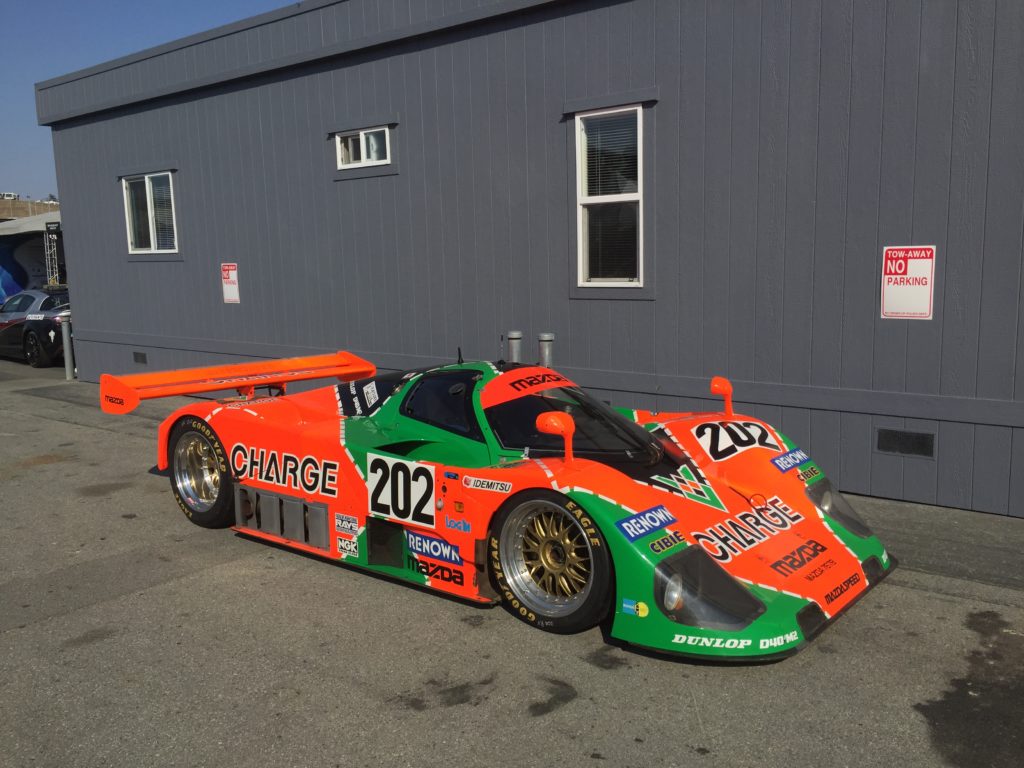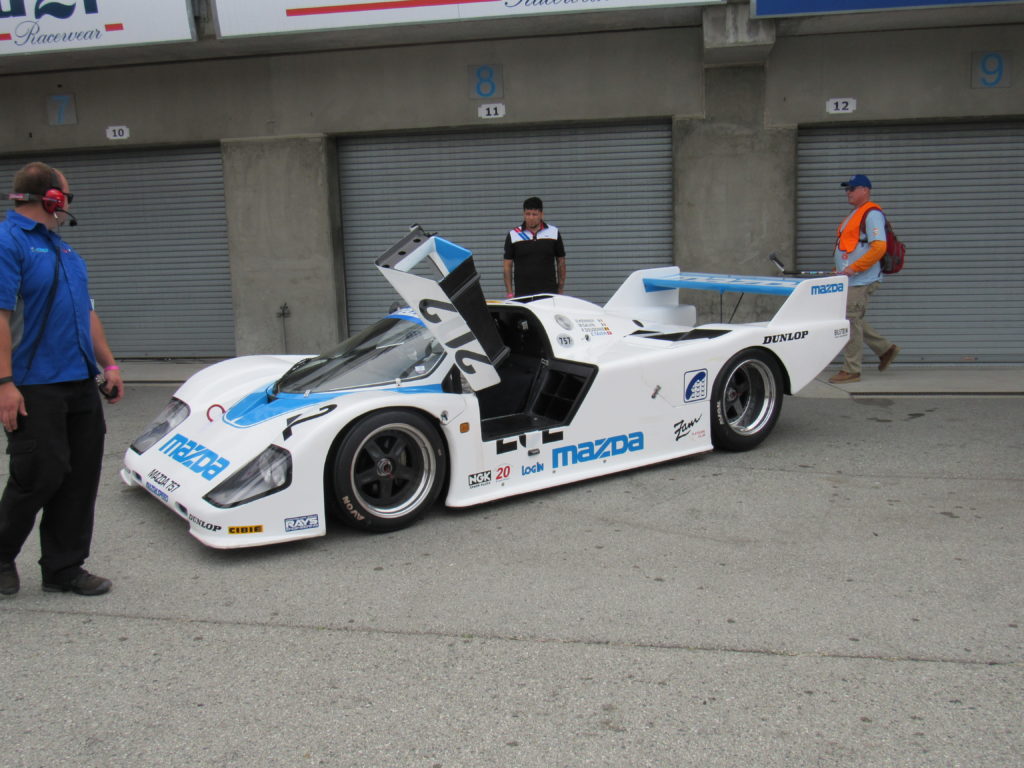 From highly collectible and expensive to downright zany you never know what to find in the paddock. Check out this Deathmobile from the movie Animal House: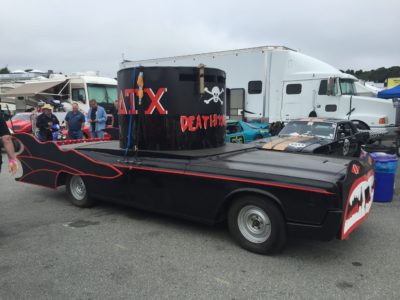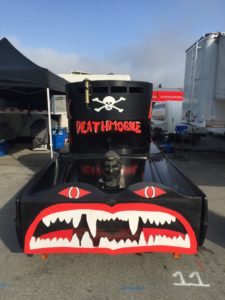 Extravagant and impressive rigs: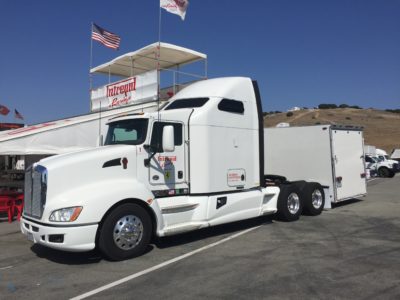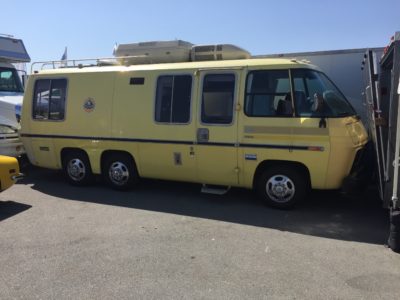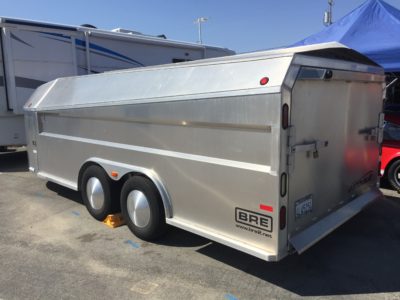 We are huge fans of Canepa and this 935 and 959 were a treat to see: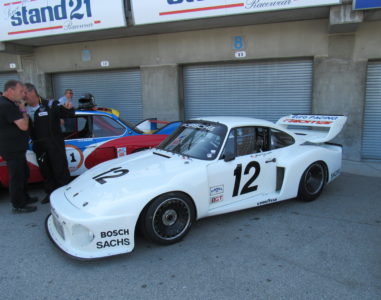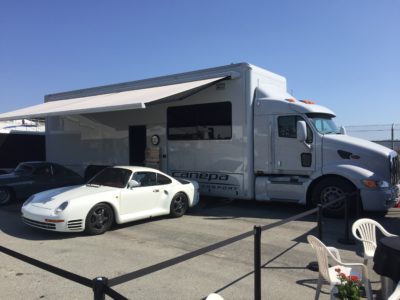 Street Standouts
Throughout the weekend, open areas around Laguna Seca are filled with a selection of vintage and exotic cars that would put most stand-alone car shows to shame. This year we held another Datsun/Nissan Corral but attendance was relatively low. We did spot a few gems like three S30s, a Datsun 510 and '69 Datsun 2000: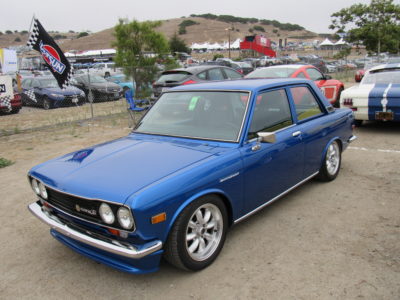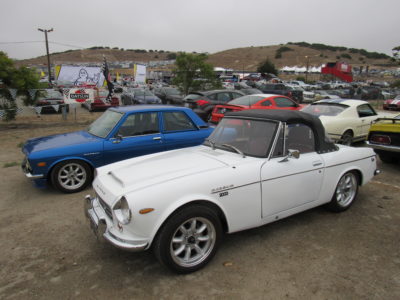 Lovely E34 M5 and 356: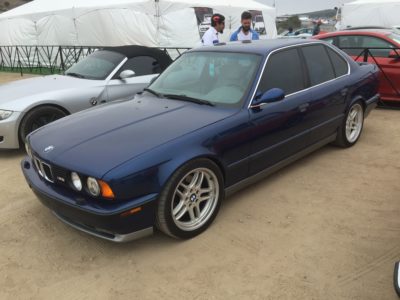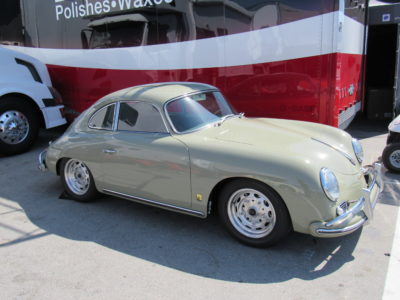 The Vintage Wheels of RMMR
I am a wheel addict and I love vintage wheels. Once again the paddock did not dissappoint. BBS, Volk, Minilite, American Racing…all shod with meaty slicks of sometimes incredible proportions: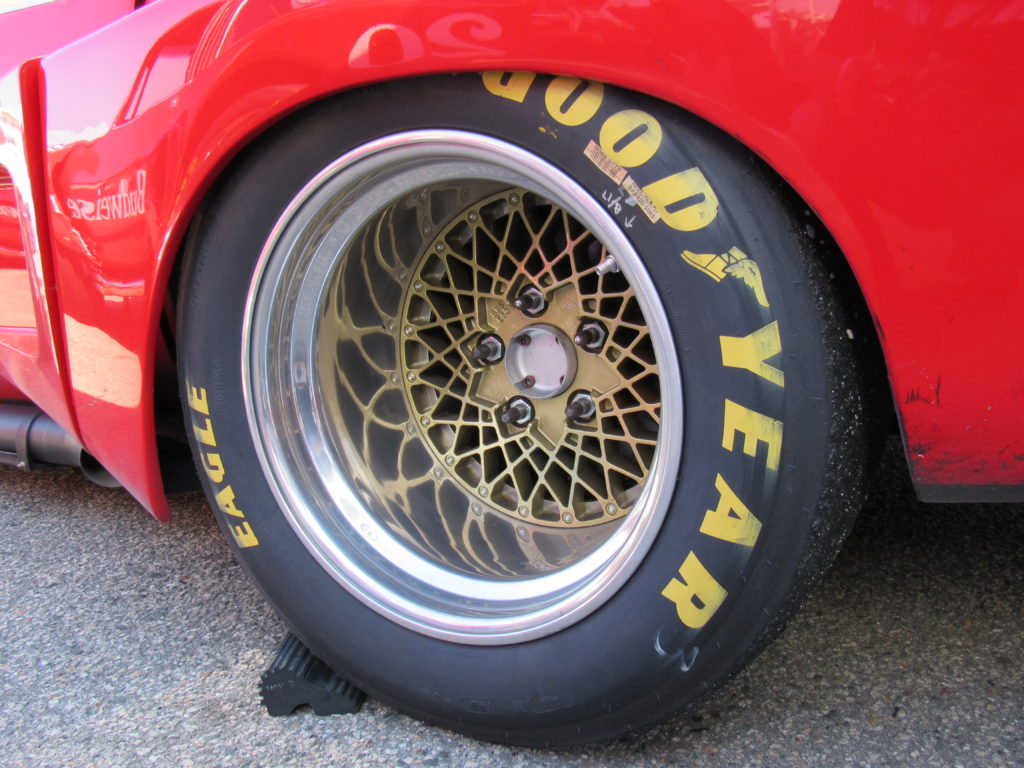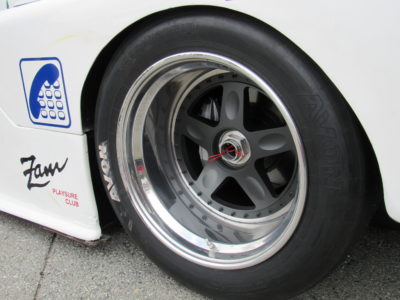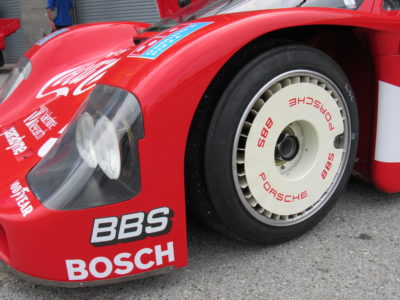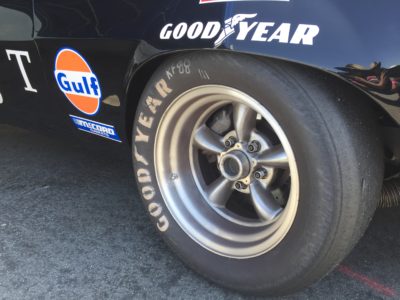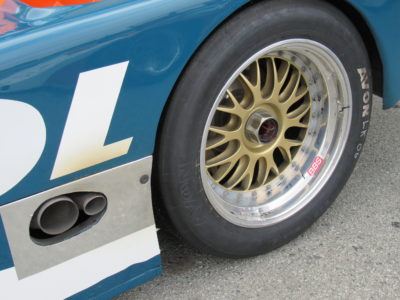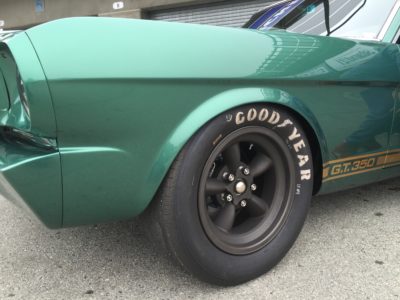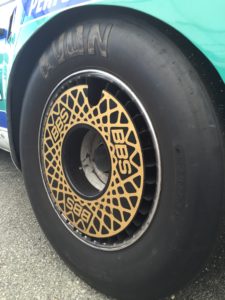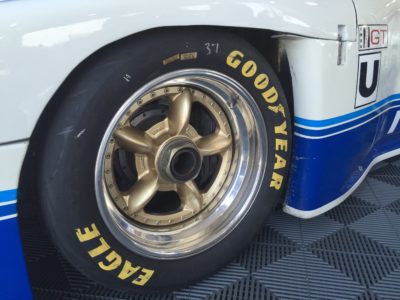 Thank you!
We hope you have enjoyed our recap of the 2017 Monterey Historics! Please browse our mega-gallery of pictures from race weekend below. Big thanks to our friends and family members that helped us make this possible including the Keith Corwin, Dave Stone, Tim Arnett, Ron Carter, Michael Anderson, Josh Corwin, Andy Vargas, Larry Oka and Meghan Fuller.  We certainly enjoyed the company of friends and visitors in our paddock, here's to another 60 years of vintage racing in Monterey, California.
Special thanks to the following contributors to our photo gallery:
Ricky Silverio, Josh Corwin, Naveed Abed, Mark Hutchinson, Matt Dockery, Kurt Hafer, Chris Brewer, Alex McDowell
Huge thanks to Randy Jaffe,  John Morton and Sylvia Wilkinson!
Long Live The Z!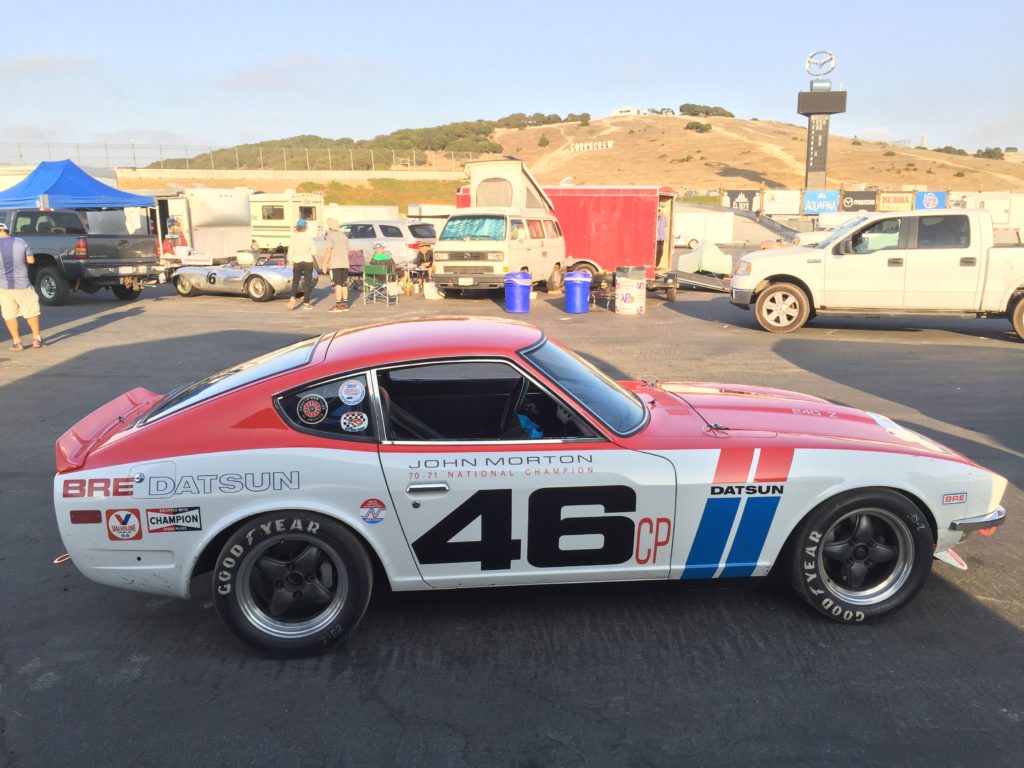 More pictures in our gallery below:
…[read more]