No, this is not a Nissan. It is not even a Z. This is a 2011 Ford Mustang GT, and it's wild with plenty of horses. How many? The 5.0L engine is rated at 412hp from the factory, but the ZCG dyno reveals it's true output! Rob tells the story of how this GT gets a serious boost in power from an already potent powerplant:
Michael L lives in Santa Cruz, Ca. He was referred to ZCarGarage by Vortech engineering in Southern California. ZCG is a top tier installer of Vortech products and we have performed several non-Nissan installs. You might remember the 2010
Camaro
from last fall. Michael and I spoke and decided to meet. I told him we would love to add boost to his new 'Stang as long as he didn't mind that all the other horses in this stable would be Zs. Once again Vortech delivers with an amazing product. The kit parts and installation are as if Ford designed it to be a dealer add-on. This is a limited edition kit to celebrate Vortech's 20-year anniversary in the performance aftermarket and most of the components are finished in matte black.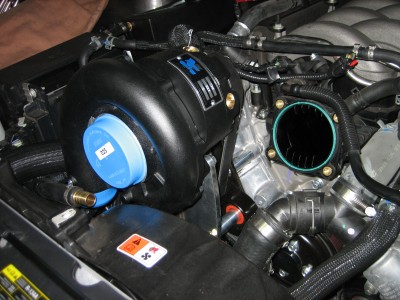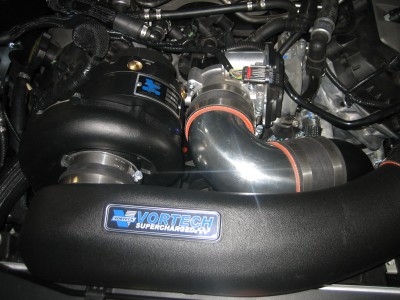 Back to the car… this Mustang marks the return of the 5.0. Rated at 412 hp at the crank this pony put down some strong baseline numbers: 376hp/364tq. So the 5.0 is really making close to 440hp at the crank!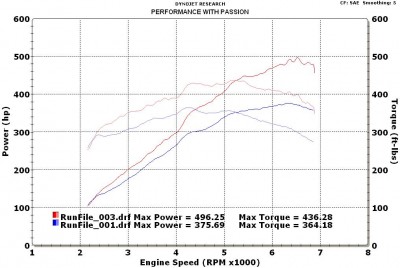 ZCG's Josh C comes from a Ford background. Growing up his Dad's pride and joy was a 1970 XR-7 Cougar 'vert. Only 1700 were made in the 351 and 4 speed set up. We hope to help Josh's father restore this car someday. During his younger days Josh owned a '69 Mustang and a '65 Ranchero so he was excited to add his touch to the late model Mustang. The Vortech kit is intercooled and is going to be completely smog legal delivering its 8 psi. Post-install dyno numbers are very impressive: 496hp/436tq! The car starts and drives like a stock car until you press the go pedal. Great job Vortech! Enjoy the ride Michael and may your second car be a Nissan.
-Rob
Here are a few more pics of the install, enjoy!
Intercooler, very low-key: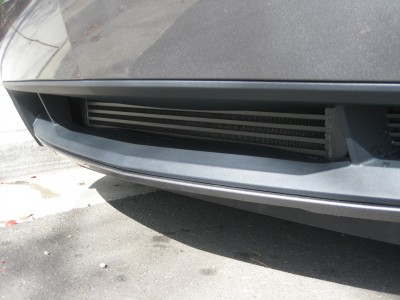 Blower install: