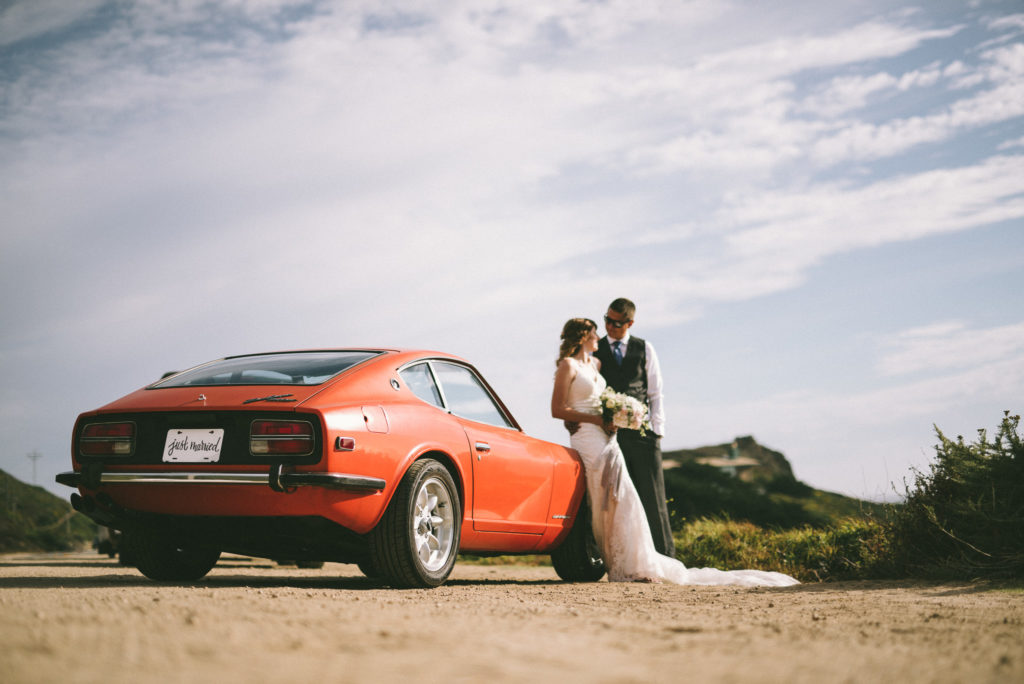 At Z Car Garage we are fortunate to be a part of many Nissan/Datsun enthusiasts lives. Here is another amazing story of how we helped a passionate couple reunite with their Z just in time for their wedding.
Sharing The Datsun Love
Over 20 years ago Rob Fuller migrated to the Bay Area to surround himself with Datsuns and he recalled being driven by one thing: Passion. What helped him build his 510 in his early 20's and build cars period was the passion of older folks eagerly sharing their love and knowledge. It has been our code and a great source of motivation to share ZCG's passion and cool customer cars with others. Courtney and Dustin came to ZCG for a shop tour in 2016 and we had a great time hanging out and telling Datsun stories from back in the day. It made us proud to see two young enthusiasts totally into vintage cars.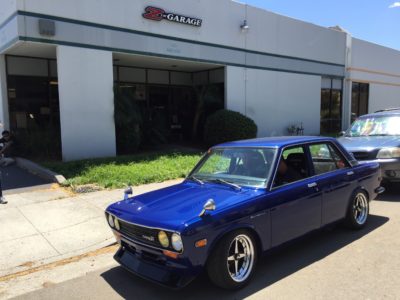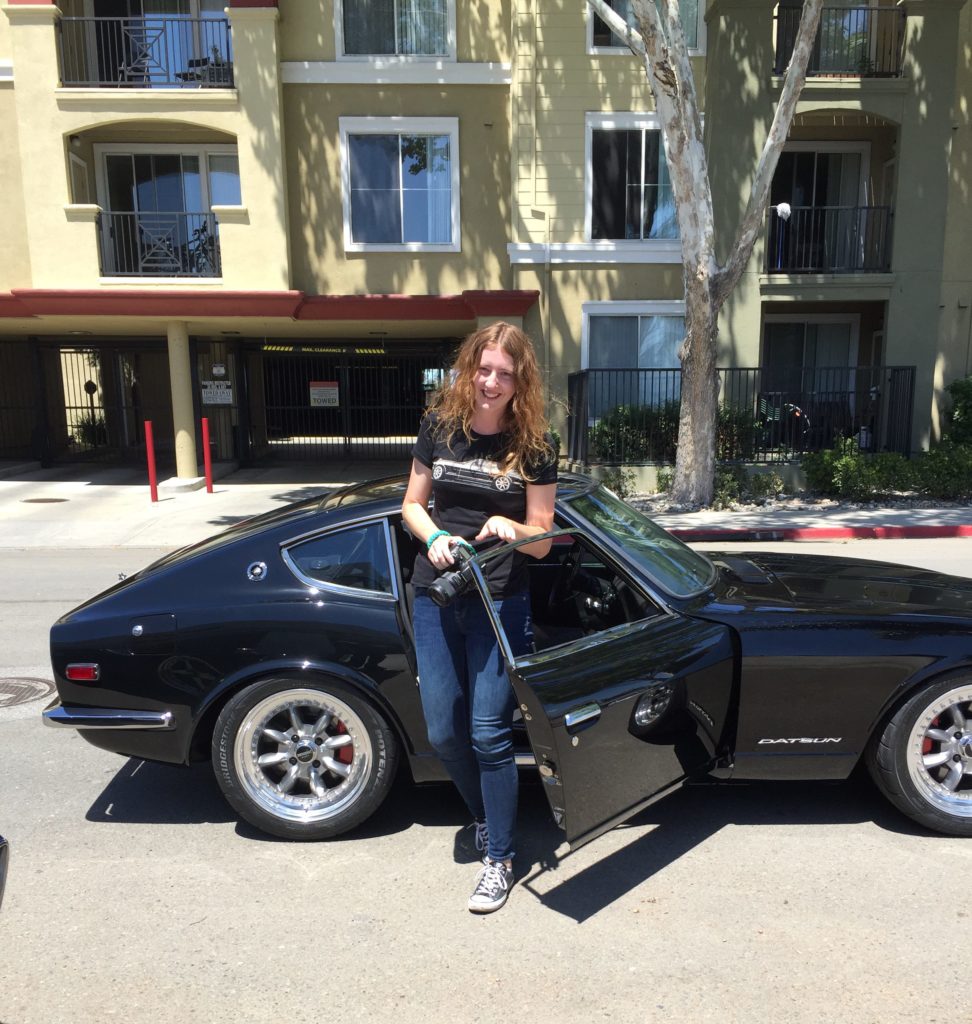 Courtney is a well-known photographer and her then-boyfriend Dustin is a fellow Datsun 510 owner. We gave the couple rides in several customer cars including Gary's OS Giken TC24-powered 240z. Smiles were abound! Fast forward to 2017 when Courtney reached out to us about getting her Z back on the road in time for her wedding. This was right up Rob's alley (remember how we surprised Ken on his 50th Birthday with a restoration of his 240z?), so we happily obliged. Courtney and Dustin arranged to have the Z towed to ZCG. Now, let's hear Courtney's story…
Courtney's Z Story
Growing up, I was very sheltered when it came to cars. Once I was old enough to drive, I was only allowed to pilot vehicles that my family considered "big" and "safe" enough. This lineup throughout the years consisted of a '92 Cadillac Sedan de Ville, a 2000 Toyota Camry, and a 2001 Acura TL. My one time suggestion of a MK4 GTI was met with reluctancy due to the fact that it was "a little too small." While my family had good intentions, they never really allowed me to branch out and get something a little more… exciting. By the time I was 21, I was ready for change.
I had my eye on the 240z for a long time, obsessed with its iconic silhouette and timeless style. While it took some searching with the help of my then-boyfriend/now-husband and another friend, I finally bought my 1973 240z in 2014. I found it on Craigslist in Medford, Oregon with only two photos in the listing. The photos were extremely poor quality and the description sounded too good to be real. Less than 100k original miles, very little rust, straight body, and mostly original. After connecting with the owner and coming to a deal, we set a date to drive up to Oregon from the Bay Area. A long story short, the trip was nightmarish and almost anything that could go wrong, did go wrong. The previous owner wasn't entirely honest with me about the mechanical condition of the car. We found that overheating on a steep mountain pass and getting stuck in the semi lane isn't our idea of a fun Sunday night. Ultimately though, we made it home with the car after an exhausting weekend.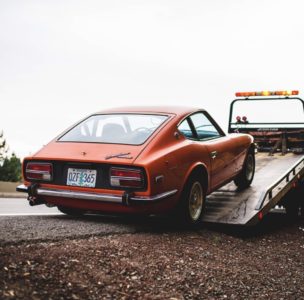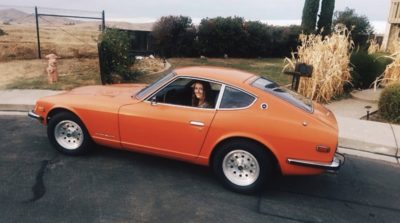 Once the car was home, we tinkered on a few small things that needed to be addressed. The car just had a few too many hiccups, with a set of finicky Webers installed, and life happened as it usually does. So, the car ended up sitting in my parents' driveway for just about two years. There were plans to do a rather unorthodox engine swap with some other bold mods, but we all know that sometimes things don't work out as planned. The longer I stared at this orange machine, sitting dormant, the more I longed to enjoy the car the way it came from the factory. It was at that point that we decided it was time to start thinking of reviving it.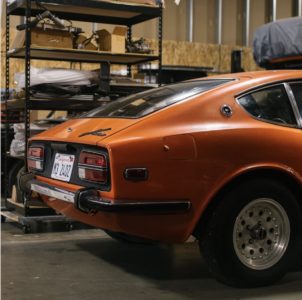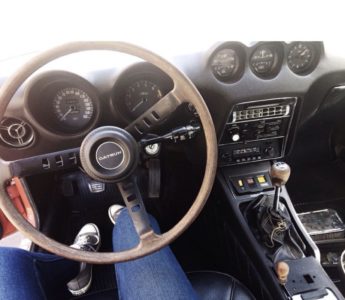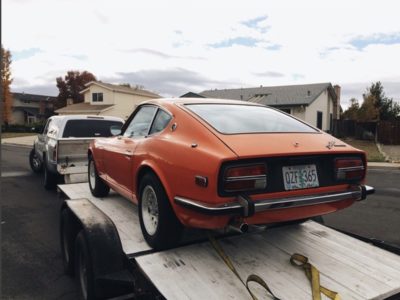 Then, I got engaged in August of 2016. A big jump, but stay with me for a minute. Because my husband and I are such admittedly insane car nuts, we knew we had to have one of our Datsuns in our wedding. I originally thought his blue four door 510 would be well suited, but then he suggested that we bring my Z back to life in time for our July 2017 wedding. By this time, it was late in 2016 and time was ticking. If you've ever planned a wedding all by yourselves before, you'll understand me when I say that there was plenty to occupy myself with. Getting a classic car running again after years of sitting/not running well was a task, but it was amplified by the fact that we never truly could diagnose its problems before. But my husband was adamant that the Z's place was in our ceremony—not just because it was special to me, but because it was a special part of our relationship as a whole. We went through a lot to bring that car home from Oregon, and since then it has always sort of felt like a child to us. (Is that weird?)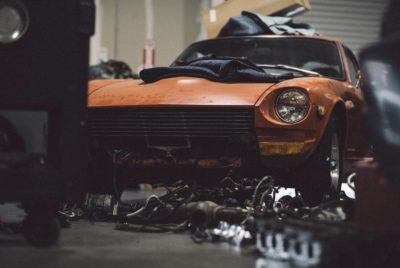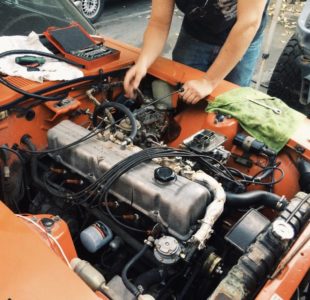 With the help of our amazing friends and their gracious donation of a garage, we got to work on Pumpkin (appropriately named, right?). We tore down the L24 and replaced everything that needed it. We also replaced the Webers with a set early SU carbs. This was all mostly in an attempt to take care of maintenance after sitting for so long. Our thought was that if we freshened up the motor and improved the carb situation, we might have a better chance of fixing what had always been wrong. After we were through, the car certainly ran better, but still had overheating issues, among other things.
Reviving Courtney's 240z
Some time passed and before we knew it, we were a couple of months into 2017. July was fast approaching and I was feeling nervous about my husband and I finding the time to continue working on the car. It wasn't until I met Alvin with his Roadster for a Petrolicious photo shoot that the idea of bringing the car to Z Car Garage was spoken.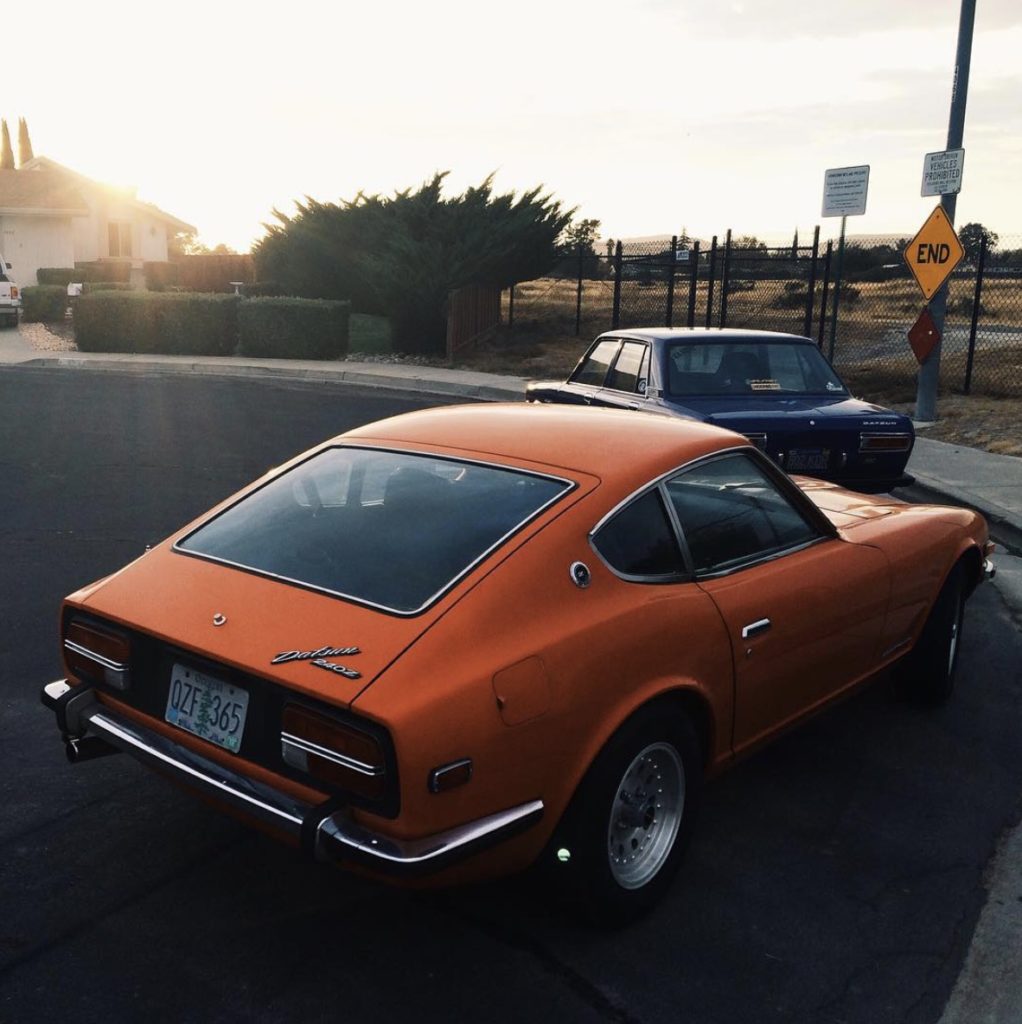 From the get go, Rob and Alvin were incredibly helpful. I had known them for a while at that point through my freelance photo work, but had never done actual car business with them. Rob invited my husband and I to bring him the car to inspect, and of course, it ended up being more serious than I thought. We'd realized that the heater core was leaking, we needed to address a leaking fuel tank, the clutch was going, my transmission was leaking, alternator was overcharging… I could go on. Some of the problems we were aware of, others, not so much. By this time I had ordered a set of fresh SU carbs from ZTherapy (they're a national treasure), so we discussed installing them and having Rob tune the car once the other issues were knocked out.
As Courtney mentioned above, what started out as routinely syncing their carbs, Rob found that the Z needed a bit of attention. The worst thing would be for it to breakdown during their wedding. We sat down with Courtney and Dustin and assessed the car, then made a budget that would work with them to get their Z car running, be safe and part of their wedding day.
We replaced the fuel systems' recovery hoses, eliminating fuel odor from the cabin: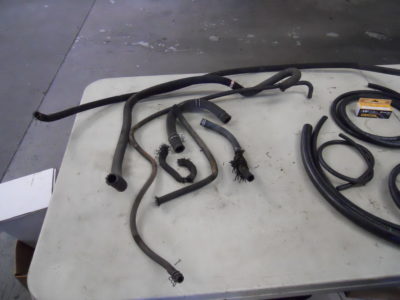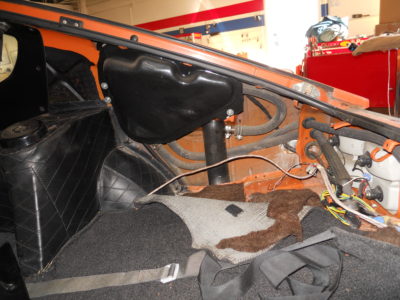 Cooling work included installation of a Koyo race radiator, heater control valve and replacing the heater core. A new clutch was also installed: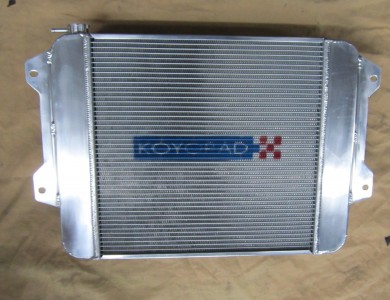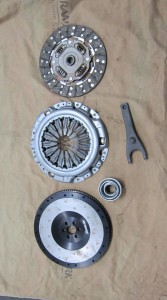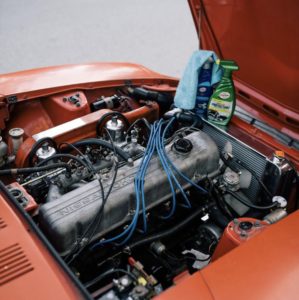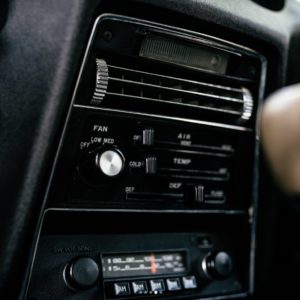 The carbs were sync'd and tuned on the dyno where it made 140hp/135tq to the wheels. Very healthy numbers for an essentially stock L24 with SUs: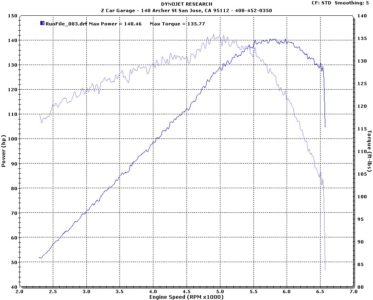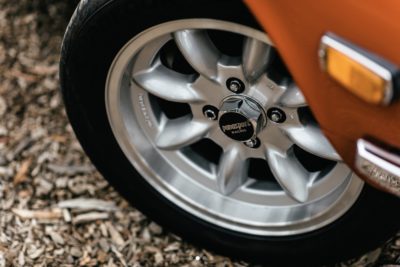 Her Z sounds great, watch the dyno run video below:
Rob was nothing but honest during the timeline of the work. He kept me updated with emails and phone calls, explained everything they'd found each step of the way, and gave me options. He understood our budget and was just as excited for our wedding plans as we were. He truly made us feel like family, and his enthusiasm for this huge life event we were planning showed that he genuinely cared about getting this car running. He was mindful of our time and did everything in his power to provide the best experience possible.
Finally, we went through the entire car to ensure that there was absolutely no issue with the Z traveling to and from the wedding. We were super pumped to see Courtney with the Z on her special day. Icing on the cake was a nice set of 16″ Panasports and they do look fantastic on that orange paint!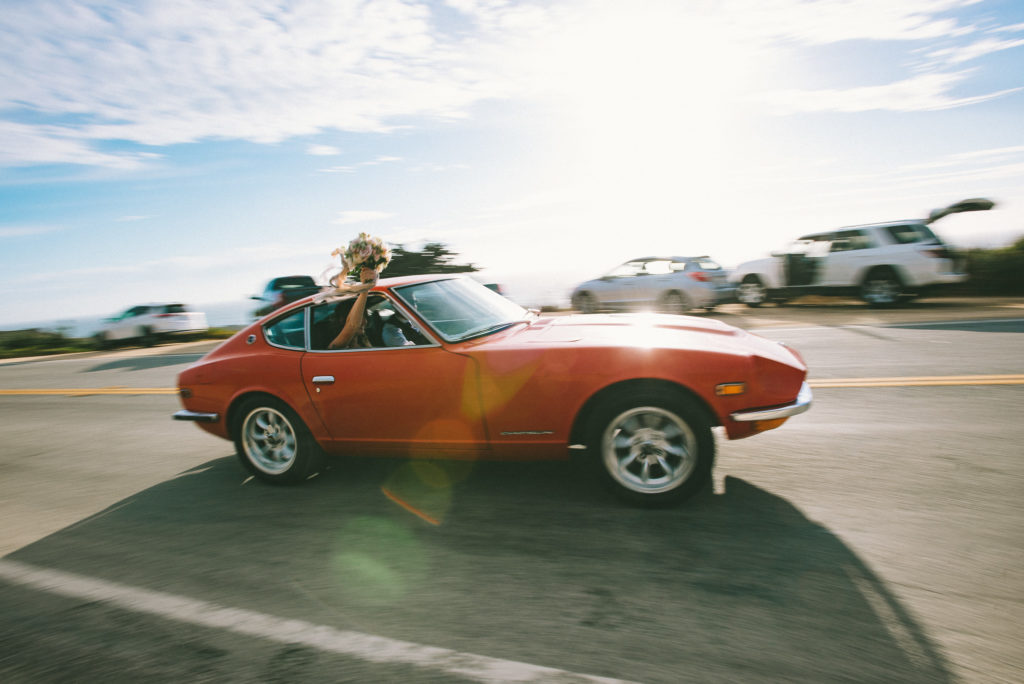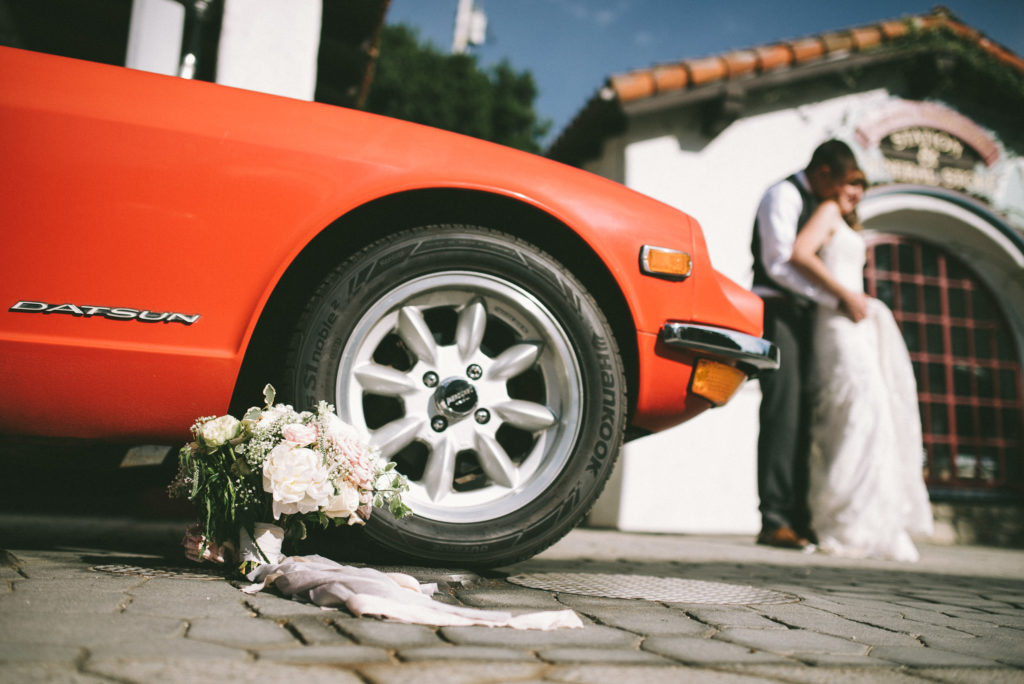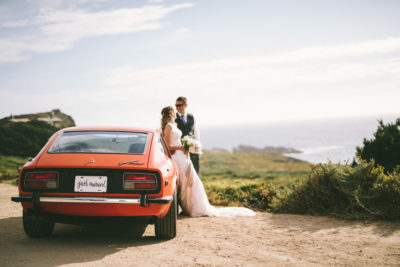 I've never known anyone who is so passionate about these cars. You realize that Z Car Garage is a name which is more than deserved when you're met with this caliber of enthusiast. The staff lives and breathes Datsun. In the end, Rob and his staff had my car running as if it were new again. The feeling I had when he fired it up for us and showed us everything they'd done is something near surreal. When he showed me the dyno video, I got butterflies. He had made our wedding dream come true, and for that, we are forever grateful.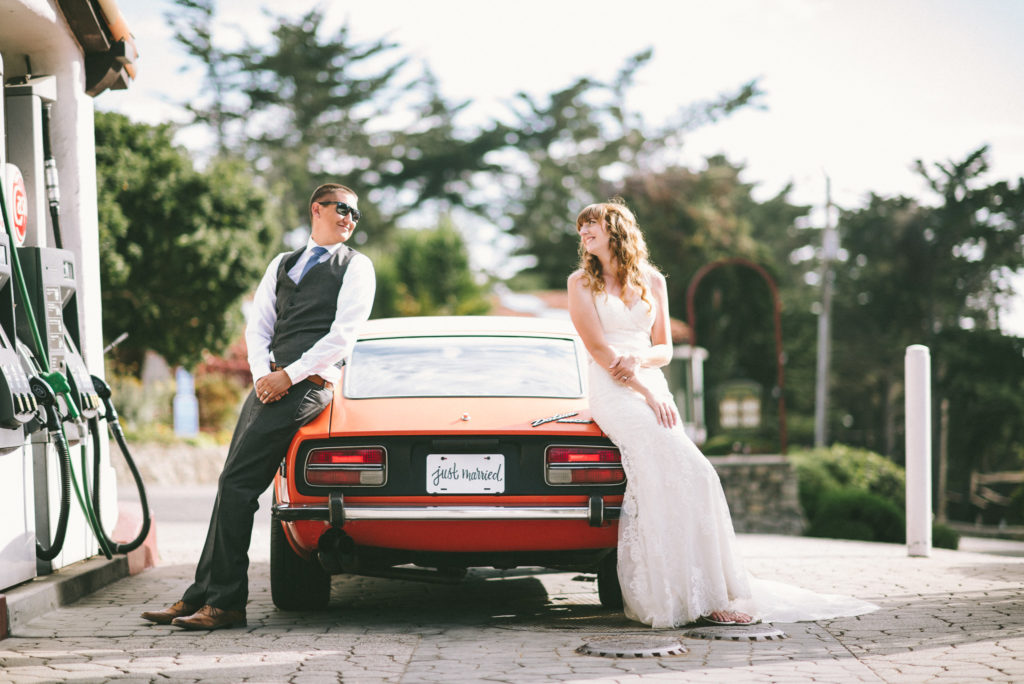 I'm a firm believer in the idea that everything happens for a reason. All of my prior plans and obstacles with my Z were only guides that eventually brought me to ZCG. I couldn't be happier with how this year has gone. From hearing my car roar to life to riding shotgun with my husband after our wedding ceremony, it has been perfect. Once again, a HUGE thank you to Rob, Alvin, and the outstanding staff at ZCG for making my Z dreams come true. Long Live the Z!
Thank you Courtney for letting us prepare your Z and it makes us happy to see you Enjoying The Ride! Good luck to both you and Dustin! ps love the license plate frame 🙂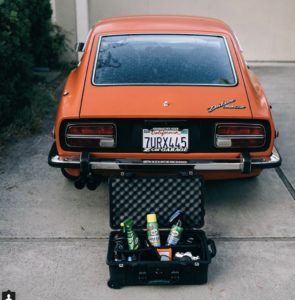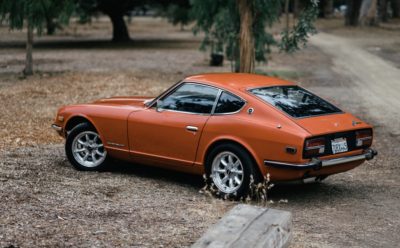 Wedding Photography by
Michael James