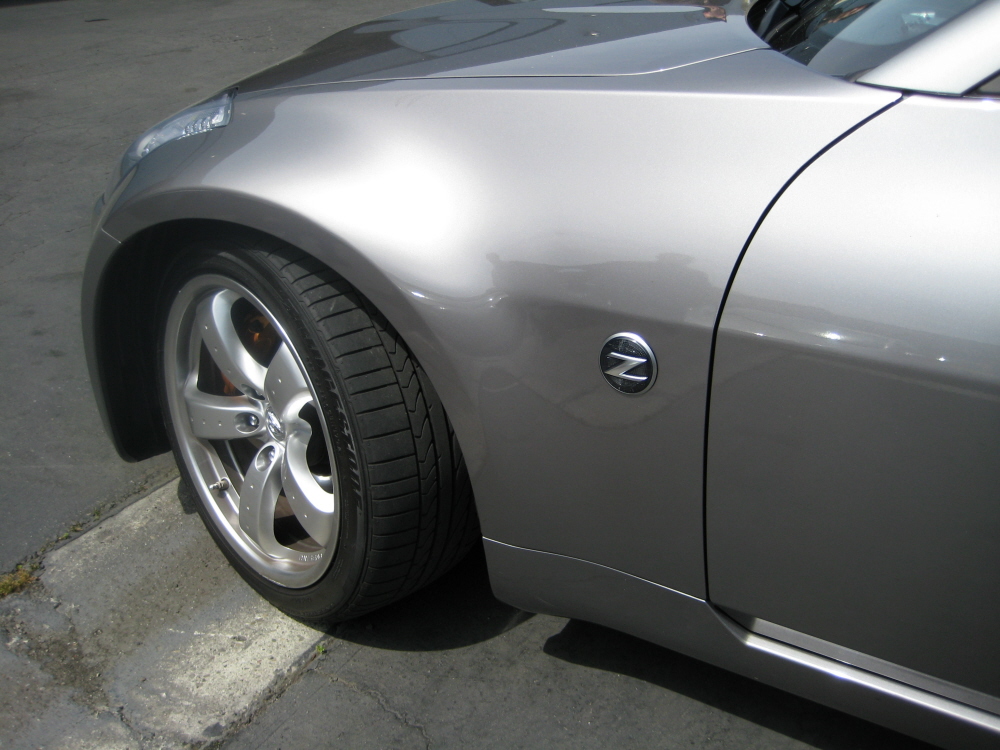 The little touches that no one notices at first are sometimes the coolest modifications.  In this case a customer wanted the blinking side-marker lights off of the new 370z on his 350z.
Okay, no problem.  Well one problem.  The stock 350 "Z" non-flashing side emblems only use two small clips to locate the plastic part.  The new 370z flashing marker has cylindrical extrusion that is about 1.5 inches tall with a 1.5 inch diameter that needs to go through the fender and be wired to work properly.  We used a small hand saw to make the cut and everything turned out perfect.  The electrical connections simply required us to source which wire was the running light and which was the blinker and then the simple wiring changes were made.  All connections are a quick release style so that the new bulbs can be serviced when the time comes.
I'm not going to go into too much detail about how we secured the light because we need to be able to offer this as a service to customers.  I will mention that we used a couple of custom brackets to make sure that nothing moves around.  This modification is quite simple after all is said and done and I think that it bridges the gap between the new and old car nicely.  Added safety and style are always a good combination.
Please be careful if you are thinking about attempting this yourself because a new fender is not cheap from Nissan.  Feel free to contact us if you would like ZCG to handle it.  rob@zcargarage.com
See the video of the new parts flashing below!