Nissan's Z32 Twin Turbo is a sportscar that has truly stood the test of time. Its curvaceous lines have aged gracefully and the venerable VG30DETT powerplant is still capable of producing impressive numbers today. We love them and specialize in keeping these beauties on the road and in the hands of proud owners like Jas D. He picked up this 1990 300zx Twin Turbo last summer and visited Z Car Garage for a thorough inspection.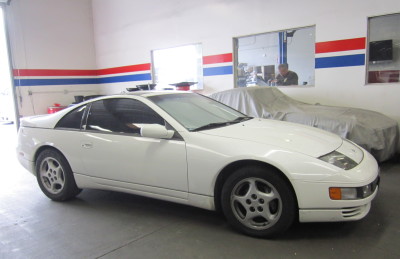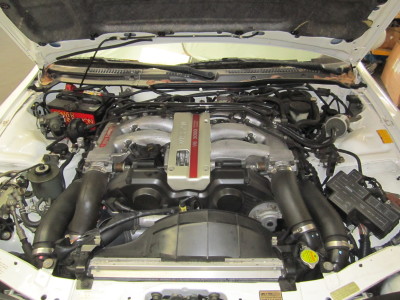 Though bone-stock with an amazing 44k miles on the clock it needed some attention. We went through the hydraulics and performed full 60k-mile services.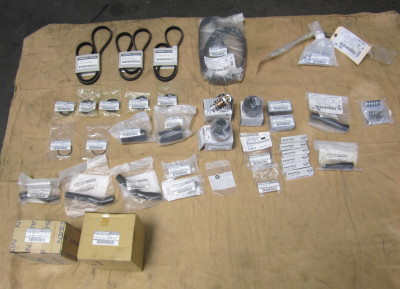 Jas wanted to improve power and handling and we happily obliged with a comprehensive list of upgrades this year.  Starting with the drivetrain, the original transmission was replaced with a brand new(!) unit from Nissan: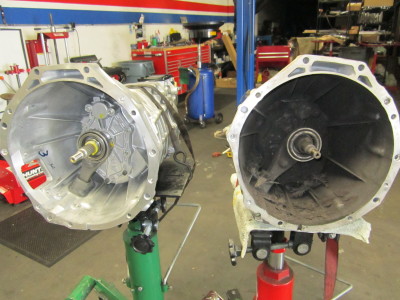 The clutch had seen better days so we replaced it with a JWT unit including their heavy duty aluminum flywheel:
A JWT ecu w/boost jets manages uprated NISMO 740cc injectors and the Selin dual MAF. Improved breathing comes from Ash-SPEC inlet piping and dual JWT pop chargers: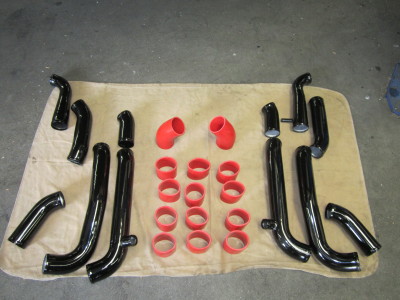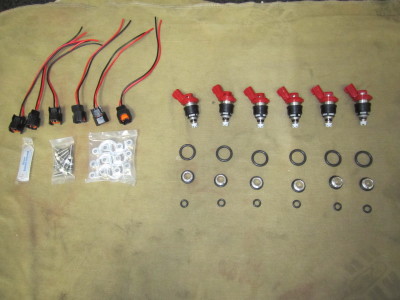 On the exhaust side, restrictive original downpipes were replaced with these beautiful Specialty Z 3″ downpipes. Note the divorced wastegate piping: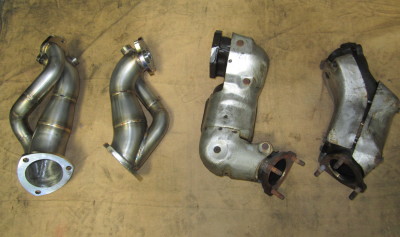 Following the new downpipes are more parts from SPZ including 3″ mid-pipes and a cat-back exhaust system to replace the OEM setup: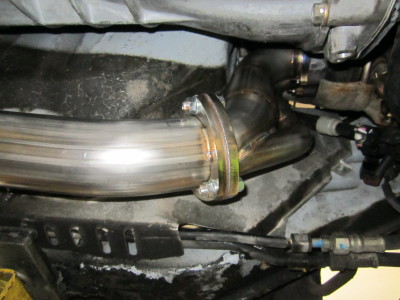 OEM vs SPZ: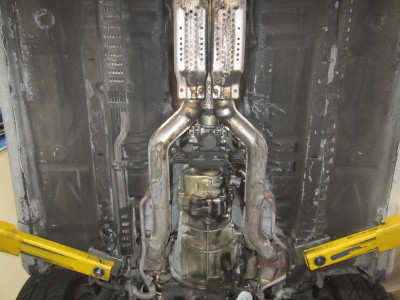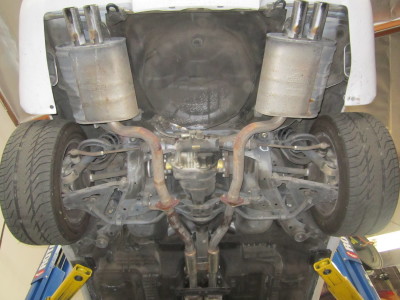 With all of the speed parts installed next we tackled chassis improvements. Lots of goodies here so let's begin with brakes followed by suspension:
We love Stoptech's products and use them on our own vehicles.  Z32s are relatively heavy and with higher hp the stock caliper/rotors can be taxed quite easily. Jas took it up a notch and ordered a Stoptech 4-wheel Big-Brake Kit for his beloved Z.  Shown above is the ST40 caliper (front) squeezing 332 mm rotors and at the rear are ST22s on 328mm rotors.
The installation: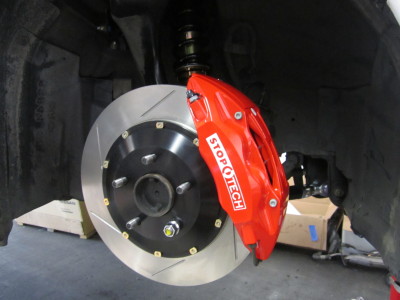 Yes, they are pretty but also very functional! Speaking of aesthetics(that are functional, too), the new calipers are nicely framed between the spokes of these sweet VOLK TE37SL wheels.  We like your taste, Jas.   The lightweight TE's were wrapped in Bridgestone S-o4 tires: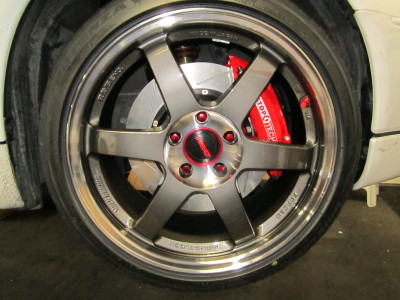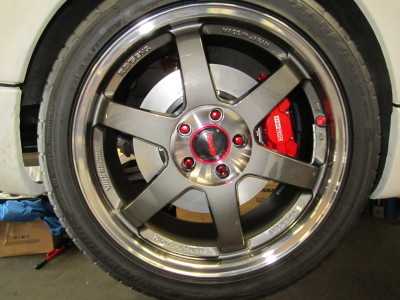 Several suspension upgrades improve handling and replace old/deteriorated parts. Stance coil-overs were installed while Stillen sway bars front and rear help reduce body roll:
OEM vs Stillen sway bar mount/bushing and end-link details: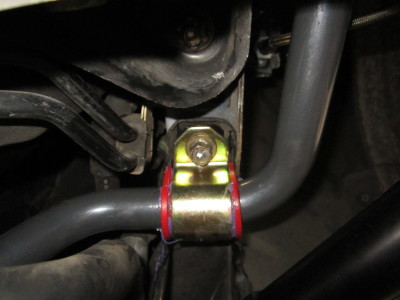 More suspension parts include SPL T/C rods,   Z1 upper control arms and new steering rack bushings:
The Z looks fantastic with the new footwork: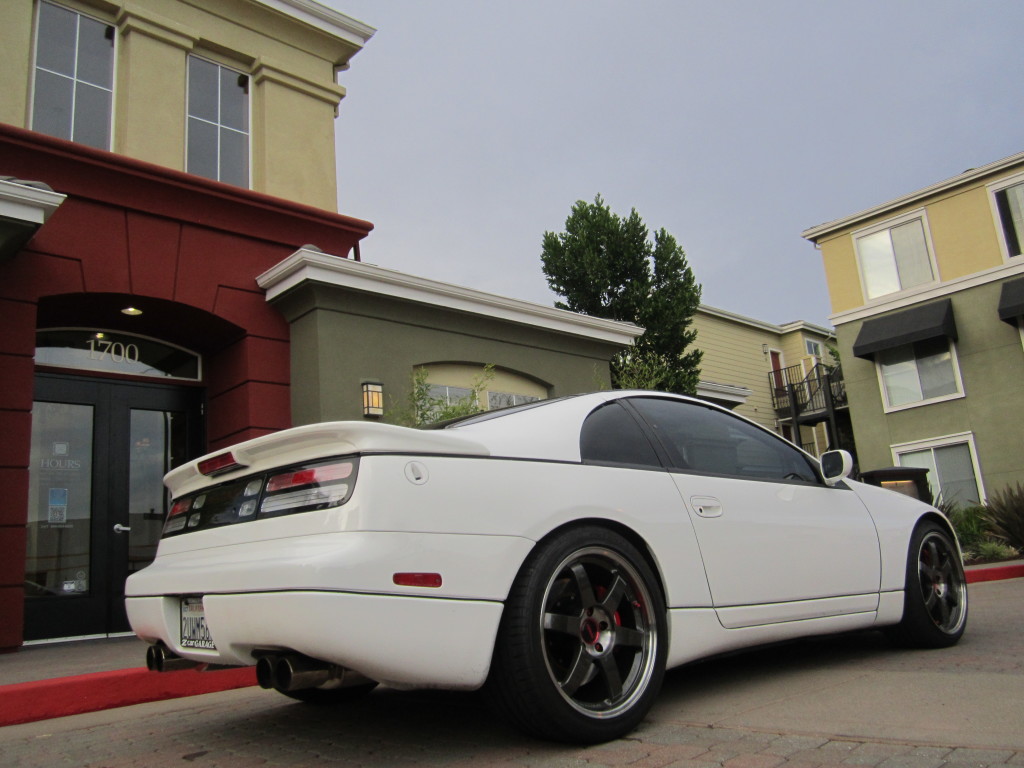 Jas came back to Z Car Garage in Septemeber for a few more upgrades. We installed 4.08 Leader gears, Ash-SPEC Massive SMICs, 2.5 IC tubing, and  SPZ Hi-5 upgraded clutch. The BDE low-profile Z32 motor mounts are a smart alternative to OEM that allows more clearance larger for intakes: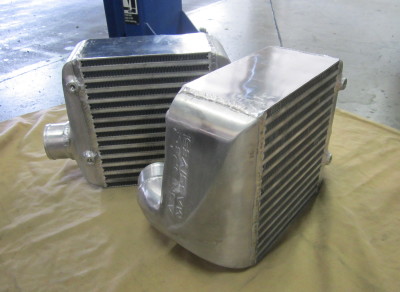 After the addition of larger intercoolers and piping we re-tuned Jas' Z picking up power throughout the rev range for a total of 369hp/387tq to the wheels:
We think Jas' 300zx Twin Turbo is the perfect addition to his stable. It is now a balanced sportscar with just the right personal touches. Long Live the Z32!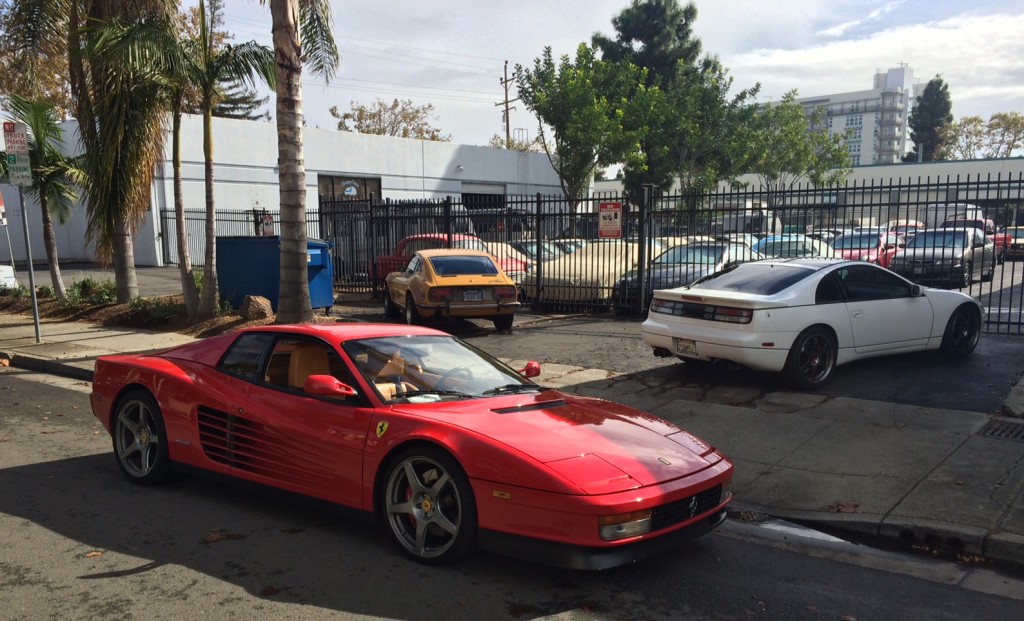 Lots of pictures in the gallery, enjoy!
…[read more]