We had a tremendous week racing at the Rolex Monterey Motorsports Reunion August 14-17.  More commonly known as the "historics" at Mazda Raceway Laguna Seca, this epic vintage race is part of several events occupying the week-long Monterey car festival leading up to the Pebble Beach Concours.  Our friends over at
JNC
were lucky to experience the Pebble Beach scene in all its opulence and excitement. From the multi-million dollar auctions and surprising Japanese classic entrants check out their coverage
HERE
.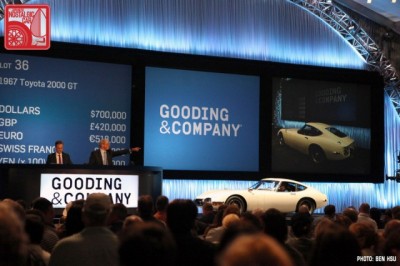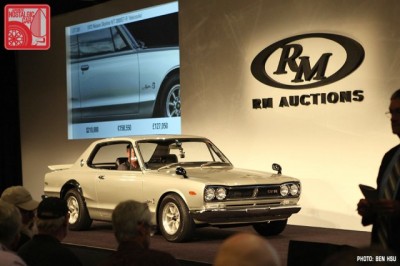 If it's the smell of 110 octane, straight-piped exhausts and wheel-to-wheel action you desire than look no further than the historics. Typically I would cover this event from a spectator's point of view. This year, I was fortunate to be part of the Z Car Garage race crew and bring you, dear readers, a perspective from the pits as a first time participant.
Joel Anderson and Restoration of the #49 IMSA Z
Z Car Garage was thrilled to team up with original owner, builder and driver Joel Anderson to bring the IMSA Z back to life after being stored for 25 years.  Restored to late-70′s spec as it was raced, this IMSA GTU-prepped Z does not have new "trick" parts.  Parts from Joel's collection were re-used and common wear items were refreshed. Below:  Original race seat and MOMO Prototipo steering wheel. Original suspension parts were plated.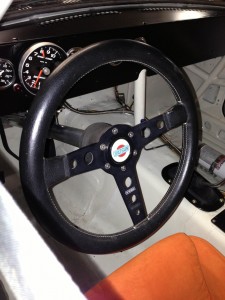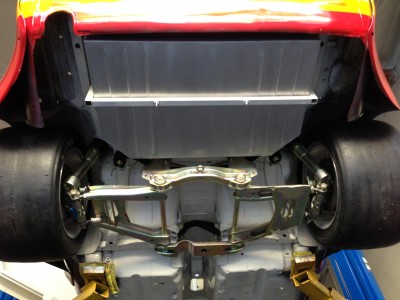 Our man William applied Joel's bespoke striping: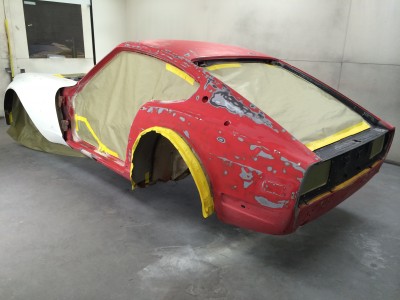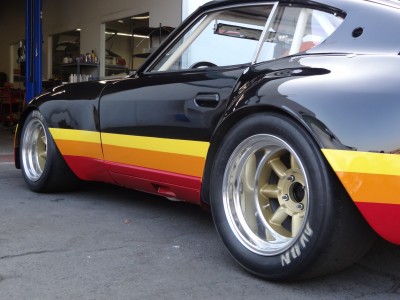 More detailed restoration photos and our full interview with Joel can be found HERE. We were very pleased with the engine bay…plenty of Joel's engineering remains intact:
We applied the vinyl livery, took a step back and pinched ourselves…are we still dreaming?
With all of the vitals checked, #49 rests before heading to Laguna Seca on the original trailer Joel used decades ago at Road Atlanta: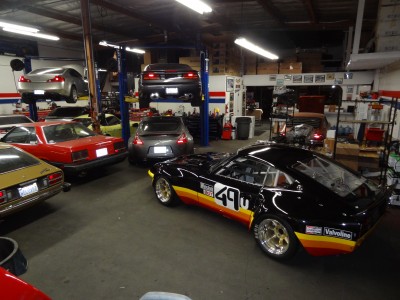 Racing at Laguna Seca
For the Friday practice session we drove the ZCG Datsun 2000 to Laguna Seca and parked alongside some fellow roadsters owners in the paddock. Arriving at  'Seca early morning with the track enshrouded in fog is surreal.  Despite the moisture and most high-dollar machinery still under car covers, a few brave souls were on course for their practice sessions.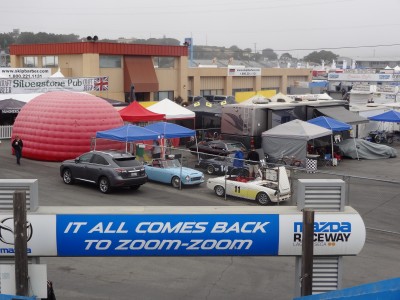 The paddock on race weekend is an interesting experience. It's bustling, hectic, wondrous and filled with people from all walks of life. In addition to coolest historically significant race cars on the planet, it's also home to some of the largest and wildest rigs providing home/shelter for cars and their drivers.  Every race car proudly shows off a history/build poster nearby and we were no exception. There's even an award for "Best Paddock Display". More paddock candy later.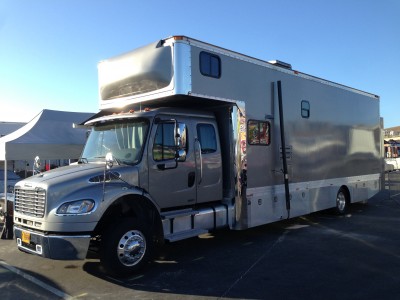 Between the margaritas and friendly banter amongst spectators and fellow drivers in the paddock it's all seriousness once your racing group is called to the hot pits. Rob, Josh, Lou and myself made up the race crew for Joel, piloting #49 in Group 5A: 1973-1983 FIA, IMSA GT and GTU cars. And what a group to be running in with dream cars abound like Porsche 935s, Ferrari 512BBs, Randy Pobst in the BMW M1, the Dekon Monza and high-profile Nissans such as the IMSA 240sx and Adam Carolla's Bob Sharp Racing Z31.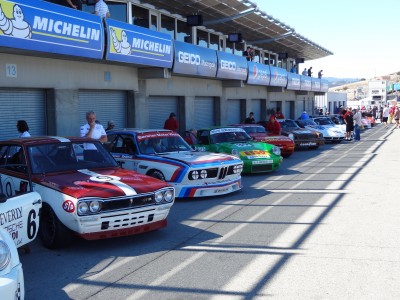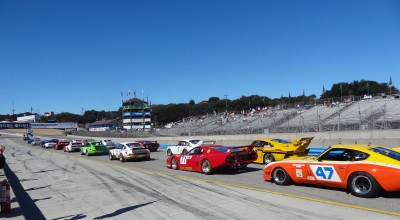 With Joel suited up behind the wheel #49 fires up and Rob signals it's time to be in the hot pits. My heart's pounding and I have butterflies:  we run alongside the Z like a police escort through the paddock.  I feel special as I flash my 'race crew' wristband to gain access to the pits, but it's not about me. It's about Joel right now. It's about the car performing.   The mixture of emotions is evident:  equal parts excitement provided by 45 sensational race cars lined up in front of you, and some anxiety and joy with each successful lap Joel completes.
Here is some video I shot from the pits of Group 5A rolling out to the starting grid and getting the checkered flag:
Both practice and qualifying sessions were completed and the Z ran flawlessly! Joel needed a few laps to become friends with the direct-drive, dog-leg pattern transmission.  Eventually he nailed it with lap times dropping from 1:50′s to 1:48s. The Z needed nothing but tire pressure and fluid level checks. Between sessions I helped by wiping the car down and cleaning those yummy wheels, gotta earn my keep!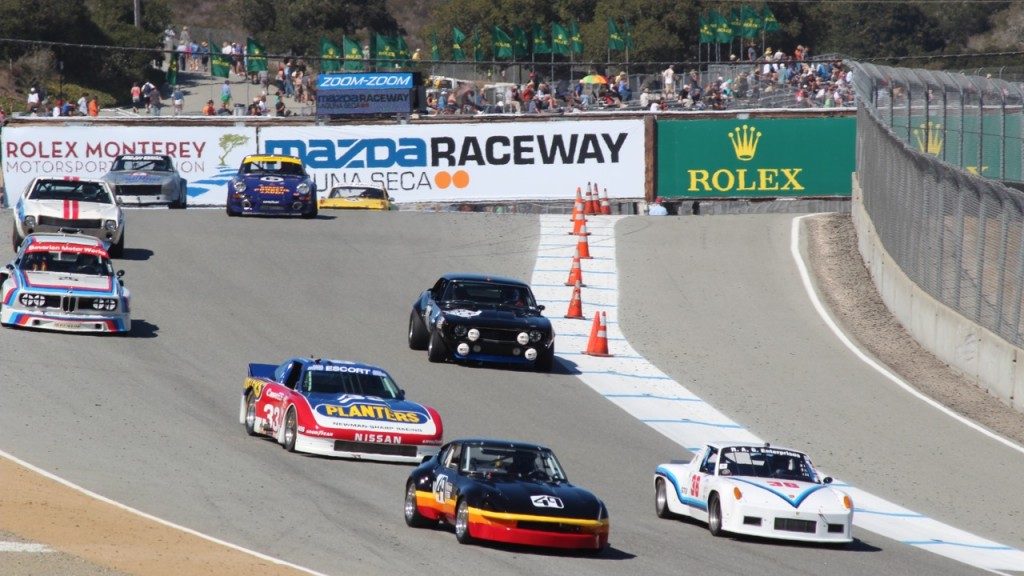 Watching a race car that you restored out on the track is amazing. Topping that off, the driver that originally built the car is at the helm, some 35 years later. Laguna Seca's track layout has changed since Joel and #49 were here in '79, but the car looks pretty similar if you ask us

What's it like to have Porsche 935s fill your mirror and have a 600hp Monza rage past you? Here is in-car footage from #49 in practice and the final race.  We love the sound of the Rebello built L-series with triple 44 carbs making sweet music through an un-muffled exhaust. It lives above 4000rpm to 8500rpm where it absolutely screams.  We saw 110mph under the bridge on the front straight. Healthy!
Any doubts about these drivers just parading their multi 6-figure cars out there is put to rest when you witness the anger…bumper scrapes, spins and spectacular last second passes. If the clip above is too long check out this Camaro spinning in Turn 5:
This AMX spins in Turn 4 into tire barrier:
Another victim of Turn 4, though probably mechanically related was the Dekon Monza. It literally drove its wheel off into the stands! Video courtesy of Carcast:
Despite the competitiveness we finished the race without incident, actually placing midpack and on par with fellow 240z's.  Congratulations Joel!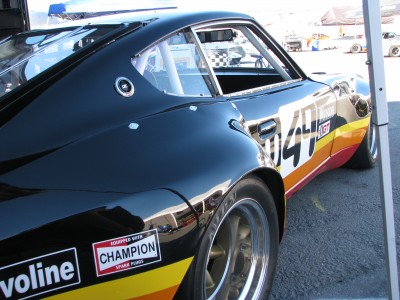 If finishing this race wasn't enough, the supreme measure of satisfaction and validation for countless hours spent on #49 came when a teary-eyed Joel gathered everyone around to thanks us:
Being a part of this team was the highlight of my year and the dedication from all members and friends that helped really showed. We had #49 t-shirts made for the crew/spectators and Meghan even sported an original 70′s shirt with nails to match: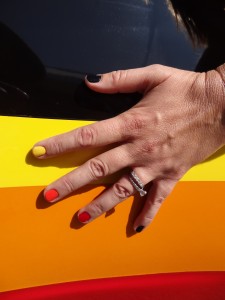 Some might see this as Datsun-dorking out but folks in the paddock and the media loved the car and its history. Mike Joy from FOX Sports even did a short video with us and #49. Thanks to Bring a Trailer for snapping this photo!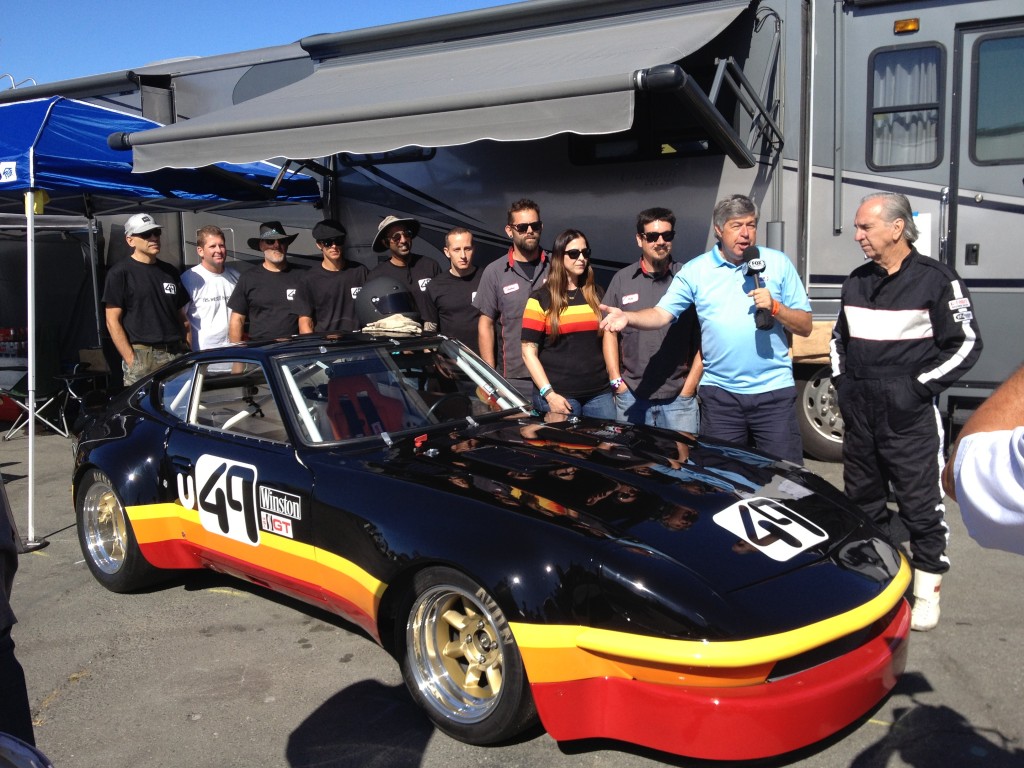 Autoweek featured #49 in their  33-car paddock gallery, Autosaur snapped us, and of course #49 was on the Jumbotron at 'Seca!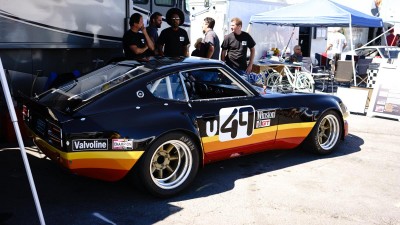 Datsun Brethren
#49 wasn't the only Datsun/Nissan racing at the historics in fact there were 10!  One of the most exciting/controversial cars was this 1972 Skyline. Commonly referred to as 'hakosuka" this 3rd-generation model was built to '72 FIA spec. It was an absolute treat to hear and see this beast run: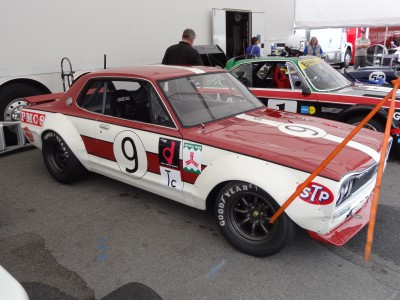 Who could forget the monstrous, flame-spitting Steve Millen #75 300zx and wild IMSA 240SX: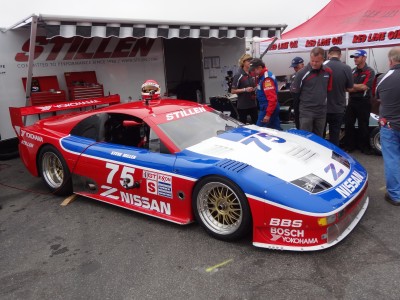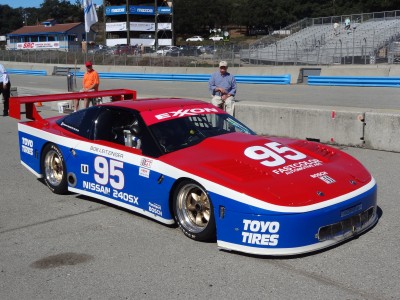 The Frisselle 240z (left) was very quick and this gray 240z (seen in the above video) made some dicey moves. Our friend Dave Stone won The Rolex Award for Excellence with his Bob Sharp Racing 240z: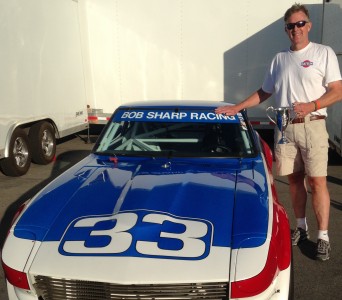 Adding to the Datsun contingent were 3 roadsters: Steve Link's '67 2000, Tim Arnett's '65(#11) and Don Herman's '69 2000: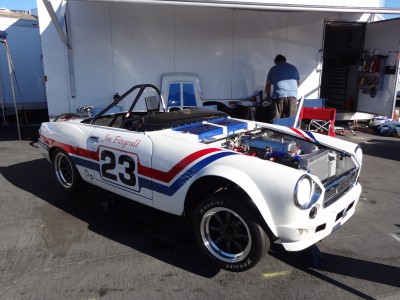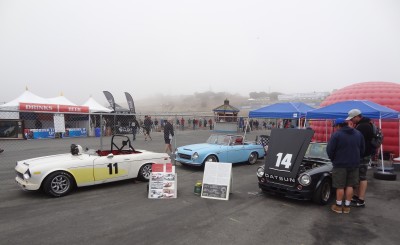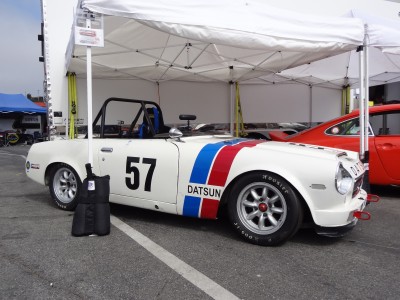 Candy in the Paddock:
One of my favorite parts of the historics is cruising through the paddocks. You can almost taste, smell and hear the history behind each of these race cars and the owners are willing to bend your ear. Here are a few favorites that reflect my eclectic tastes. Please browse our MEGA gallery for more!
Japanese vintage cars are becoming the center of attention lately in the collector car arena but on the track we still have work to do. JNC had a great idea of displaying an authentic Skyline GT-R alongside Nissan Corporate's NISMO offering. Just when I thought Datsun was the only classic JDM marque to be seen in the paddock my mind was blown by this little gem. Kudos to driver Katsunori Tamaru for piloting this 1965 Toyota S800 in Group 3A: 1955-1962 GT Cars.  Yes, those are real Hayashi Streets!
Wheel Fetish
I am a huge wheel fan/snob and the historics was a gold mine. BBS and anything worn by Trans AM cars are always winners: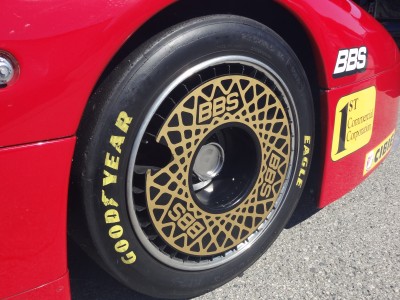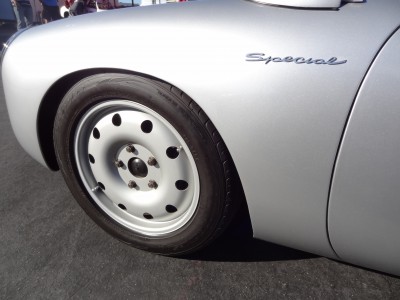 American Muscle
Big block Corvettes, screaming 302 Mustangs, Mopars, Cobras, Tigers, Mercury's and even a Thunderbird deafened ears on the front straight. The Trans Am race series is a must see. These cars give me the chills even when standing still.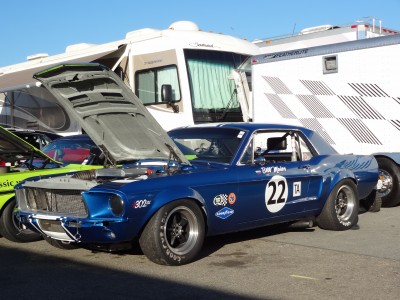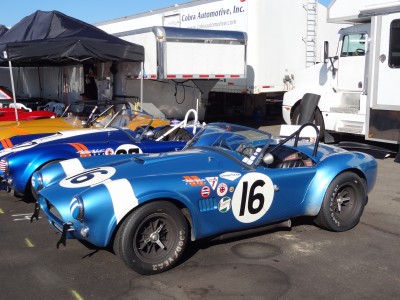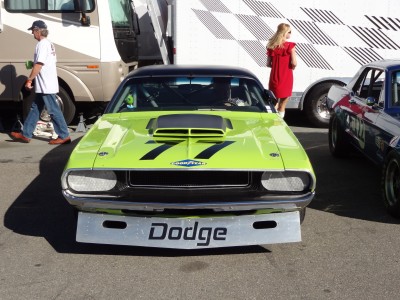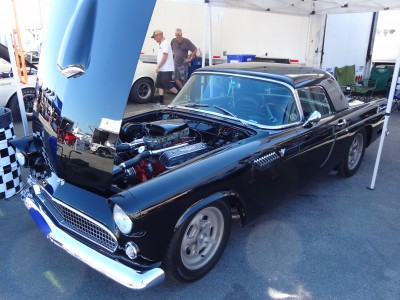 Sexy Euros
A gorgeous Ferrari 512BB was in our race group along with some Porsche 934/935/RSRs, and the BMW M1/CSL duo: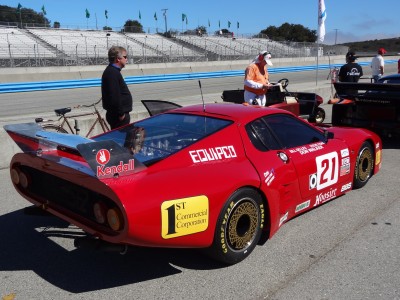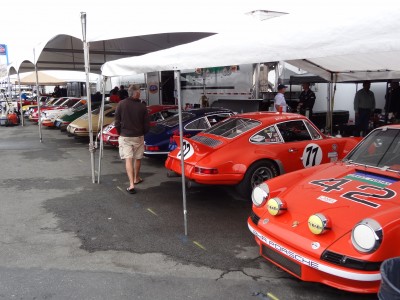 Elsewhere in the paddock, Jaguar's fabulous re-issue of the Lightweight E-Type, Alfas galore, lone Lotus 26R Aston Martin's and rows of Maseratis, this year's feature marque: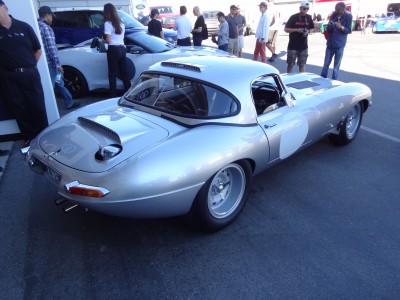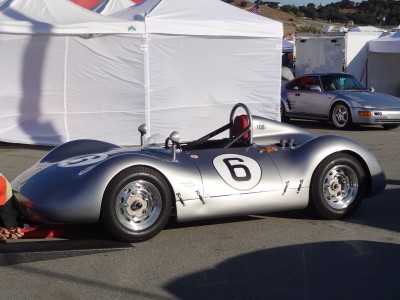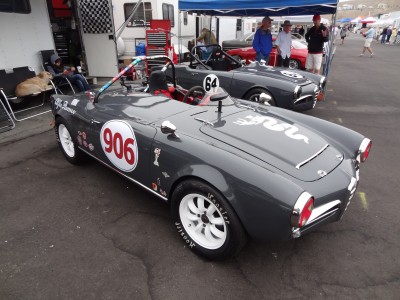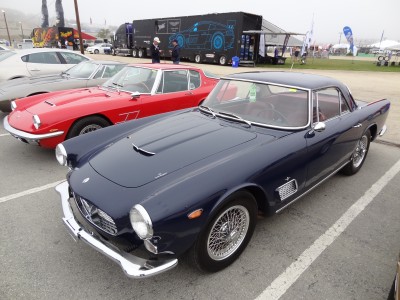 You really never know what to find hiding in the alleys behind luxo-car carriers and EZ-Ups…my favorite find of the weekend was this Canepa-collection BMW 507…insanely beautiful in every dimension:
We hope you have enjoyed our recap of the 2014 Monterey Historics! Please browse our mega-gallery of pictures from race weekend below.
Long Live The Z!