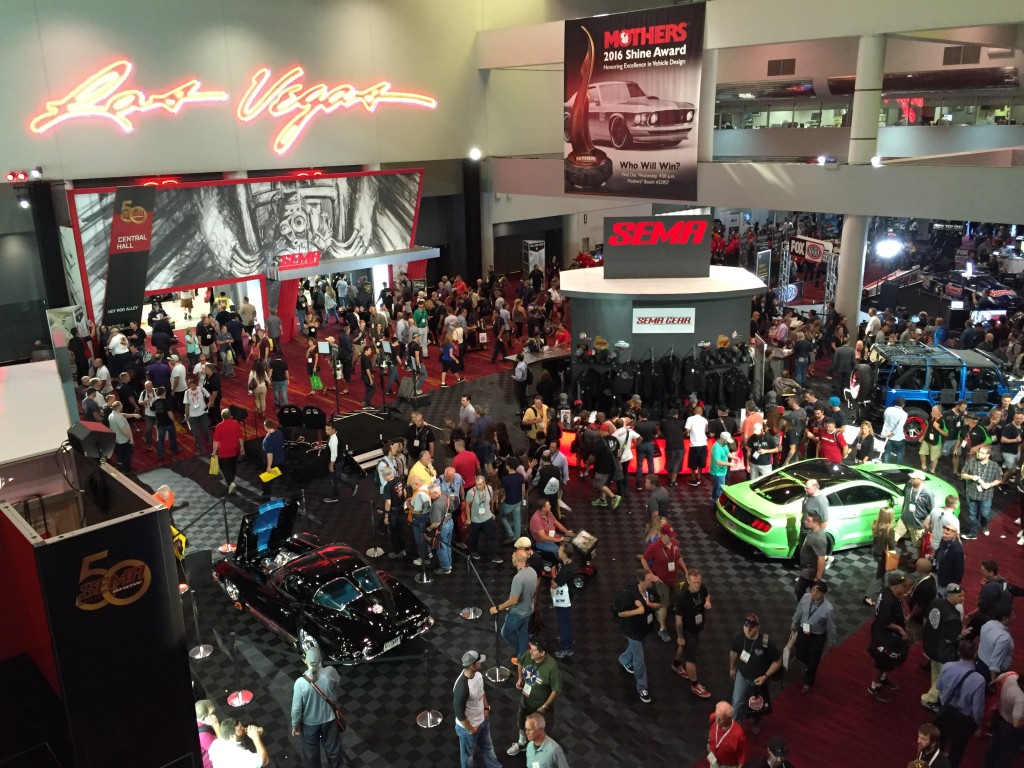 What Happens in SEMA . . .
2016 marks the 50th Anniversary of the Specialty Equipment Market Association (SEMA) Show.  Every year, people from around the world arrive in Las Vegas to look at the astonishing display of automotive tuning and customization.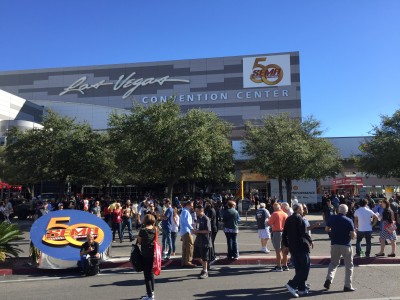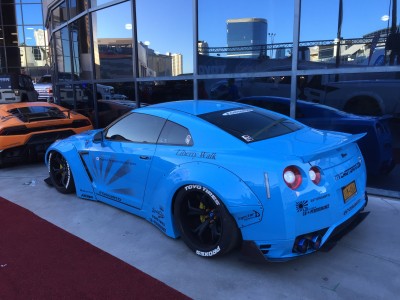 Within the 1 million+ square foot, 4-building Las Vegas Convention center there are hundreds of lowered imports, resto-modded muscle cars and those crazy lifted trucks.  There's far more to the show than that including celebrities, extreme demos, parties and general excess.  Unfortunately, SEMA isn't open to the public, but that doesn't mean you can't experience what it's like to attend the craziest show on the automotive calendar. Enjoy the following highlights from our visit to SEMA in Novemeber. We will start with our display car, the OEMs, Datsuns and move on to the wild stuff!
The OS Giken TC24B1Z Skyline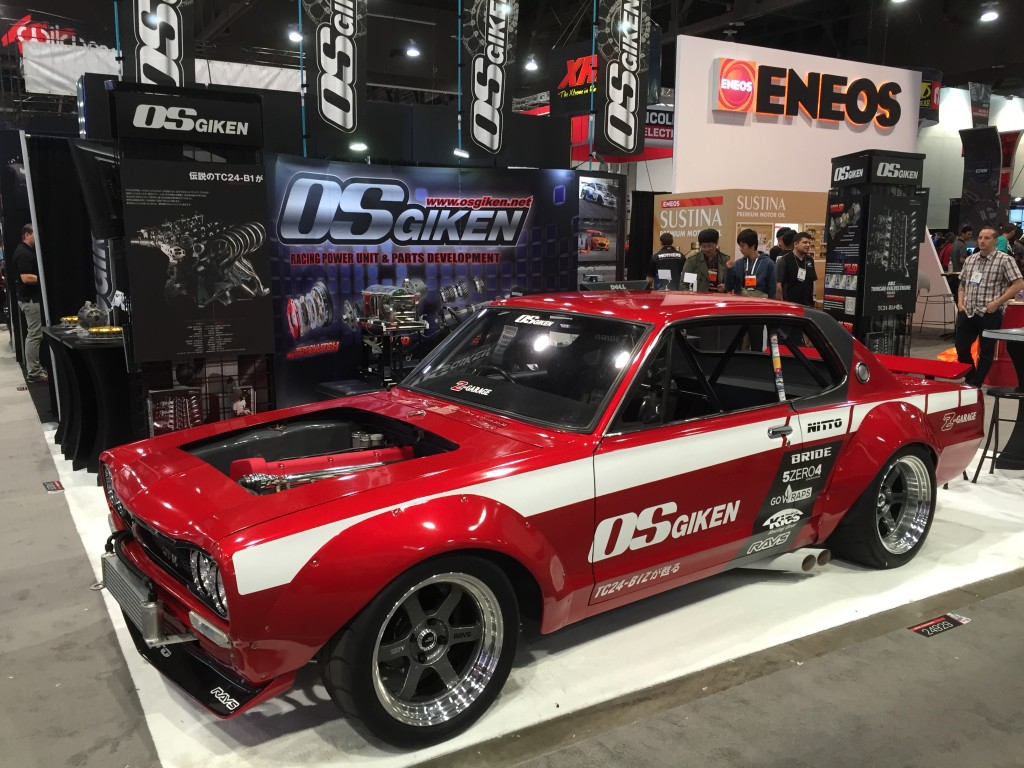 Last year at SEMA we debuted the legendary OS Giken TC24B1Z engine inside our ZCG-restored Datsun 240z: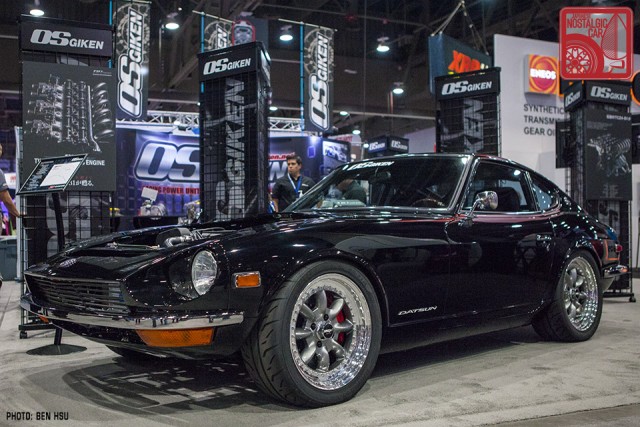 The Z was well-received but very subtle (by SEMA standards) so this year we stepped out of our comfort zone and helped build a "flashier" vehicle for display…a 1971 Nissan "Hakosuka" Skyline!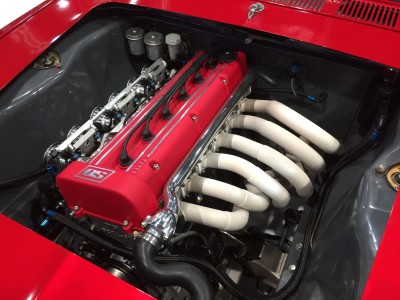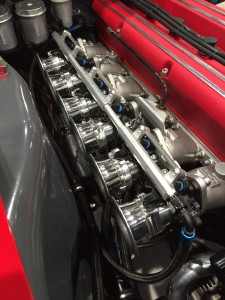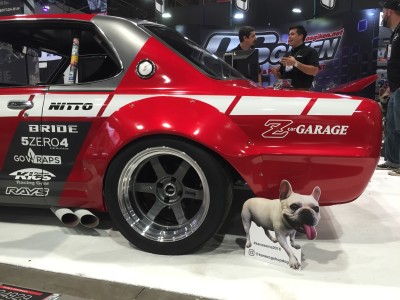 This time the TC24 was treated to different induction: Jenvey individual throttle bodies and EFI. Aesthetics were livened up with a red valve cover and white coated exhaust headers. The entire car was wrapped in a metallic red replete with sponsor graphics and 17″ Volk TE37V wheels on Nitto tires. Our "show hood" mod was utilized again to highlight the glorious TC24.
We were flattered by all of the fan pictures and even received a miniature scale replica of the Hako from Shingo!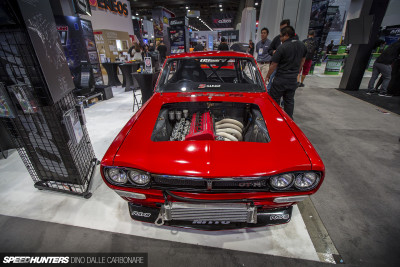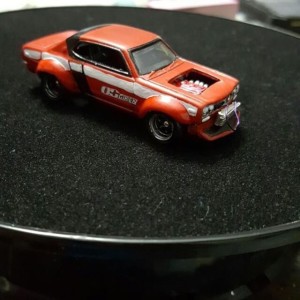 The Hako garnered attention from many social media outlets and drew significantly more traffic than last year's display. Later in November it went on to be displayed at the Los Angeles Auto Show!
Speedhunters Day1 SEMA
OS Giken Hakosuka
Race Cars at SEMA
Japanese Nostalgic Car
SuperStreet
Huge thanks to the crew from OS Giken and Alex M. Stay tuned we will have a full feature on the build soon!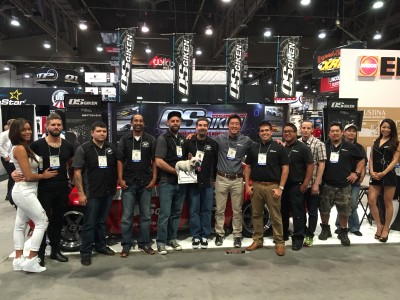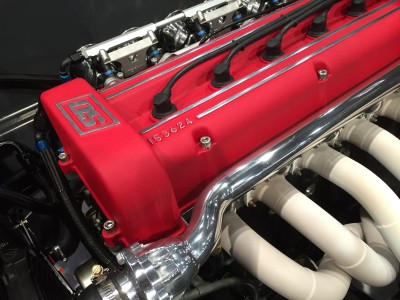 The Big Manufacturers at SEMA
As always, there's a big presence from US manufacturers, but this year Honda and Toyota (among others) made an impact on the show floors. Here's our round up of the big displays.
Ford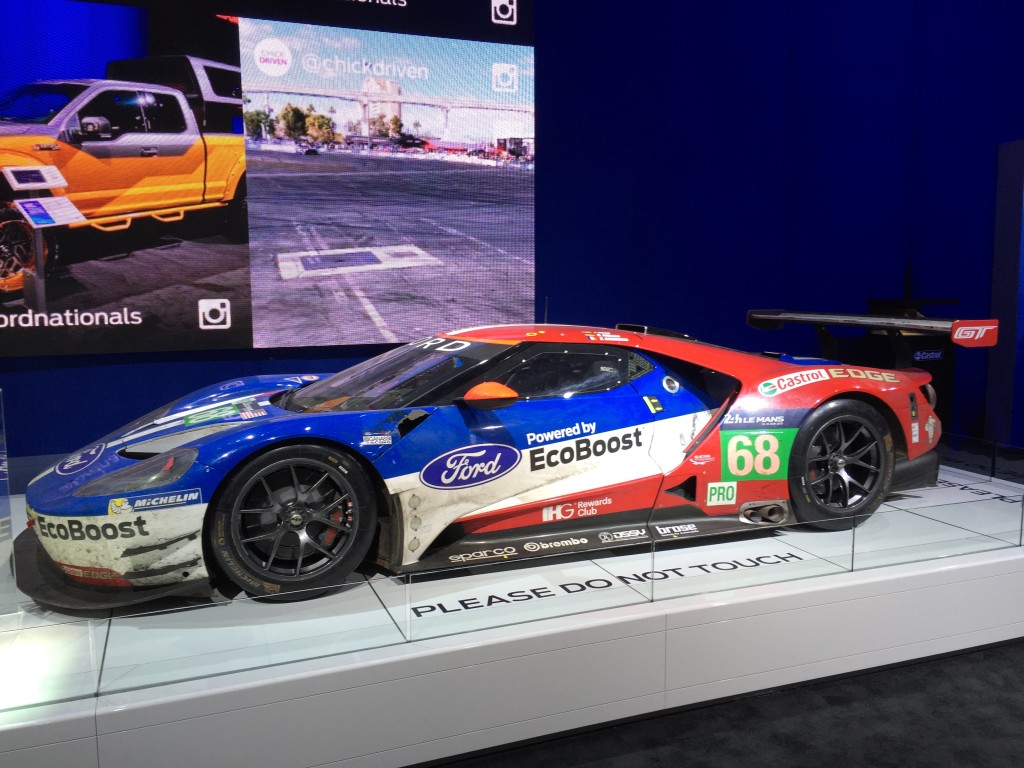 Ford had the largest display in the main hall with an extensive showing of their hottest cars and trucks. My favorite was the new GT supercar complete with battle-scars from a LeMans race. It even sat across from an original Ford GT40. Ken Block's "Gymkhana 9" Focus and other tricked-out Foci below: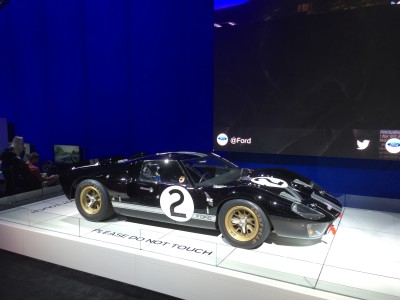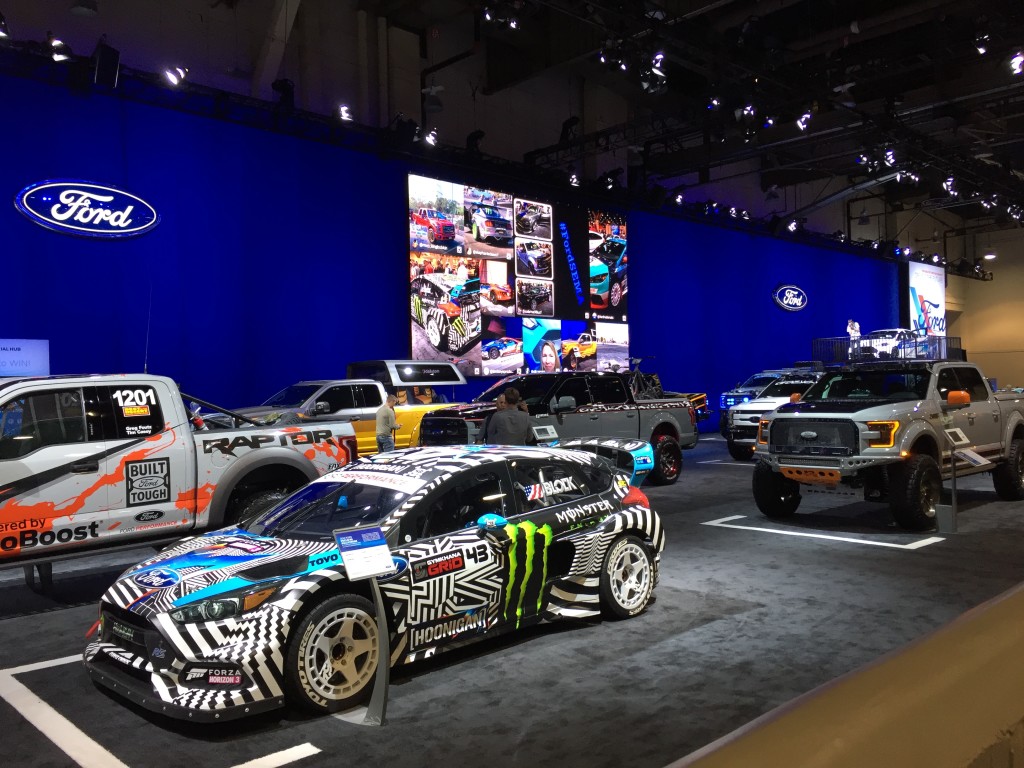 Honda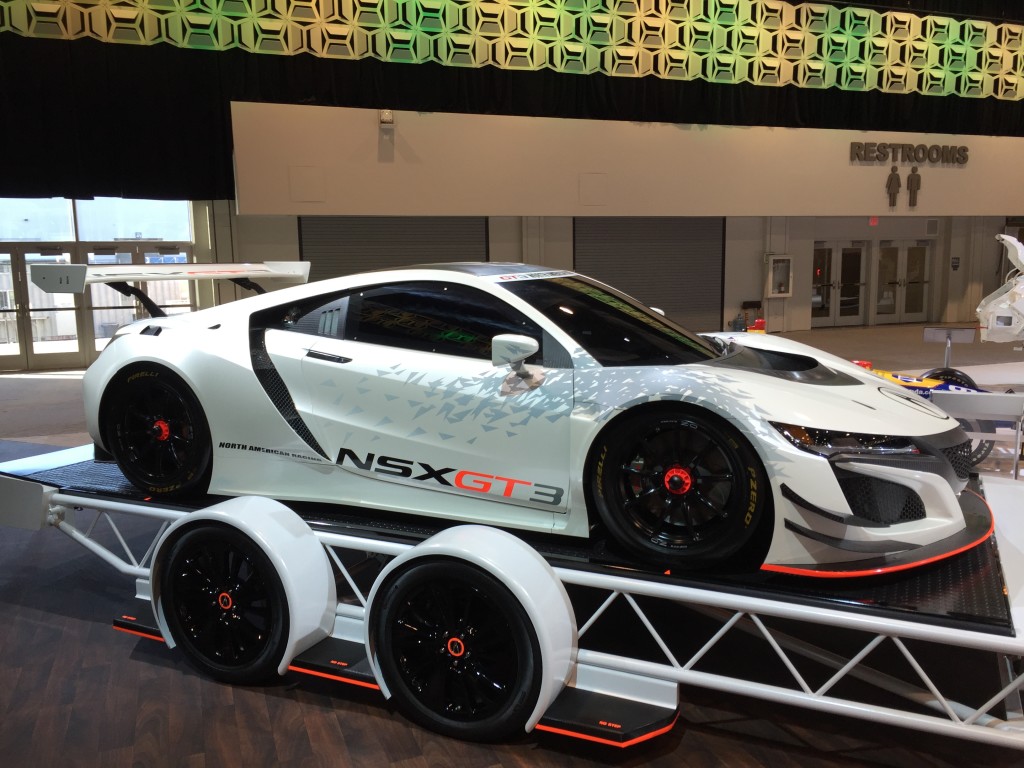 Honda announced its return to the Pirelli World Challenge series in 2017 with this NSX GT3…being towed by Acura MDX!  Below, the new NSX looks great in white, the new Civic showed as body-in-white tuning platform and the new (for the US) Civic Type R: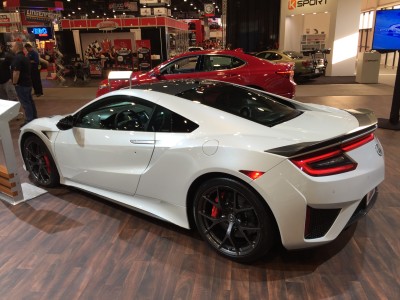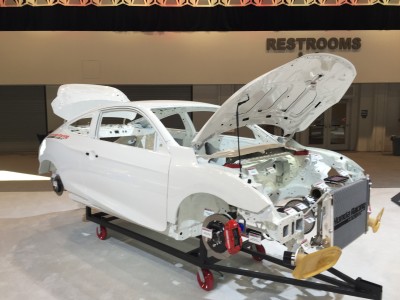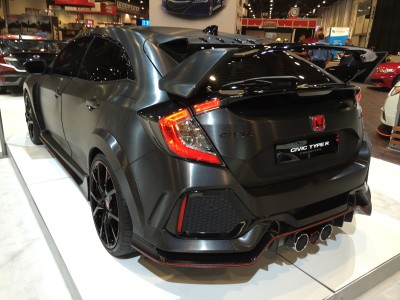 Toyota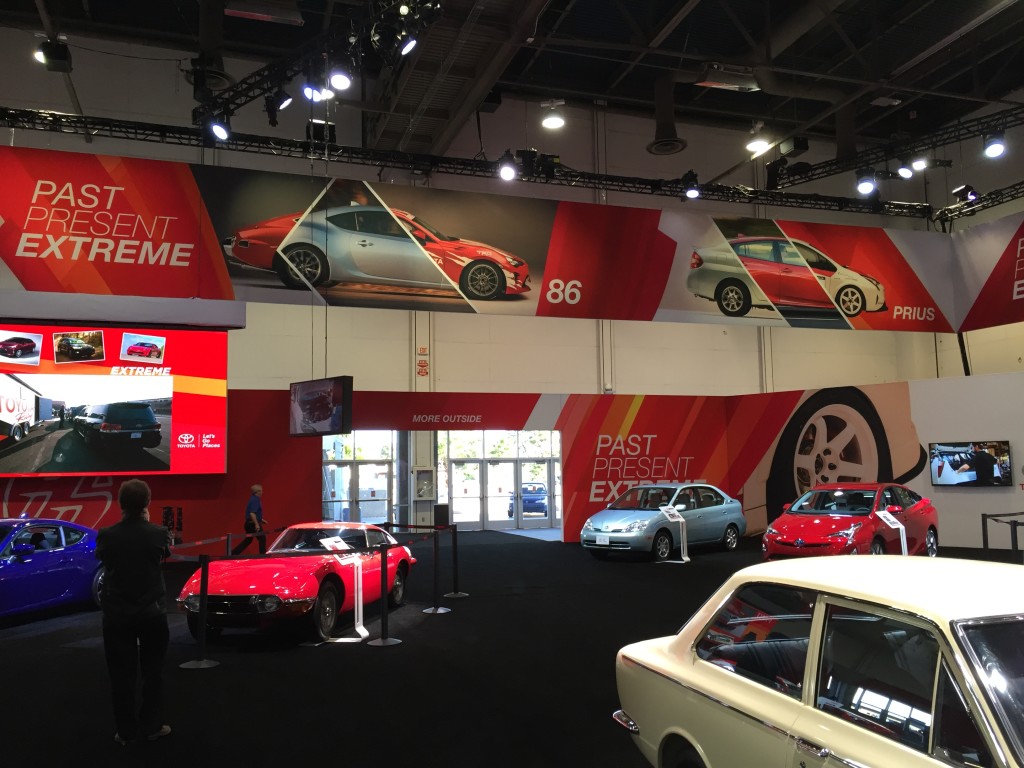 Toyota had a neat throwback-style displaying paying tribute to its heritage vehicles. They even brought out the entire generation of Corollas in celebration of its 50th anniversary! Below: 1951 Land Cruiser, 80's Van and the "World's Fastest SUV": a 2,000hp twin-turbo'd v8 Sequoia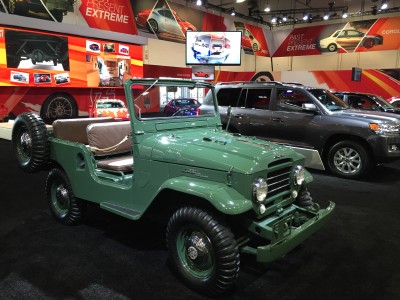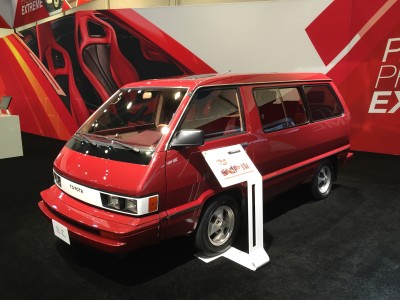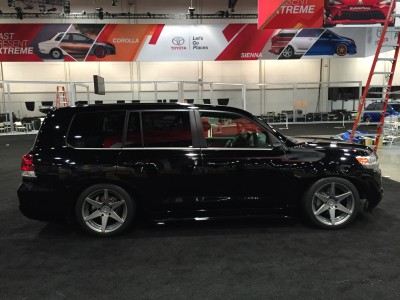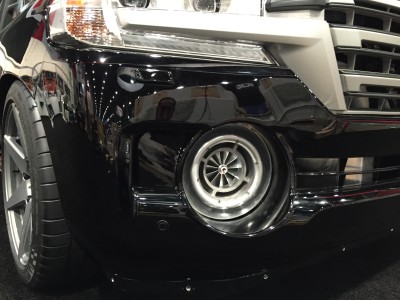 Datsun Domination at SEMA!
We begin our coverage of all the Datsuns/Nissans at SEMA, and there were plenty! Let's start with our OS Giken booth neighbor, ENEOS. Their display car was none other than Ginash George's C10 Skyline. Ginash is the founder of the successful JDM Chicago and also owns a beautiful NSX.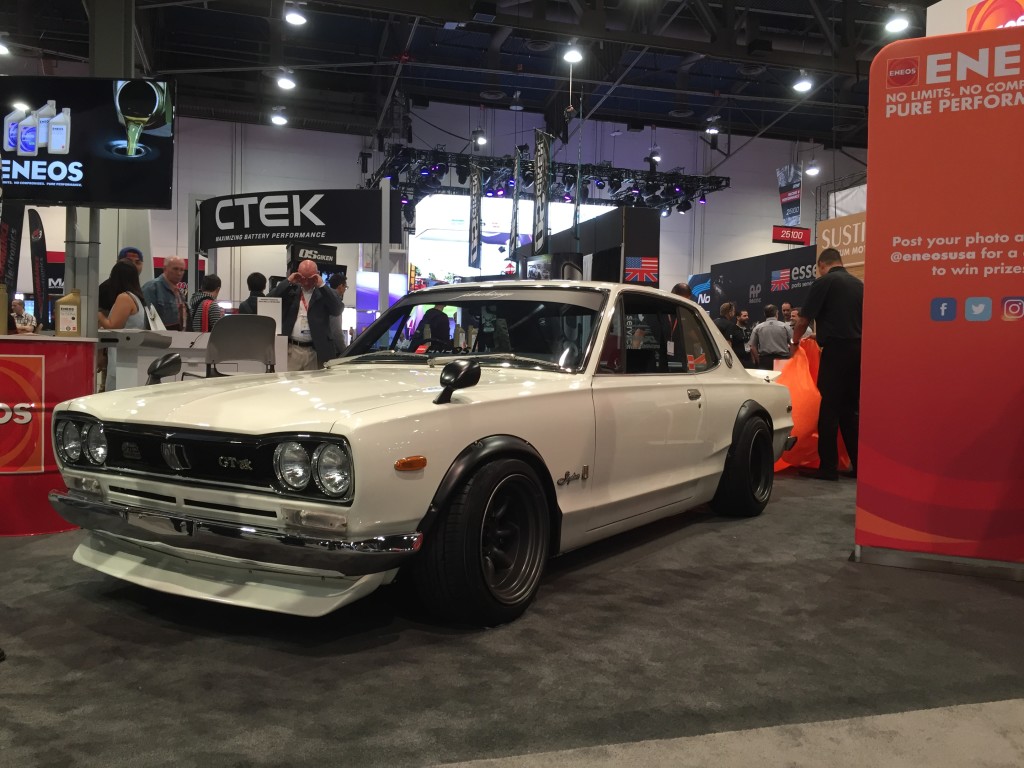 Ginash enlisted the expertise of JDM Legends to build this stunning Hako. All the right choices on this one! And he's a wheel aficionado to boot as well. Super Street gave it a SEMA award!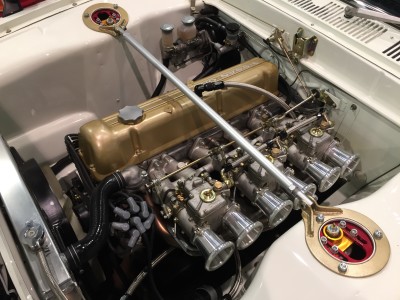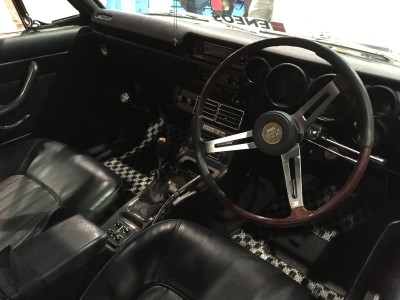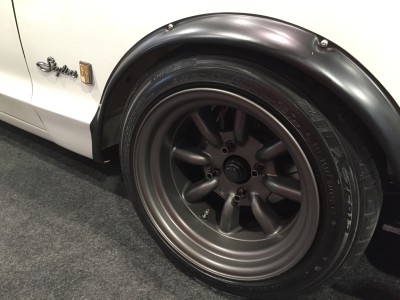 FOUR S30 Z cars were at SEMA. If we had to pick a favorite it was the ChasingJs 280z built by Dominic Le. You might be familiar with his last SEMA creation, the Hakotora that was featured on Jay Leno's Garage.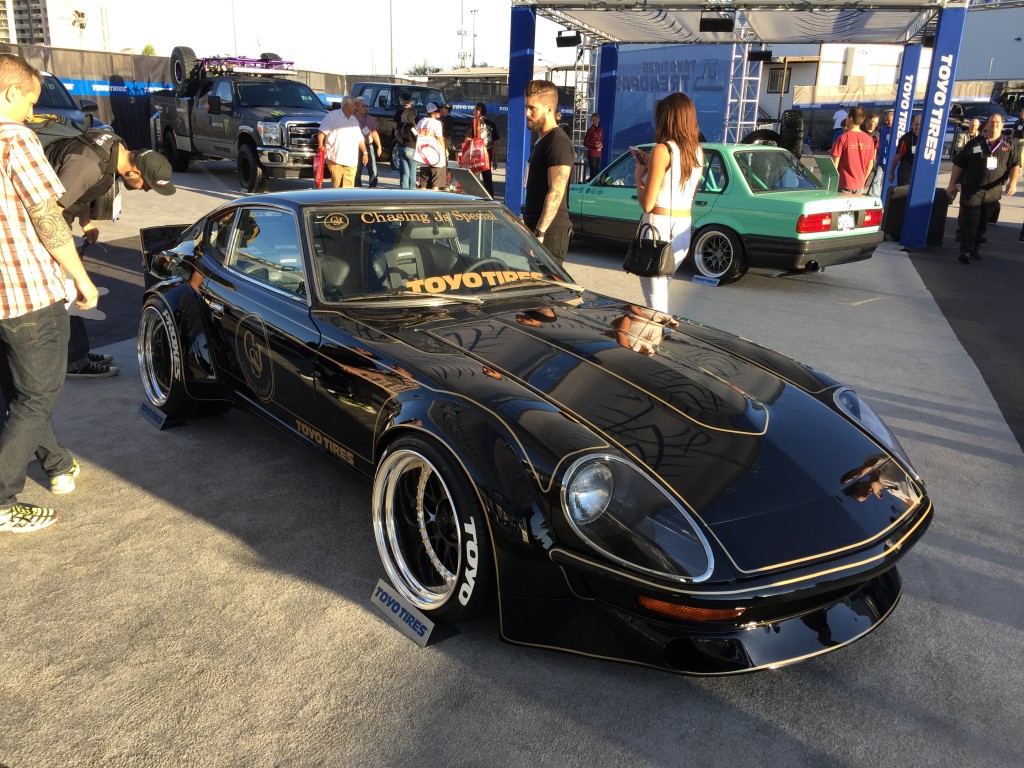 The build was based on a rendering from talented artist Jon Sibal…and built in Dom's garage!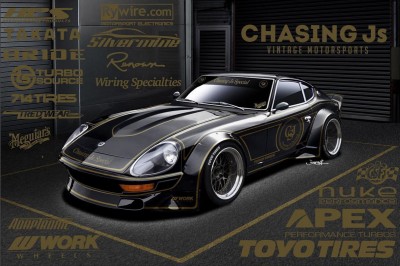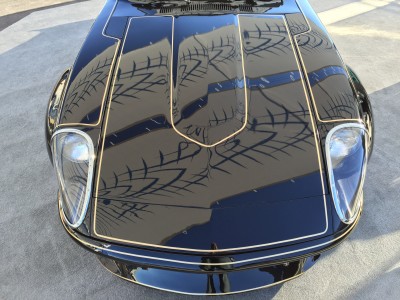 The clever John Player Special striping was hand-applied by Dom himself. Note the rare G-Nose headlamp covers. Power comes from a single-turbo 2JZ-GTE with 1,000hp as the goal. We love it!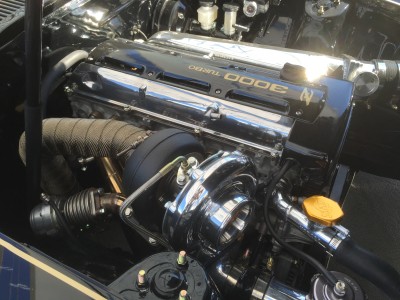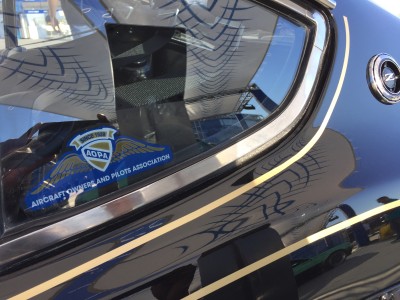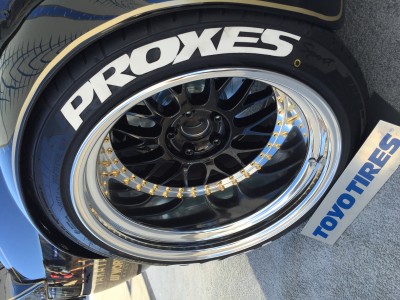 The Liberty Walk Fairlady Z turned heads with its unmistakenable bosozoku style. Sporting their fender flare kit, "notchback" rear hatch, smoothed rear panel and small-ish 15″ wheels it seemed a bit out of place in the DUB nation booth, but still cool.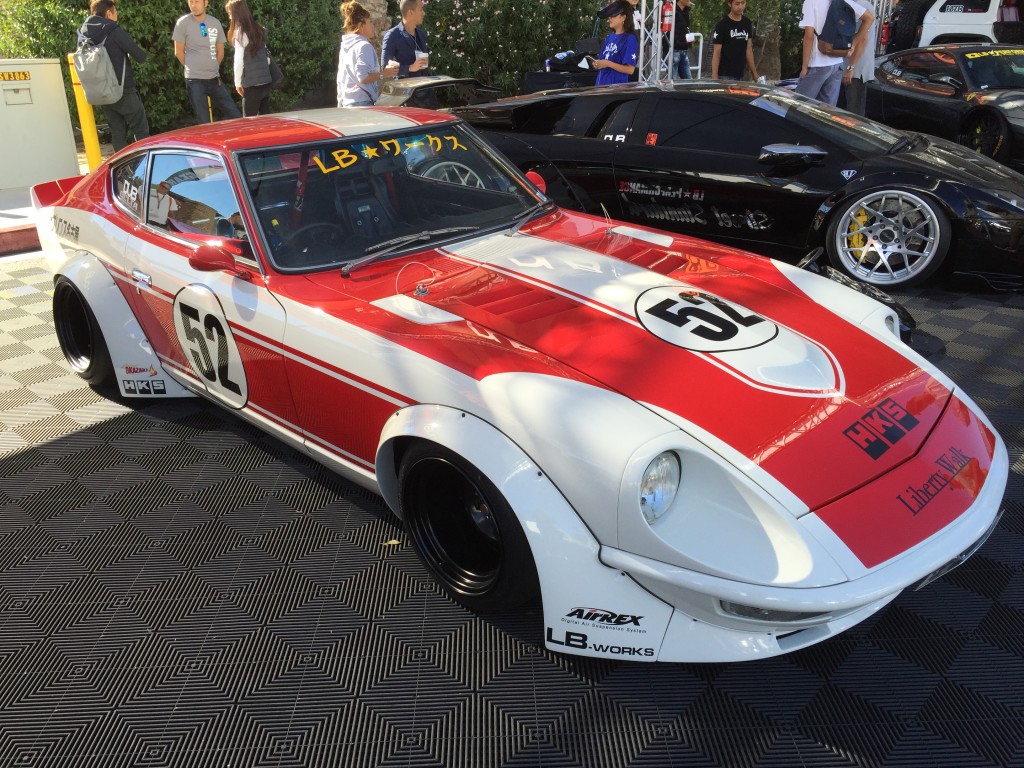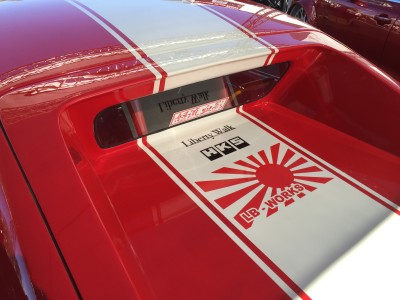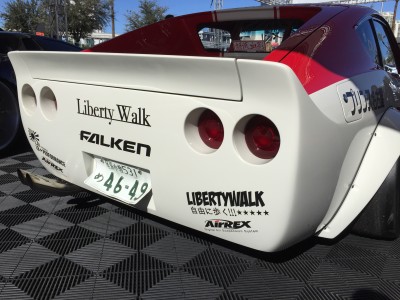 Chris Forsberg's 280z underwent a total makeover for SEMA.  The single turbo RB26 revieved a custom billet valve cover and the body showed off a new kit from Carbon Signal.  The kit really flows well with the G-nose and front spolier. The interior was also finished by Amir and his team in the UAE.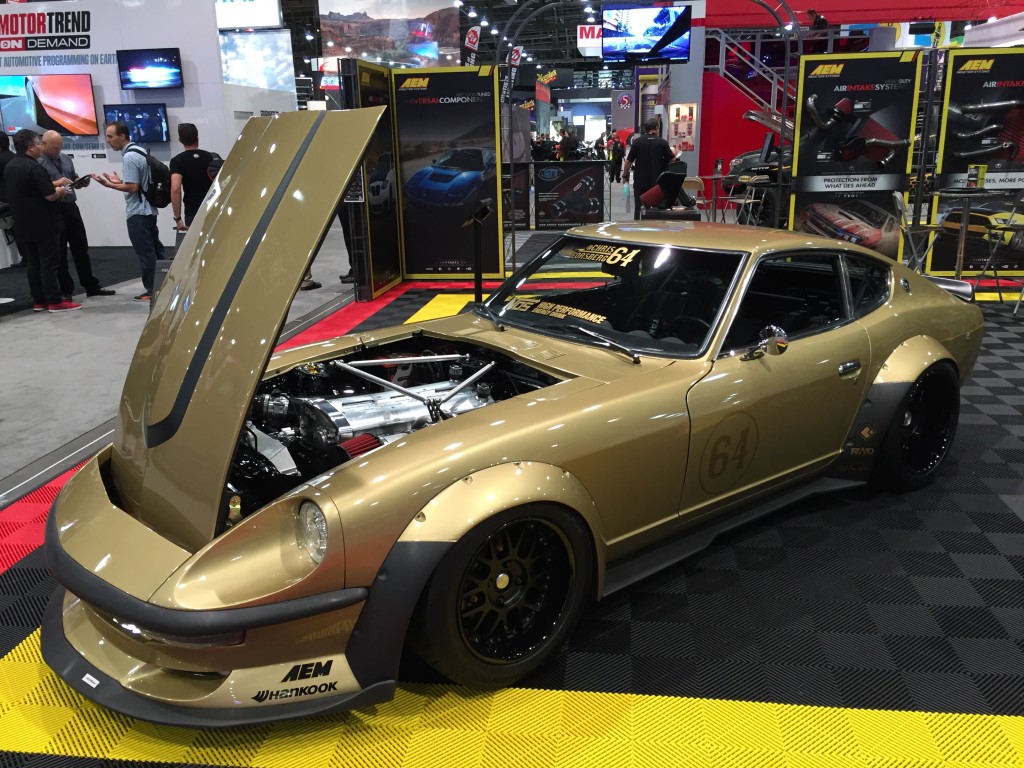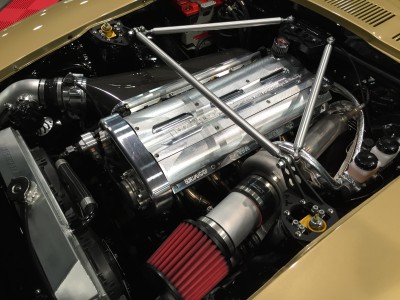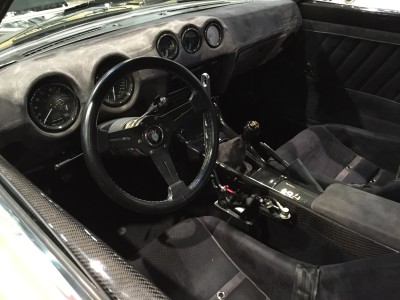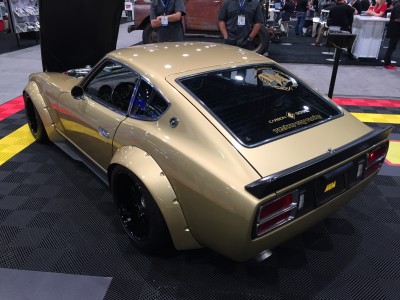 The legendary Pete Brock displayed his personal BRE Tribute 240z in the Braille booth: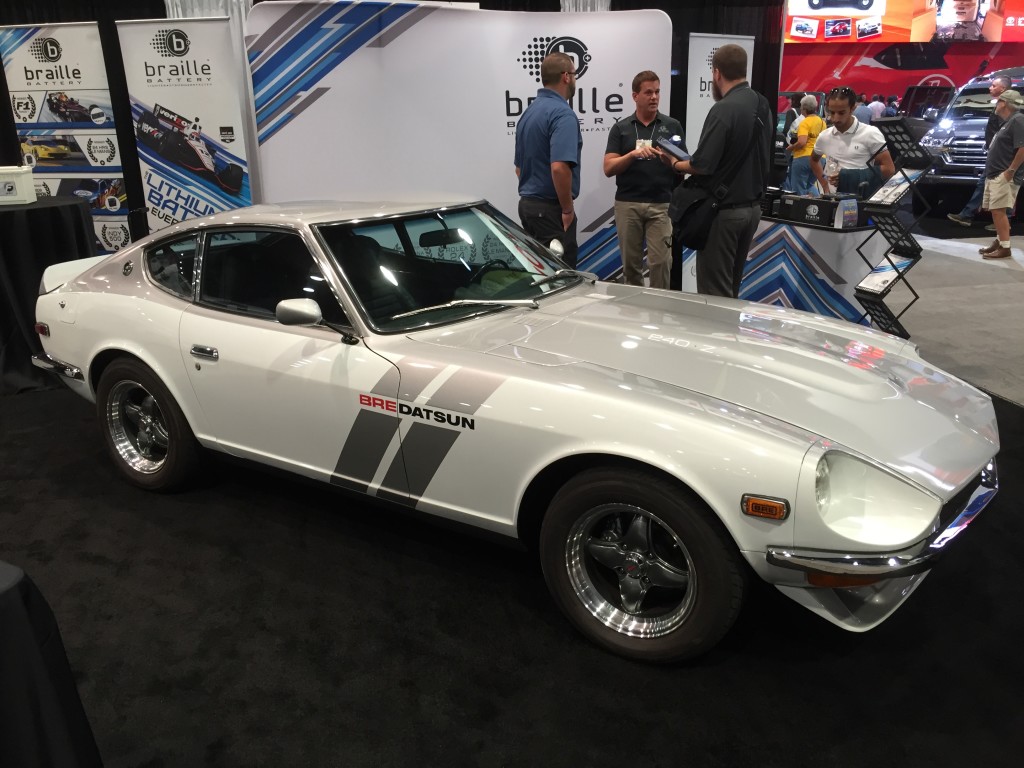 A lone Datsun 510 slammed via AirLift suspension and 13B rotary power. The BBS wheels were mint!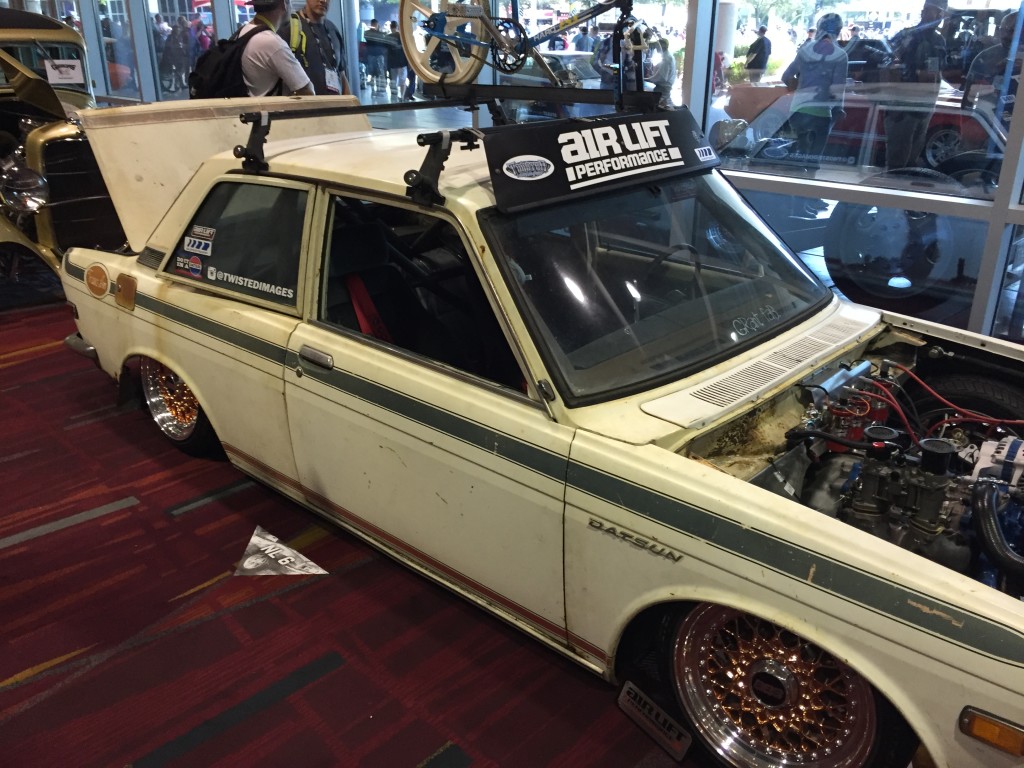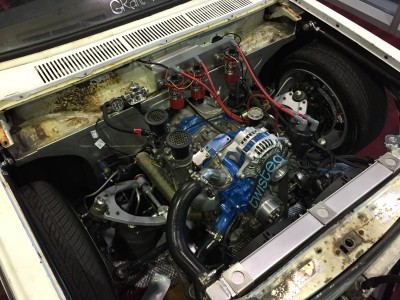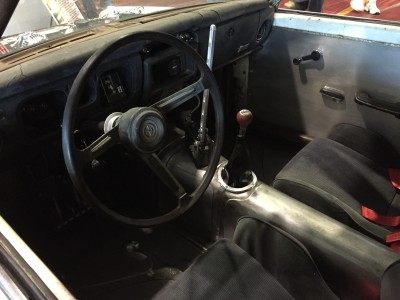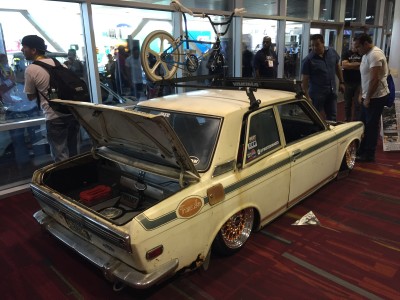 This Datsun Bluebird L320 pickup was a pleasant sight amongs the wild bodykits. You see those chunky rear tires on widened steelies? They're probably necessary to reign in all the instant torque from the electric motor conversion!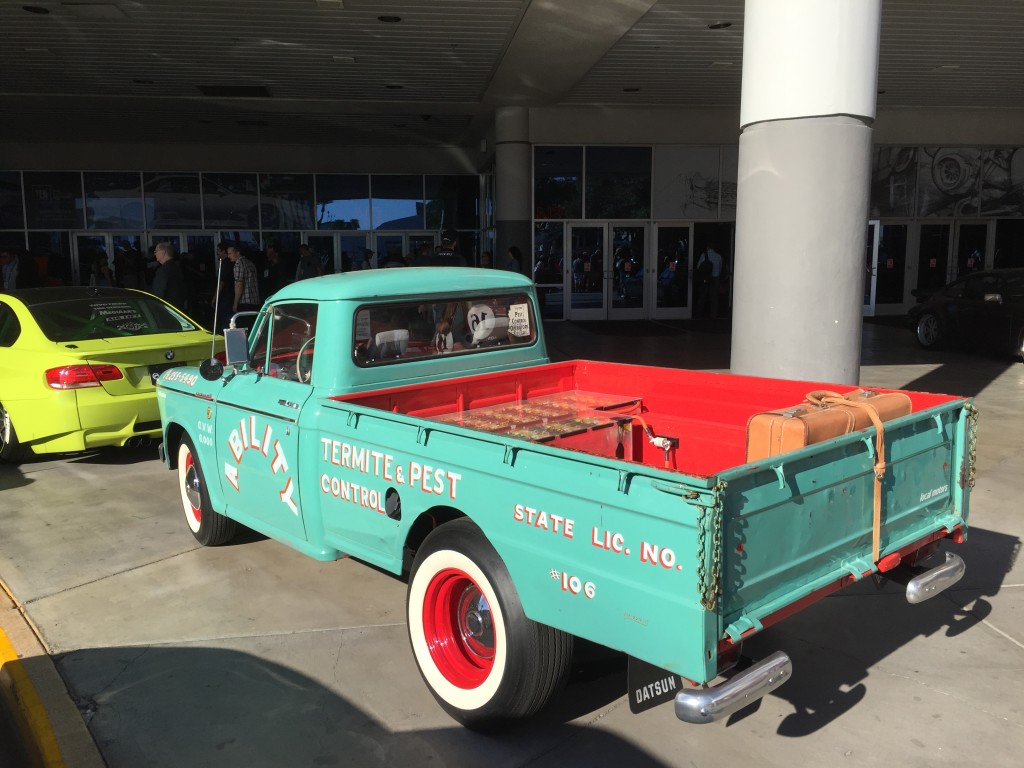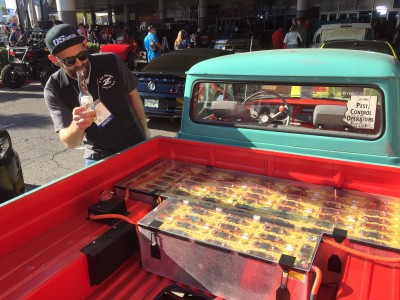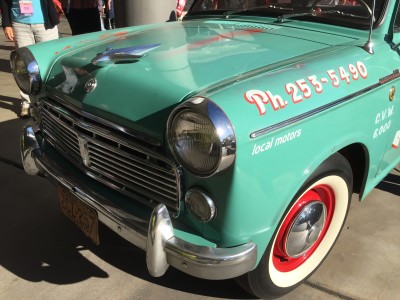 Late Model Nissans
Steve Pham's unorthodox turbocharged BMW N54 turbo. This Rocketbunny "Boss" kitted Nissan 240sx (S14) had new BRE-inspired livery for the show. Below, a JDM model S15 Silvia with a widebody kit: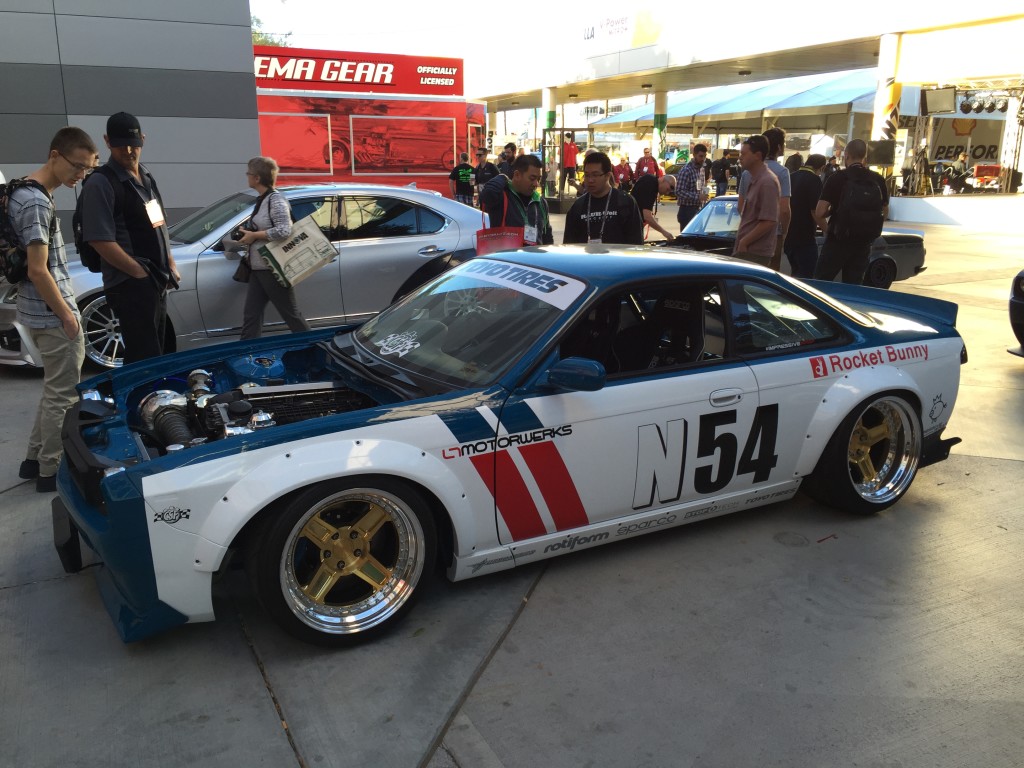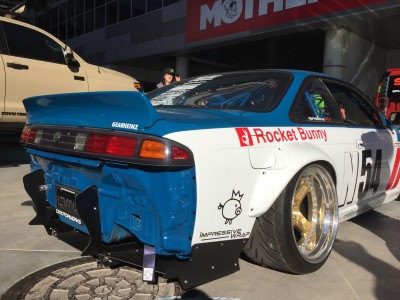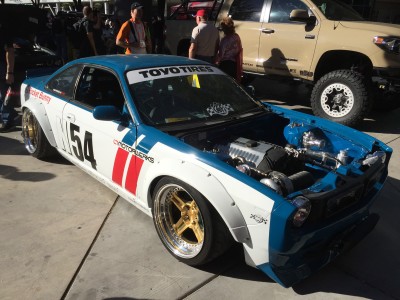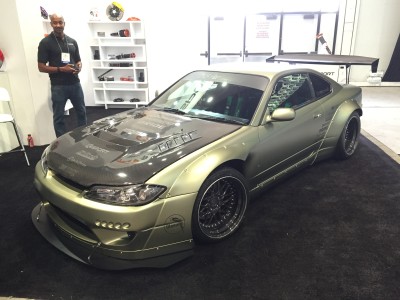 A lone Nissan 350z with a full 2JZ engine swap: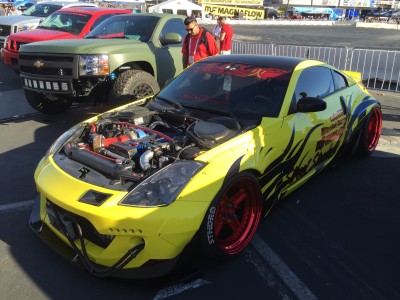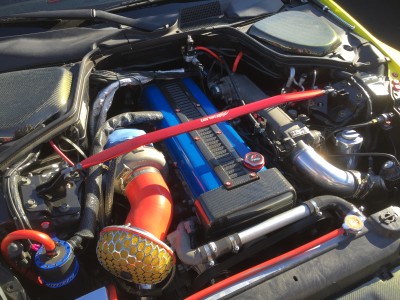 Several 370z cars. Nascar V8 powered,  Amuse and Libertywalk-kitted: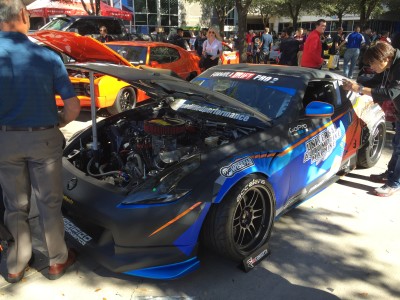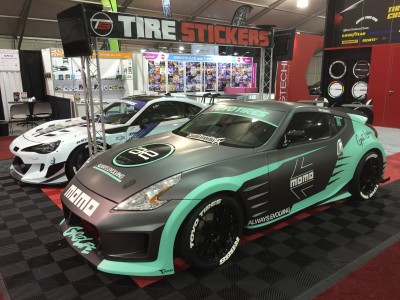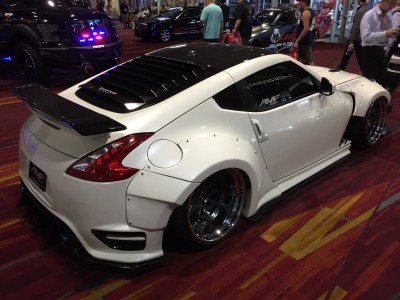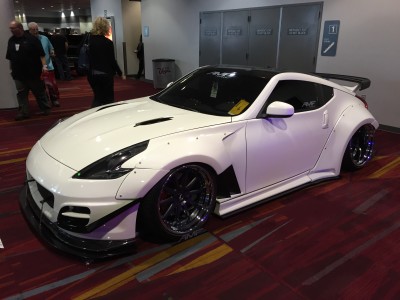 Lots of R35 Skylines!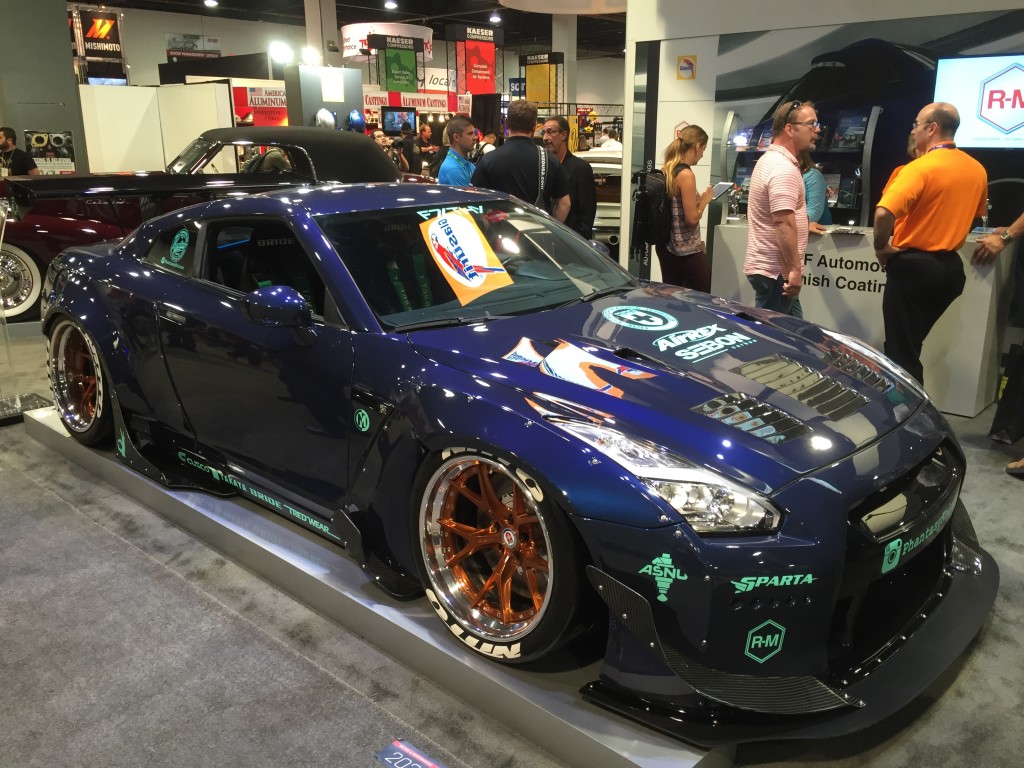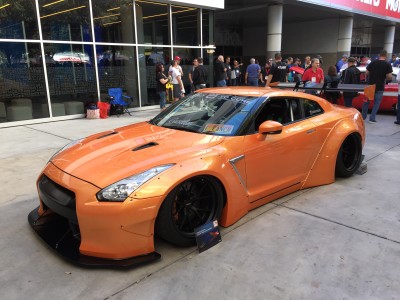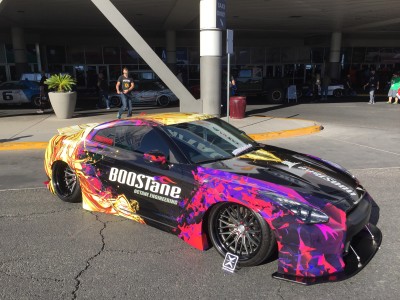 Our favorite Skyline was the R32 4-door in Greddy's booth. Powered by an RB26DETT it was a simple exercise in cleanliness, without flares! An R34 in was nearby in the Borg Warner turbo booth: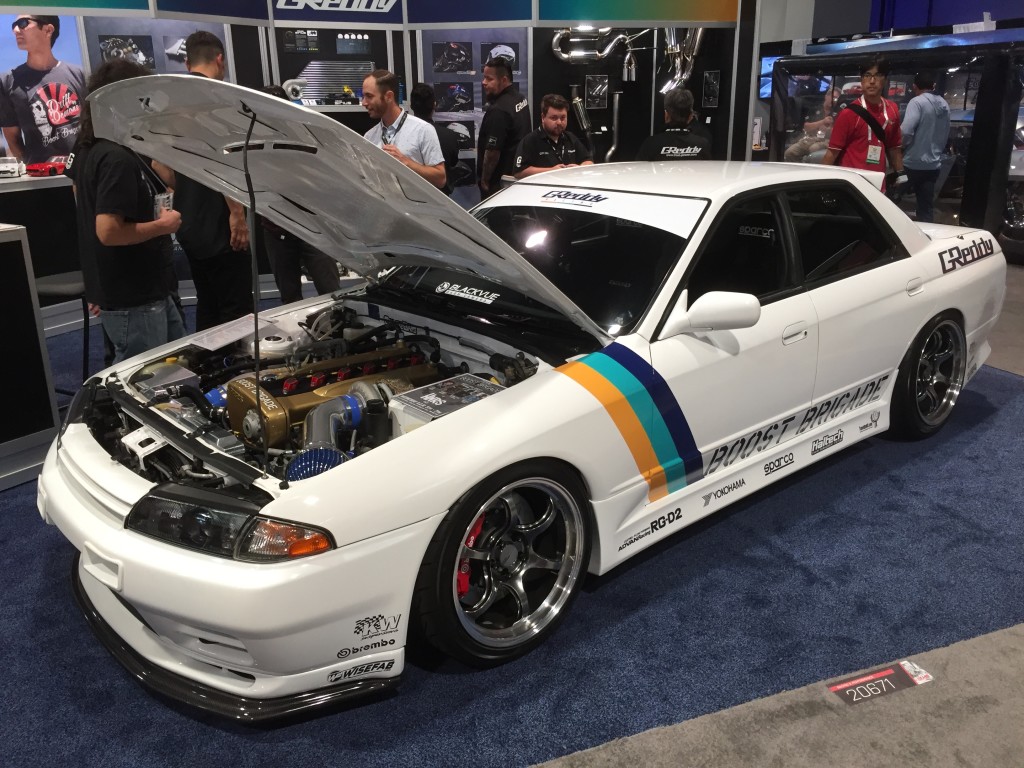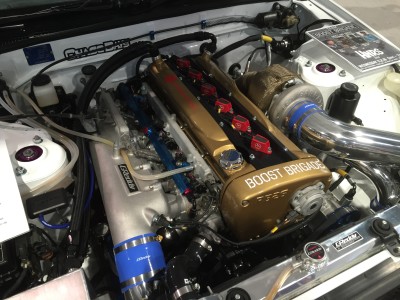 Honorable mention: Not a Datsun, but the BMW 2002 from CAtuned looked gnarly with a steampunk feel. The boosted inline-6 M20 shoe-horned into the engine bay was a surprise! BBS Turbo-fan style wheels were killer: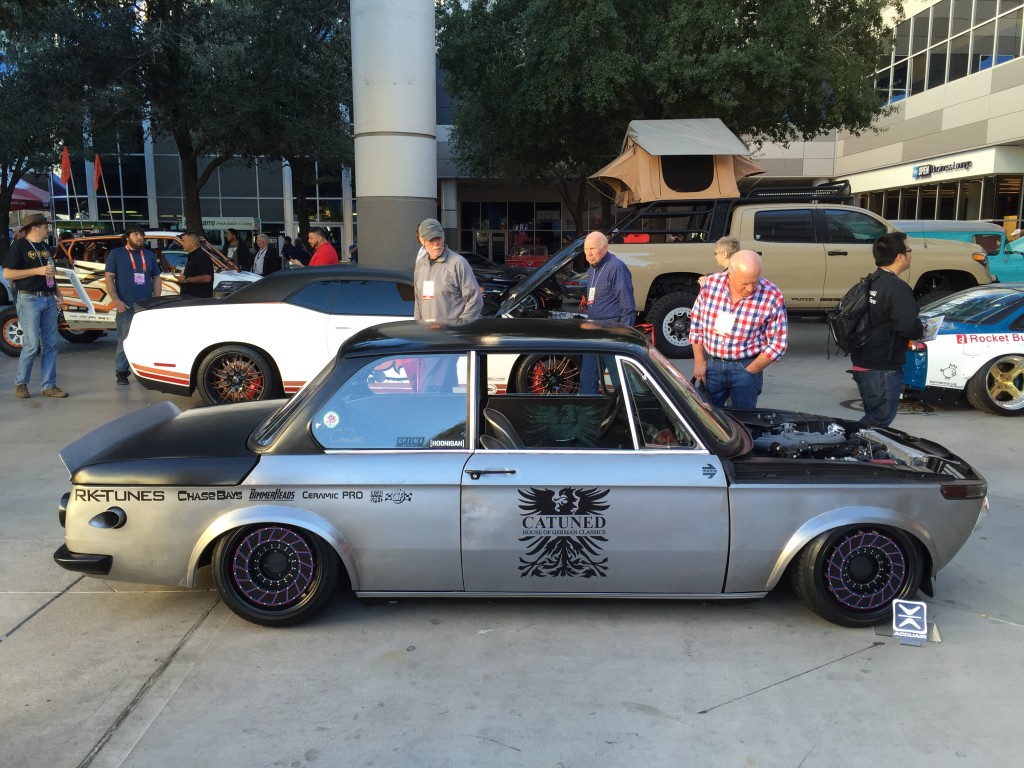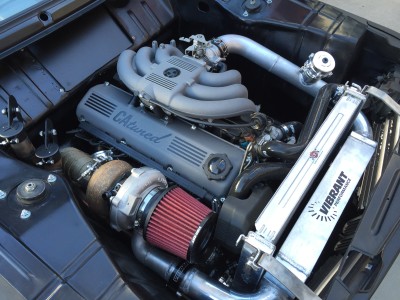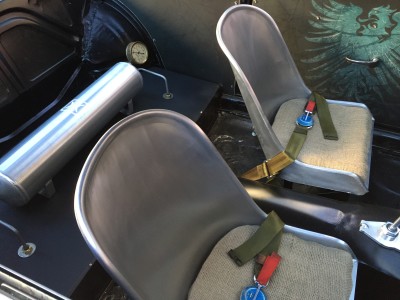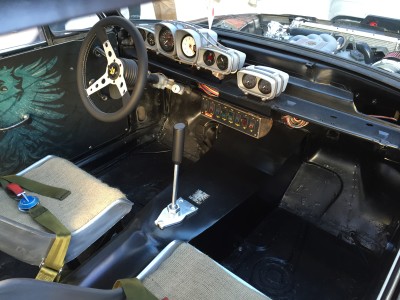 J-Tin Trucks!
This year we saw a great number of Japanese classic trucks. The FJ company showed three beauties: a rare 1967 FJ45LV (blue) and a restored 1978 FJ40.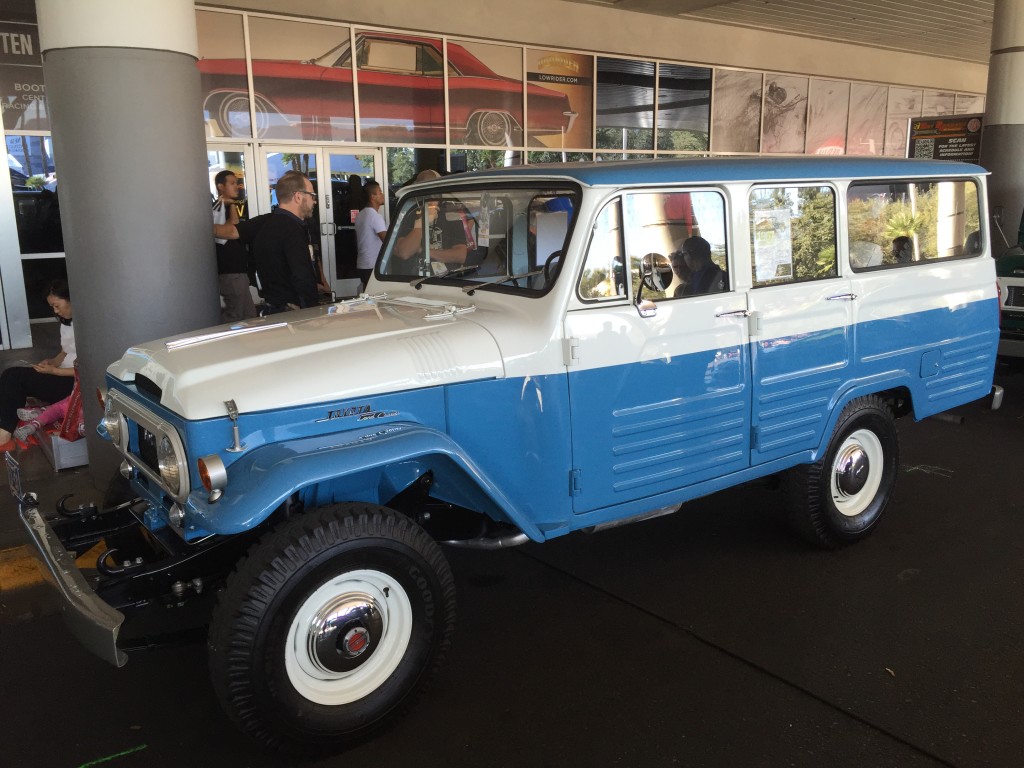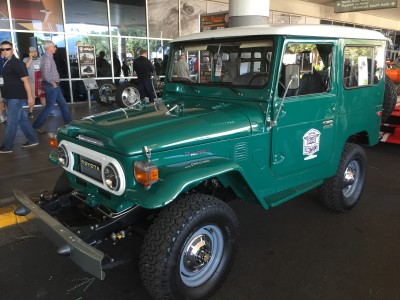 My favorite was their 1982 FJ43 as it had a modern 4.5L inline-6 and full frame off restoration: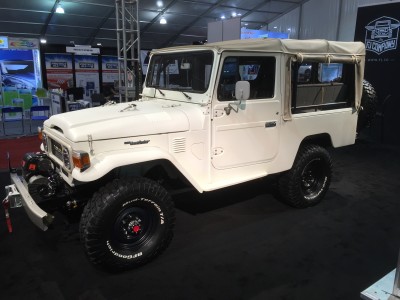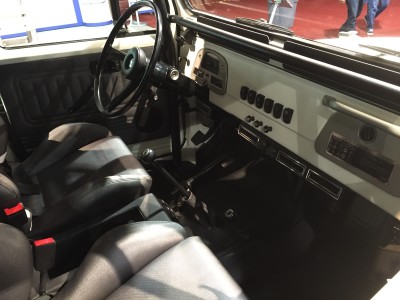 This FJ40 showed up mud-laden and unwashed from a 4,000 mile journey: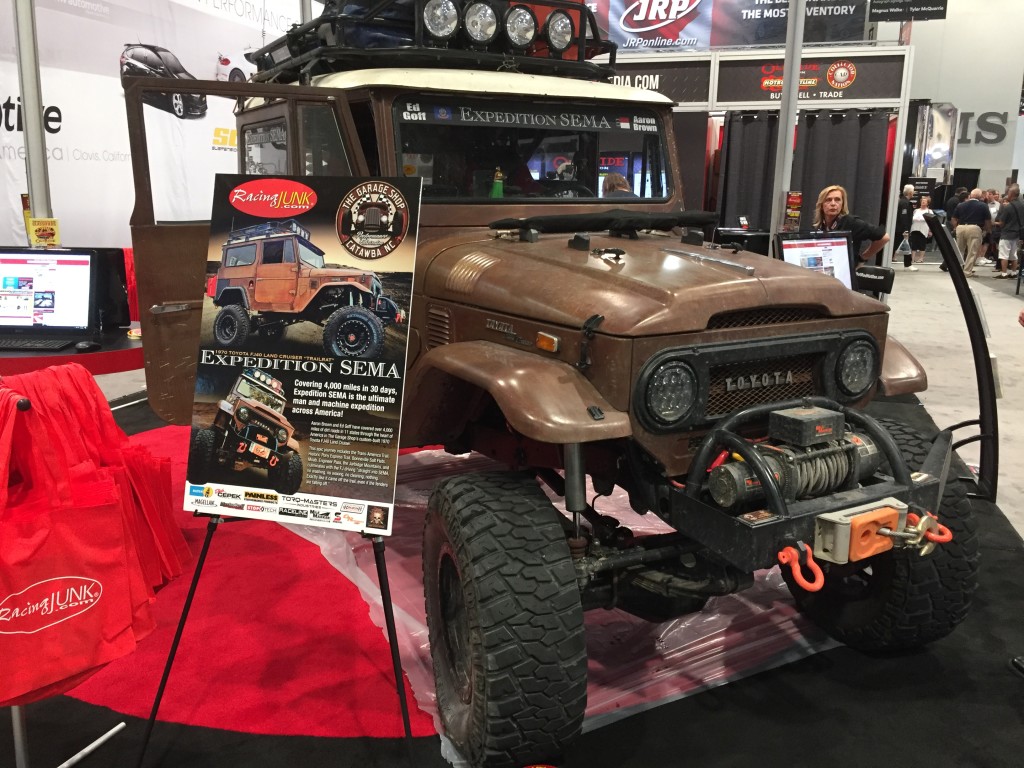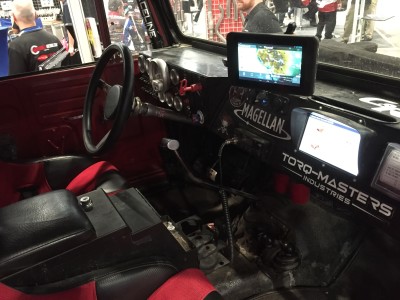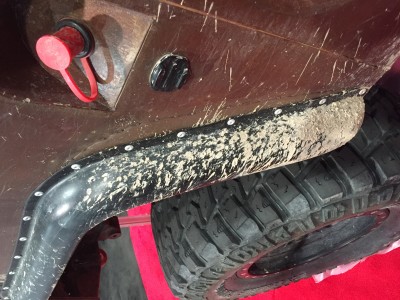 Kane Gets Around at SEMA
Our shop dog and Z Car Garage ambassador could not accompany us to SEMA, but we made sure he was with us in spirit. Watch as Kane soaks up the spotlight!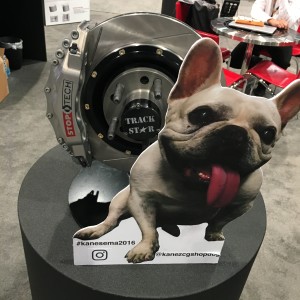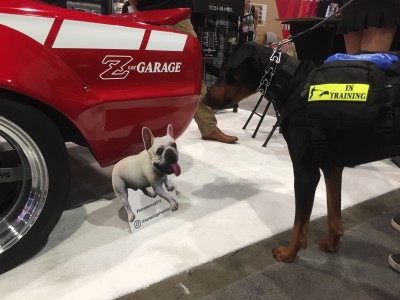 Friends and Family
We were happy to see many friends stop by the OS Giken booth. Ben Hsu from Japanese Nostalgic Car visited us and we attempted to recreate last year's photo (right). Thanks Ben!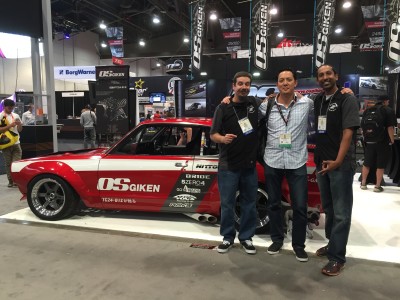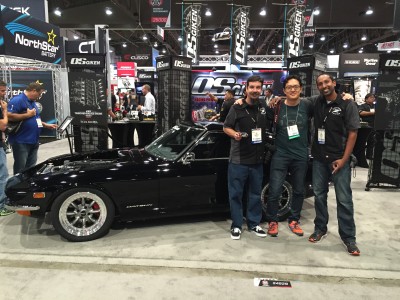 (Left) The talented Rob Ferguson and another one of his quick masterpieces! It was also great to see Sebastian from SpecialtyZ, Ginash and Eric from JDM Legends.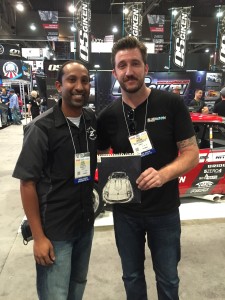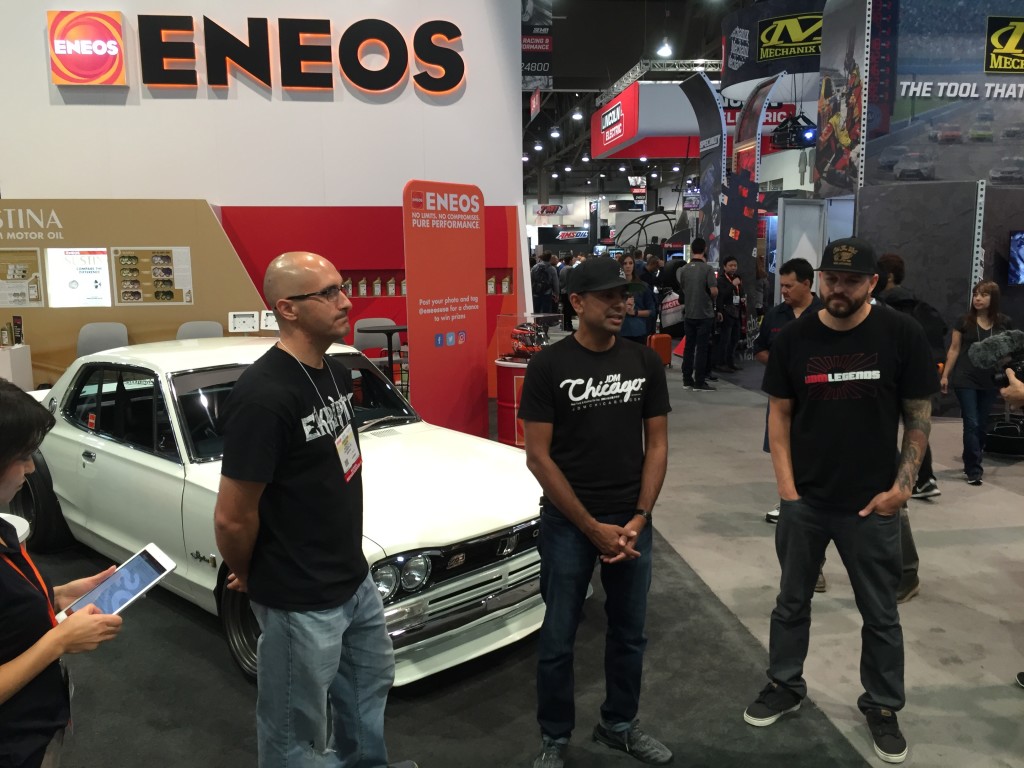 Celebrities
Starstruck! I felt like there were many more celebs walking around the convention center this year. As I walked into an elevator I realized that standing next to me was Magnus Walker! The elevator was silent. So I looked straight ahead and said aloud "I can't believe I'm standing next to Magnus Walker", and the man was so friendly! Yes, he even posed with Kane.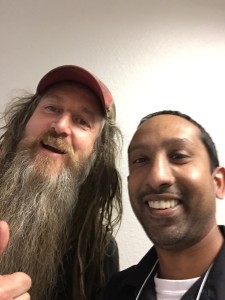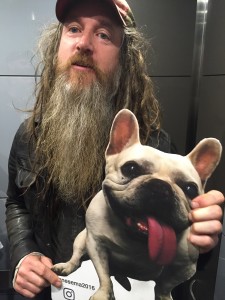 Unbeknownst to me that anyone could get an autograph from one of Magnus' many signing sessions! He did bring 3 of his own Porsche's to the show, more on my favorite one later: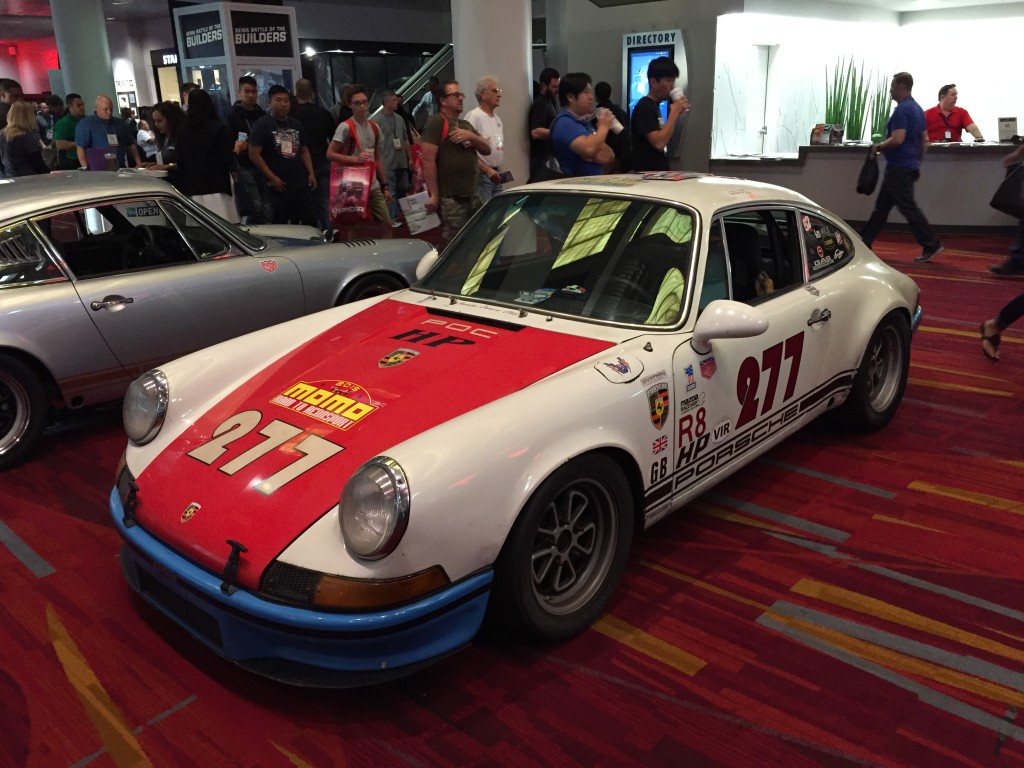 (Left)That's Sidney Hoffmann of Sidney Industries and his film crew checking out the TC24 Hako! THey included a snippet of the car for German TV. (Right) Rocket Bunny creator and aero kit superstar Kei Miura! Miura-san approves of the TC24!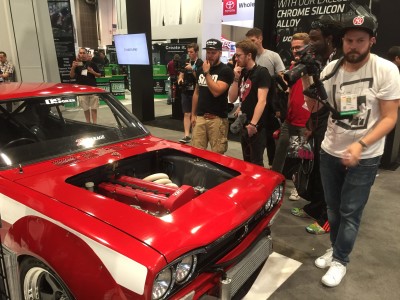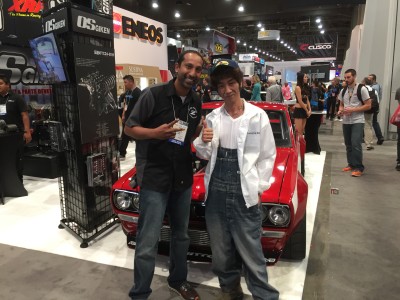 When he wasn't signing autographs for hordes of fans, Ken Block was seen checking out cars like everyone else! His wicked Gymkhana Mustang and Focus cars were on display outside and in the Ford booth. The Mustang got recent twin-twin turbo upgrade boosting power from 800hp to 1400hp!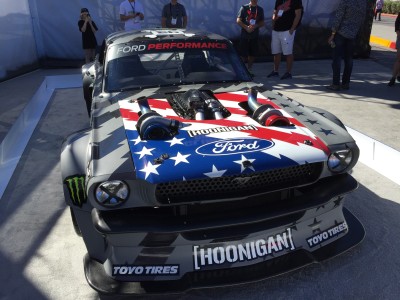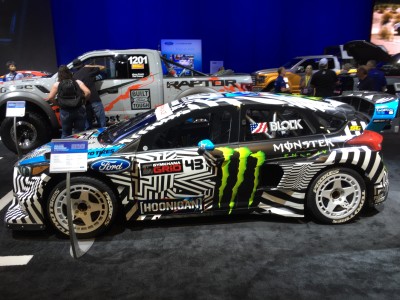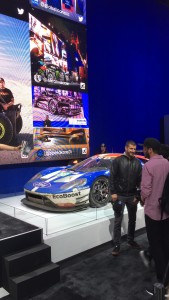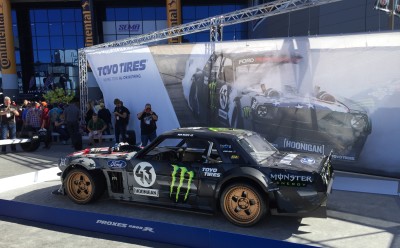 Our hero and a celebrity in our books, Pete Brock: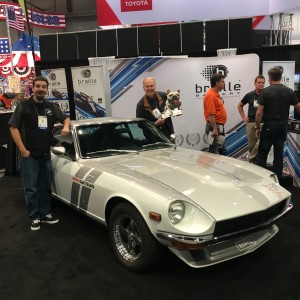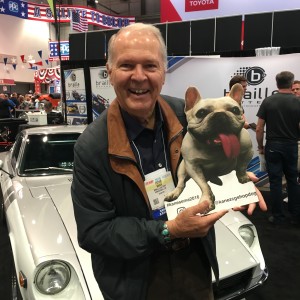 Movie Cars
The celebrities need to drive as well, right? Here are my three favorites. The latest Batmobile, parked in the Magnaflow booth. Did they supply the mufflers to quite down the thrusters?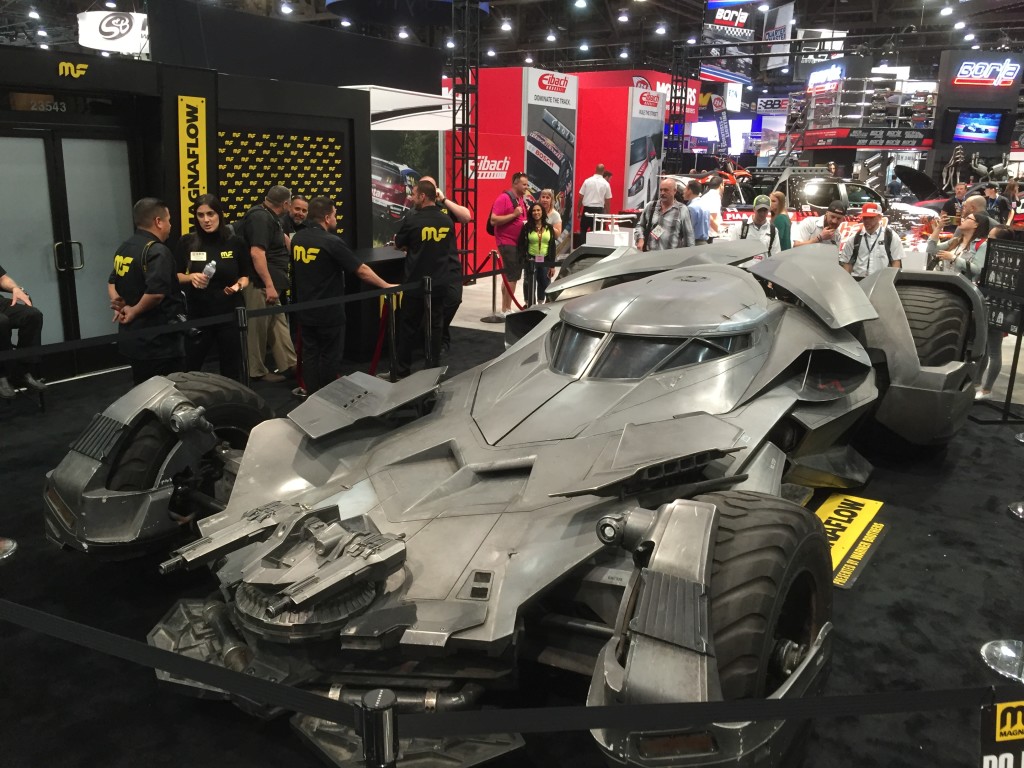 Filming for the highly anticipated upcoming Fast and Furious 8 is almost complete. The Dodge Ice Charger is mounted with a jet turbine at the back of the car, specifically modified to roll on the Icelandic ice.  Unfortunately, the jet turbine is only a movie prop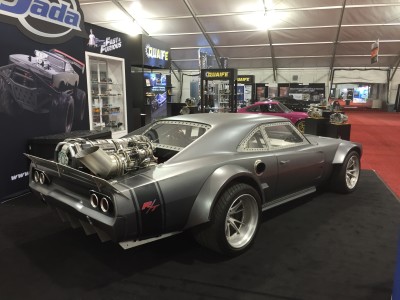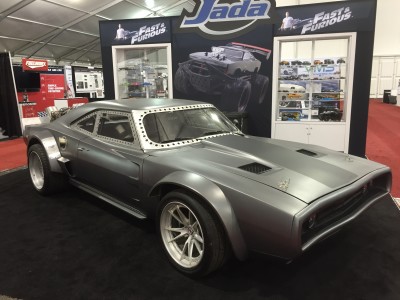 Shaken, not stirred. Fantastic DB5 from the 007 movies. This one had all the nifty gadgets cycling through their automation. Working smokescreen, revolving license plate, pop-up gun turrets and the killer knock-offs were neat to watch: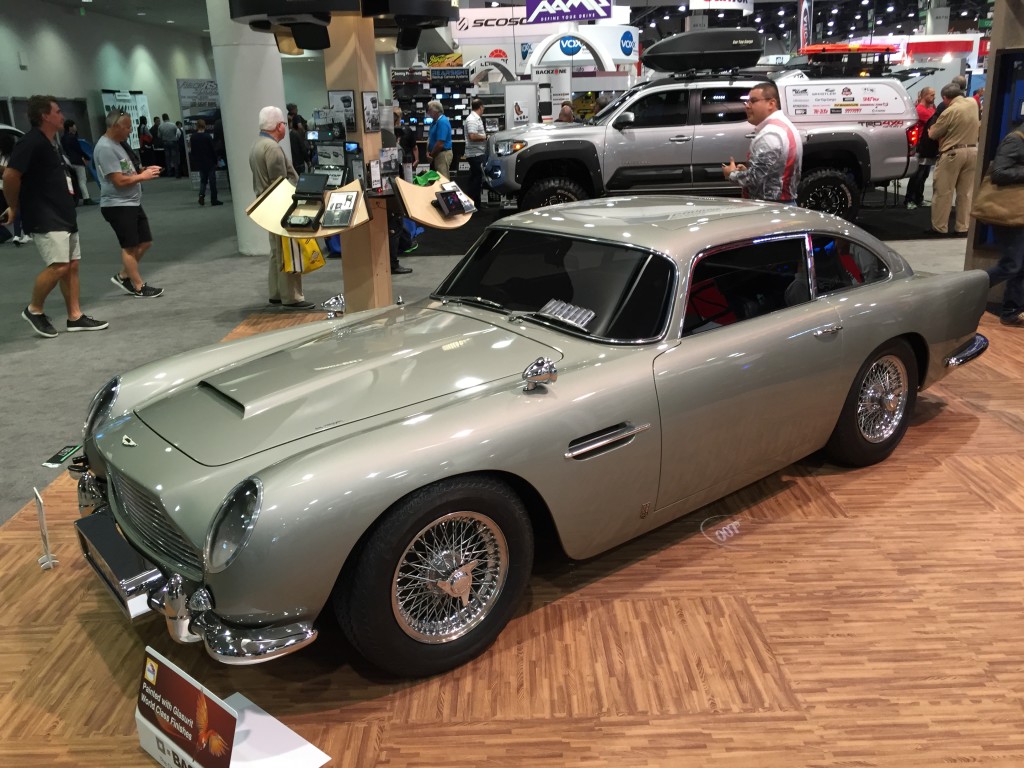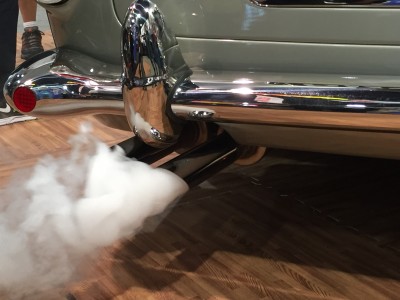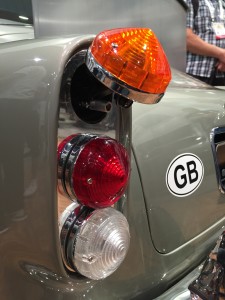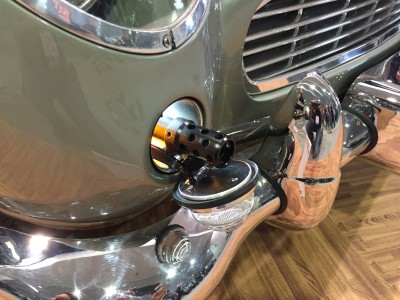 Pretty Porsches
Great showing of Porsche 911s this year. My favorite was Magnus Walker's 964. Incredible paint finish/color and details abound make this the quintessential Hot Rod Porsche.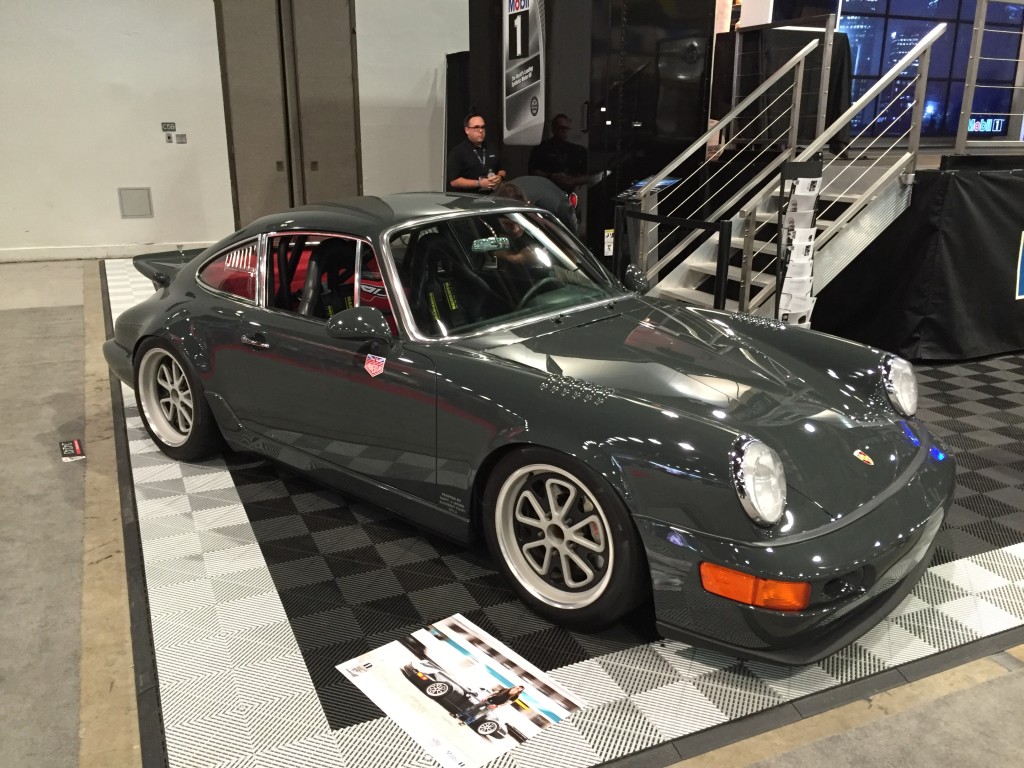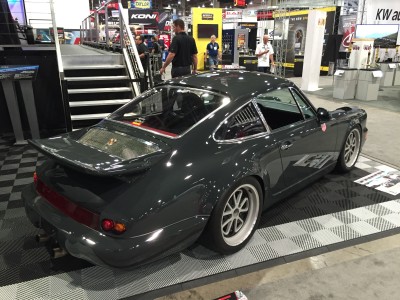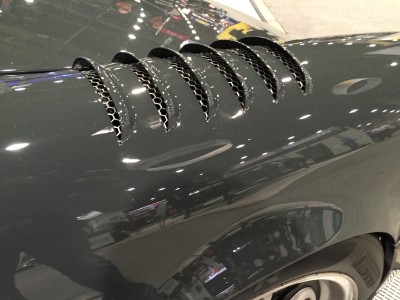 In addition to Magnus' 964 I loved this Porsche 930 Turbo built by Rob Ida. Icing on the cake was hearing it run in SEMA roll out!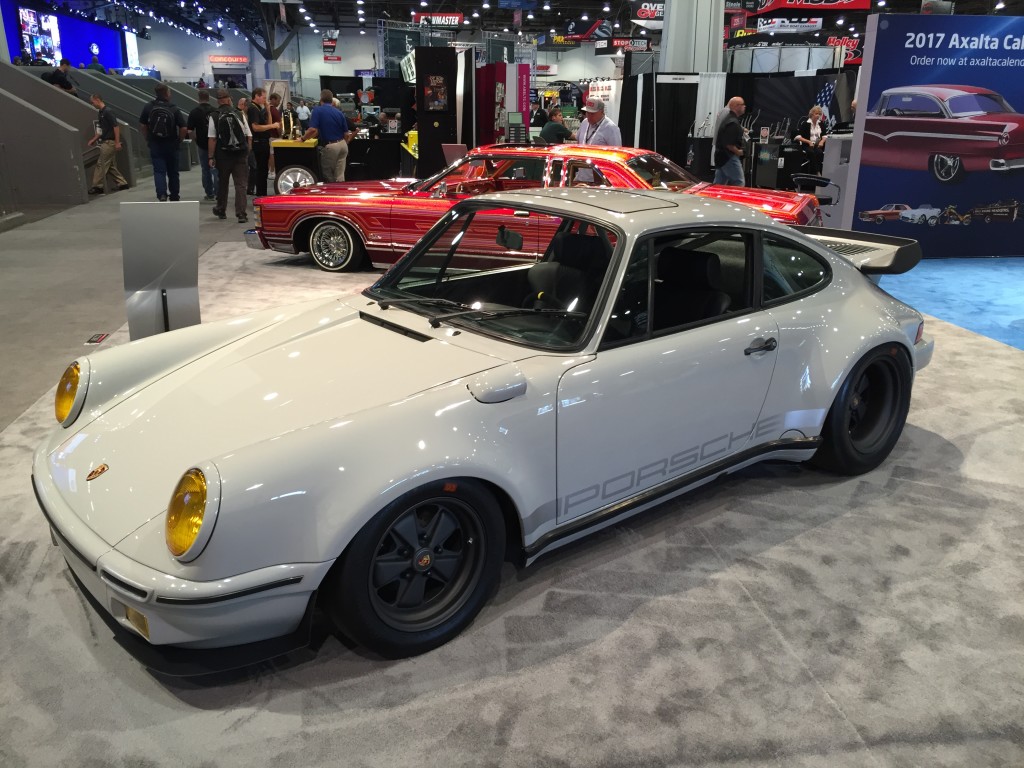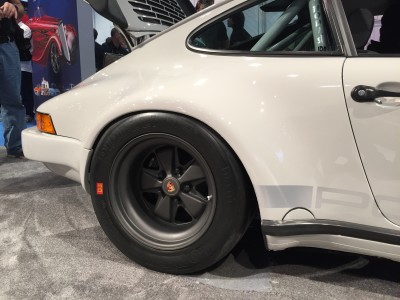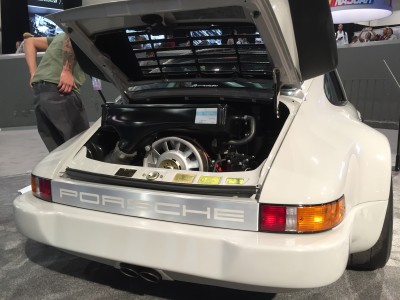 You never know what you run into at SEMA. While strolling through the truck expo and seeing lifted Zombie-apocalypse vehicles, led lights and pickup bed organizers….there stood a SINGER Porsche!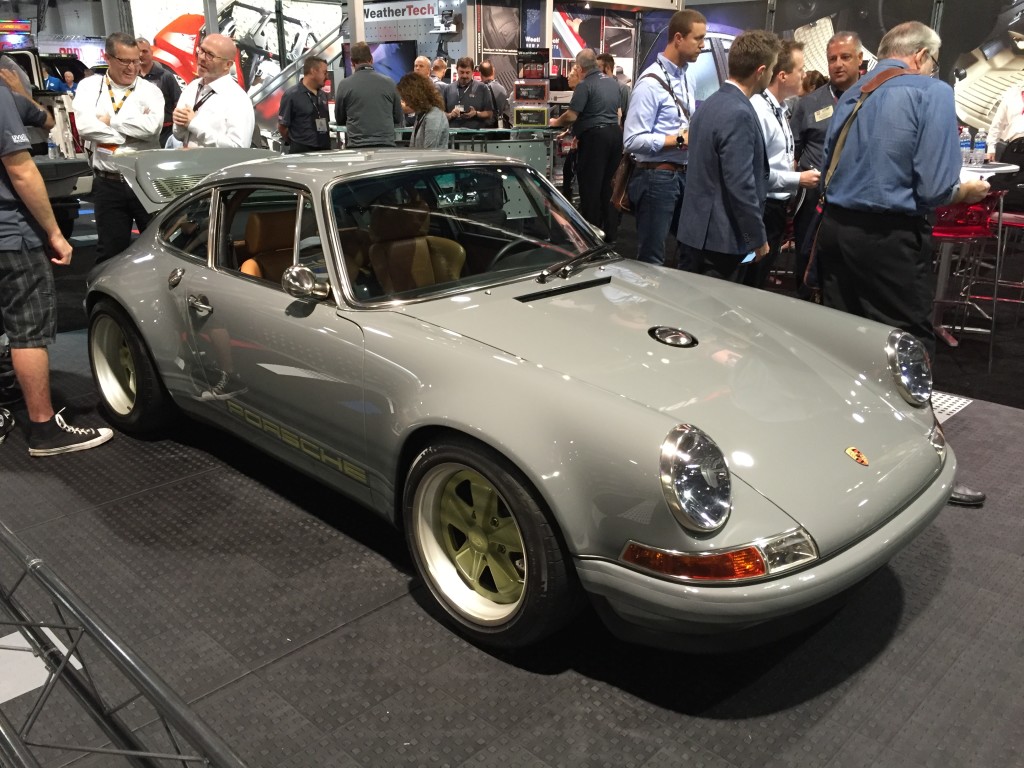 That's right, a SINGER Porsche. At the Weathertech (?) floormats booth in the truck section.  I drooled dover this one for a good bit. If OCD is your game, the Singer does not disappoint.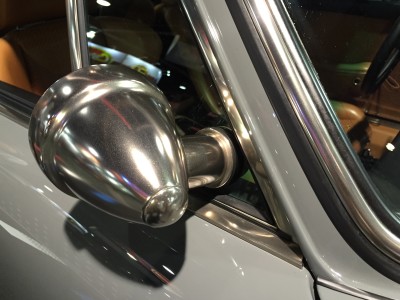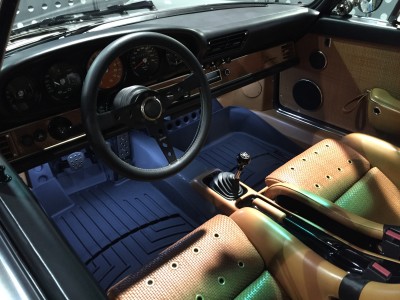 SEMA: The Fender Flare Nationals
Before we dive into the plethora of fender-flared cars at SEMA I want to show you my favorite wide-bodied car: the BMW CSL. Tucked away in the H&R springs booth, this one took my breath away. What an epic era of racing this car was campaigned in.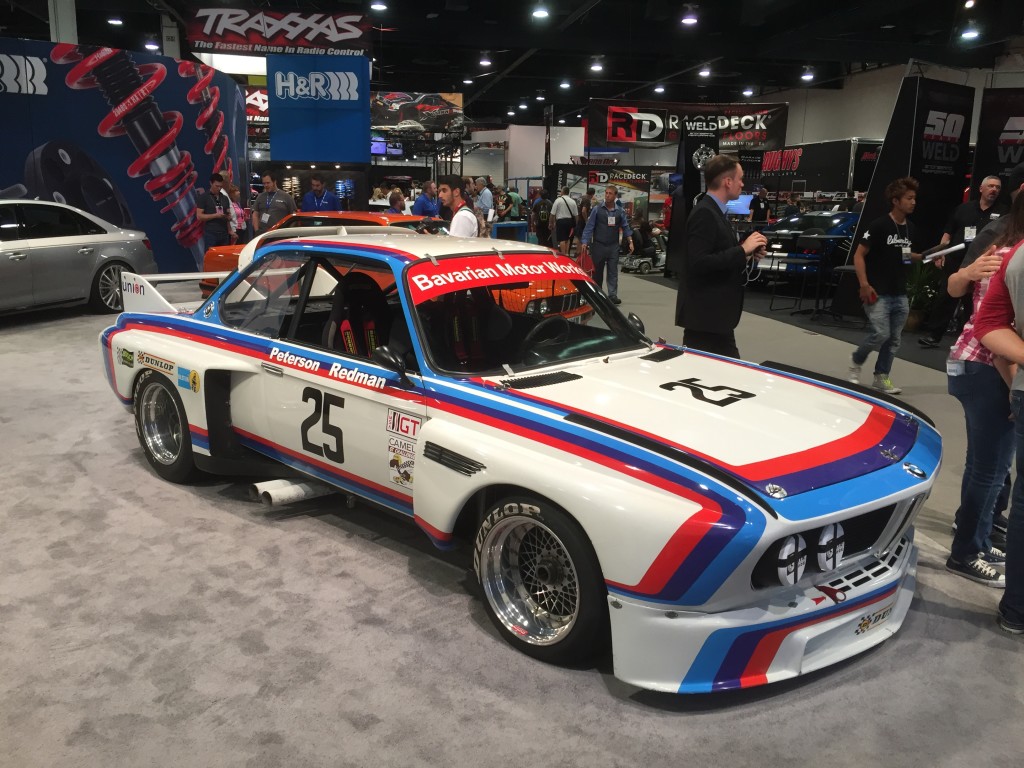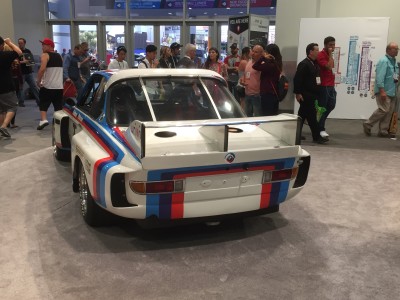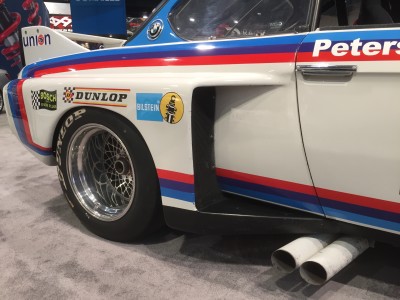 Back to the over-fenders, fender flares and wide body kits.  RWB, Rocketbunny, Libertywalk.
So many of them:
Here was a cool take on the "slant-nose" 911 look applied to a 997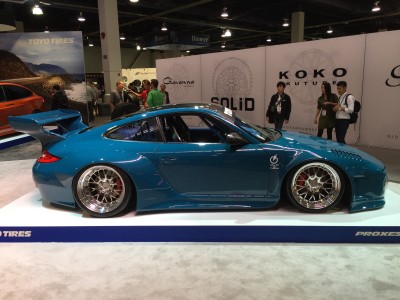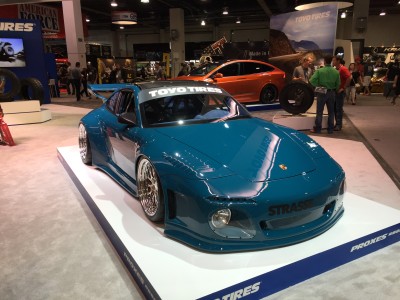 A RWB 911 with Martini livery and definite party in the back!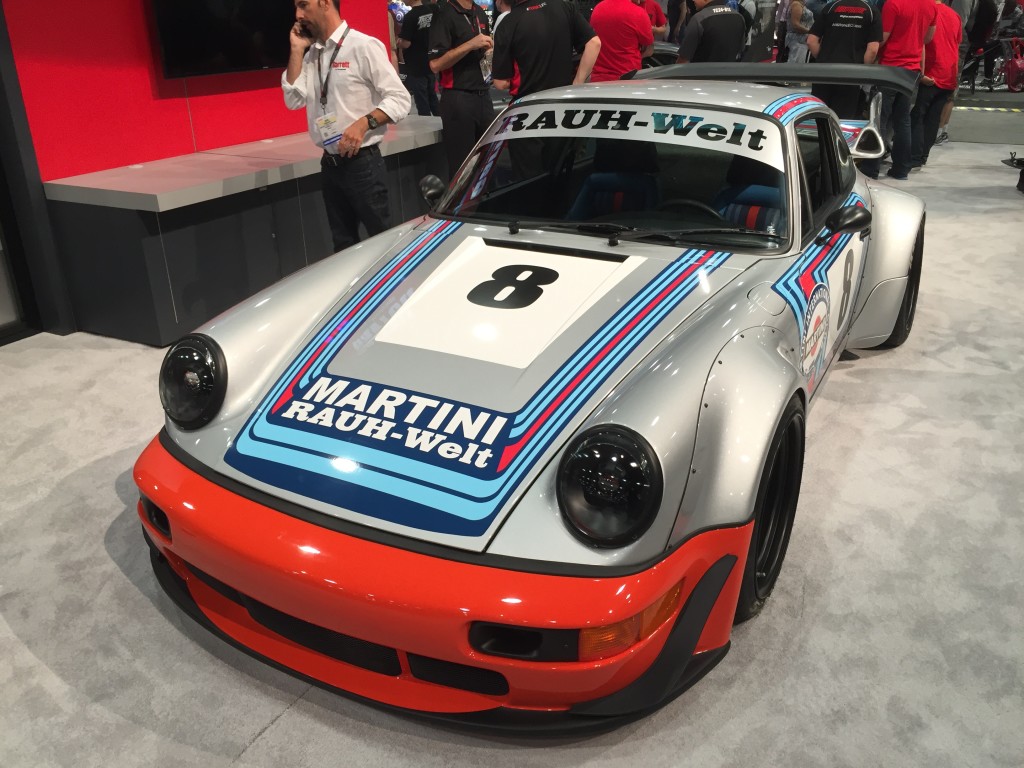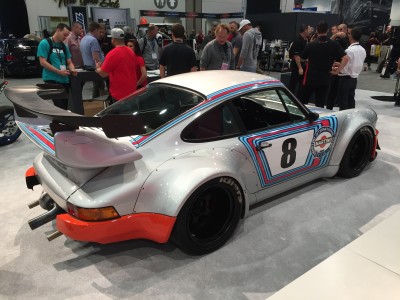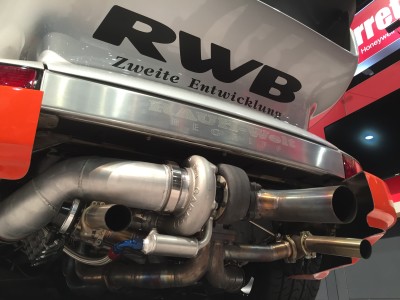 This 650S-facelifted McLaren MP4-12C received a full Libertywalk kit for SEMA: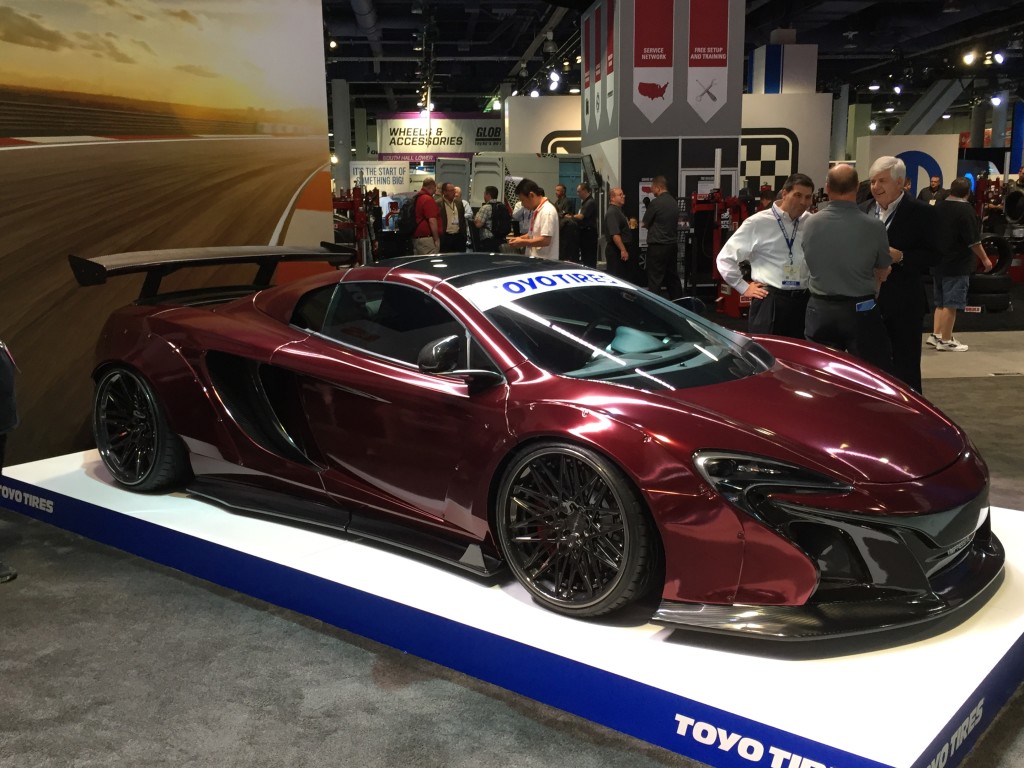 In fact, several supercars got the Libertywalk treatment!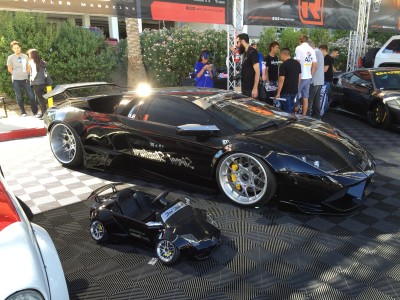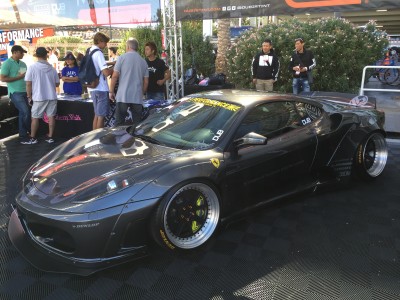 Rocketbunny Cayman, E30 BMW and Aimgain ND Miata: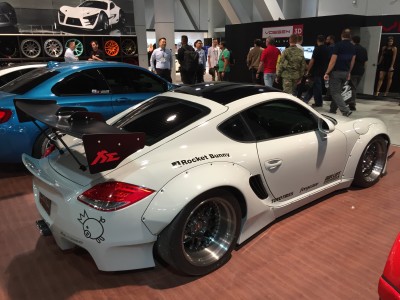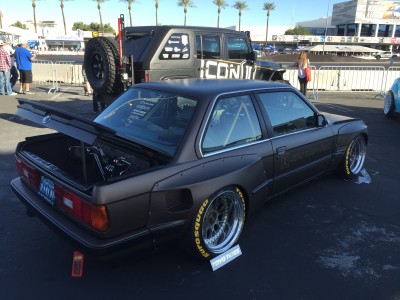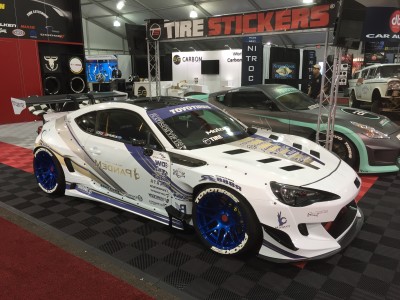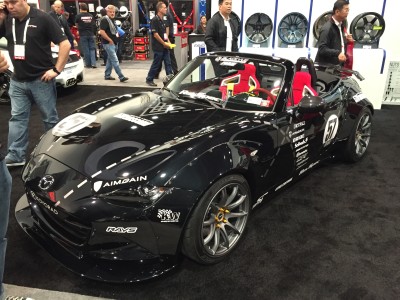 Crazy Engine Swaps
No, not the LSx, Coyote or HEMI into your vintage muscle car. I'm talking gonzo. Things that make you go hmm… like a Ferrari 458 engine into Scion FRS! Ryan Tuerck did just that and the result was jaw dropping.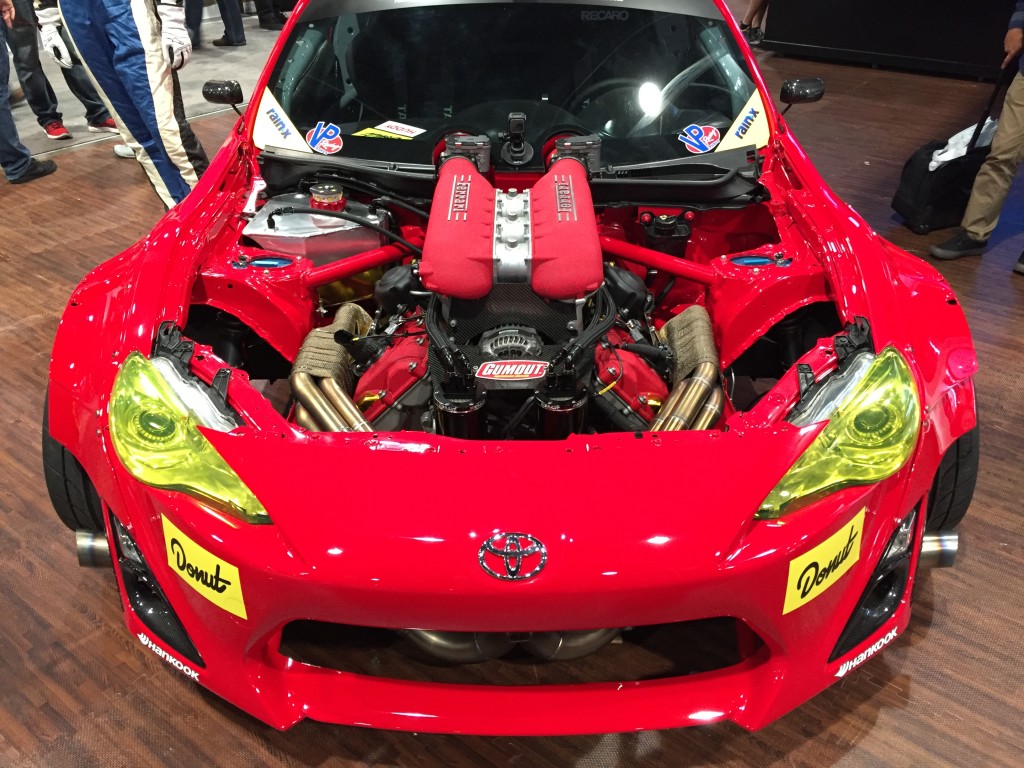 Not built just for show, this creation was made to drift. Watch it HERE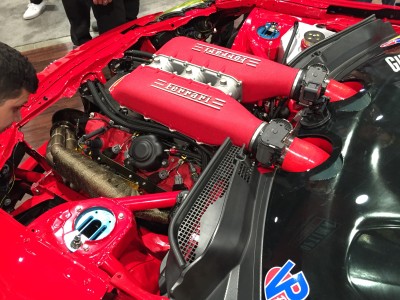 An E36 BMW with a full Nissan Skyline RB26 engine: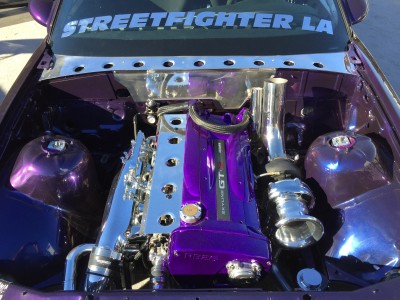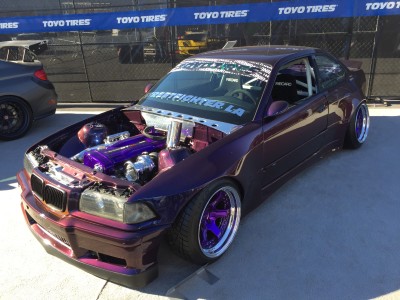 Nice Boss Mustang, right? Kind of. It's acutally a full R35 GT-R chassis with a Mustang body on top!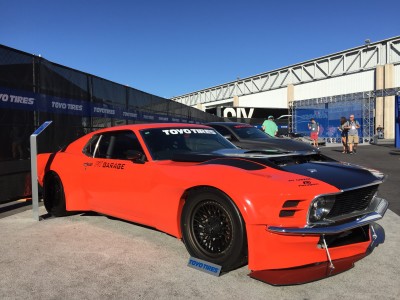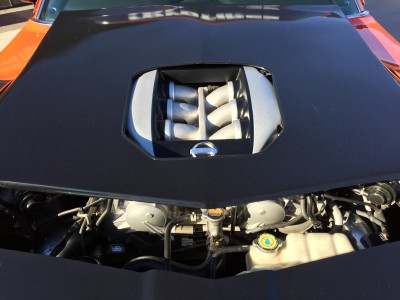 This one made me do a double-take. A Porshe Cayman with a Ford Coyote V8!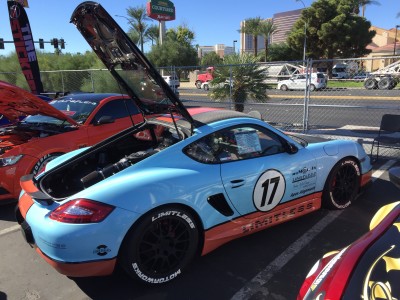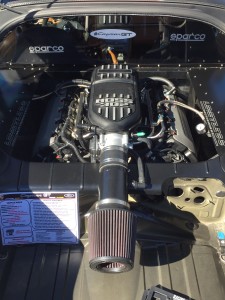 Although it wasn't a super crazy engine swap (its the same breed), this Mazda pickup had a huge turbo 13B and full tube frame "backbone" chassis.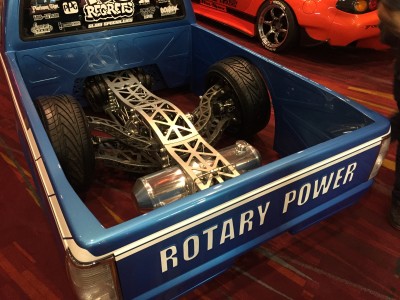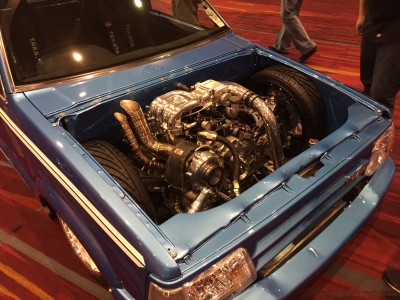 (LEFT) Nearby, a fellow rotary with an identity crisis: an FD Rx-7 with a Porsche front nose from RE- Amemiya. (Right) More nose swapping, this time an FD RX-7 with a Rocketbunny kit that grafts the front end from a Mazda MX-3: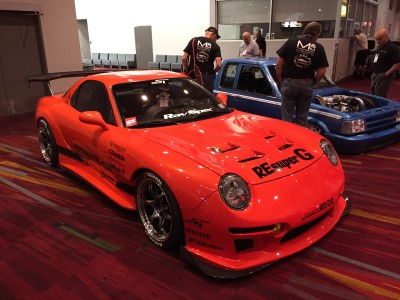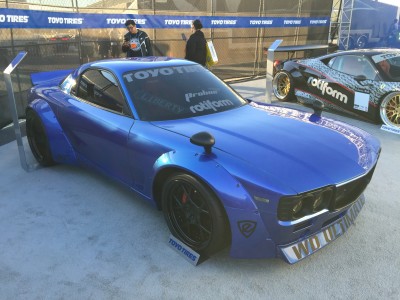 Those Crazy Lifted Trucks
Every year SEMA has hundreds of lifted trucks. This year was no exception and their presence was absolutely overwhelming.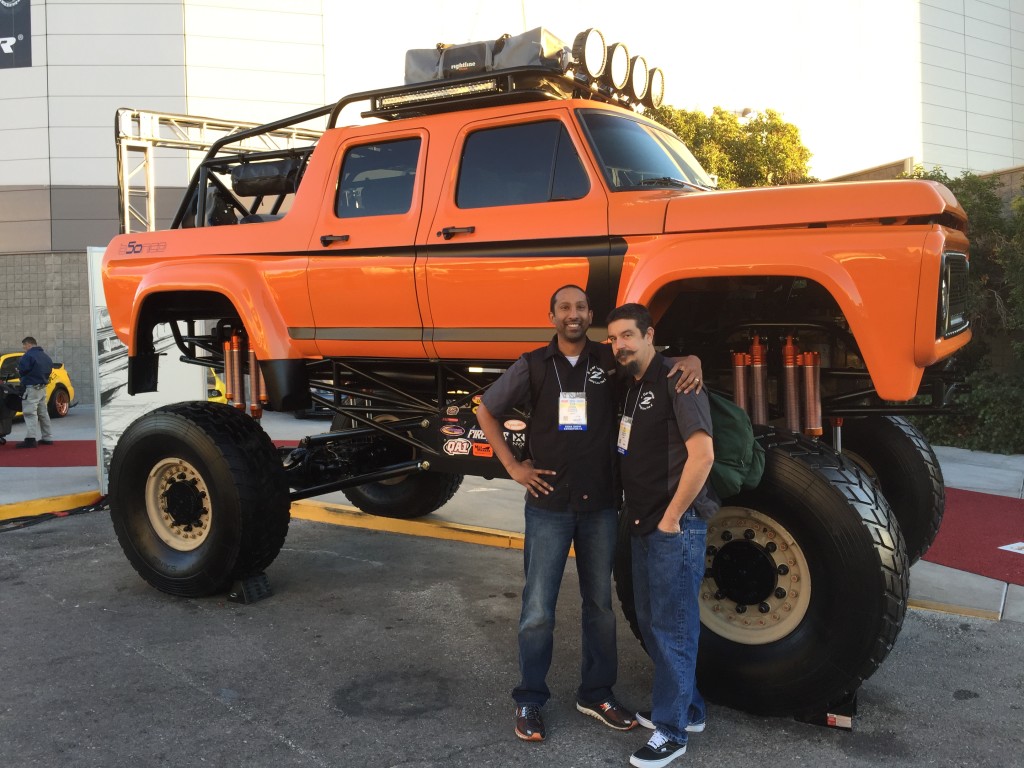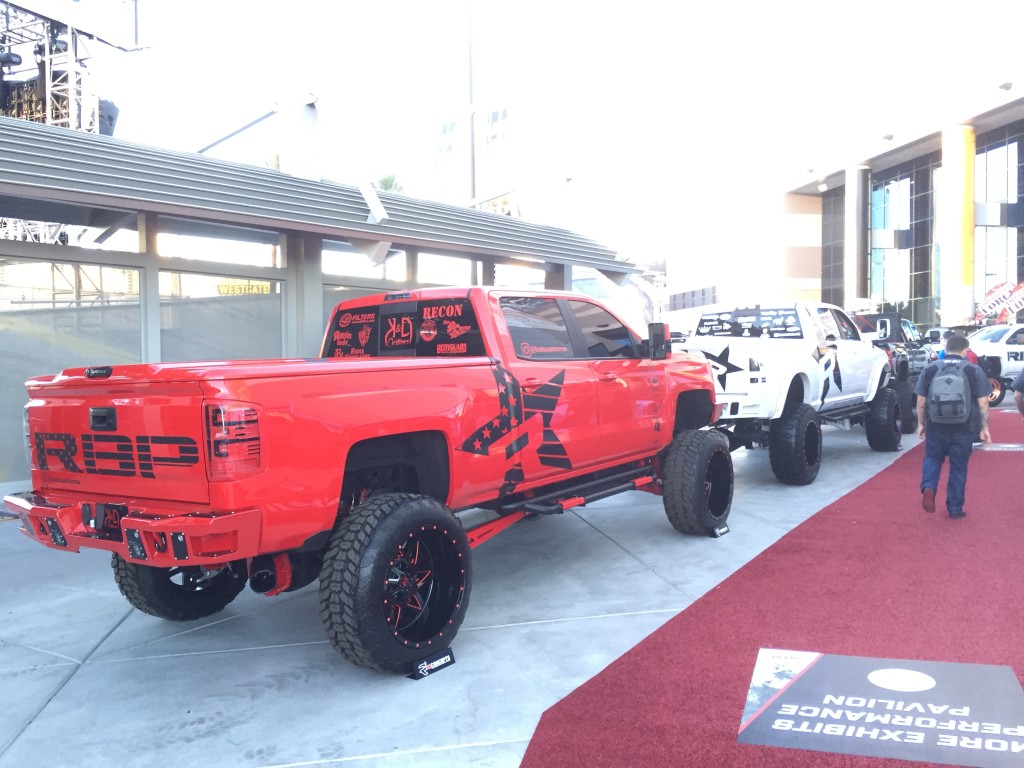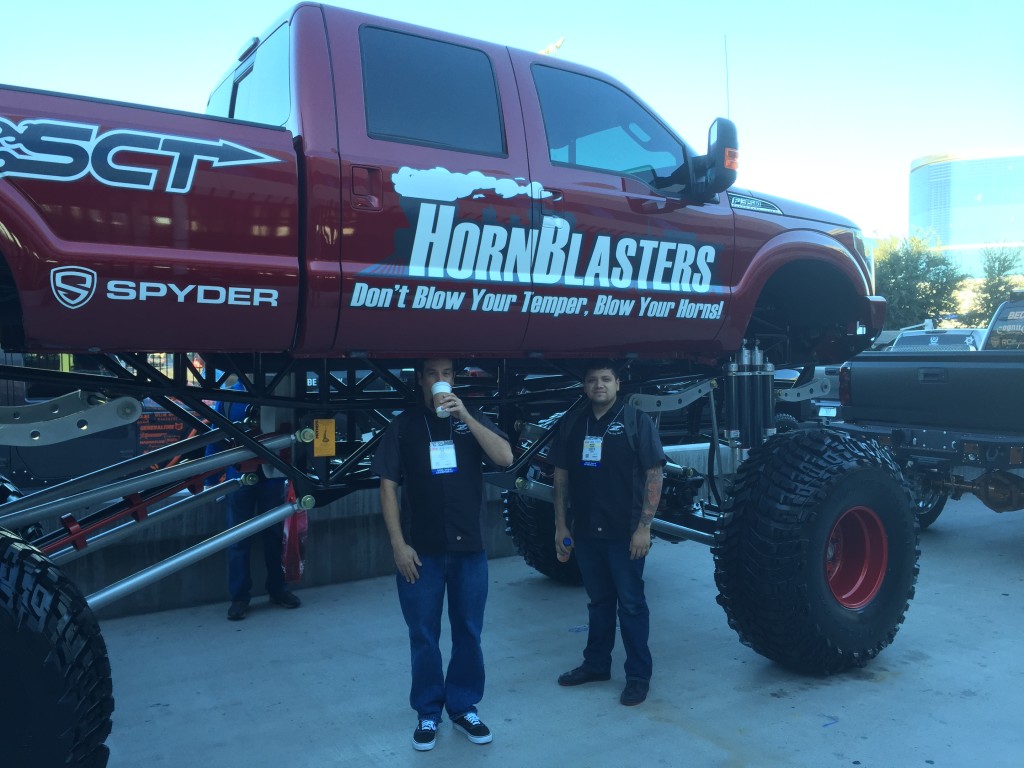 I did manage to find these two gems that were simple and sort of my ride height: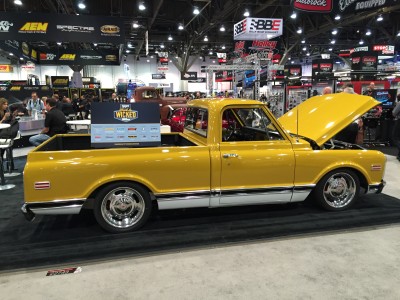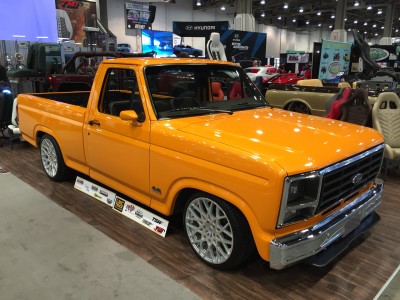 What's hot for your truck in 2016? Full wrinkle/powder coat finishes. I guess this kind of paint need not be waxed.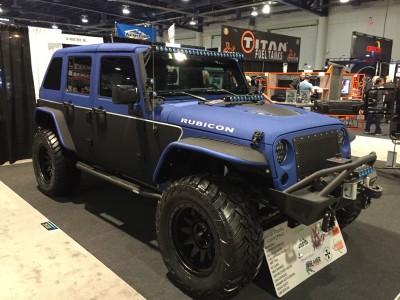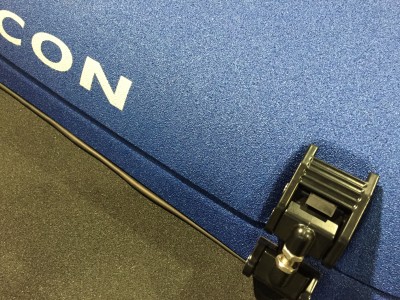 More excess: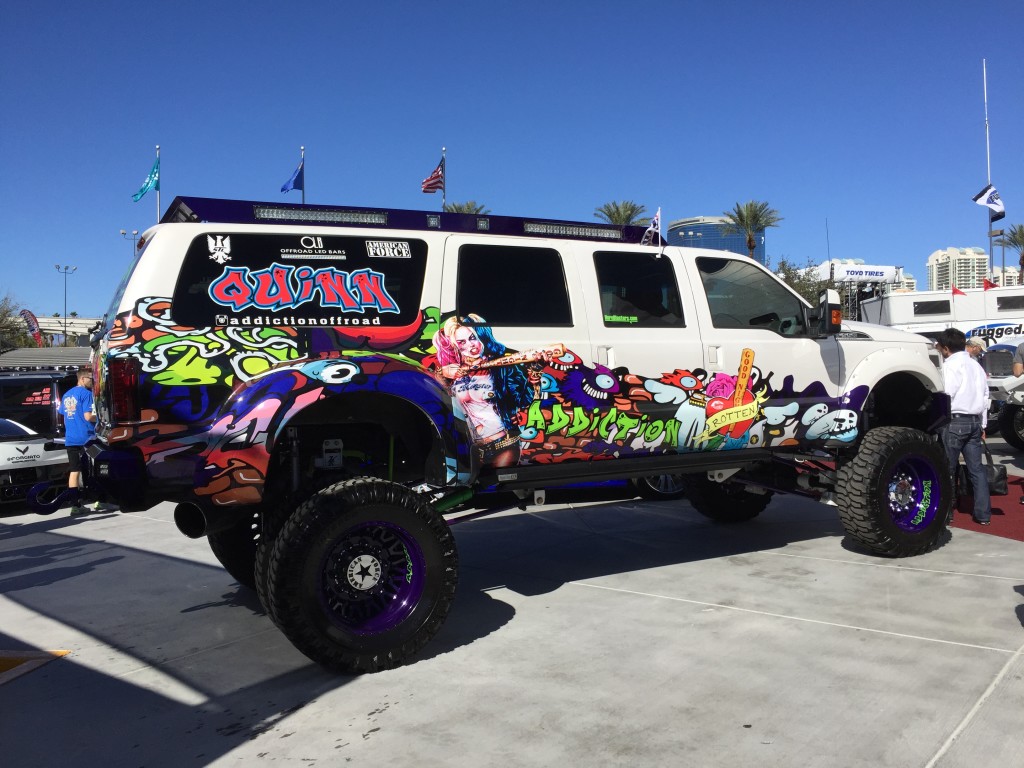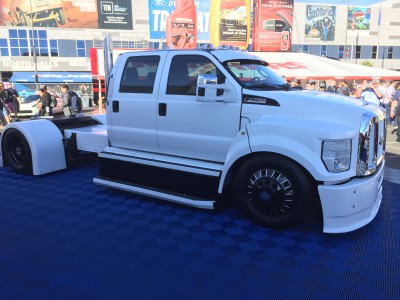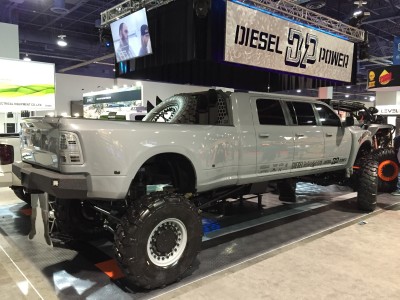 This 1949 F1 farm truck was my favorite truck at SEMA. Built by Chuckles Garage, it has a patina that says "sleeper"…until you see the giant Nitrous bottles in back! Diesel fans will love this:  1,200 hp twin turbocharged Cummins with 91mm and 66 mm compound snails.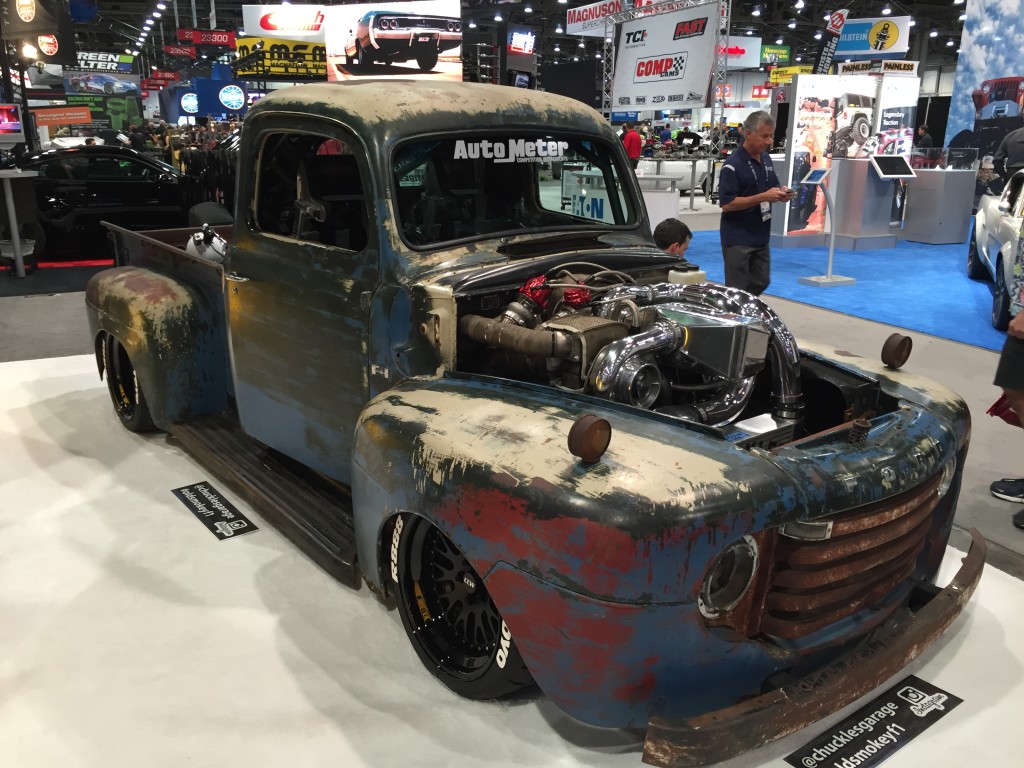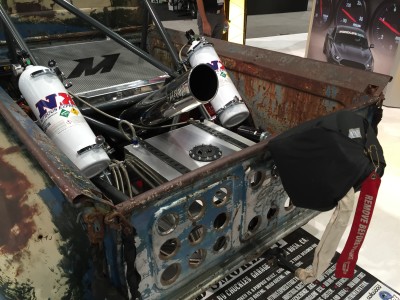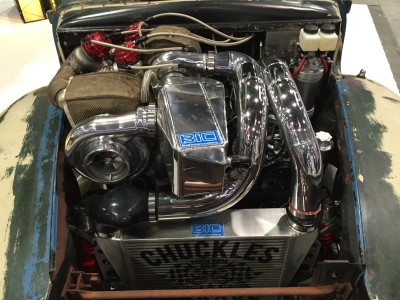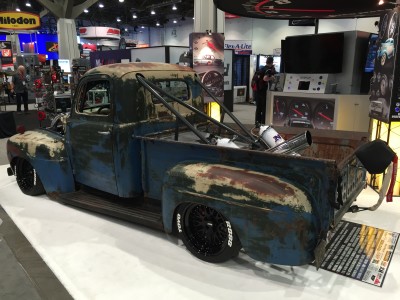 The Wildest of SEMA Award goes to:
I couldn't pick just one…car, I mean vehicle, or exhibit. So it's a 3-way tie.
Coming in 3rd for Wildest thing at SEMA: The Chaparral 2X Vision GT
A futuristic race car with a Laser beamed-energy propulsion system and a driver that operates face down and arms towards the front wheels.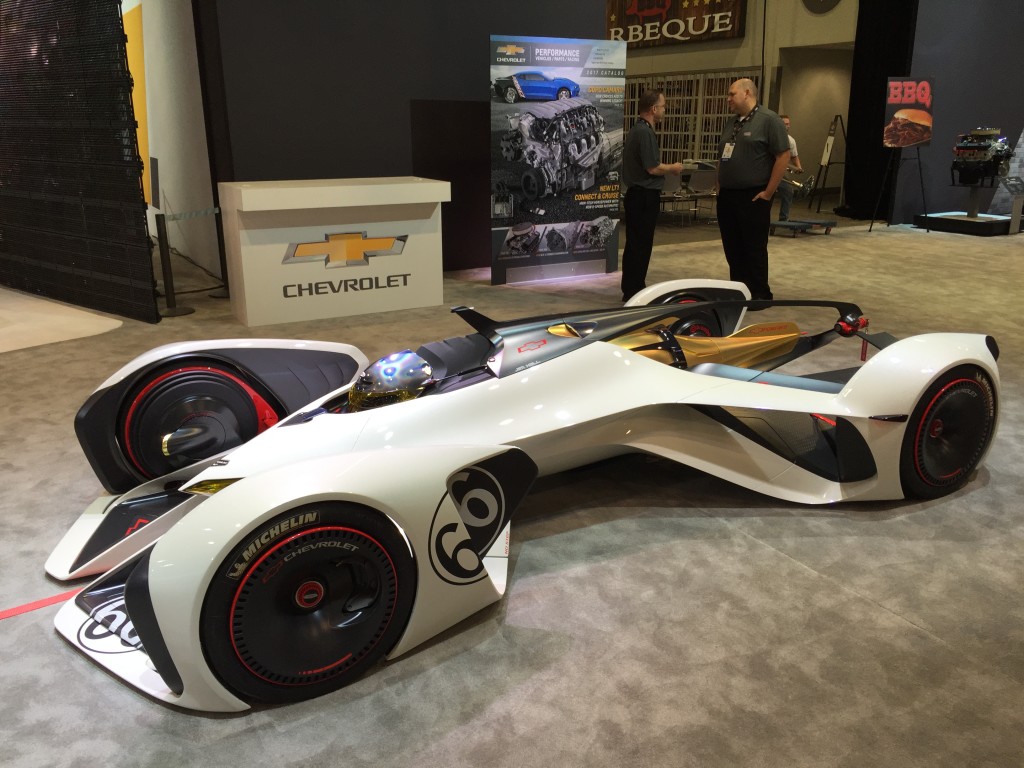 2nd place, craziest paint job: The Kuhl Racing R35
Take one R35 GT-R.  Fabricate a body kit totally engraved with delicate and intricate details. Now send it off for a chrome finish and gold paint.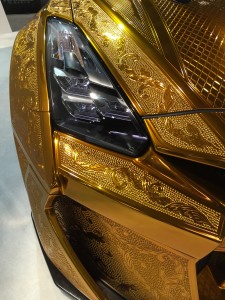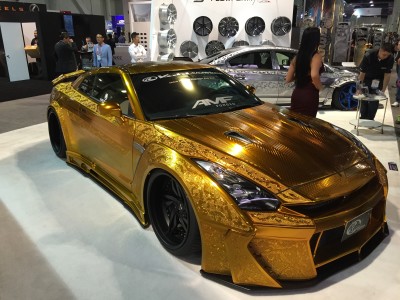 1st place, Craziest Display at SEMA 2016: The Absorber booth
Not only did they bring a TANK. They hauled in several hundred square feet of real grass.
Runner-up: Valyrian Steel
Debuting at last year's SEMA show, this moving sculpture/Burning Man "art car" made an encore showing.  It does actually run (watch the season 1 premier of Top Gear on Amazon) and use a Coyote engine set in the rear below the kinetic structure: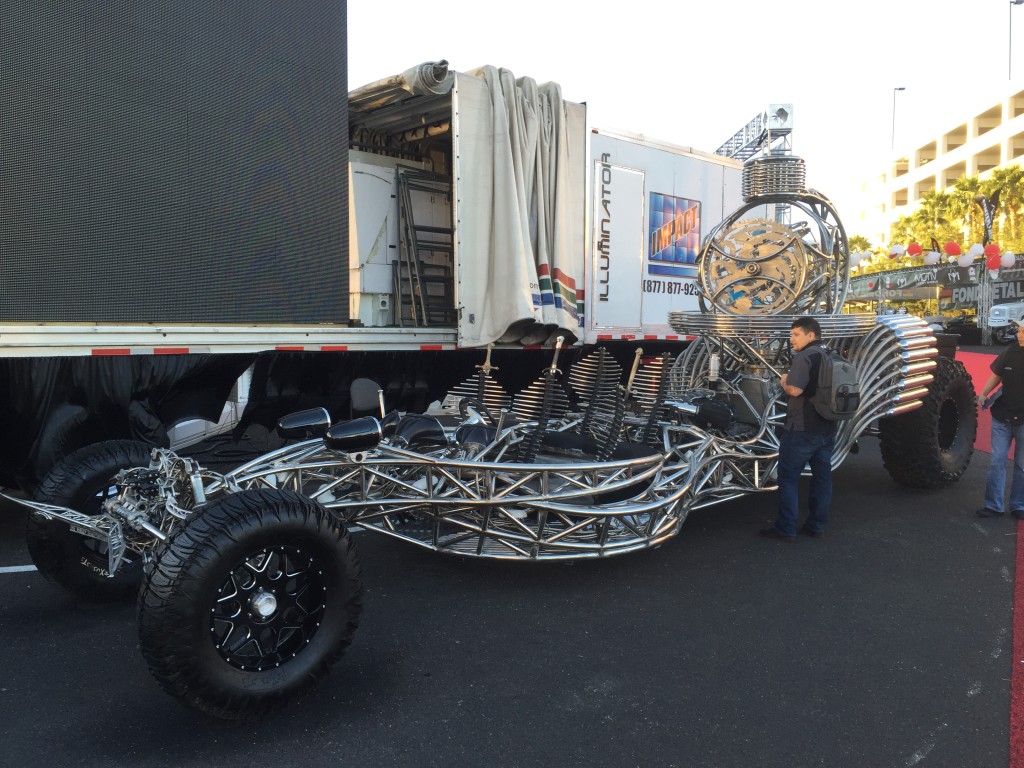 Muscle Cars
We are huge fans of American muscle cars and Hot Rods in general. The SEMA Show is where to find some of the best, new pre-1972 builds. Old school, new tech, steam punk, and rat rod are all here.  Enjoy some of our favorites:
1951 Ford Coupe
What really made this Ford stand apart was the exquisite attention to detail both inside and out. The engine, a 1956 Lincoln V8 had been powder-coated gold in a wire tucked engine bay.   Outside, Halibrand wheels and flush mounted windows with a slightly chopped roof line caught my eye. The interior is another work of art!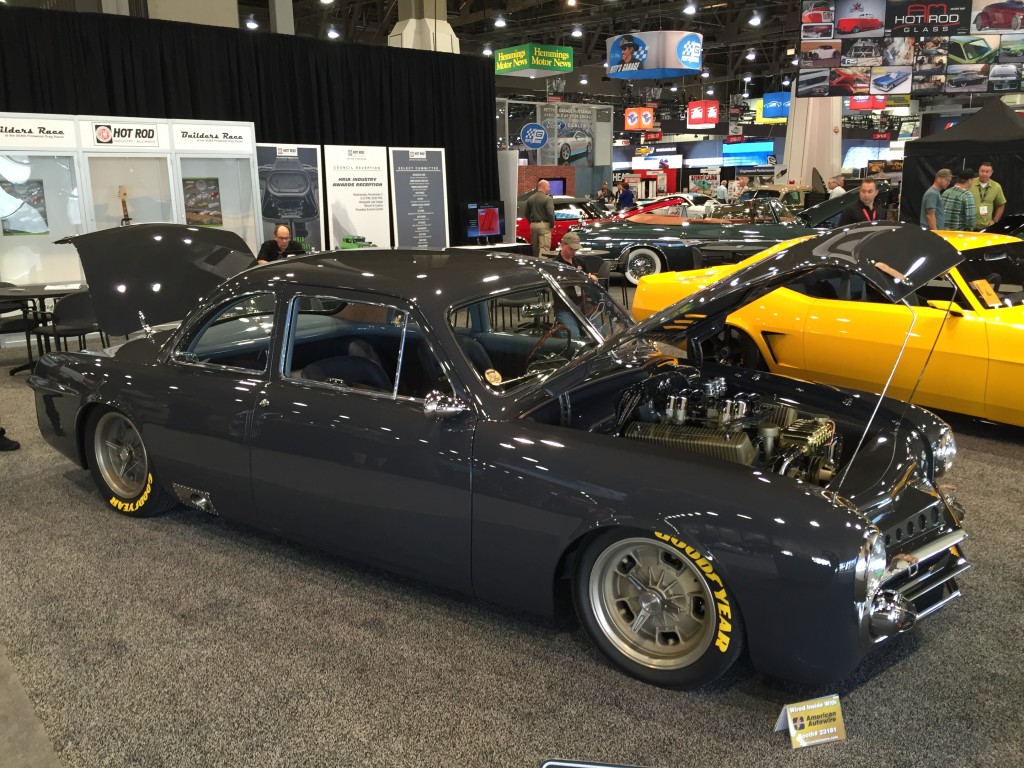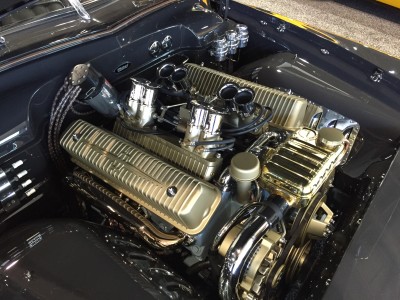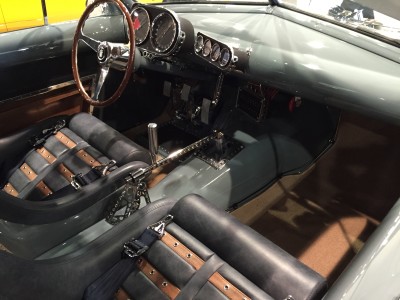 Mike Garett's Dodge Dart
It was fun to watch this build progress on Instagram. Mike combined Japanese racer styling cues and modern Mopar motivation to turn a stocker into a driver.  We are really happy for you Mike!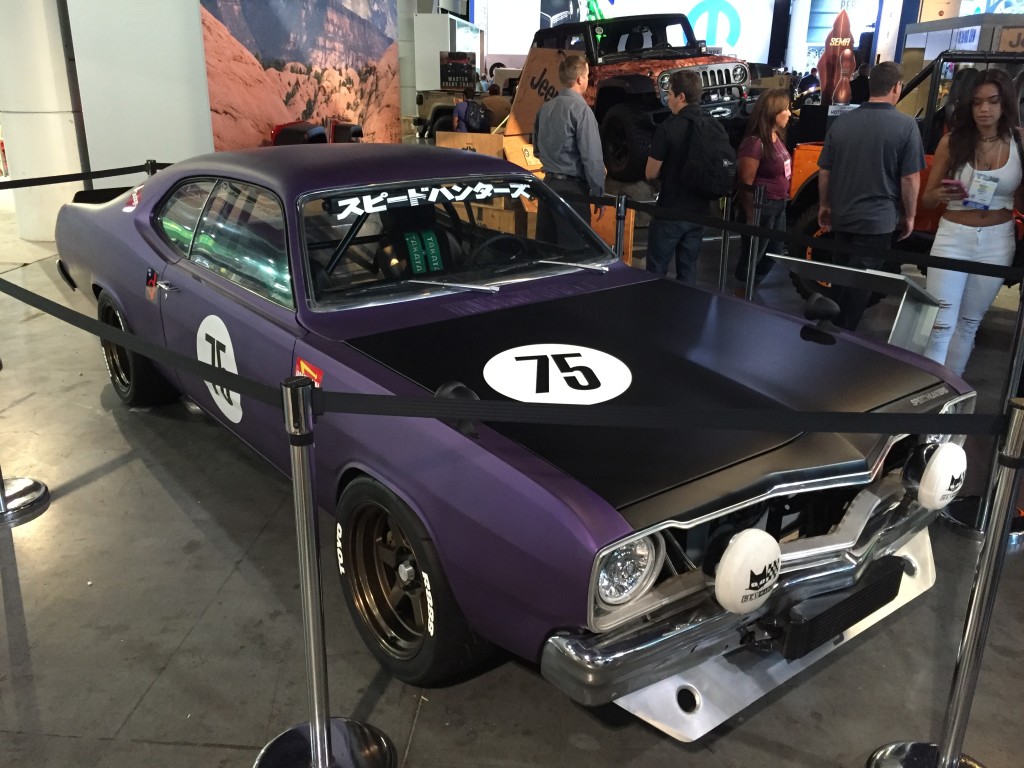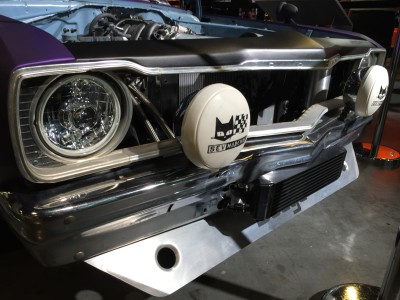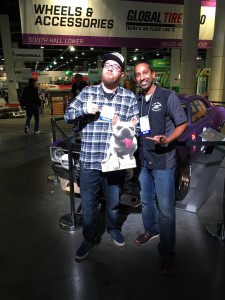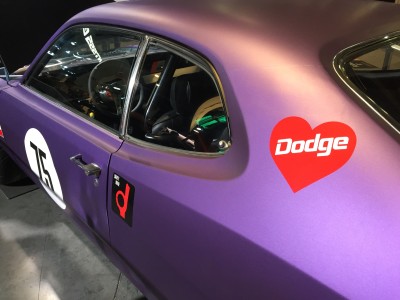 Sung Kang's Maverick
Last year Sung debuted his RB25-powered Datsun 240z and this year he chose a Ford Maverick to restore. The Fast and the Furious star teamed up with 3 high school students to build the car for SEMA. Power comes from a 2.3L Ford Ecoboost while fender flares(of course) and deep-dished wheels spice things up for the "U3" (underdog).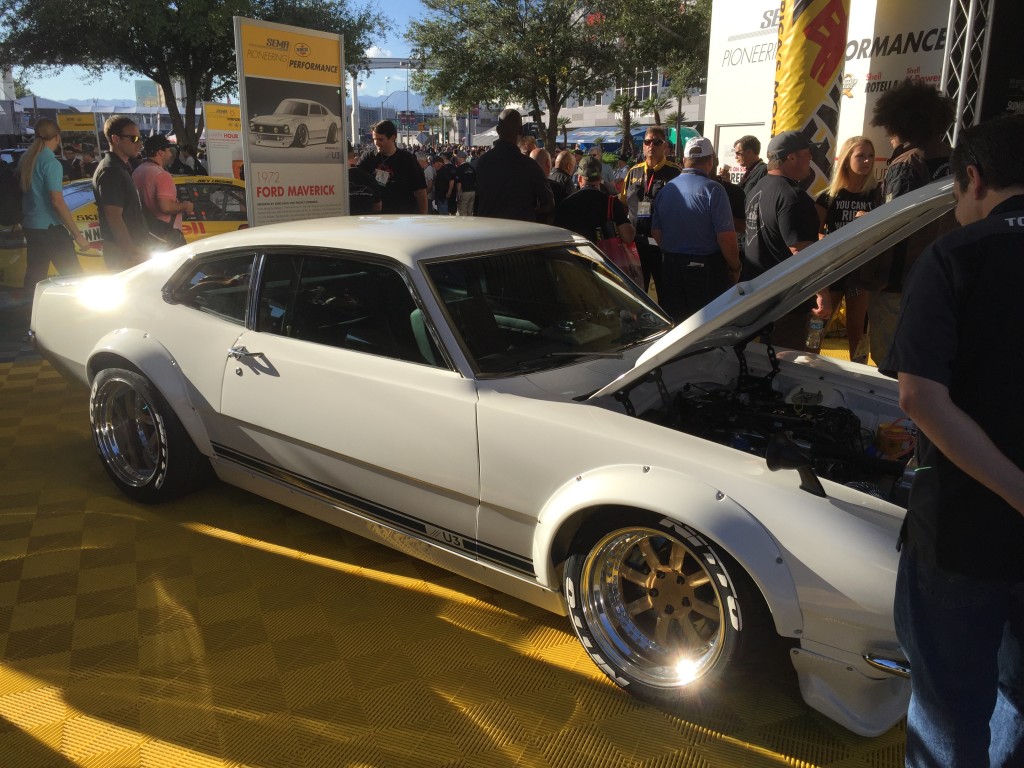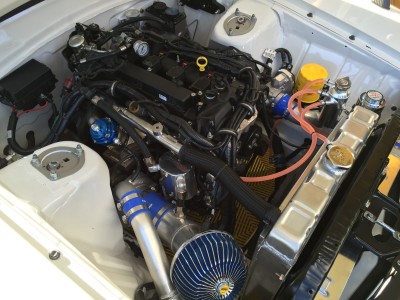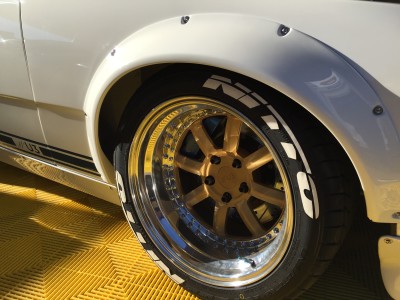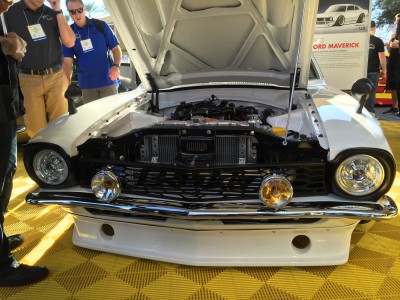 Restored Show Muscle
Resto-modding old muscle cars so they can perform like/better than modern day counterparts is always cool in our book.  The Ring Brothers built this  supercharged LS3 "G-Code" Camaro with performance and modern comfort in mind. Now if we can just get them to ditch that cheesy "R" logo!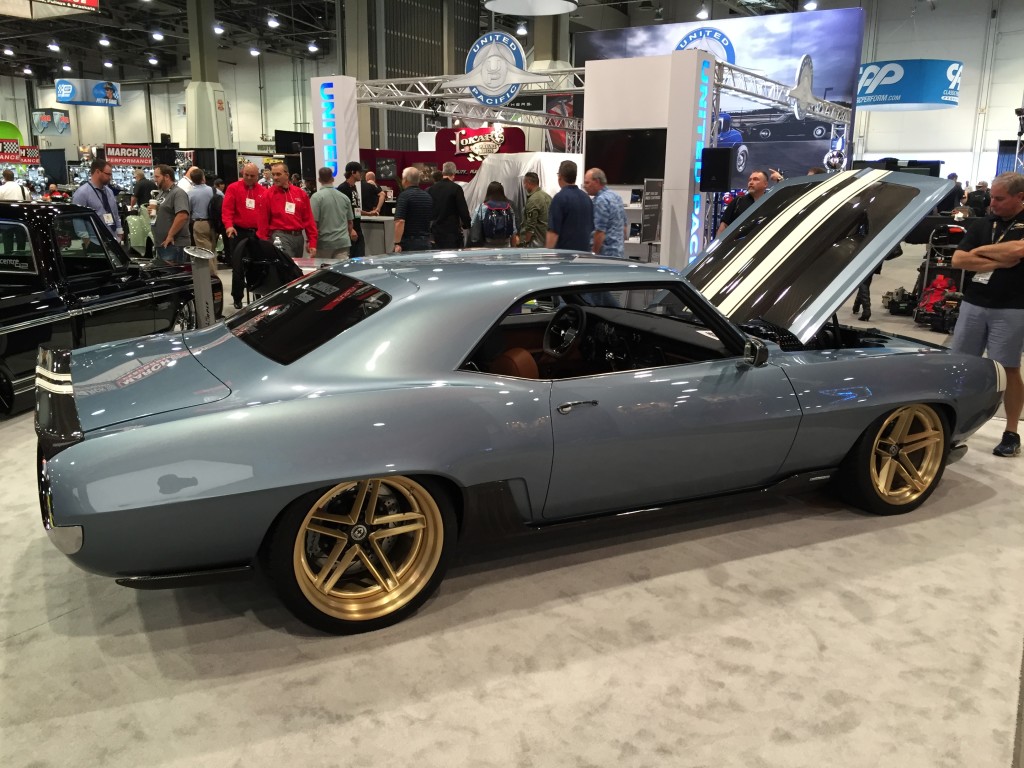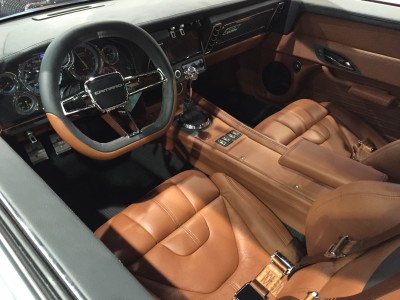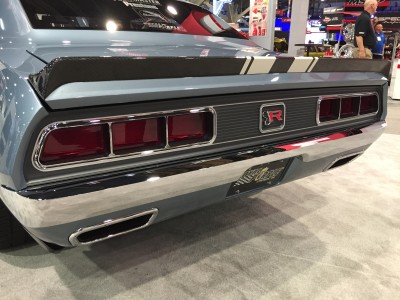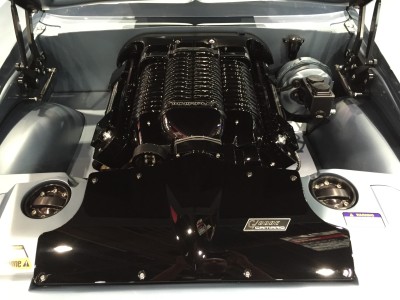 Fastback Mustang with (now ubiquitous) Coyote engine swap: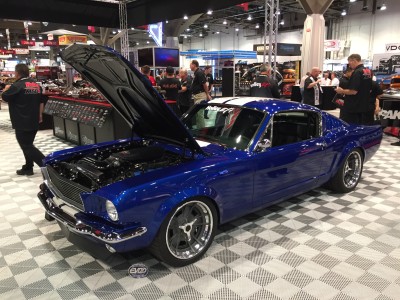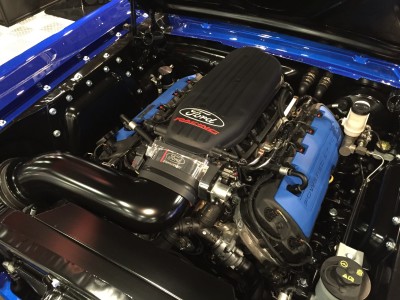 Split window 1963 C2 'Vette with a LT1 engine swap!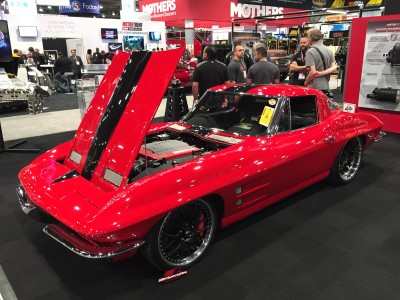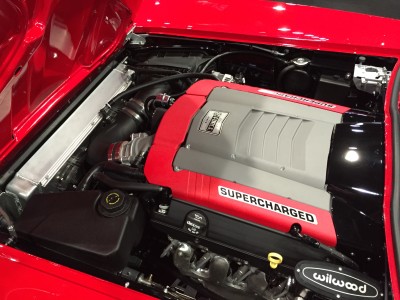 Lovely Chevelle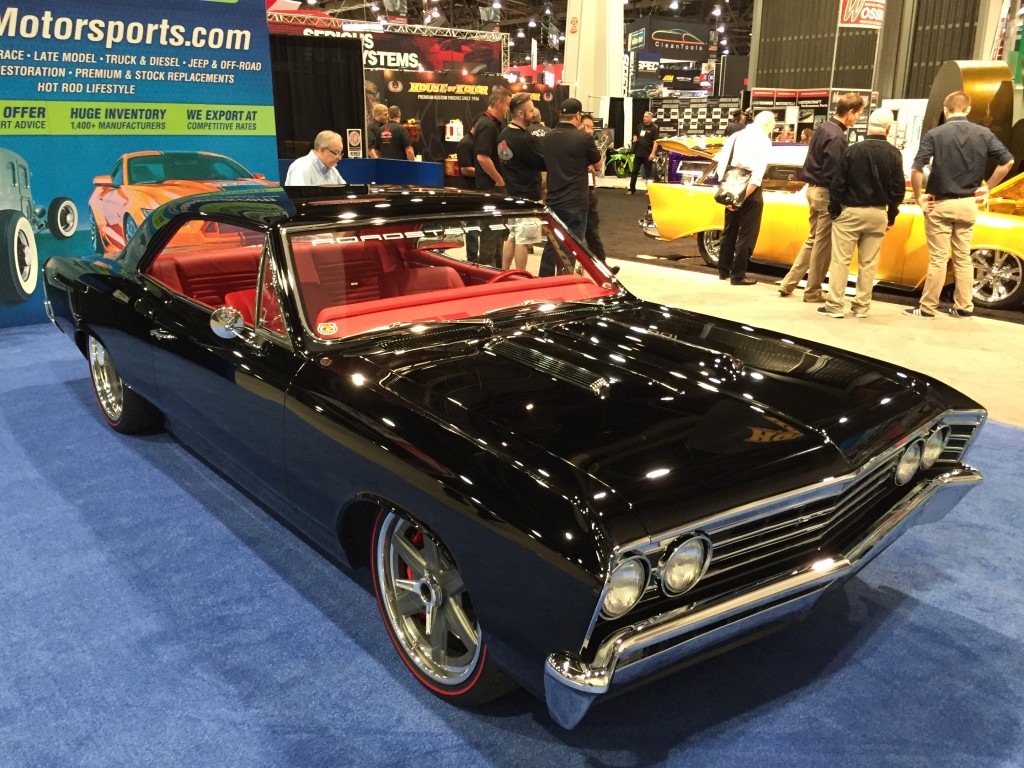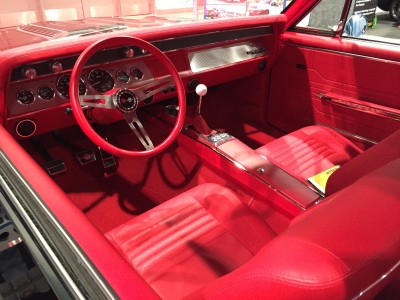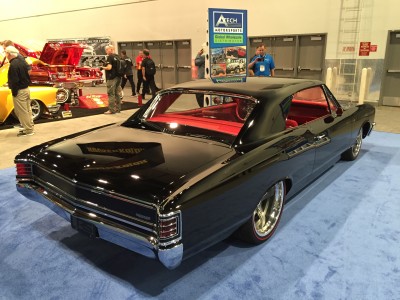 1962 Chevrolet Bubbletop: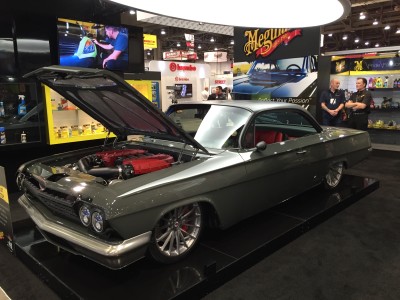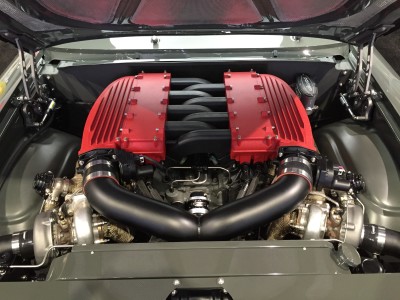 SEMA Roll Out
Friday, Nov. 4 was the last day of SEMA, and our most memorable because of the "rollout" that took place after closing time. Exhibitor cars cruise from the convention center to a neighboring lot for SEMA Ignited's after-party festivities. It was our first time watching and participating… and it was rad!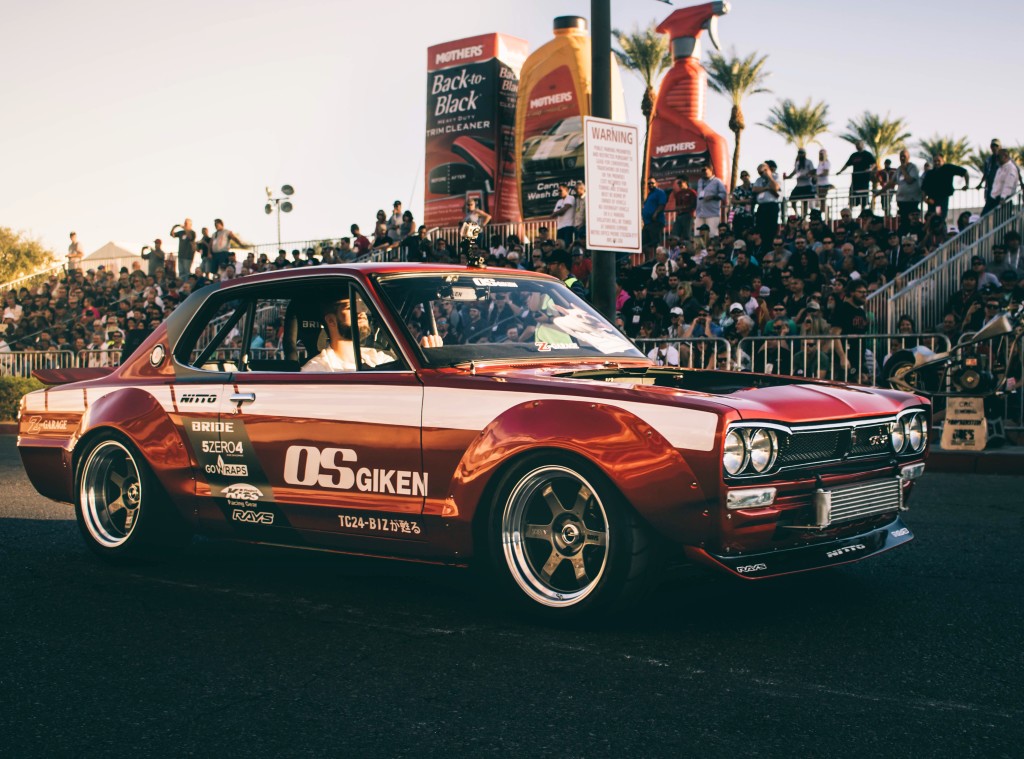 Photo: Jacob Ramirez
Fans packed the road leading to Paradise giving drivers a chance to make a dramatic exit. Smokey burnouts and revving (plus train horns) added to the excitement. All of the cars the parked in the Gold Lot while the drifting exhibition ensued.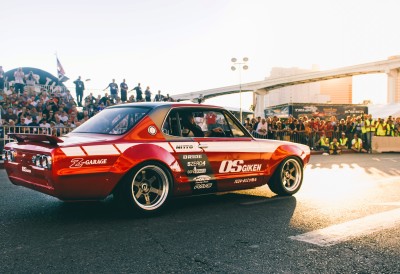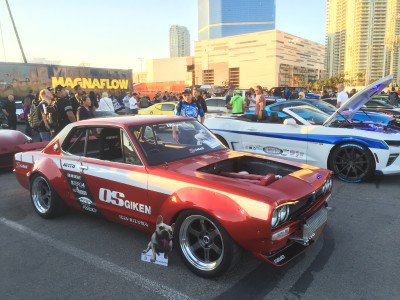 The TC24 Hakosuka performed well, considering it spent most of the time idling. Alex did put on a show and answered the crowd's call for revving a few times. Enjoy this video we captured from the rollout:
Closing Time
The roll out was amazing. Now came the task of loading the Hako up on its trailer for the trip to the Los Angeles Auto Show…and breakdown/cleanup of the OS Giken booth. It's hard to believe all the hustle and bustle of SEMA instantly turns into a scramble to tear things down and box them up.
Before/After: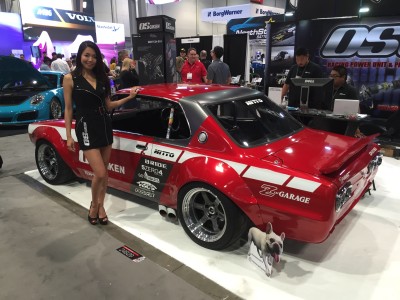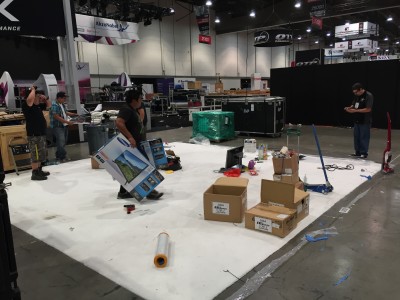 Thanks to OS Giken and the ZCG crew for a memorable experience. We are excited for SEMA 2017!
Viva La TC!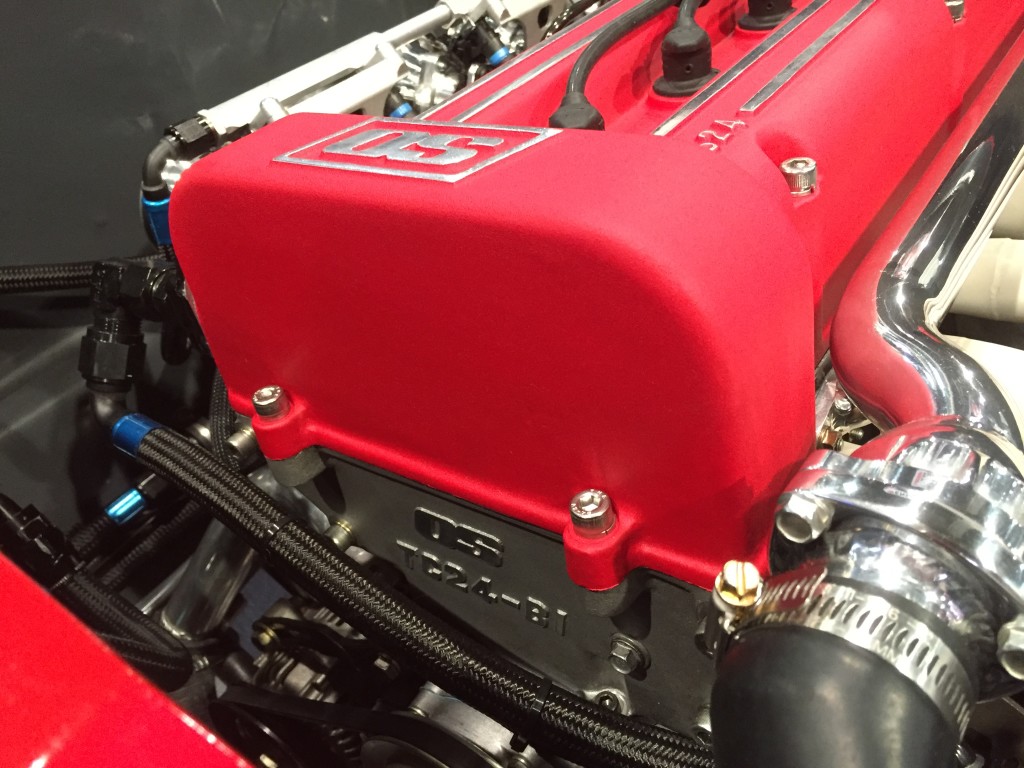 We hope you have enjoyed our report from SEMA 2015.  Please browse our mega picture gallery after the jump