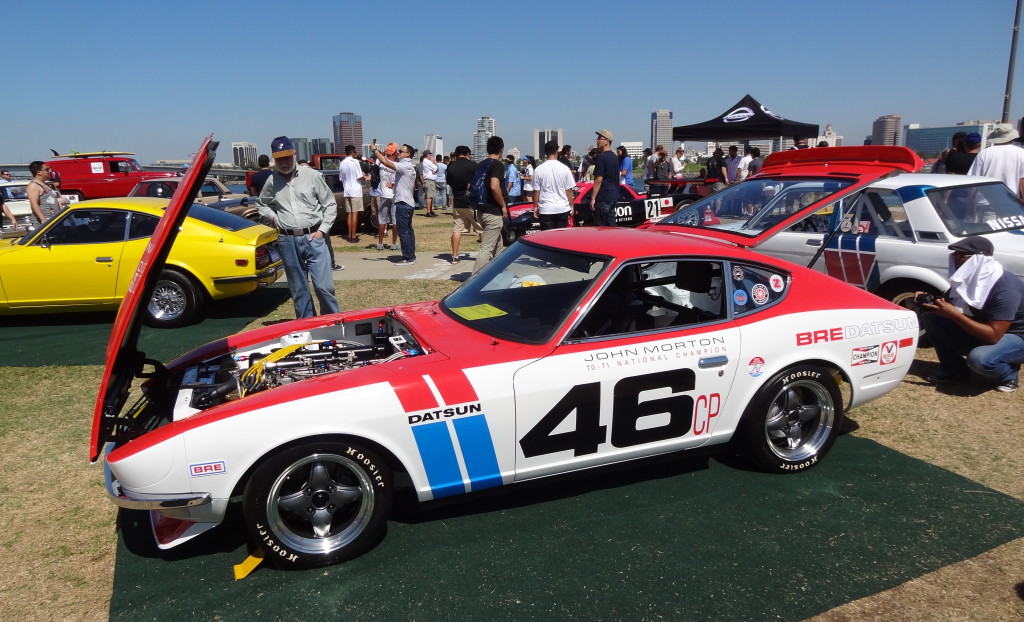 Every year, one of my favorite events to attend in Southern California is the annual Japanese Classic Car Show in Long Beach.  JCCS is like a big reunion of old school friends, surrounded by the finest vintage metal made in Japan. The iconic Queen Mary cruise ship and the Long Beach skyline is a perfect backdrop for Zs, 510s, Skylines, Rx-7s, Rx-3s, Celicas, Corollas, Land Cruisers and other interesting Japanese old school cars!
Founded by Koji and Terry Yamaguchi, JCCS has been running for 11 years strong now and the bar is set higher ever year. I remember the first year of JCCS, and it's hard to believe the inaugural event was over a decade ago!  I love this show and the Z Car Garage crew keeps coming back every year to soak up the sun, see old friends and drool over some spectacular vintage builds.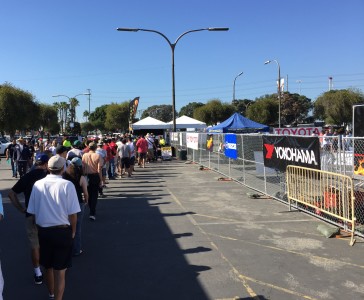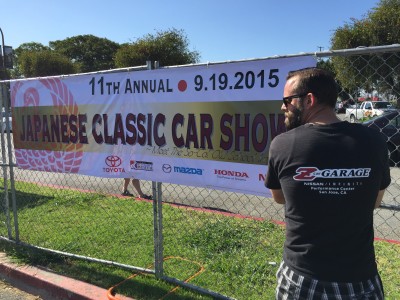 Attendance was impressive but surprisingly not over-whelming like previous years and this made photographing cars a breeze!  Sure, a bulk of the cars are the same annually but the small percentage of new cars tend to be amazing.  At JCCS we love that every pass up and down an aisle of cars reveals a new detail, emblem, decal, or set of wheels.  Also, this is a more adult car show (no loud Drake/EDM, no booth babes, no car parents towing around scraping cambered-out red Power Wheels with kids in them) and a breath of fresh air compared to the "party" vibe of the larger California shows.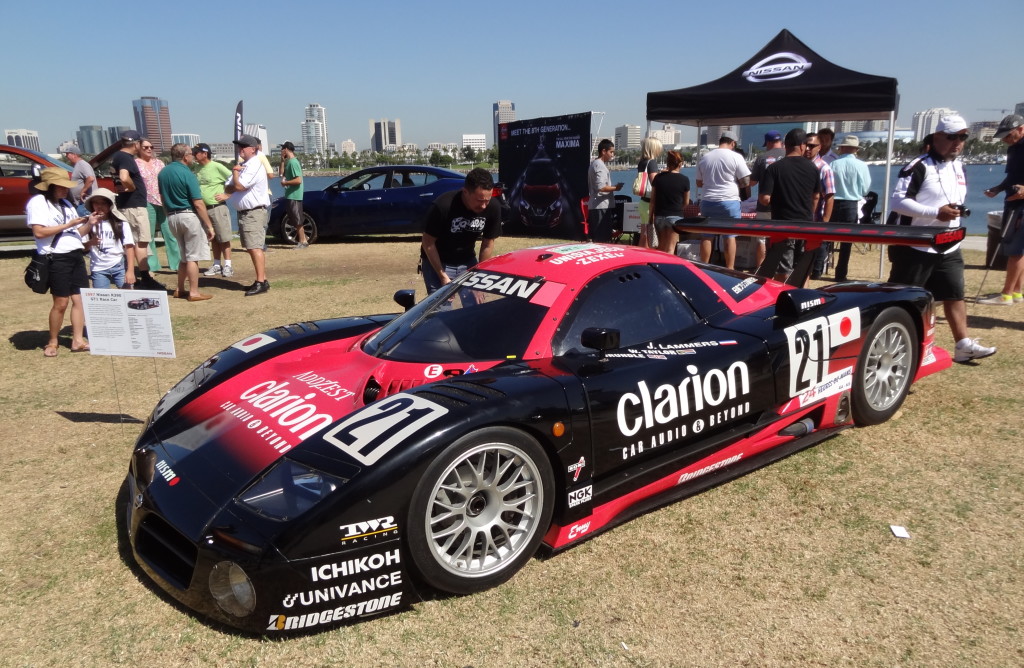 Nissan's Debut at JCCS
The OEMs participated in record numbers this year. That's right, in addition to Mazda, Toyota and Honda our beloved Nissan stepped up for the first time with a great showing of rare and unique vehicles from their vault. My favorite was the 1997 R390 GT1 Le Mans race car, sent over from Japan just for this event! Nissan's collection also included included a 1975 Bluebird-U 2000 GTX, 1972 Datsun 510 and 1967 411. Our friends at JNC were lucky to drive the Dime and Bluebird over the Monterey Car Week.
Completing the "heritage" lineup was this little/big truck combo – a 1960 Datsun 1200 "surfer" Van towed by a 2016 Nissan TITAN XD pickup. Fingers crossed this new diesel rig "passes" emissions. Ha!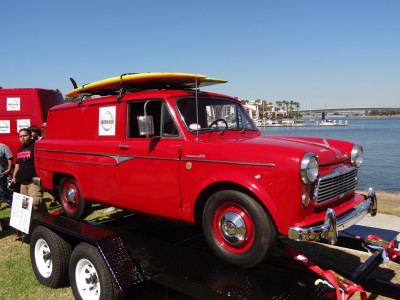 Here are few of my favorite Nissans and Datsuns, starting with that not-so forbidden fruit commonly known as the hakosuka.
There was no shortage of Skylines this year and my favorite was Eric Khamchan's KGC10. It's racing livery removed from previous shows revealed a stunning shade of metallic blue. The killer stance with wide, gun-metal Watanabe wheels stuffed under the flares set this one off from the rest: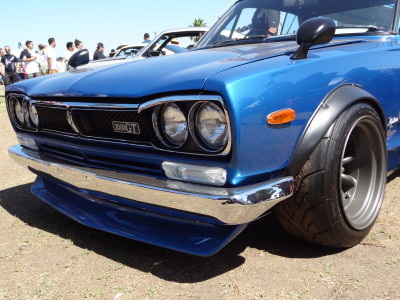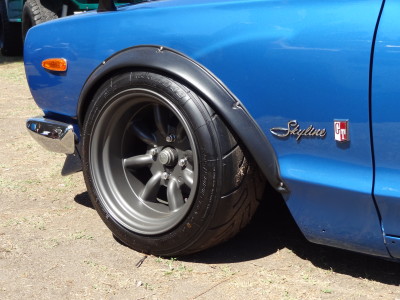 We first saw this short-nosed Skyline at the Solvang Datsun Roadster Show and were surprised by its intact "surf line" rear fenders,  G-series 4-cylinder power and super rare Hayashi Racing Techno Phantom wheels:
Eric Bauer's  Hako sported period-spec goodies throughout like these Dunlop CR65 tires and C-pillar vent:
The only 4-door with molded rear flares sitting pretty on deep step-lipped SSR MKII wheels:
Another red Hako with gold Watanabe's and a striking peanut butter interior:
Finally, this Kaido themed racer replete with external oil cooler, livery and side-exit exhaust: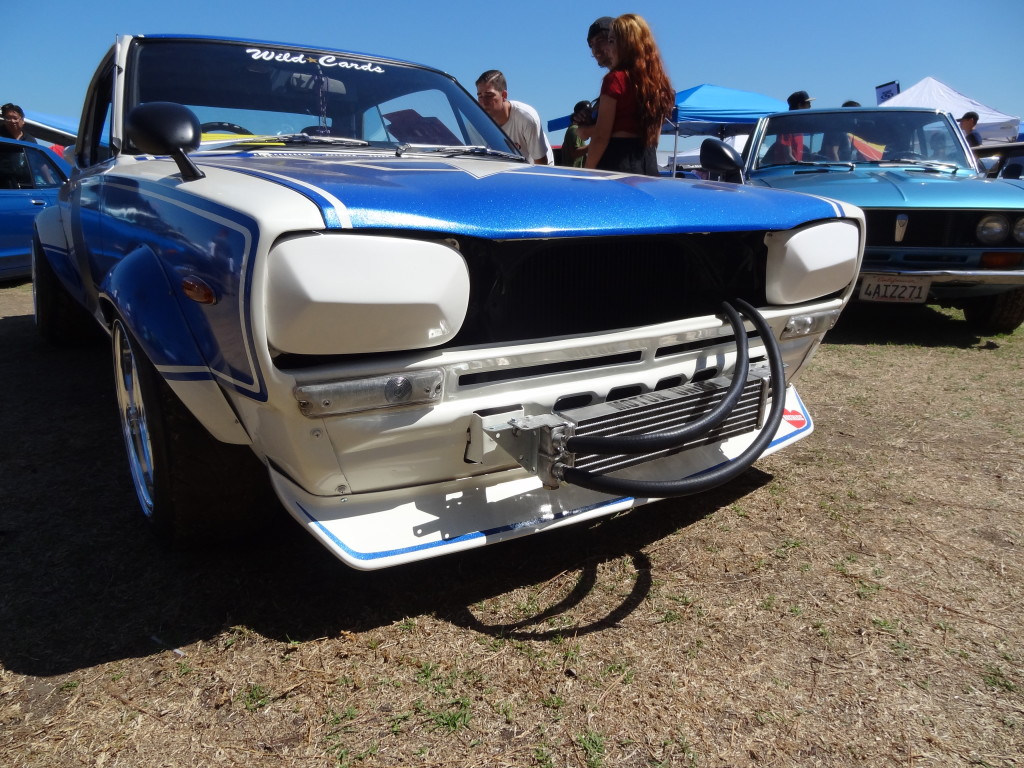 Z-Car Extravaganza
Z cars from all generations were in full force with cars spanning the tarmac near the Queen Mary to the bayside lawn.  I'm a big fan of subtle modified Z's but I can also appreciate pristine, bone-stock examples and the occasional shakotan build. This S30 had subtle body-colored flares, deep Simmons wheels and a neatly executed RB25DET engine swap: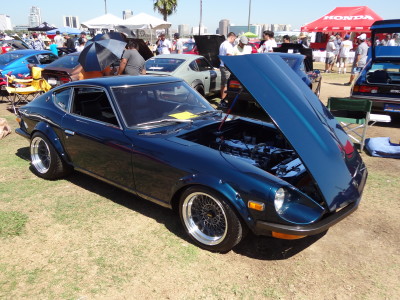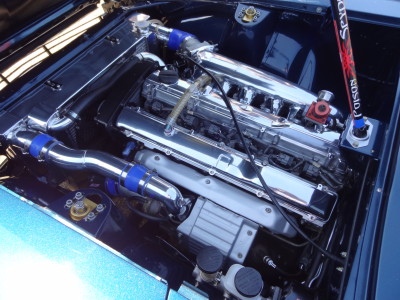 By contrast Richard Madlangbayan's RB25DET-powered S30 is wildly flared with retina-searing paint and extensive aero.  To-die-for NISMO LM GT2 wheels were re-barreled and stepped up to 18″ by FiveOneWheels. Check out the rear diffuser, side skirts and spolier too: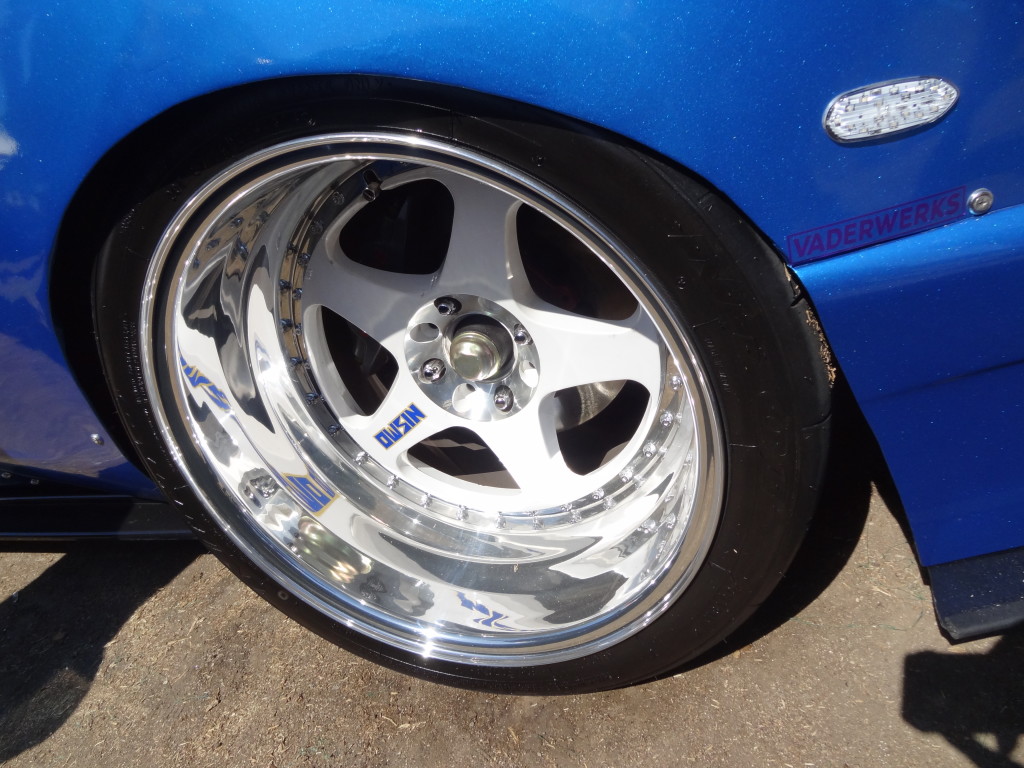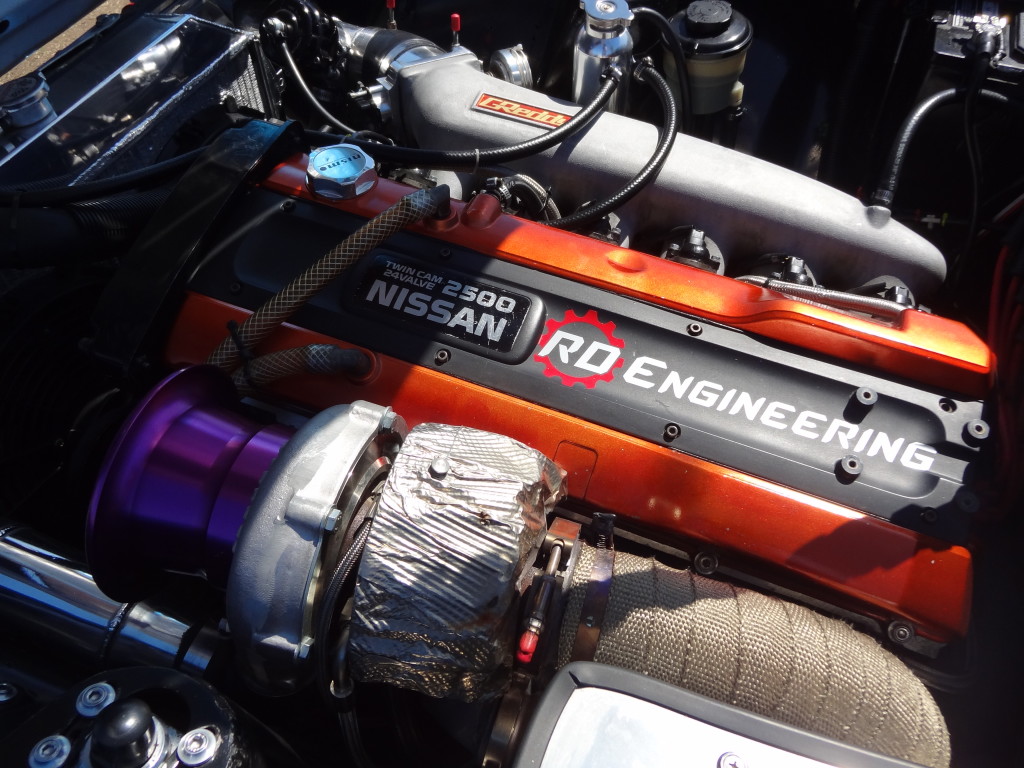 This was my first time seeing Kevin Yeung's "White DevilZ" in person. It had some ludicrously sized fenders, WORK Equip 03 wheels with a huge wing and more aero. My favorite part? The L-series powerplant force-fed by an HKS turbo kit. I think I overheard Kevin telling a fan that "he had plans to track it"…
The guys from JDM Legends displayed this immaculate, super sano S30. From the iconic Watanabe wheels to the triple-carb'd L-series this car was a real treat to view.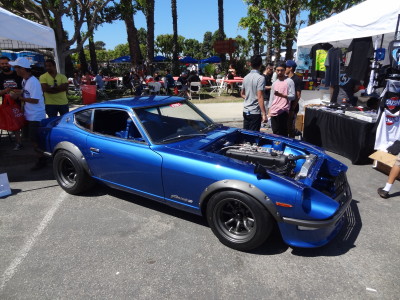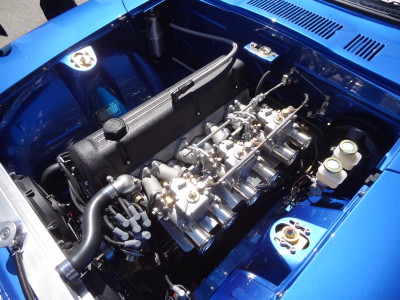 Several clean stock S30s like this tennis-ball lime 240z and silver 260z:
John Morton BRE 240z Tribute
Our friends from Georgia debuted one of the most accurate BRE 240z-tribute builds of our time. Randy Jaffe was thrilled to have John Morton see the car in person. The SCCA C Production Champion in '70-'71 was painstakingly built and it showed. Even John Morton commented on how correct some parts were. Yes, the original LeMans mags are being restored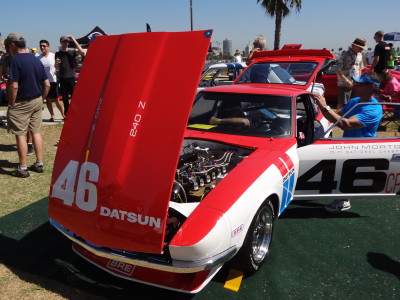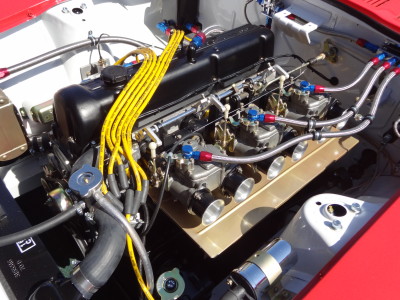 We were stoked to catch up with John Morton and deliver a thank you gift for driving our IMSA Z at RMMR!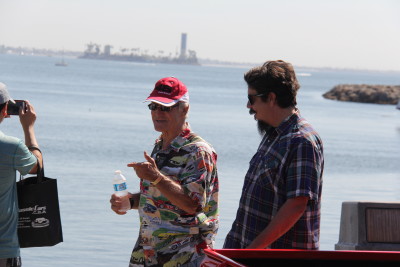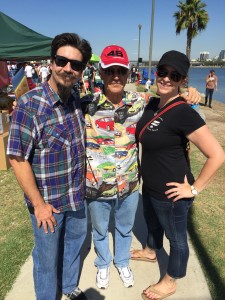 Z31s were plentiful too! Not one, but TWO Shiro-Edition 300zx Turbos were displayed: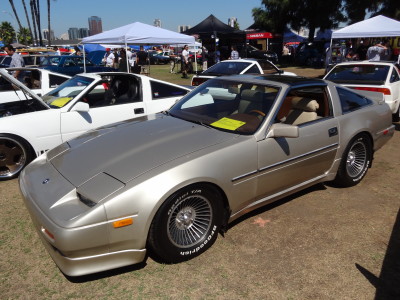 Some S130 love. T-Tops rule! Ever seen a 280zx with a full Kaminari body-kit…only at JCCS!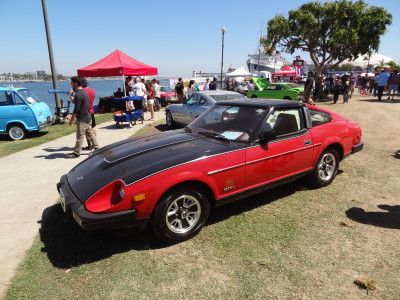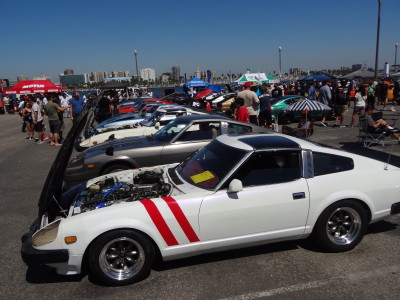 The Nissan S12 chassis has been growing in popularity. Known as the "200sx" stateside there were some cool examples of both hatchback/coupe bodystyles: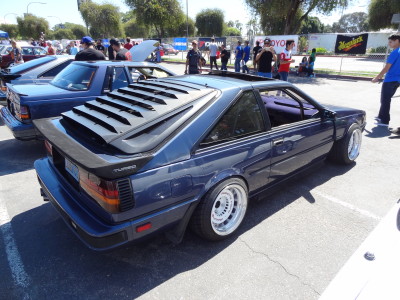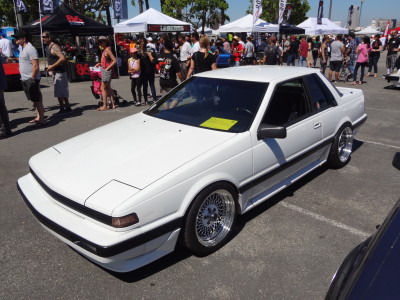 Although Mr.K passed away earlier this year, we think he would enjoy roaming around JCCS. Mr. K's very own G-nose 240z:
Datsun Roadsters
Who can miss the die-hard Datsun Roadster owners and their beloved open-top sports cars! The SoCal Roadster Owners club lined up their cars with stock and modified examples. This SPL was my favorite because I love the silver/red combo, whitewalls and discreet 5-speed transmission upgrade: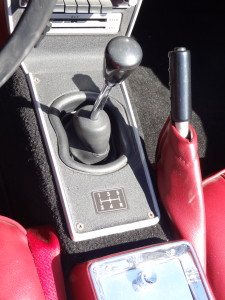 John Baker's 1969 Datsun 2000 was one of best stock restorations on display: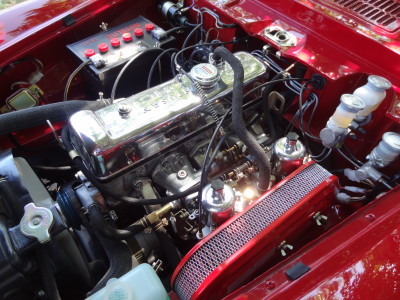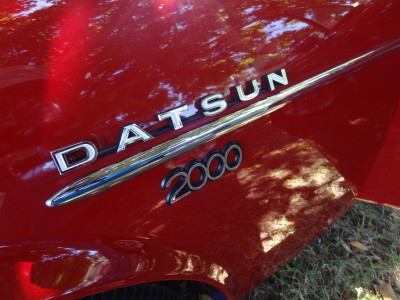 These guys drive their cars. Mike Anderson's SR20VE-powered '68 SPL was recently  featured online at Super Street and he continues to carve canyons, attack cones and open track the beast. I was pleasantly surprised to see that my SPL grille made it on his roadster

This candy green SPL sported dual Weber side-drafts and tan interior. More roadsters in the gallery!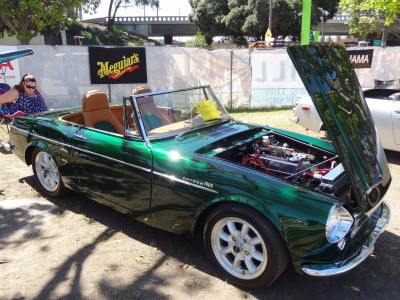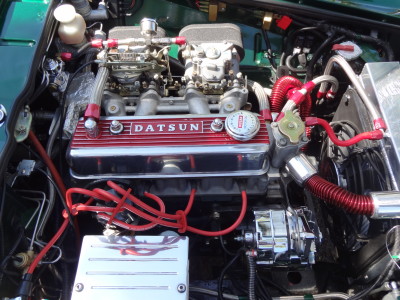 Datsun 510s
This year felt like fewer Dimes were displayed, with only one wagon spotting. The shiny engine bay of this Datsun 510 stood out and sported some Volk GT-P wheels, Brembos and a clean interior: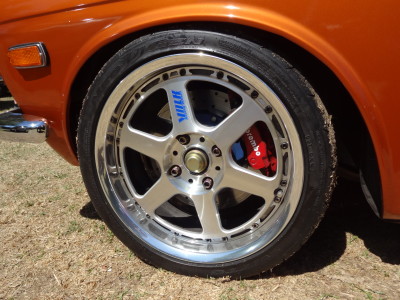 More Dime goodness: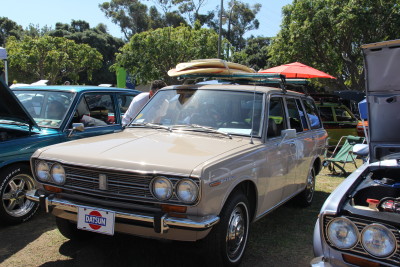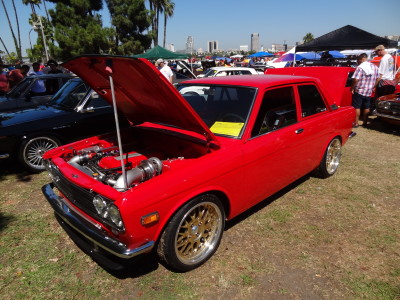 The only Bluebird coupe was a JCCS regular. I never get tired of seeing this beauty: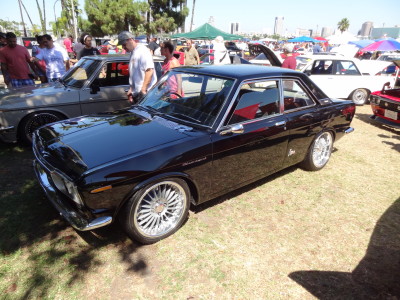 It was cool to see our friend Ben Pila Jr. and his Ronal-shod 510. Ahh the good-old days of the Mt. Shasta Meet!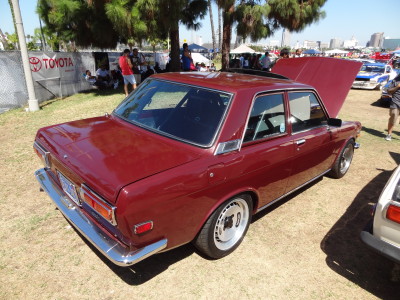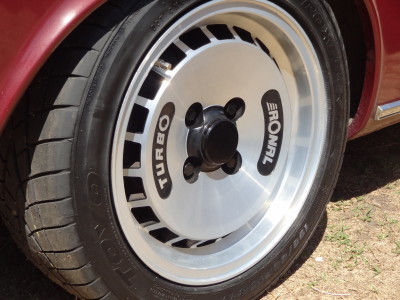 Datsun trucks were plentiful too: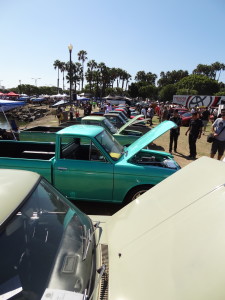 Drag-oriented, SR20DET-powered 1200s and TWO Nissan Pao's: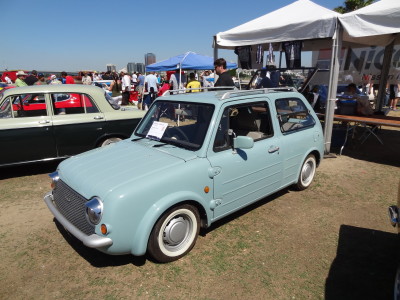 Toyota
Toyota always has a huge corporate involvement and brought an assortment of race cars and a rare 1967 2000GT.  This year the AE86s, Celicas, Corollas, and Starlets were the best I've ever seen!
This Starlet (KP61) had a very sleeper feel to it until I looked under the hood to find a 4A-GZE turbo twin-cam!
Predecessor to the KP61, but never sold stateside was this massively flared 1974 Publica sporting Tom's wheels:
This 4th generation Toyota Corona (T80) had me double-taking. Amazing paint, stance and wheels:
My favorite generation of Celica has to be the first. This light blue TA22 had GT graphics and rare (with caps) Hayashi Techno Phantoms. Love the tail lights on these, shown on the yellow car from Toyota corporate: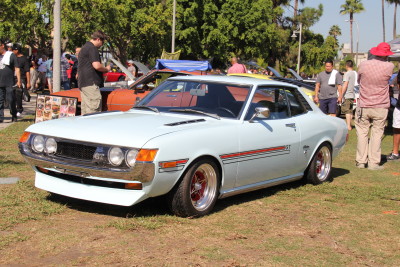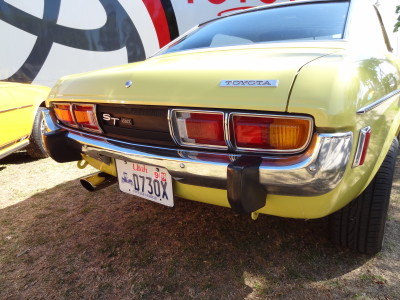 Two immaculate Celica liftbacks sporting SSR Formula mesh and Hayashi Command wheels: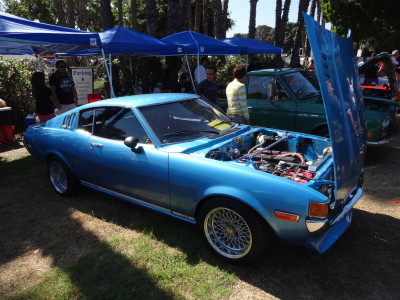 Third generation Celicas including hatch/coupe body styles and a wild Bosozoku specimen: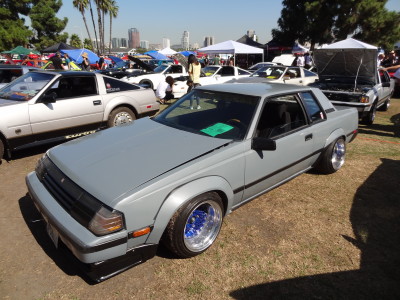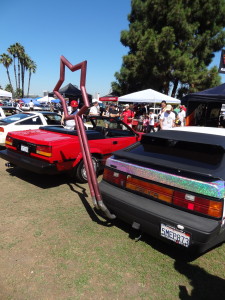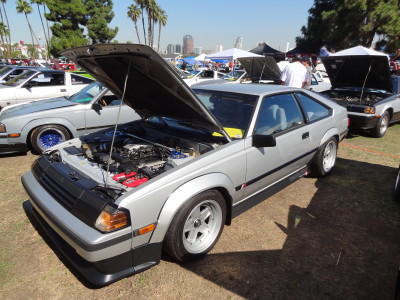 This RT114 Corona Hardtop sat on some super mint Work Ewing Mesh wheels complete with the "center packaging system" caps! See the wheel segment below for more info: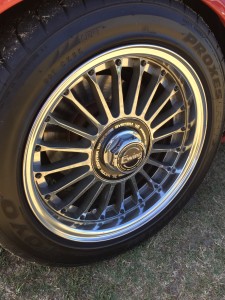 This 80's Toyota Van LE was a 4wd model with swiveling captain's chairs:
It's fun to see the plethora of Ae86 builds and we loved the variety. This Levin conversion coupe was by far the raddest with Volk TE37V wheels and superb parts choices:
Panda-themed, hot-rodded and shod with sweet wheels and slick paint jobs the AE86s did not disappoint!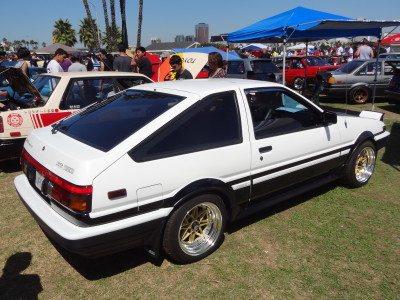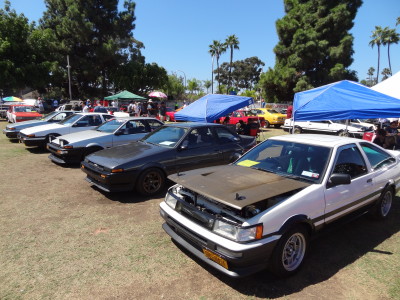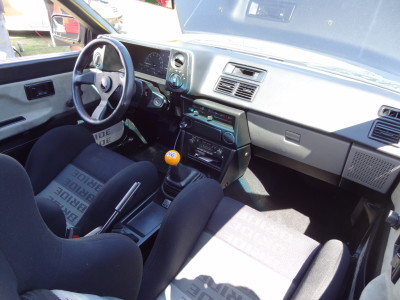 Earlier 1st and 2nd generation Corollas in non/Sprinter form with several new (to me) examples. This one had an insane BEAMS 3SGE engine swap and TRD Tosco wheels: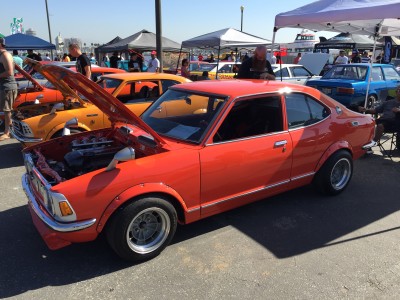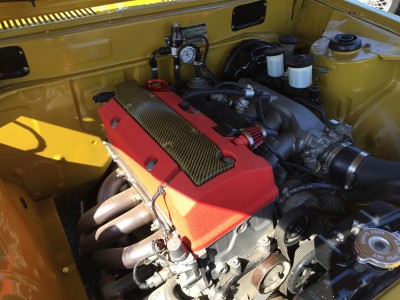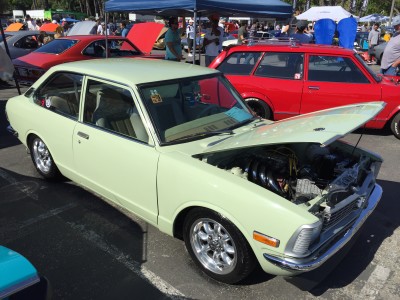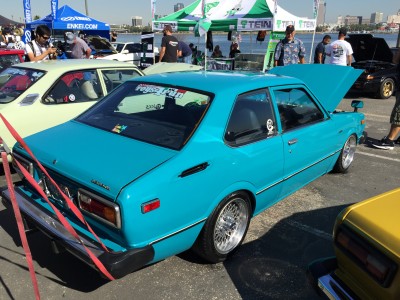 Jose Lalama brought out his impressive 1973 Corolla TE28 wagon with a T66 turbocharged fully built 3RZ engine from a Tacoma: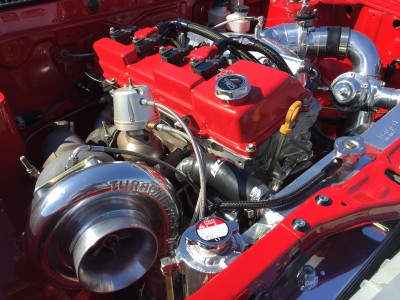 Land Cruisers!
Cressidas (MX73 and MX32) from and 1st gen MR2s: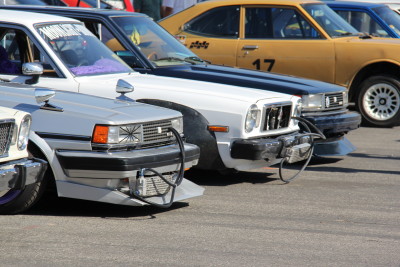 A record number (4) of Sports 800s!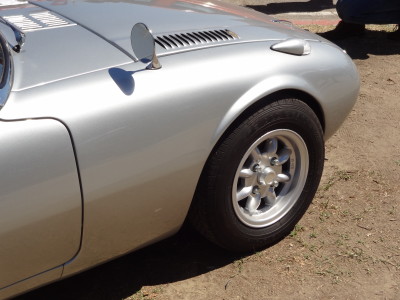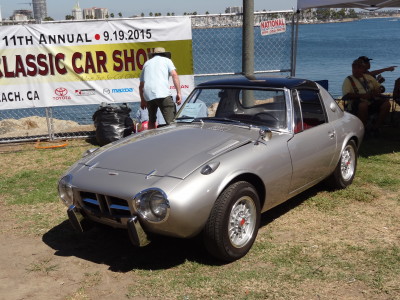 Honda
Honda brought several interesting cars, including a first ever N600 imported into the US. In a sea of CVCCs and N600s, most from years past a few cars did catch my eye.
Got snorkel mask? Dig the rear hatch on the Z600 compared to the N600:
We almost missed this little beastie and boy were we glad to catch it. This 1972 N600 no longer has its 36hp 600c motorcycle engine. In its place is an 800c drivetrain from Honda Interceptor making 115hp at 12krpm. But wait it gete crazier! No FWD as the whole suspension has been replaced with Mazda Miata parts. Check out the paddle shifters!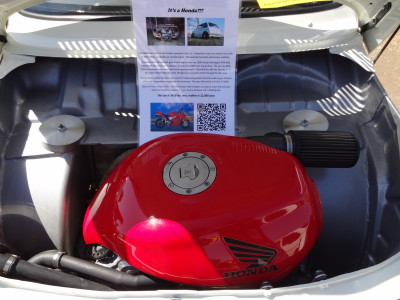 I was surprised to see no EF-chassis hatches but there were some heavily modified CRXs
K20-powered EG:
My favorite Honda was this EA-T chassis. Lots of tasty parts on this one: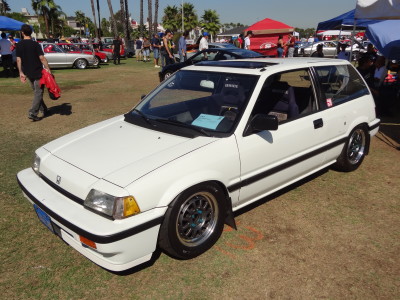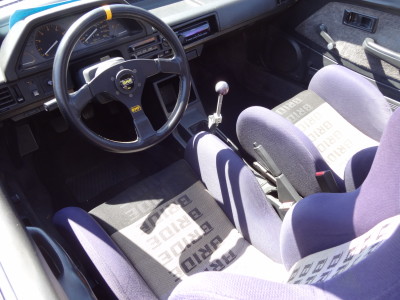 Pristine 1st gen CRX followed by a Spoon-ified B18-powered 2nd gen: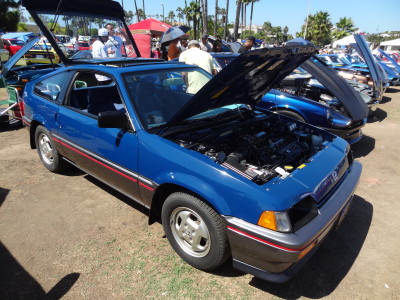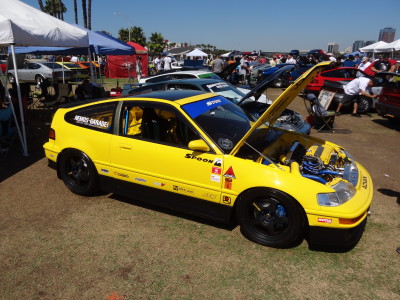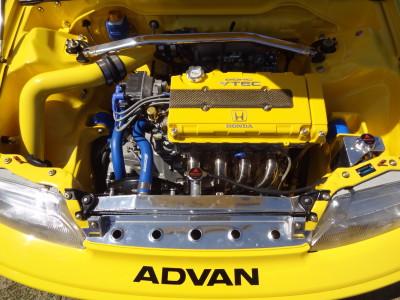 Mazda
Mazda brought out a few gems of their own with probably the best OE display including an original RX-2 racer, NA and ND Miatas and a Cosmo: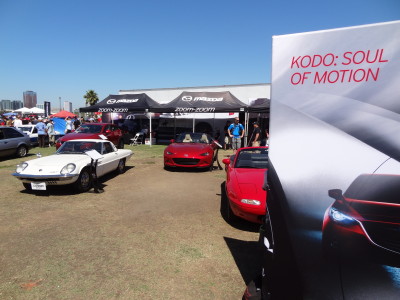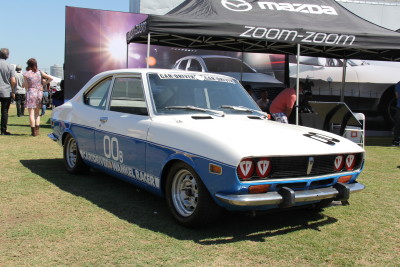 Dig the livery on this RX-3: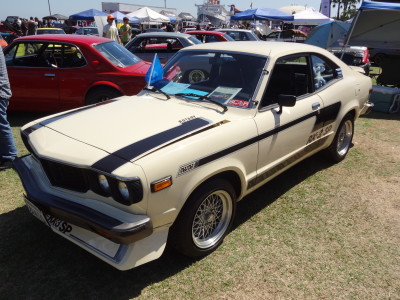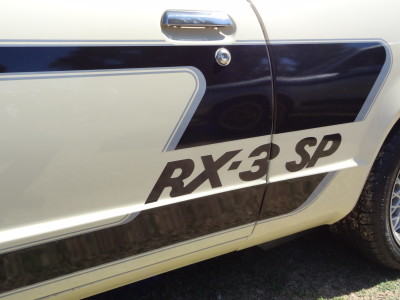 Another clean RX-2 on meshies: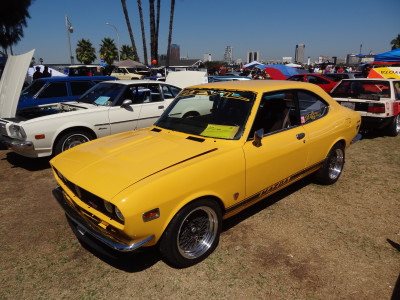 Rotary truck and RX-4 on meshies. BBS, SSR, Epsilon these must be the go-to wheel for rotor heads: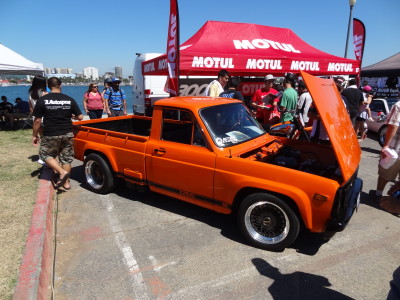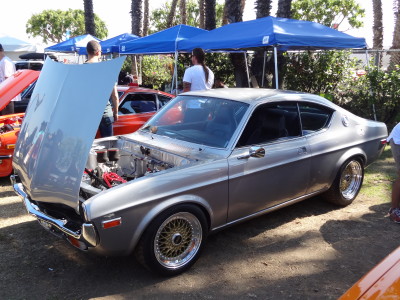 Mazda's iconic RX-7 series was well-represented with SA22 and FC models. From preserved stock and built-to-the-hilt turbo 13B examples it was a Rotary fanatic's fantasy, especially in red:
Boosted 13B SA22 and stock FC Turbo II: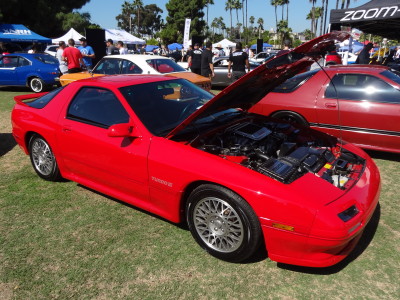 Pristine RX-3 and RX-2:
Parking Lot Gems
Even before we walked into the JCCS show the parking lot featured lots of sweet J-tin. As soon as we parked this AE86 coupe pulled up sitting on uber-rare SSR Star Sharks!!!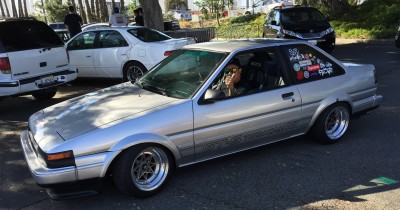 Toyota Liftback on BBS RS and a RHD CR-X on SSR MK2-R:
L-series powered Hot Rod? Yes, please!
Wheel For Fantasy
I personally love going to JCCS because I get to see very rare Japanese/tuner wheels and parts.  Preservation of authentic wheels and appreciation of the time and effort spent to find certain specimens that most folks have never heard of in this generation is what I admire most. I'll admit, it is kind of downer to see so many Rota wheels and replica parts at JCCS. Especially with all of the high dollar/rare builds it is a let down but this is also a different crowd of enthusiasts. I digress!  My favorite wheel at JCCS: Work EWING 2 mesh: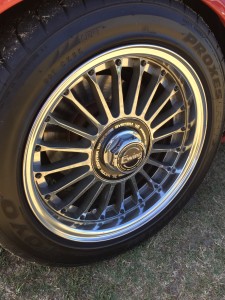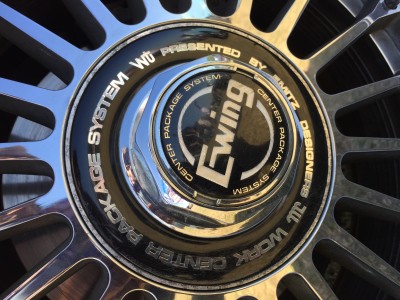 Why do I love this wheel? Their "center packaging system" is totally 80's and ridiculously complicated:
Finned delights: Re-barreled Sprint CP-R and Volk Racing Artisan Fin:
Variations on the mesh wheel from BBS, Epsilon, SSR, Volk, Bahn and more. You can't go wrong! Simmons below:
SSR Formula Mesh step-lipped and full-reverse lip: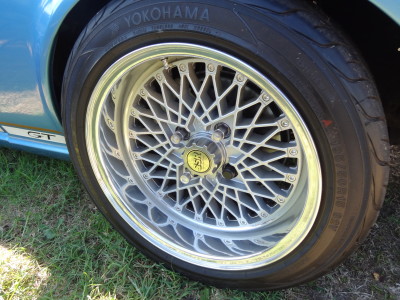 SSR Dori and Epsilon: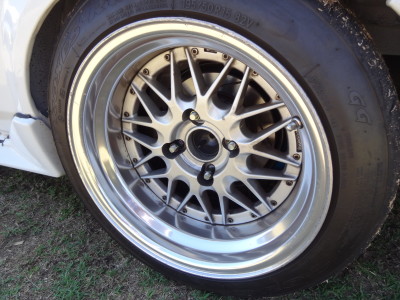 Bahn mesh and BBS: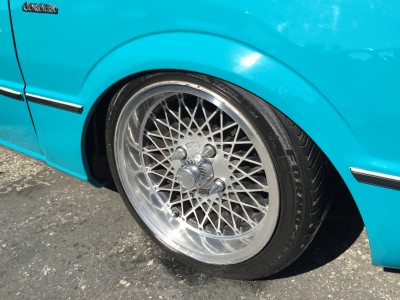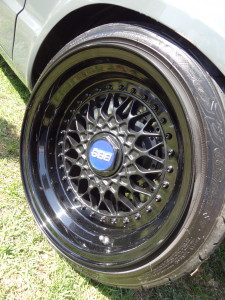 SSR Longchamp XR-4, MKII
Modern wheels can work well with vintage metal depending on the build theme. Here are some SSR SP-3 and Volk GT-P: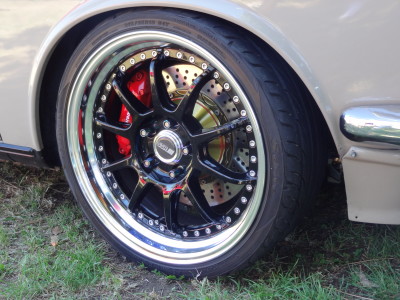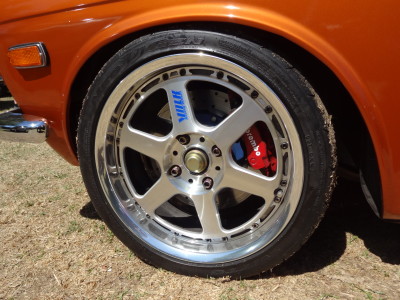 Wheels that Toyota owners fiend for: Tom's and the amazing TRD Tosco:
Not to be confused with SSR Star Sharks, there were two examples of the Hayashi Racing Techno Phantoms:
Sometimes smaller is better. Here are some 14″ Hayashi Commands: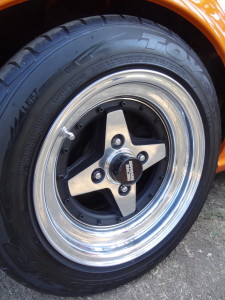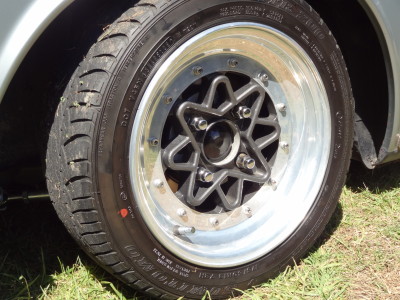 Popular with the Honda crowd are Spoon SW388 and Mugen M7 wheels: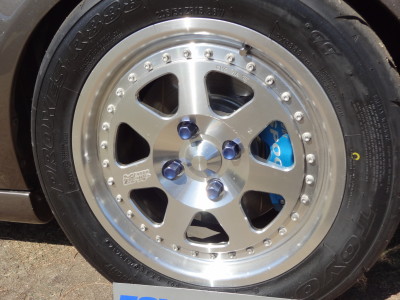 These Mugen M7s were re-barreled and stepped up, another benefit of split-rims:
The quintessential old school wheel award probably goes to the RS Watanabe: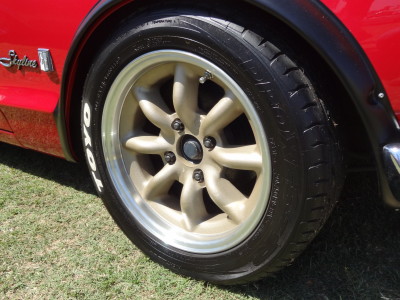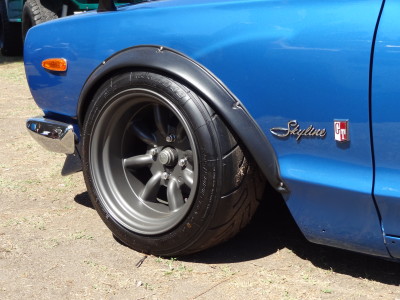 Volk's TE37V with some Weds Sport thrown in for good measure. More in the gallery!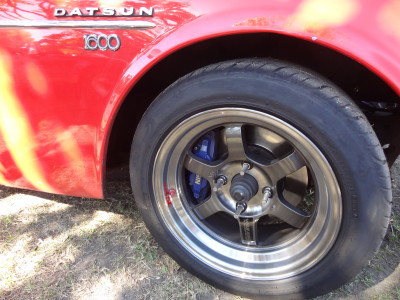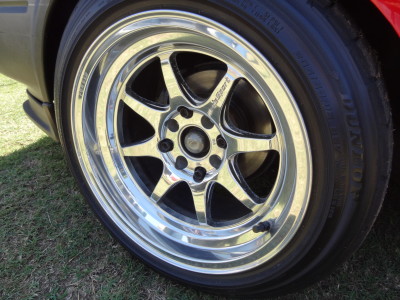 Thank You JCCS!
It is difficult to run a car show and keep up the quality and interest levels but the folks at JCCS have managed to do exactly that for 11 years! No other show gives you the chance to see obscure, pristine, modified Japanese classics…and we look forward to next year's entrants. We hope you have enjoyed our coverage and please visit our mega-gallery for more pictures. Special thanks to the ZCG crew and Tom Dockery for sharing some great shots with us.