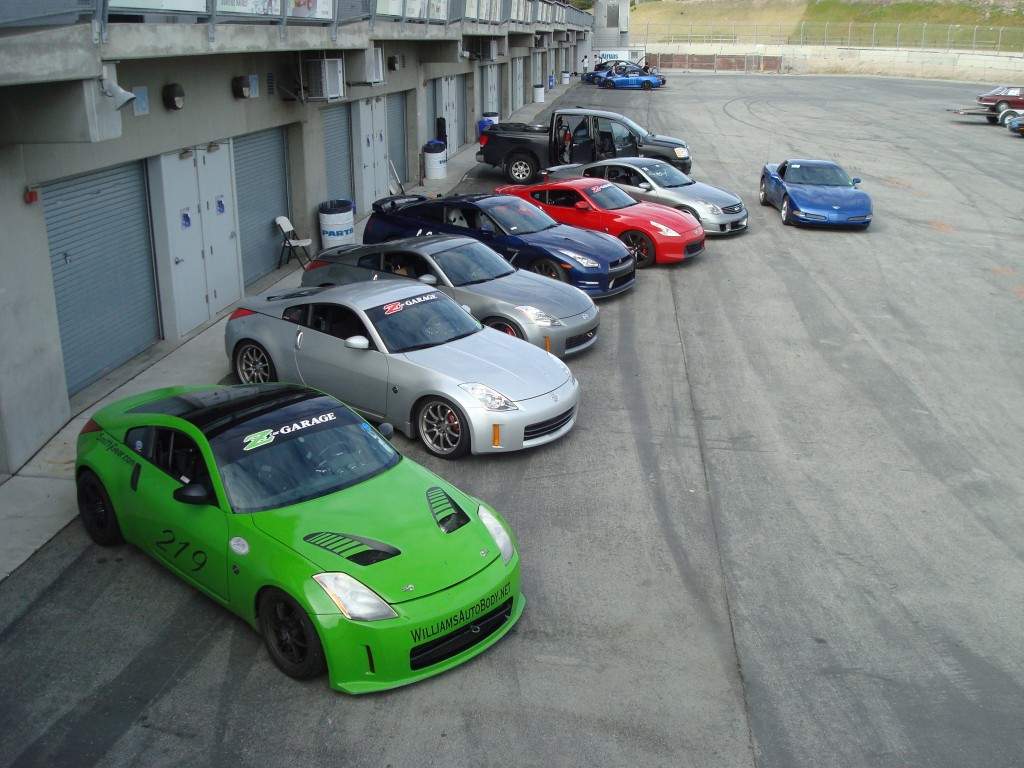 We had another fantastic track day with NCRC at Laguna Seca Raceway. The ZCarGarage group included
Scott S (Green Z33)
, myself (silver 350z), Allen B (grey Vortech350z),
Walt p (Blue GT-R)
, Rob (red370z), Tom D (gray G35 TT), and Kurt I (blue Z06, don't worry he has a real Z too). There were at least 3 other Z33s, a 370z, a Datsun 240z, 2 GT-Rs and a very clean Nismo Z33 in the paddock…a great day for Nissans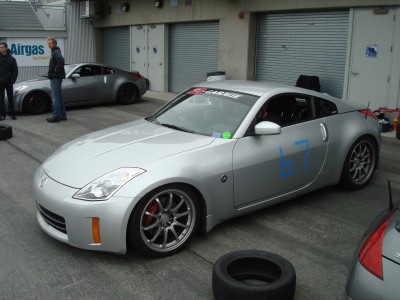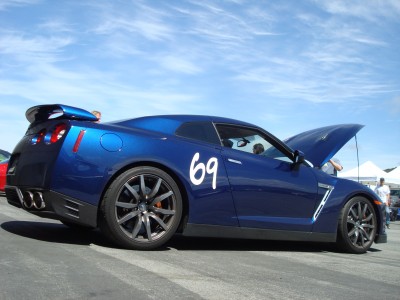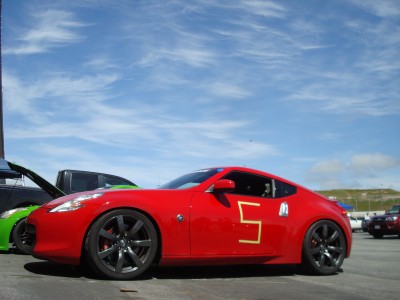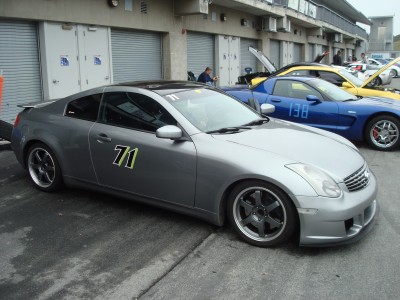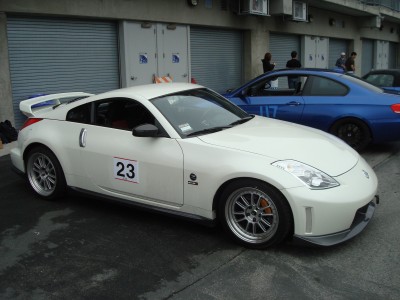 The paddock was filled with lots of wicked metal.  Some highlights: BMW was very well represented with all years of M3s and a bunch of 135is. A lone Ferrari 458 spent an inordinate amount of time parked with race numbers….hmmm.  Bobby T showed up with his newly painted Carrera; this car used to be an interesting shade of brown so good job Bobby! A tube-framed Mercedes 300SL, I wish I had seen this LS1-powered Miata in action, and incredibly fast green 240z.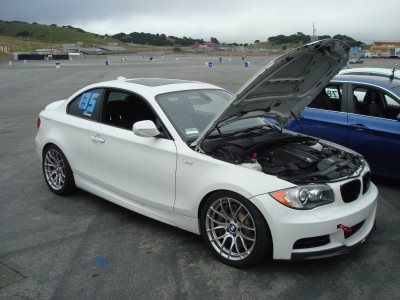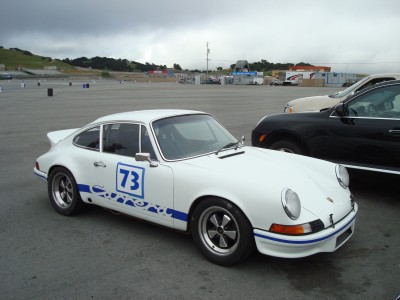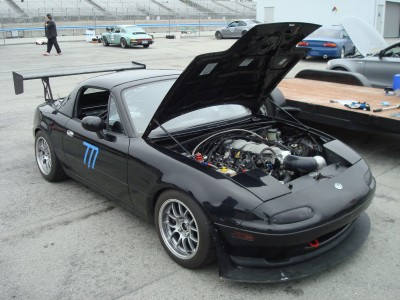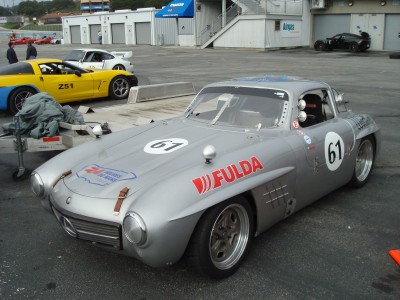 The weather and track conditions went from damp and foggy in the morning to warm and dry in the afternoon. Our friends were spread out in all three of the run groups, and everyone had a chance to "mix it up" through the various turns of 'Seca. Walt P was tearing it up in the Open(race) group with his 1-month new GT-R, kudos to him for putting the 530hp beast to the test straight from the dealership!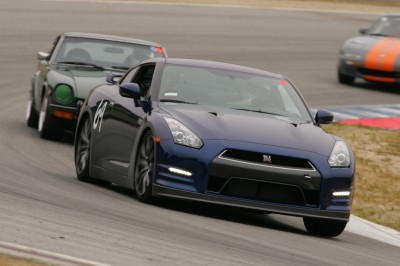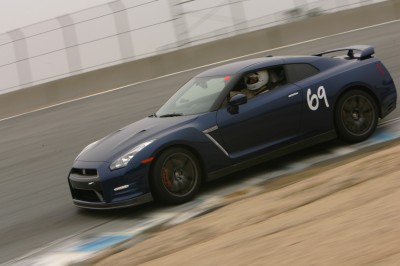 This was Allen B's 2nd time at 'Seca and he came armed with sticky Toyo R888s on SSR-Comp wheels at all four corners of his Vortech'd Z. I love that car. Tom D's Twin-Turbo G35 sounded wicked on the front straight. This car has been boosted for over 40k miles and he is still tracking it, daily driving it, and enjoying it!
Scott S continues to amaze us all at his driving ability in the Green Machine. He tested several sets of race rubber including some BFG R1s, but ended up going back to that sweet, sweet, Hoosier. Scott was running 1:46s on them, even with some braking system issues.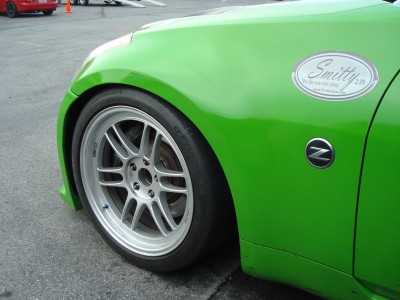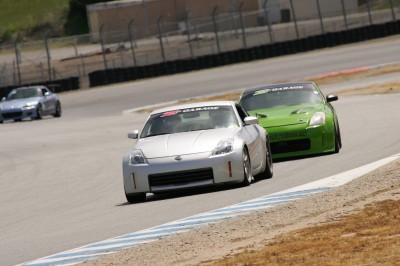 I drove my Z in the Point-by group and also had my friend Chis W drive the Z in the Solo group. That's right, double-duty for my Z again! Big thanks to ZCG for track-prepping the car to handle the beating! Between Chris and I the Z had no issues at all. Brakes were awesome. Stoptechs were made for 'Seca. Chris was a beginner and this was his first time driving at an open track event. My friend Glynn D instructed him throughout the day and Chris went from being a spectator to competent lapper. He had a blast. There might be a Z-car in his future now. Here are a few pics of him courtesy of 
GotBlueMilk.com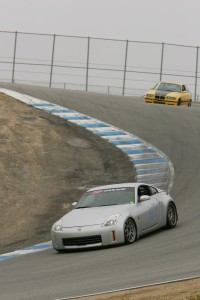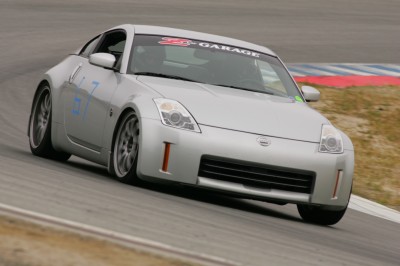 At the end of the day the crew from ZCG dropped by and we gave everyone ride-alongs. The last session of the day is one that is always bittersweet for me. Half of me is tired from the day of driving but the other half is wishing it wouldn't come to an end. Laguna Seca will do that to you

 So keep an eye on the blog for upcoming track days and see what it is all about. You will love your car even more.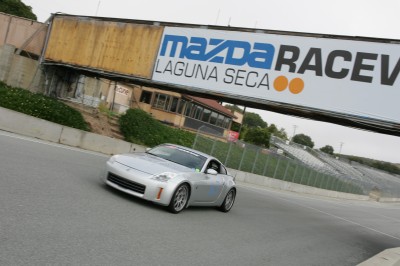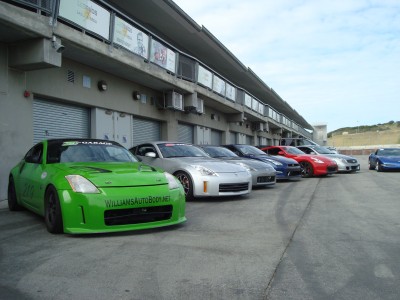 Stay tuned for video footage from the track. Lots of photos in the gallery too!