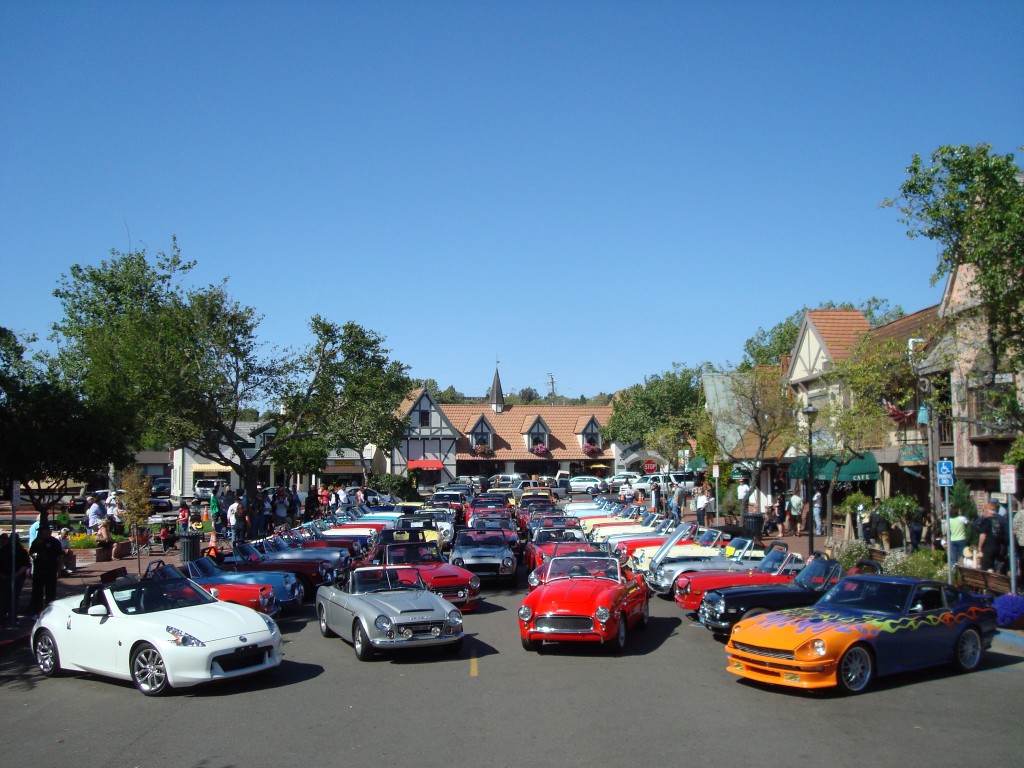 What a weekend! On Saturday we enjoyed a day in Solvang, Ca for the 24th Annual Datsun Roadster show and on Sunday drove back up to Laguna Seca to catch some vintage racing.
We always drive our Datsun roadster to the show but with a baby on the way we decided to play it safe and leave the Datsun at home.  Instead we drove the ZCG 370(still keeping it Nissan) down to Solvang where it was welcomed into the show! If you have never been to this small town just outside of Santa Barbara it is really worth visiting. There is something for everyone here: shopping, food, wine-tasting, outdoor activities, and the last weekend of every April a huge gathering of Datsuns 🙂
This year's show brought Datsun owners from all over the country and even the Netherlands! There were 68 cars including roadsters, 510s, Zs and others from showroom-stock examples to wildly modified beasts. Here are a few show highlights from a roadster-owner's point of view; it's not hard to see that we love our cars and there is a dedicated following to keep them on the road!
Mike Young is known as a top Datsun restoration specialist and he won Best in Show with his fully restored and concourse-correct 1967.5 2000. This is the most coveted model of all Datsun roadsters with less than 1000 cars produced and even fewer still in existence. Mike has great attention to detail and it shows throughout the car even in the engine bay:

A gentleman from SoCal fabricated an entire roadster frame/chassis with custom front and rear suspension with the intent of selling to the masses. Check out the rack and pinion steering, tubular A-arms with coil-overs and linked rear end: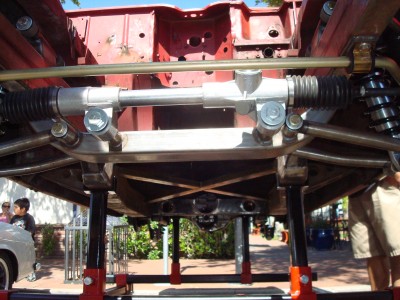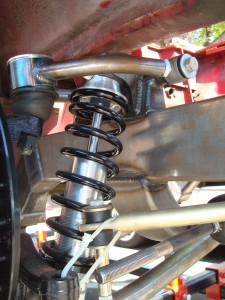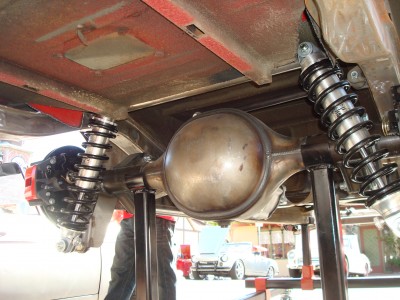 Engine swaps from modern vehicles are common into roadsters. Although Nissan drivetrains are popular leave it to Datsun roadster owners to buck the trend. Here is a beautiful '67 1600 that has a full GM Eco-Tec drivetrain found in the Pontiac Solstice. I really liked the white faced aftermarket gauges: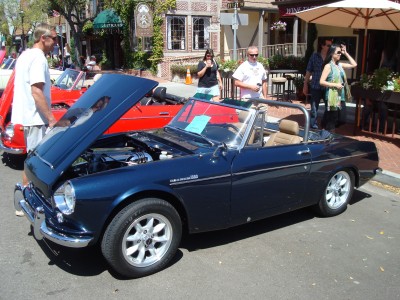 Speaking of engine swaps and gauges…running the factory speedometer and tachometer (mechanical) with your late-model engine swap(electronic) of choice has been difficult/near impossible to do. Enter roadster owner and aviation gauge specialist John Frampton. Not only does he fully restore a 45 year old speedometer gauge to new, he takes it up a notch and modifies the gauge internals to work with late model engines. Brilliant. Here are 2 examples of his "electrified" gauges. A set of 67.5 gauges on the left, and '66 on the right. Both are getting signals from the SR20 drivetrains underhood. Eagle eyes will notice the digital odometer in place of the mechanical one 🙂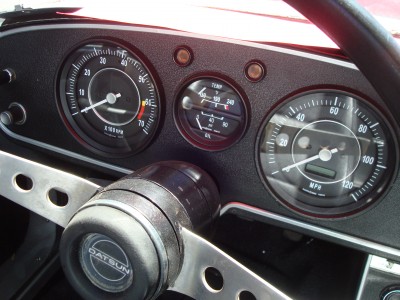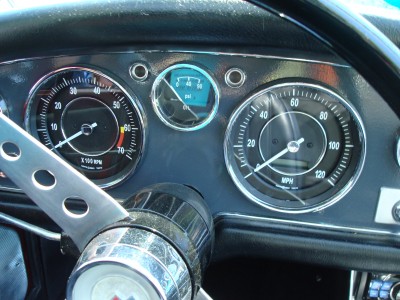 Here is a small sampling of pretty cars with different paint jobs and wheels. Panasports and Libras are common but the new Rota "Rb" model has made it's debut on a few cars: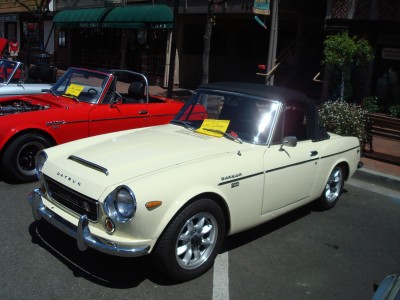 People. It's what makes the Roadster Show so much fun. Datsun folks in general are cool people. We help each other out. Tuning carburetors is a black art to most of us. Getting them to run smoothly and efficiently is not easy…unless you are this guy. Can't tune your SUs properly? Call Keith. He's been doing it for years and worked on several roadsters at the show: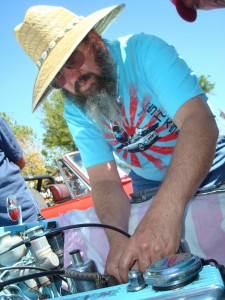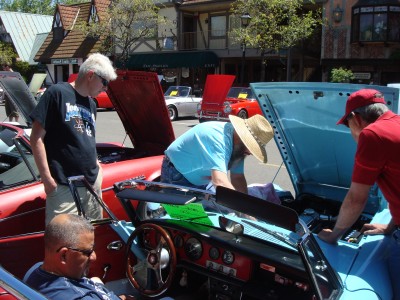 The car show display and voting usually ends at 3pm and everyone starts lining up the cars for a group photo. The scene is a mix of engines revving, exhaust fumes, shouting and clearing tourists out of the way of cars reversing, but it all comes together. Yes, they let us include the ZCG 370z in the photo!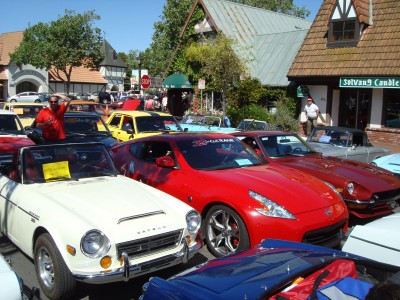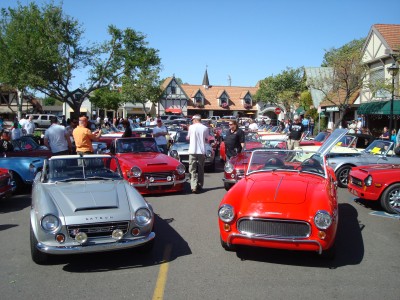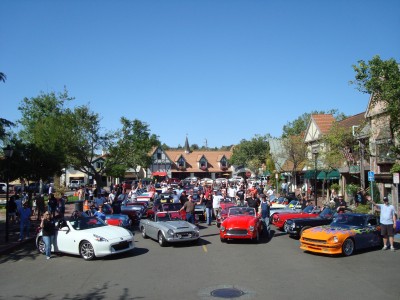 Here are 2 short videos of cars leaving the group photo:
The show is capped off with a BBQ dinner/raffle at a local park and an awards ceremony. Big thanks to show organizers Jeff and Gabby! Join us in 2011 as this will be the 25th Anniversary of the Solvang Datsun Roadster Show!
Don't forget to check the gallery (at the bottom) for LOTS of pictures
Datsuns Vintage Racing at Laguna Seca!
We left Solvang Sunday morning and headed north for Laguna Seca. We arrived just in time for the 3pm race to see some Datsun 510s and roadsters on the track. 20 Datsuns had been racing throughout the weekend and this was an exciting race to watch! Troy Ermish in the #38 510 mixed it up with another 510 (#27) and lead the pack of the cars for the entire race until Troy lost a tire on the last lap. The 2 cars put on a spectacular show.  Troy was running 1:42s!!! In a Datsun 510!!!!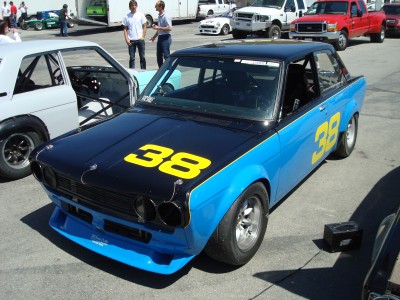 We also came to watch Roadster racers Ron Carter and Will Campbell. Ron is a seasoned driver with many events under his belt and this was Will's first time at a vintage race event. Ron was unfortunately punted off the track by another car and did not finish the race. This is vintage racing though and contact does happen. Ron's roadster may be hurt, but luckily he himself is one piece.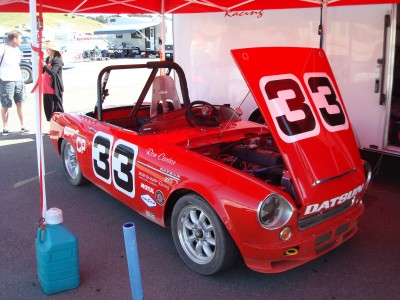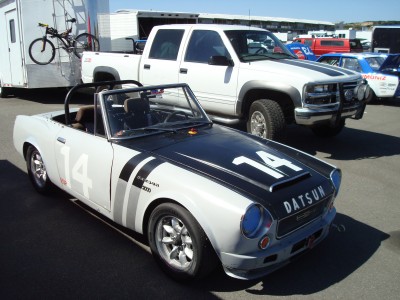 Will carried the torch and finished the race mid-pack. A major accomplishment for a first-timer and for a roadster that is daily driven! That's right folks. Amongst all of the high-dollar, trailered race-cars Will's roadster arrived under its own power, raced and in true Datsun fashion left under it's own power. Congratulations to you Will on a successful race and keeping Datsun roadsters on the race map!
Here are few videos of the race start and 1 video of Will going though Turn 4. It was a good day for Datsuns!!!
You can see more photos from Solvang and the races here: