We featured our friend Anthony's
Datsun 510 wagon
on the blog last year. This Datsun has been thoroughly modified and re-engineered by Anthony over the years and now the car is included in a recently published paperback book!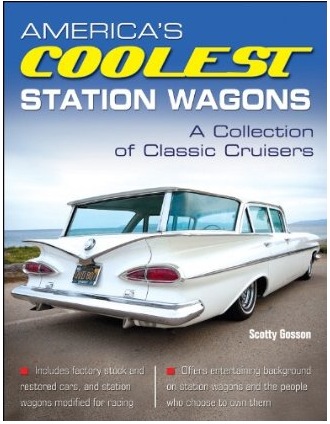 Anthony's 510 is featured in "America's Coolest Station Wagons" by Scotty Gosson and you can grab a copy through Amazon.
Anthony is a man of few words but he tells us how the book feature happened:
"I was contacted by the author when he found my car on Pro-Touring.com. He was excited to include it in the book and initially plans were made for me to come down to Medford where he lives and go to an autocross and have him take some pix.
However the 2jz engine swap couldn't be completed in time, so I obtained the requirements he needed for the photo's. My friend Rick agreed to take the shots and we found a couple of locations in the downtown Portland to take the pix.
The author asked me a series of questions, and about the car in general and wrote the article off that. He didn't have a choice of the pix they used so it was interesting to see which ones were picked."
Congratulations Anthony and to all of those Datsun 510 wagon owners that didn't already know…your wagon is cool!