Steve S. is our kind of enthusiast: extremely meticulous and passionate about his car and it shows. A litte over two years ago, he bought a low mileage Ivory Pearl G35 coupe, but something was missing: Power. Through his intense research on the G35 and the 350z forums, he came across ZCarGarage. To increase his power, his initial source of inspiration for going with the Vortech Supercharger was from a write up found on ZcarBlog entitled
Little By Little: G35 Gets the Job Done
.
Steve's main reason for going with the Vortech Supercharger was after the test drive with Rob: Steve was on the edge of his seat and couldn't let go of the door handle (who knows what he was thinking, but he sure did have a smile on his face afterwards). Here is how the car stands especially with the beautiful 20 inch D2forged wheels with ZcarGarage special touches.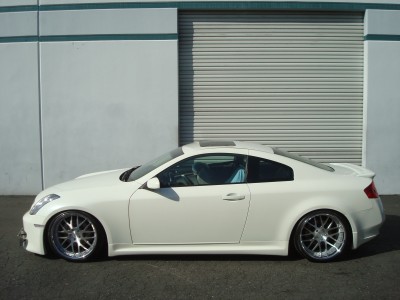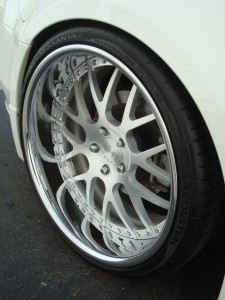 So to feed that power urge, guess what he went with? Oooh yes, the VORTECH Supercharger. Steve's ultimate goal was to keep everything simple, clean and somewhat unique.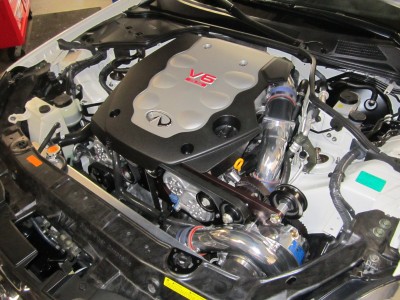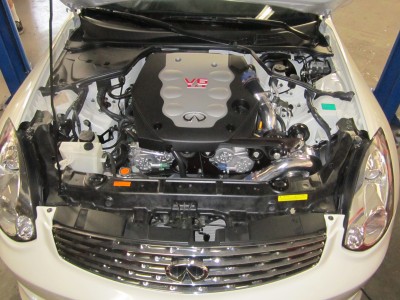 You are probably thinking, "what do you mean somewhat unique?" With most forced induction gauge set ups, many would use the 3 gauge pillar for displaying any combination of Boost, Air to Fuel, Oil Temp, Water Temp, etc.
Steve came across a nice find with PLX Kiwi Wifi. This device connects to your OBDII port and retrieves information from your car's computer as well as from PLX sensor boxes and wirelessly transmits real time car vital information to his iPod touch. The iPod touch is located in the display compartment.  Check out the clean install:
The other cool feature with this device is that it gives you a description of the Check Engine Light as well as clear all codes.  ZCG was able to figure out a way to play downloaded videos off of the iPod touch through the stock Bose head unit.   Many hours were spent cleaning up the Innovate A/F gauge located in the ashtray compartment. With all compartments closed, it looks completely stock: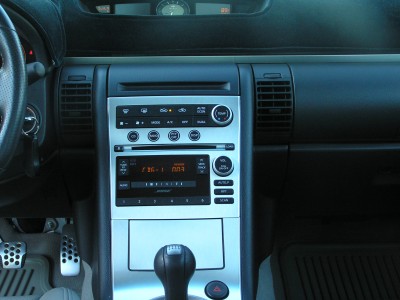 The V3 Vortech supercharger is fully polished with supporting mods including Tomei headers, Upgraded intercooler, ZCG Cold Air Intake, JWT cams, upgraded clutch/flywheel, Bassani exhaust with Berks HFCs and a ZCG oil cooler.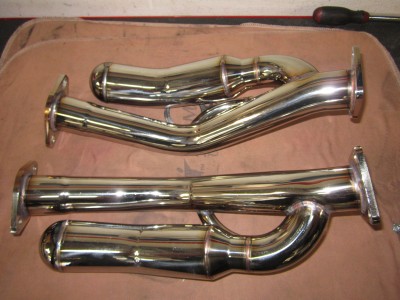 On to the tuning process…where Rob works his magic. Check out the progression of tuning over the past 2 years:
Boost/Serpentine Pulley Progression:
Note: SS Box and Vortech FMU with 3.12 serpentine pulley……..416hp and 336tq at the wheels on 91 Octane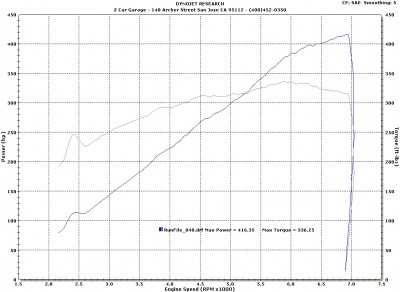 Upgraded to the following items: DW600cc inj, Walbro Fuel pump, GTM 56mm radiator/Fan and Shroud, and UpRev Software with PMAS HPX………91 octane
Next upgrades: Larger Intercooler and 2.87 serpentine pulley yielded 443hp/353tq on 100 octane: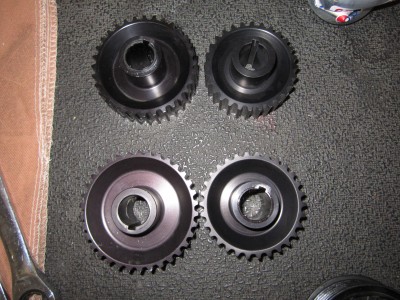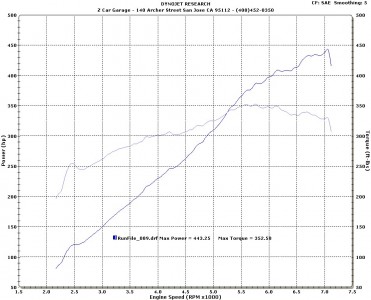 At this point, anyone else would have been content with the power Steve was able to achieve, but he was now hooked on pushing for "More Boost".
Now the best for last. The changes made for this tuning process are listed below, but keep in mind this is still the "Stock Motor" on 100 octane fuel.
725cc injectors, Aeromotive 340lph fuel pump, GTM MAF, changed Cog Gear, and ARTs Test Pipes and 100 octane.  The results are impressive!…501 whp / 399 tq SAE or 514 whp / 409 tq STD: We think Steve is happy

Will Steve's boost addiction continue? We will have to wait and see…