The Datsun roadster you see above is the creation of Todd Green. He is one of those die-hard Datsun guys that still races a vintage Japanese car against modern sportscars in the highly competitive SCCA Solo autocross series.  On the race track Todd is known as "Todzilla" because of the way he drives…and wins! In 2005 Todd won the SCCA National  Championship in EP class with his Datsun, a tremendous accomplishment considering the level of competition. Here he is in 2005:
The roadster has an interesting racing history from over four decades ago when it was raced as the 
Barton Special.
  Todd recalls how he eventually acquired the car:
"When I was 11 years old my father and brother raced (Solo2 or gymkana as it use to be called) a 510 with all of the BRE parts but it had the interior in it and was driven on the street to and from events. My oldest brother got a 2000 from a junk yard and we made it into a regional DP car. He did solo with it for a couple of years, then got married and sold the car. Since then I wanted to race a 2000 and win a National Championship," and 35 years later, he did!
The car was set up to E prepared regulations with U20 Carillo rods, Cosworth pistons, Ported head, tulip valves, cam, double disc Tilton clutch, UC tranny, 4:88 gear, 240Z brakes on all four corners, 3-link with a Watts link designed by a friend of his, coil-overs, and 7″ Panasports with cantilever tires. It made about 170hp at the crank: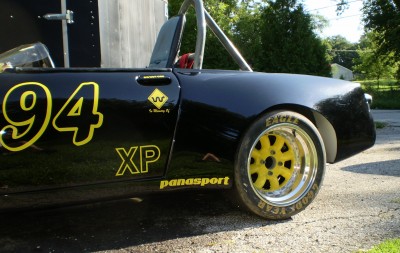 Beneath those sexy handmade fender flares and bodywork is a full tube-frame chassis that Todd built from scratch. About the only thing OEM Datsun are the clutch master cylinder, uprights and spindles, trunk lid and doors. The best part is that he did all of the fabrication work in his garage with a Mikita 90 degree grinder, cheap drill press, a file and his trusty 34 year old Lincoln Tig 250.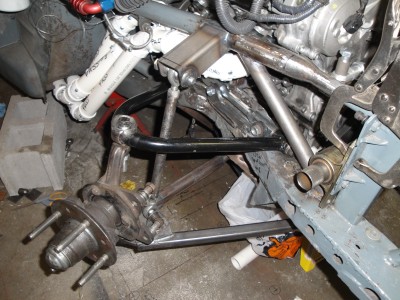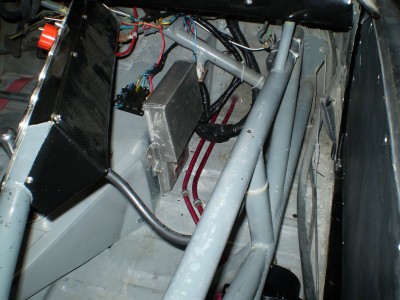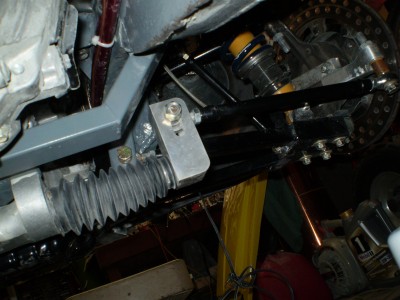 "We got a steering rack from a Rover and fabricated a new one, steering arms, tie rods and column for the car. Fender flairs were made from riveting aluminum flashing to the fenders and laying several layers of fiberglass weave over the flashing, then drill out the rivets and peel the flashing away. Take a cheese grater and file to shape the fiberglass."  It looks fast and mean just standing still.
The VQ35HR Madness Begins
"I got moved to DP and had to race Miatas (which have more HP than my 15:1 Hot rod engine) and I had to weigh 300 lbs more than they do."  The SCCA got rid of A Prepared and B prepared and came up with X Prepared: 1200lbs min. weight with +200lbs for every liter of displacement.  Lots of high hp and high $ machines to compete with. In other words, it was time for the U20 to be replaced by something with more power: enter Nissan's VQ35HR.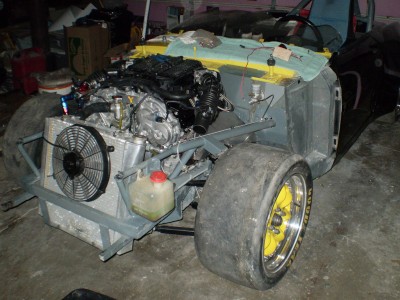 We all know that this engine can be uncorked with minor bolt-ons and make 300whp easily…this car weighs under 2000lbs ! It now has a quick-ratio rack from an Australian stock car, Wilwood brakes, one-off zero-scrub front end, over 700 ft. of tubing, Toyota rear axle and gear drive, 4:88 gears and Goodyear 23.5×11.5×16 slicks on very wide custom Panasports.
The handmade exhaust headers showcase Todd's fabrication skills. 18″ tubular mufflers finish them off. We can't wait to hear this thing at full song:
The XP class is said to be filled with $100k cars but Todd has spent a little more than a new Nissan Versa on this VQ-powered Datsun Roadster. "I have an SRL311 that looks just like the racer without the larger fenders and wheels. It has been idle since 1989 because I have put all of my time and money into the racer." Will it be enough to win another championship? With his driving skills, winning suspension and more power we hope to see Todzilla on the podium! Thank you Todd for keeping the Datsun spirit alive.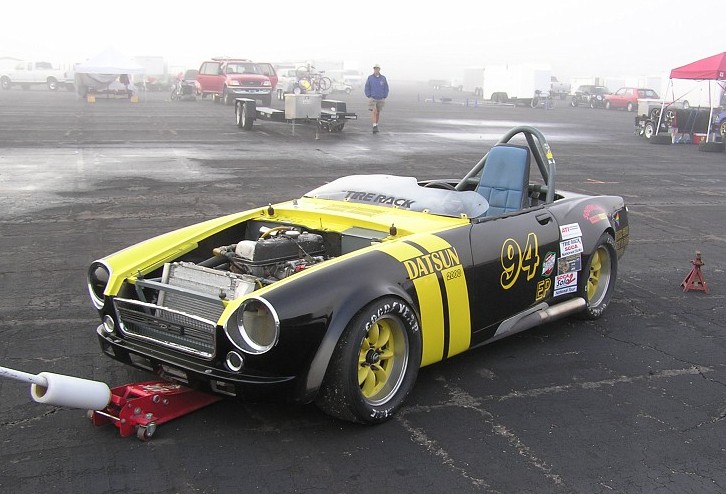 You can see more pictures in the gallery below: