On April 26 we attended the 27th Annual Datsun Roadster Show in Solvang, CA. Traditionally we drive our Datsuns under their own power for the 300-mile trek down south but this year I wanted to bring my family too. With a little help from Z Car Garage, the roadster was loaded on a trailer behind
Joe E's 342whp Titan
. The modified Nissan truck towed the roadster effortlessly while keeping the family comfortable–Thanks guys! Another tradition for us is camping in nearby Buellton, where several fellow roadster owners also set up their tents: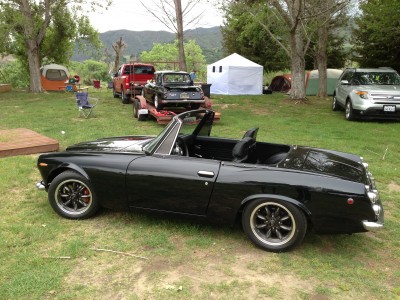 Just across the street from our campsite was the Friday night meet & greet at Mendenhall's Museum of gas station pumps. This venue is quite amazing and a surprising number of roadsters made a showing despite the rain showers.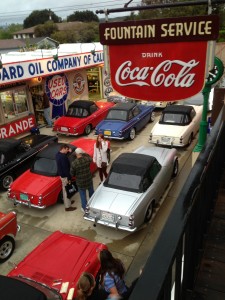 The Saturday morning car show of course is the main attraction. This is the largest gathering of Datsun Roadsters in the US with this year's unofficial count of 102 cars on display in beautiful downtown Solvang. The show itself is open to the public so tourists, shoppers, adventurers etc. can all enjoy the weather and good times.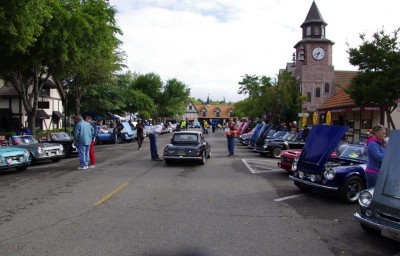 On to the cars! Here are some highlights from the day…there were only a handful of 1967 2000 roadsters this year. Some of these cars are considered the "cream of the crop" with full restorations or OEM levels of detail like Mike Young's SRL #266. Ted H fullfilled his dream of owning a restored 1967 2000 and recently acquired #585 from Socal. His purchase included a road trip that looped through Arizona and Solvang before heading home in Seattle… this is one 2000 that will be driven!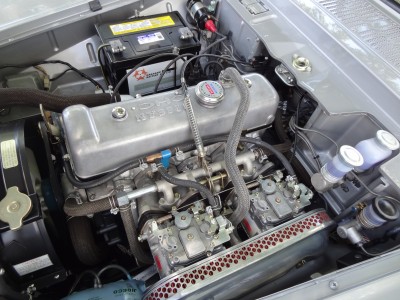 Speaking of attention to detail, Bob C's SRL #218 was exactly how we would build my dream 2000. Bob came all the way from Arkansas to show off his restoration, proudly completed by himself! We love the "little" touches like chrome-ringed gauges and rear surround,  authentic ARE LeMans wheels, and EMPi steering wheel. Black on red is a sweet combo: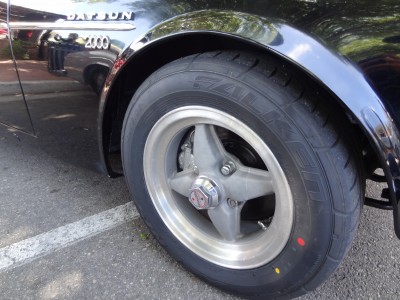 A variety of wheels could be found including the ubiquitous Rota Rb and Panasport designs. Several cars sported Watanabes and WORKs. Jeff T's 1600 had some bright red z32 calipers nicely framed by VTO LeMans tributes.
Solvang showcases everything from highly modified  to pristine stock examples of roadsters.  Alvin R's 1965 SPL and a similar red interior'd '66 SPL were great examples of stock roadsters, right down to their stock steel wheels: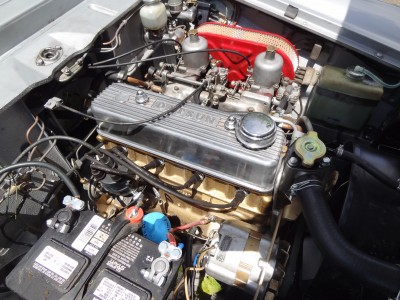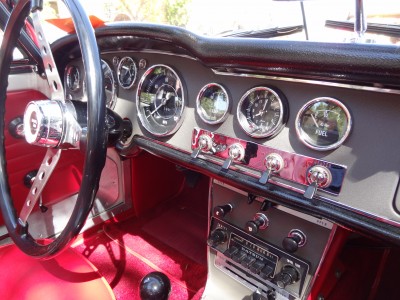 Several engine swaps caught my eye this year. Mike A's '68 SPL won 1st place in modified 1600s. Mike did an S14 SR20DE swap last year and put over 50k miles of hard driving including drift/grip sessions and long road trips. He even came up from Socal several times for shows and a 
Fun Run
! Pics from last Solvang: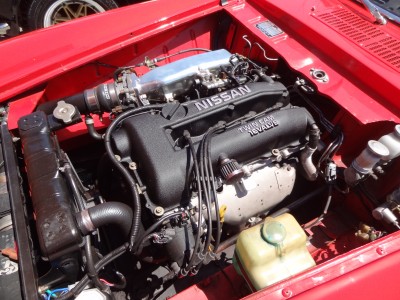 Looking for more power but wanting to stay NA he created an SR20VE by using a FWD head from a Nissan Primera. Using Nissan's version of VTEC, this VVL combination is good for 200hp NA. Here she is now!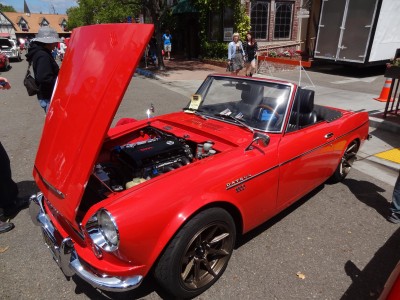 He even took it up a notch by adding ITBs, a gorgeous S20-style exhaust header and that super exotic 20V valve cover. The sound once VVL hits is sweet!
I keep coming back to Marshal S' GM 3.4L V6 powered roadster. It sports custom headers and Megasquirt EFI. The WORK Equip wheels complement the self-sprayed paint and the interior has nice touches like CF trim. Look for dyno numbers soon as we tune his roadster!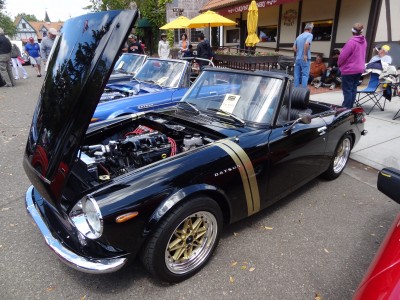 This bezerk low-windsheild and super-flared roadster had an insane 370whp turbocharged single cam KA24 drivetrain. The entire car was modified for road racing with a custom front splitter and massive flares housing 17×9.5 wide Rota RB-Rs in back: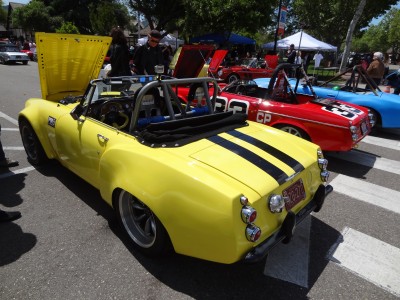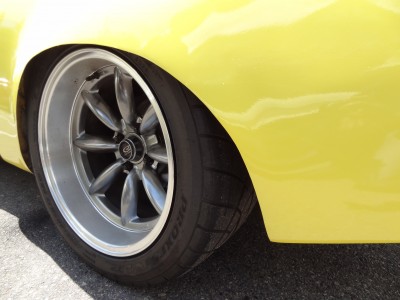 Best paint would be hard to decide but I really liked Ken P's BMW Technoviolet, Shannon D's Estoril Blue, and Kyle's Audi silver: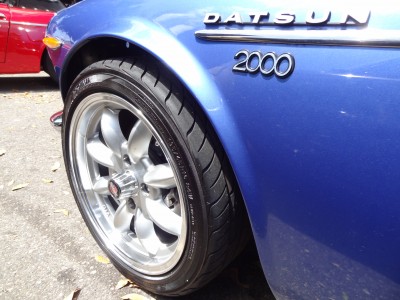 Our friend Ron Carter won 1st place in the Race Car class with his red '67 2000 (#305). Ron reports that he continues to compete actively this year with an appearance at the Coronado Speed Festival. Chuck G from Las Vegas scored the ultimate "barn" find:  a historically significant race roadster with extensive spares. He plans to restore it to its former glory:
The Solvang show also welcomes Japanese classics that are not roadsters. Lots of cool trucks, Z-cars and 510s joined in on the fun: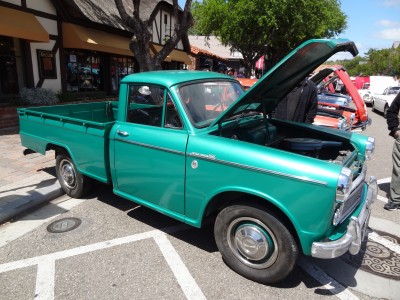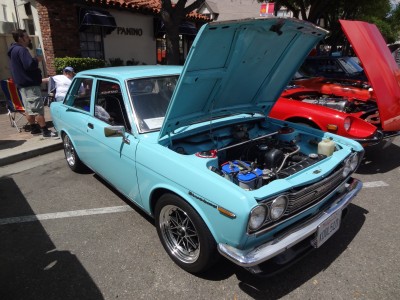 Roadster Ambassador Scott Fisher showed his '67 SPL. Scott's 30k mile road trip started just before Solvang 2013 and captivated audiences with his photo-documentary of the adventure. He also has a great sense of humor: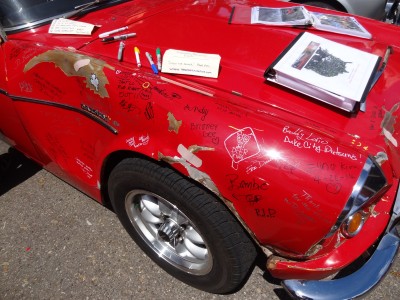 Pete Brock even made an appearance and presented his choice for the Best of Show award! Just hearing him say that "Mr. K would love to see these cars" definitely stirred some emotions for all of us.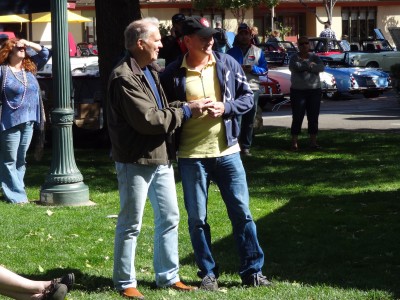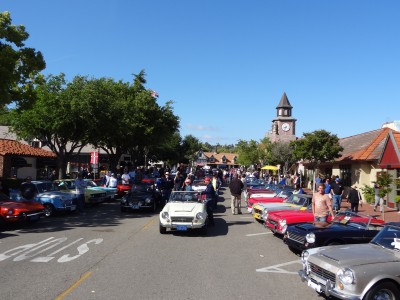 Big thanks to the SOCAL roadster owners club for hosting the 27th Annual show, we had a blast!
Lots of pictures in the gallery after the jump!