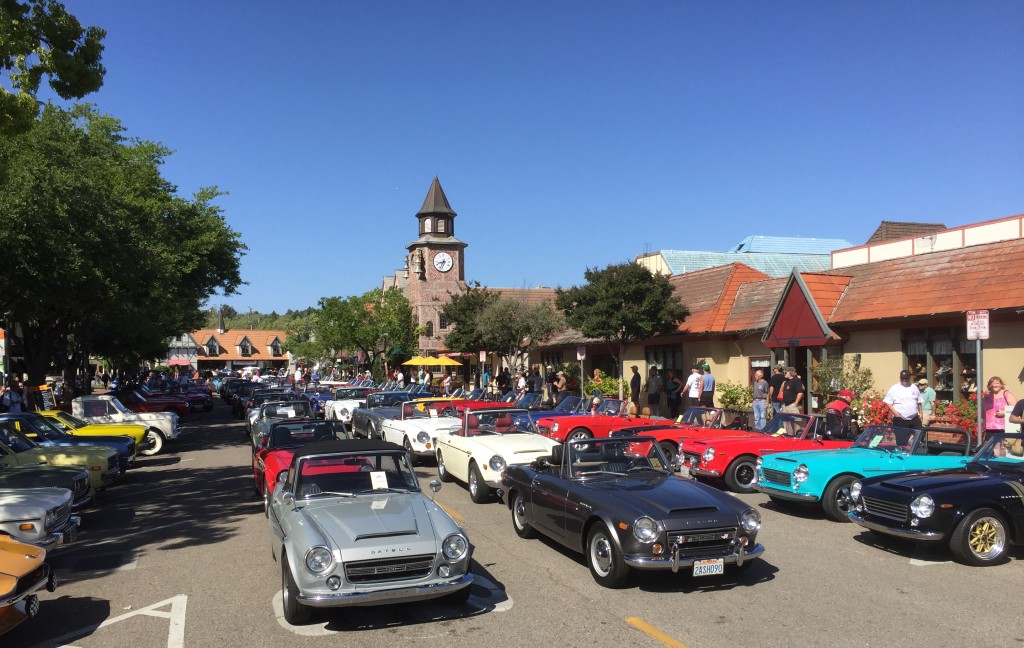 Dear Zcarblog readers, this is my 2016 Solvang Datsun Roadster Show report. Although long overdue, it serves as a reminder that the 30th Annual 2017 Solvang Datsun Roadster Show is just around the corner. So mark those calendars for April 22!  Enjoy.
-Alvin
The 2016 Solvang Datsun Roadster show took place on April 23. Now in its 29th year, this gathering continues a tradition of uniting owners from all parts of the world in a little town just outside of Santa Barbara. There is something for everyone here: shopping, food, wine-tasting, outdoor activities, and the last weekend of every April a huge gathering of Datsuns. I did not drive my roadster this year but I still enjoyed the show with my family!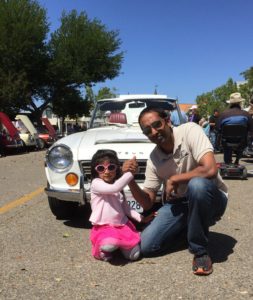 On to the cars! Here are some highlights from the day…there were only a handful of 1967 2000 roadsters this year. Some of these cars are considered the "cream of the crop" with full restorations or OEM levels of detail like Mike Young's SRL #266 and Rodney N's SRL #485: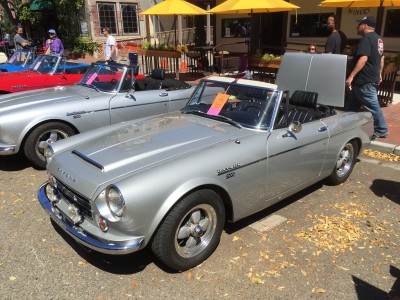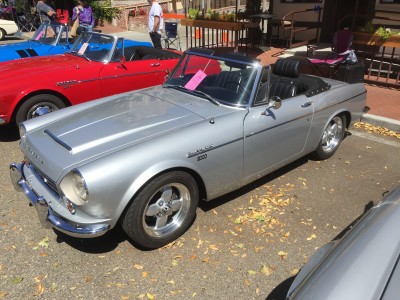 Winning best of show was SRL #233 completely frame-off restored by Kevin of KRD: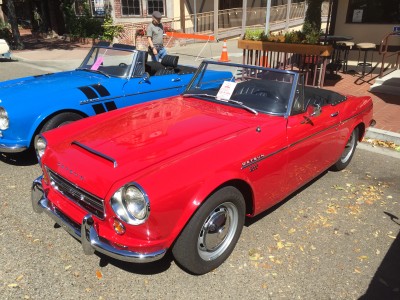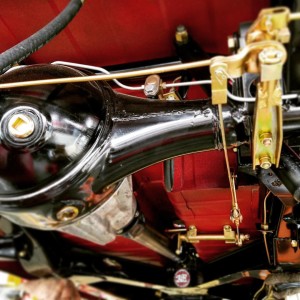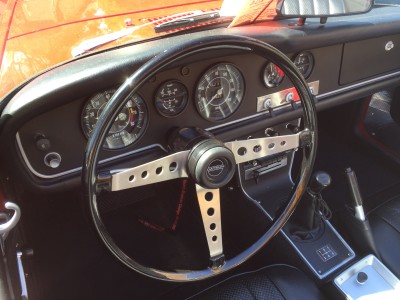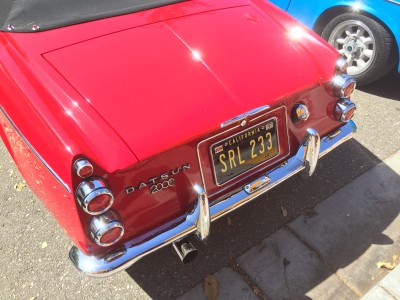 Speaking of attention to detail…fully restored factory gauges artfully assembled by Jon Frampton could be seen on multiple cars. The gauges are truly little jewels that give owners a range of options with lighting, lettering and even inner workings all without going to aftermarket gauges.
Left: Factory mechanical gauges behind Corey's R20 stroker powered SPL
Right: Factory gauges converted to electronic behind Harlan's SR20DE-powered SPL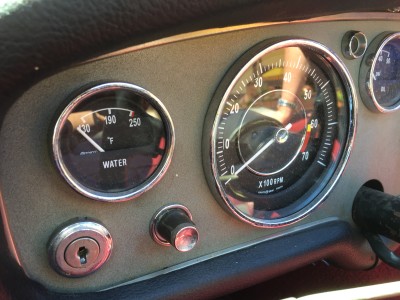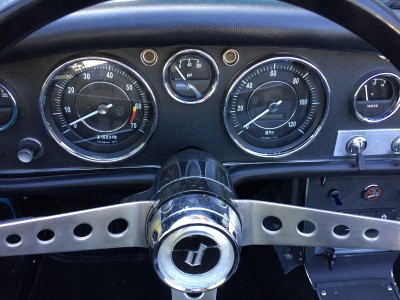 While were on interiors, check out this cool Datsun Competion (by Kaemeri) steering wheel looking great in Corey's SPL: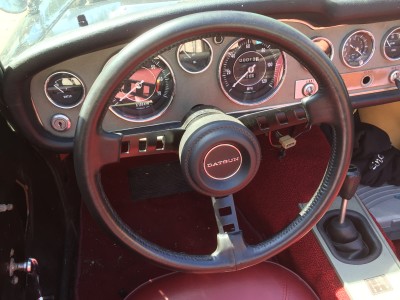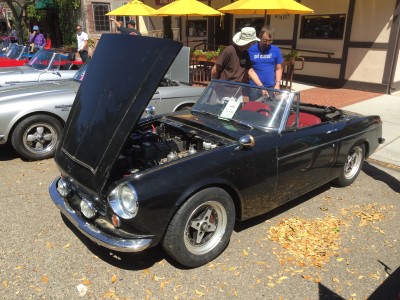 At the other end of the spectrum and far from stock is Shannon's '69 SRL. Modern gauges and A/C vents adorn the dash with a touch screen in the center console: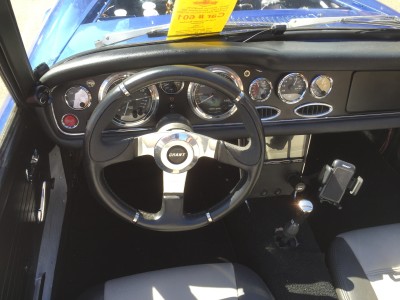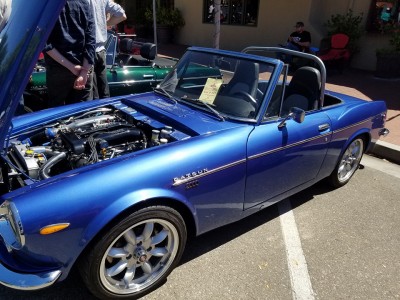 The entire car can be controlled by iPhone, watch the movie clip below:
Stock is Good
Solvang showcases everything from pristine to highly modified examples of roadsters. Pete Benham's 1966 SPL was showroom stock right down to the steel wheels: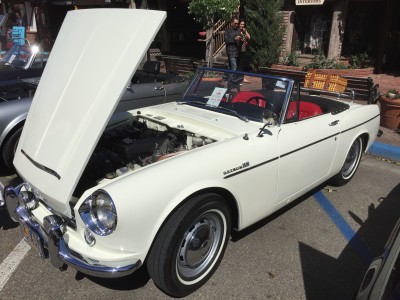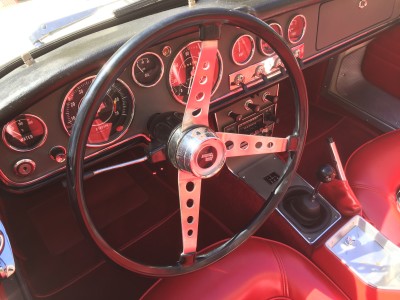 Sporting a period hot rod vibe was Mike's 67.5 SPL with a Solex carb'd R16 stroker, factory (high) roll bar and Watanabe wheels: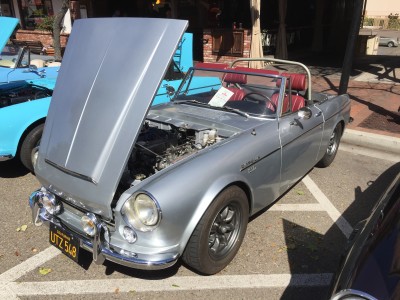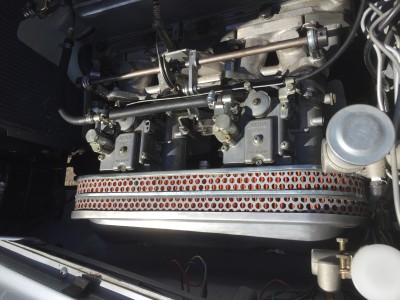 I have a soft spot for Datsun 1500s (I have a 1500 grille on mine), especially these '63-64 3-seat models. This year we had three beautiful examples, including an original owner who was a Solvang resident. Check out the 'bikini" top and factory hardtop!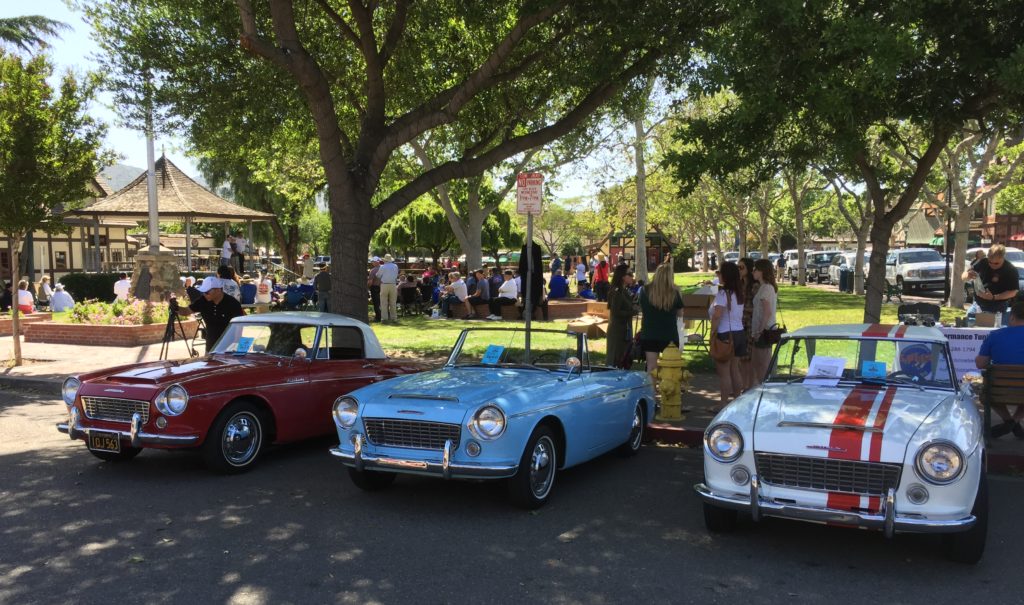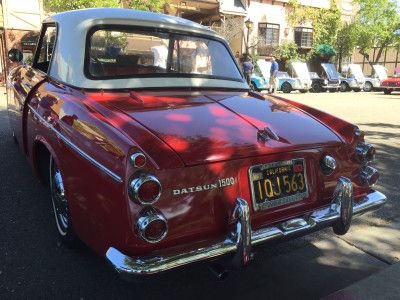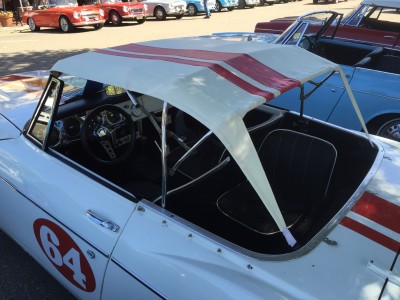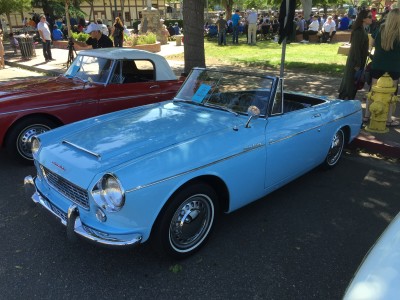 Engine Swaps
Like the 510 and Z cars, the Datsun Roadster chassis accept many engine swaps and several caught my eye this year. You have probably seen Mike A's SR20-powered '68 SPL before carving up canyons, tearing up road courses in Socal or on Speedhunters! It sports a SR20VE cylinder head that houses Nissan's own version of VTEC, VVL. Dyno'd over 212whp. Besides sweet VOLK TE37SL wheels and Z32 brakes, the new valve cover is an homage to the great U20 engine: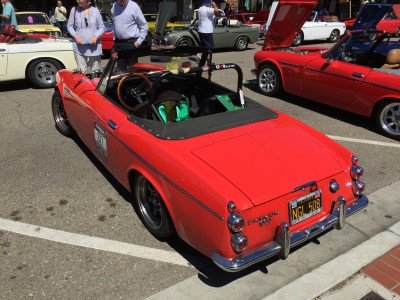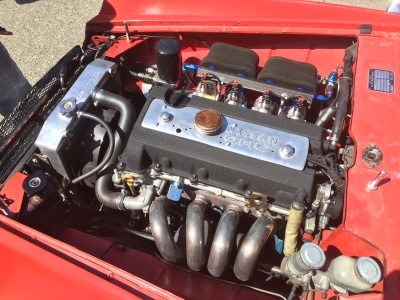 I have not seen a VG30 in a roadster in a long time! First time, however seeing a hood that needed a bulge to accomodate the induction setup: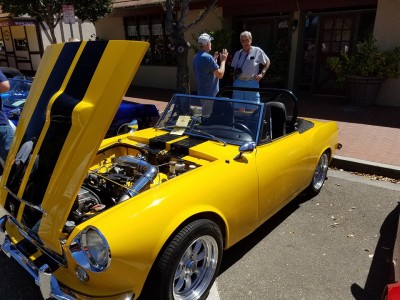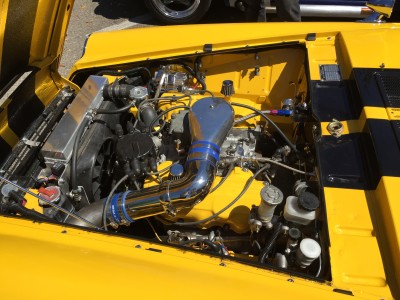 Carlos Vercelli's '69 SRL has an Fj20 swap that has seen every form of induction from factory EFI, dual Solex carbs, twin SU's and now, ITB's using a self-made plenum: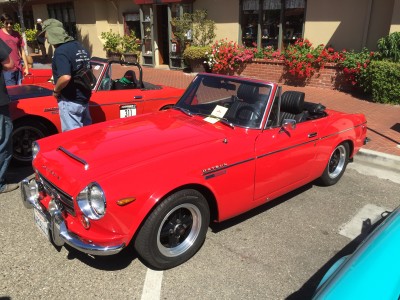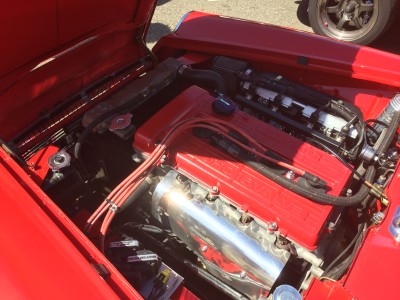 The most impressive engine swap was this F20c-powered '69 SRL. This powerplant comes from the Honda S2000 having been transplanted into various old-school chassis like AE86 Corollas, Celicas, SA22 RX-7, kit cars and finally a Datsun Roadster! It blew my mind.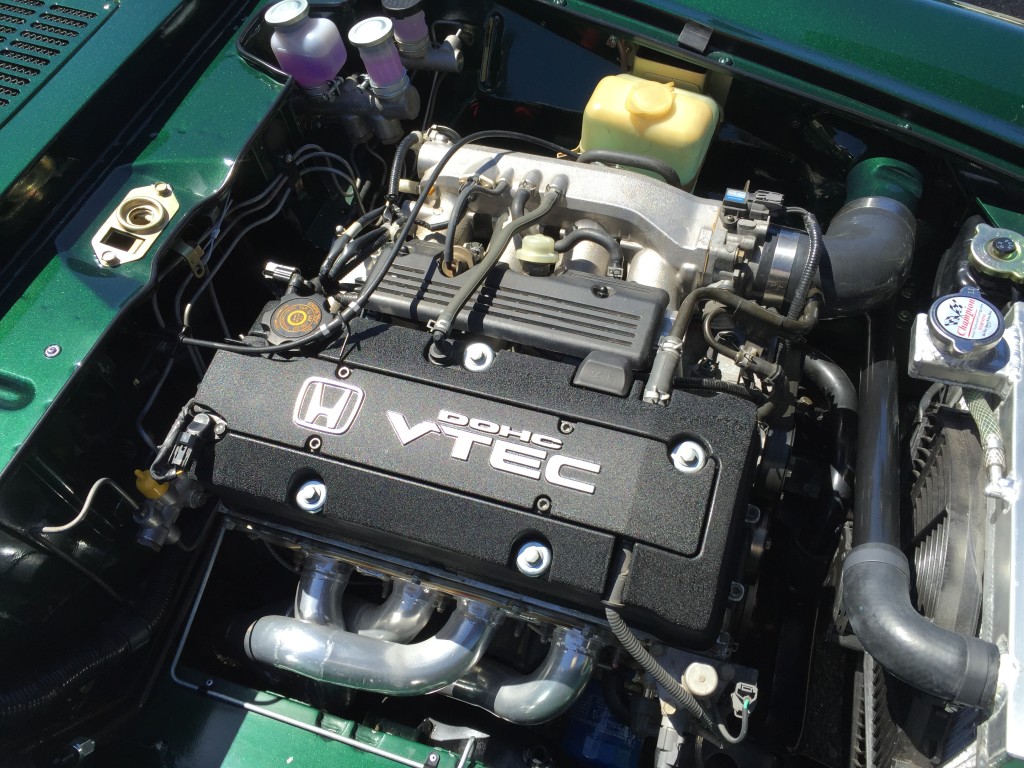 What's most intriguing is how it all fits. The F20c is dimensionally larger than even an SR20, especially with respect to height, yet there are no funky hood scoops. The oil pan sits no lower than a competition unit fitted to U20s. The exhaust and intake are reversed as well.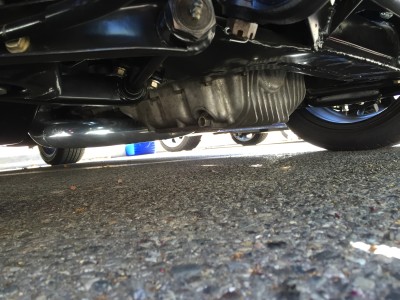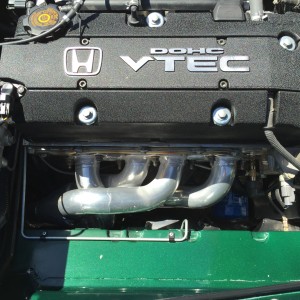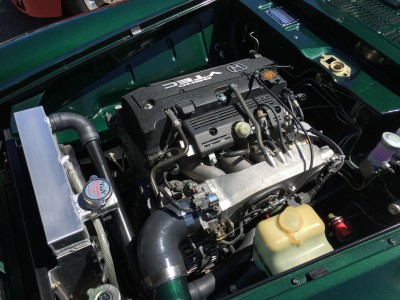 Icing on the cake: REAL gauges! Every F20C swap I've seen uses that F1-style digital cluster from the S2000, cool in itself but totally out of place in a vintage car, imho. The car even retains the matching, massive 6-speed transmission.  See gallery for oil pan clearance and exhaust routing, it's a 240hp 9000rpm marvel… in my favorite car!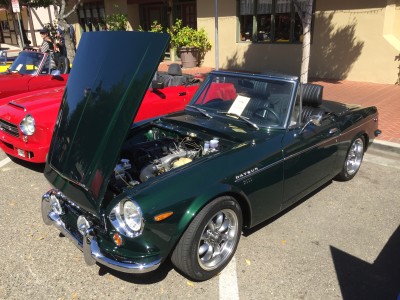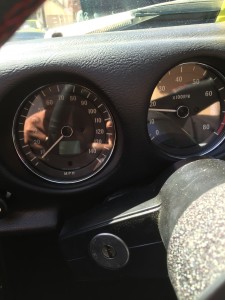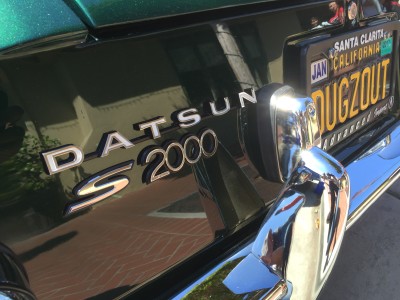 People
People. It's what makes the Solvang Datsun Roadster Show so much fun. Datsun folks in general are cool people and they came from all parts of the world.  Ted H (Washington), Jim and Susan S (Mexico), Alvin (Belmont), Dave Premo (Vallejo):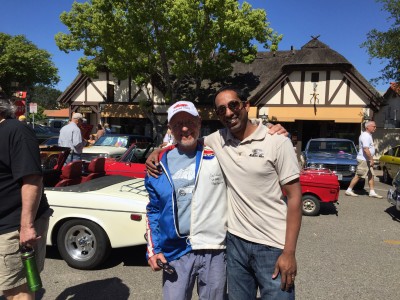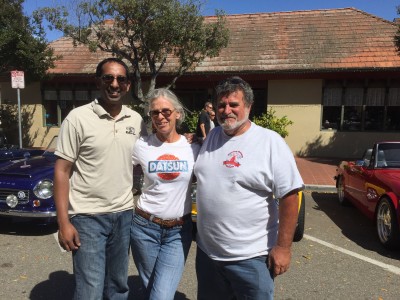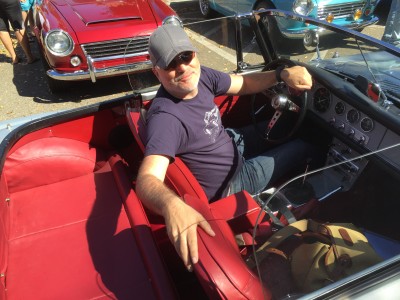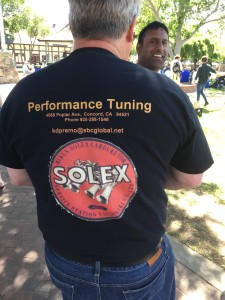 If you are in need of Solex carb tuning/advice/parts Dave Premo is the man! He also owns a sweet '67 2000: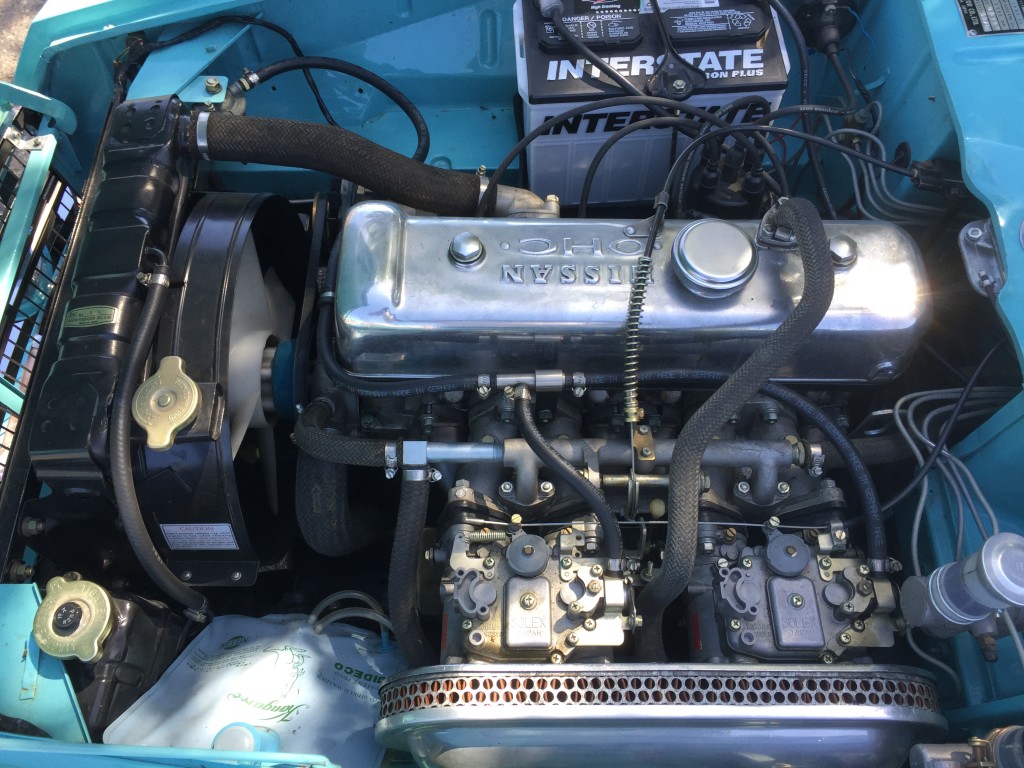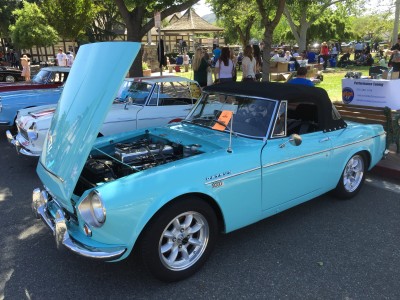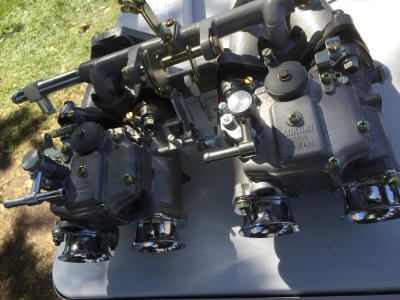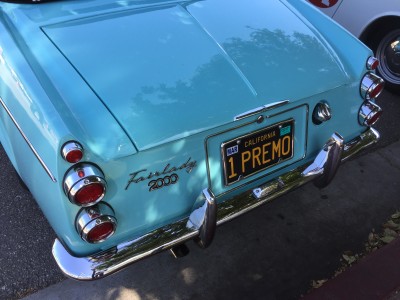 Diamond in the Rough
Even if your roadster is feeling bashful there's a "Diamond in the Rough" category. This '68 2000 won 1st place and the license plate says it all. Kudos to the owner for keeping this on the road!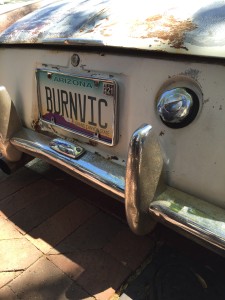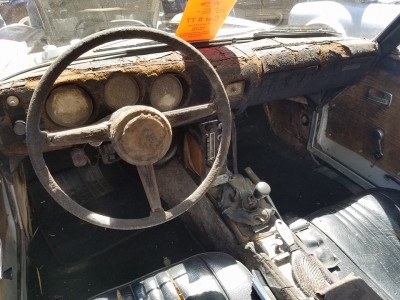 Non-roadsters
Don't have a roadster but want to park and enjoy the show? The Solvang show also welcomes Japanese classics that are not roadsters. Lots of cool trucks, Z-cars and 510s joined in on the fun: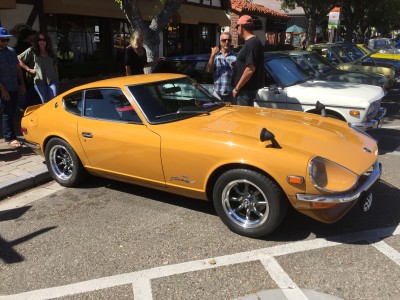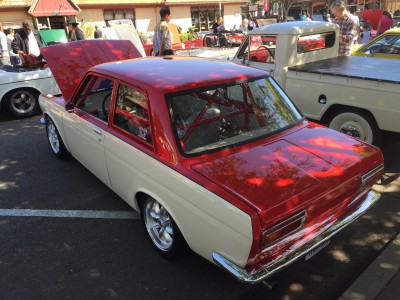 Best Paint
Ok, there is no official award for Best paint, but here are my two choices:
Harlan Katz' '66: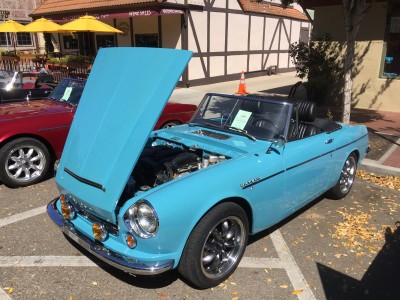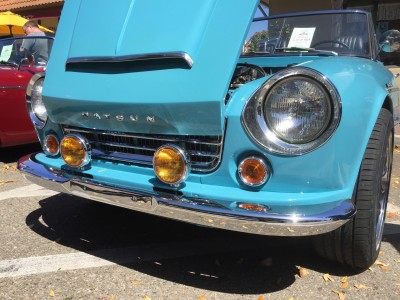 Shannon's '69 SRL in BMW's Estoril Blue: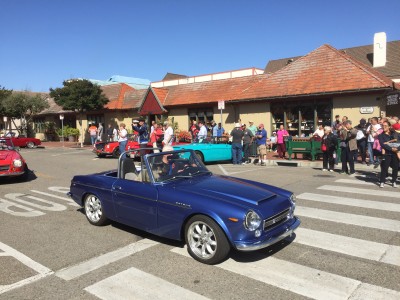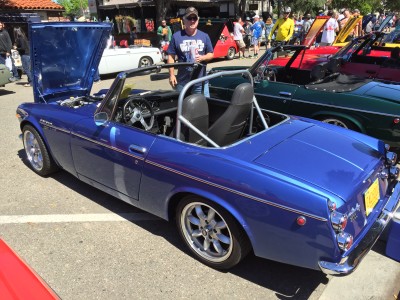 If you attend the show, don't forget to walk around the town…you might find some rare Datsuns! I spotted this 67 SRL in our hotel lot: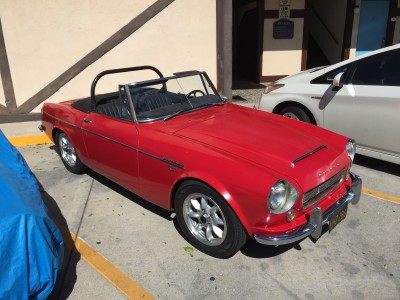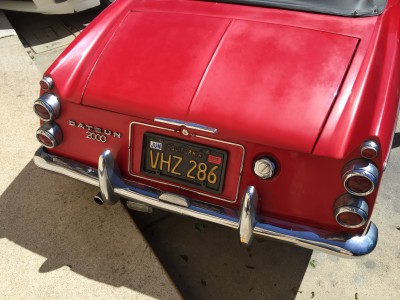 The 30th Anniversary is coming April 22 2017!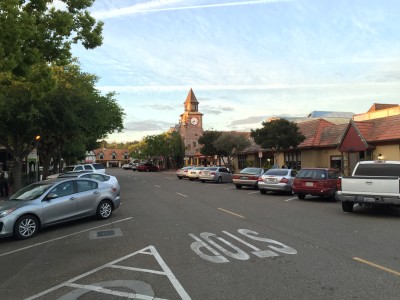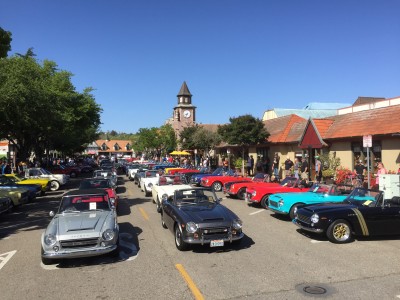 From normal Main street parking to over 100 Datsuns…we love this event! We hope you have enjoyed our coverage of the 2016 Solvang Datsun Roadster Show. Mark your calendars for the very special 30th Anniversary of the show this April, 22. We look forward to seeing you there!
Please enjoy our picture gallery below, and a sweet Roadster Rollout video: