The first track test of Z Car Garage's own big brake kit took place last week at Thunderhill Raceway in Willows, CA.  The brake kit was designed entirely in house and has gone through various stages of testing over the past few months since its creation.  This initial kit was installed on a freshly restored 240z to ensure that the car would be able to handle it's new braking capabilities.
After the owner of the car had a few sessions under his belt with the kit it was time to test the brakes under thougher race-like conditions.  To do this the ZCG crew enlisted the help of professional racecar driver David Ray.   David has won a San Francisco Regional championship (1994) in an ITS prepared 240z and again (2004) in a T2 class 350z.
With the Z Car team in the hot pits, Ray took to the track with instructions to make two hot laps to gauge initial feel and then return to the pits for inspection.  He returned to the pits with a smile and a satisfactory report.   The ZCG pit crew took temperature measurements and did a quick visiual inspection before sending Ray back onto the track.  This time he was asked to stay out for the entire session or until he felt any change in the braking feel.  He stayed out for the rest of the half hour session with no issues.  Every other lap or so he would give a thumbs up to the crew as he went down the front straight.
When the session ended he pulled into the pits and the crew took their final "hot lap" readings.  After all the data was logged Ray jumped out of the 240z with a huge grin on his face.  The first words out of his mouth were, "These are the best brakes I have ever felt on a 240z, including my race cars."  He continued on, "These brakes are much better than the Brembos on my championship winning T2 350z, I even had to pump them (the Brembos) after a few hot laps."
Now on to the specs.  The rotors are 12.9 inches in diameter with custom machined billet brackets.  The rotor hats were also designed from scratch in house at Z Car Garage.  Other parts included with the ZCG brake kit are an upgraded master cylinder, brake booster, and braided lines.  The caliper specs are under lock and key for now but rest assured that the braking bias is spot on with amazing pedal feel.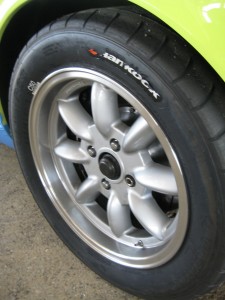 Due to the size of the rotor and caliper, wheel choice is very critical.  Z Car Garage has worked extensively to get the brakes to fit under the current 16″ Panasport casting with a custom Z Car Garage offset.
More updates will be posted here as they happen.  ENJOY!!
Additional information can be had by contacting Rob@zcargarage.com