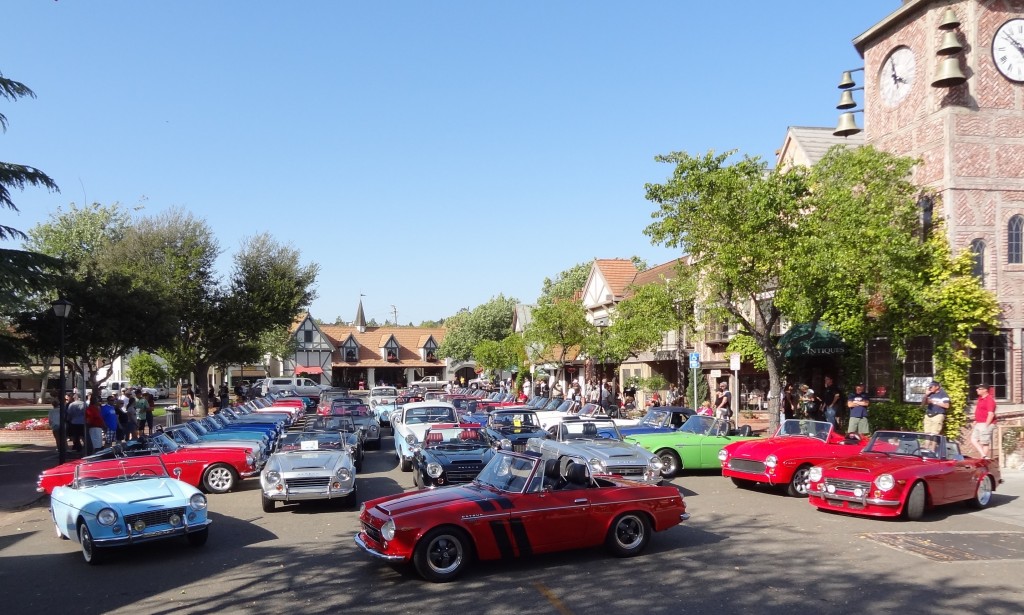 On April 27 we attended the 26th Annual Solvang Datsun Roadster Show. We started our journey from San Jose Friday morning, and both roadsters performed flawlessly while making it down on one tank of gas.
We arrived just in time for the meet & greet at Mendenhall's Museum of gas station pumps. This venue is quite amazing:
Our family camped nearby with several Datsun enthusiasts. Nothing like waking up to the roarty exhaust note of roadster in the morning!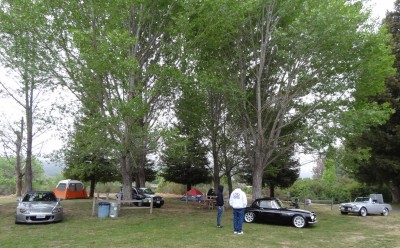 The car show was held on Saturday and over 85 Datsuns were on display in beautiful downtown Solvang. The show itself is open to the public so tourists, shoppers, adventurers etc. can all enjoy the warm weather and good times: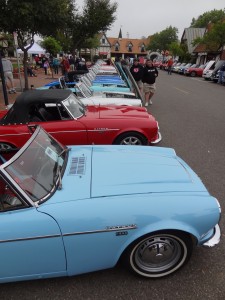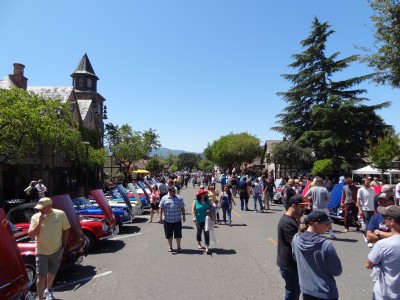 On to the cars! Here are some highlights from the day…the
ZCG 2000
cleaned up very well sitting next to a handful of fellow 1967.5 2L roadsters. Some of these cars are considered the "cream of the crop" with full restorations or OEM levels of detail; thanks to Stan for our new, OEM Nissan windsheild!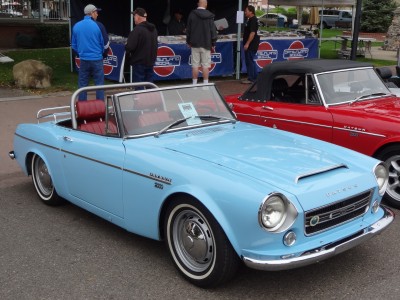 Speaking of attention to detail…fully restored gauges artfully assembled by Jon Frampton could be seen on multiple cars. These are truly little jewels and he was kind of enough to donate a full set for the silent auction. 67.5 2000 gauges on left, and 67.5 1600 on right:
Stunning new paint jobs abound at this year's show. Marshal S' GM V6-powered '70 roadster sported a color-shifting blue/black metallic paint scheme that left me speechless. He shot it himself(Left). Garth from B.C. chose a very tasty BMW 2002 green paint color(middle) for his '69 SRL, and Shannon D. had his roadster done in BMW Estoril Blue (right):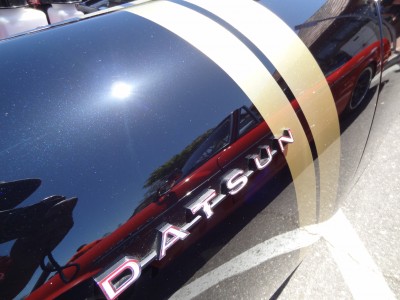 Solvang showcases everything from highly modified  to pristine stock examples of roadsters. Ted H. fullfilled his dream of owning a restored, 3-seater roadster. He drove his recently acquired Sora Blue '64 1500 all the way from Washington, winning best in class! In my opinion this model has the most charm of the '63-70 bodystyles, gotta love that jumpseat: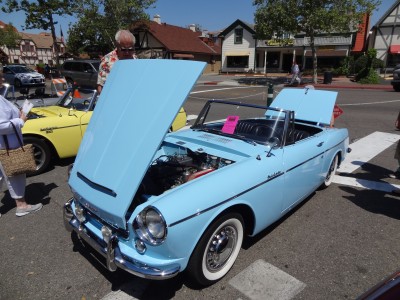 Mike B's 1967.5 SPL and a similar red interior'd SPL were great examples of stock roadsters. Mike's is a clean, show-quality driver that he constantly drives and improves; the other is a virtually showroom-brand new roadster!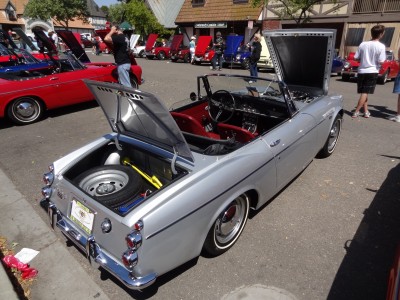 Roadster owners gathered around as Keith W. worked his magic and tuned carbs on several cars: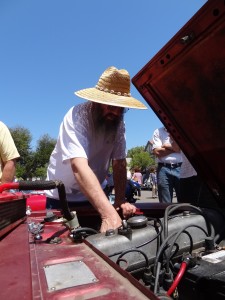 Several engine swaps caught my eye this year. Marshal S' GM 3.4L V6 drivetrain has custom headers and Megasquirt EFI. The WORK Equip wheels suit the paint swimmingly and the interior has nice touches like CF trim  on the door panels. Look for dyno numbers soon as we tune his roadster!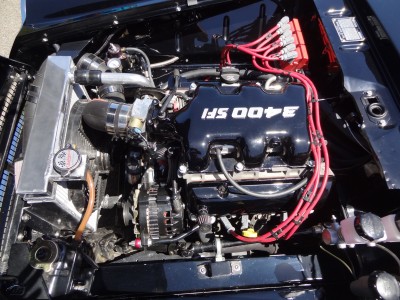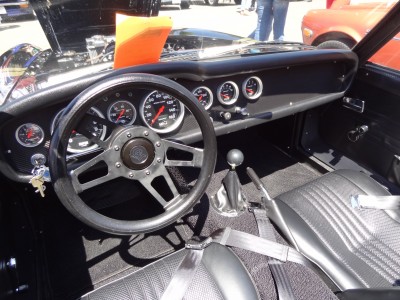 Shannon D's S13 SR20-swapped roadster was the most technology-packed Datsun I've seen. It sported an ISIS control system  and Vintage A/C….yes the compressor actually fits! Stewart Warner gauges with subtle A/C vents in-dash are sharp choices: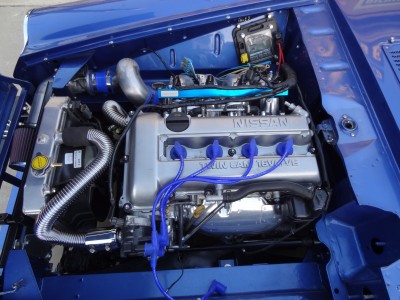 Here are  two examples of "sleepers". Garm B's '69 SPL has a secret: underhood lies a highly modified U20 motor from 2000 model roadster. I really liked his engine bay, it's got some very tasty components including a one-off header and Rebello-prepped head. Outside: Hayashi wheels, numbers, and "patina" paint hint at the hot-rod within.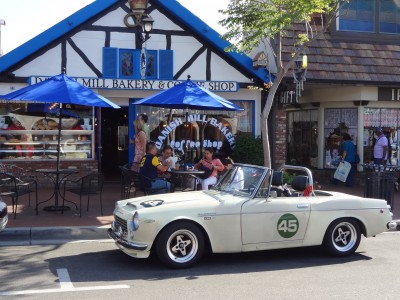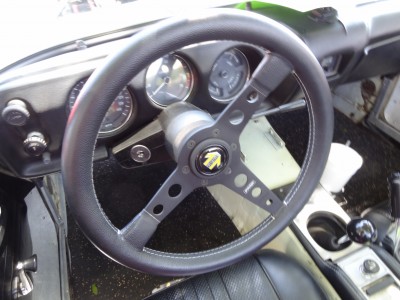 On the otherside of the spectrum is Mike A's '68 SPL with an S14 SR20DE engine swap and fresh red paint. Looking at this roadster gives you absolutely no idea what's underhood. It's even got an RX-7 limited slip/disc braked rear axle and Z32 front calipers!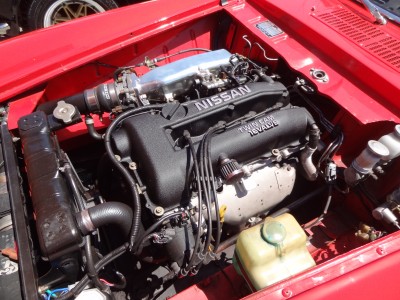 Big thanks to the SOCAL roadster owners club for hosting the 26th Annual show, we had a blast!
Lots of pictures in the gallery after the jump!