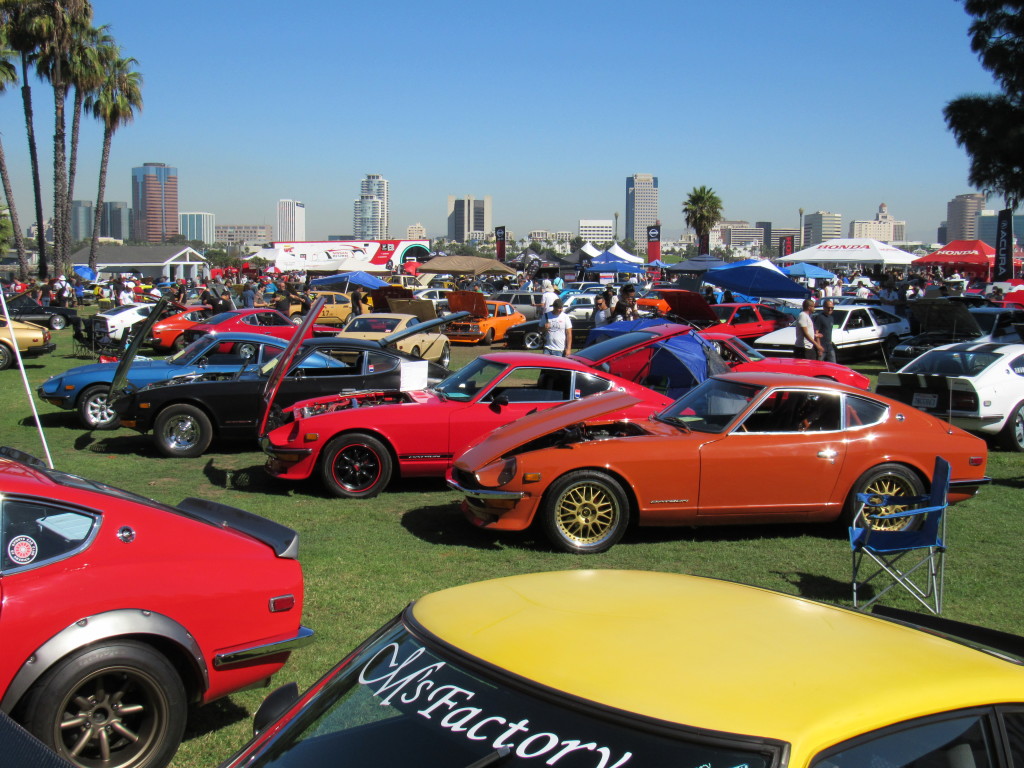 Every year, one of my favorite events to attend in Southern California is the annual Japanese Classic Car Show in Long Beach.  JCCS is like a big reunion of old school friends, surrounded by the finest vintage metal made in Japan. The iconic Queen Mary cruise ship and the Long Beach skyline is a perfect backdrop for Zs, 510s, Skylines, Rx-7s, Rx-3s, Celicas, Corollas, Land Cruisers and other interesting Japanese old school cars!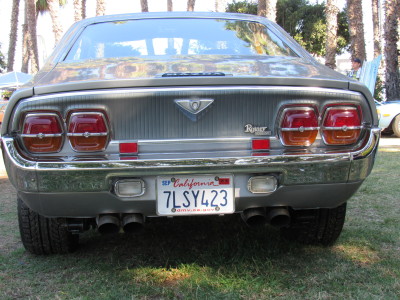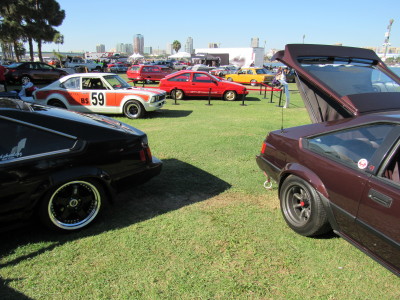 Founded by Koji and Terry Yamaguchi, JCCS has been running for 12 years strong now and the bar is set higher ever year. I love this show and the Z Car Garage crew keeps coming back every year to soak up the sun, see old friends and drool over some spectacular vintage builds. This year, I was invited to show my roadster at the Japanese Nostalgic Car booth. JNC was having a Fairlady Roadster-themed day to coincide with the debut of Hot Wheels's new release, the Datsun Fairlady 2000 and I happily obliged.
Enter The Tekkamen
Before road-tripping down to Socal the fun started with a shop visit from our Oregon pals Diamond Dave and Eric Straw. They were also heading down to JCCS to show Eric's freshly restored 1984 "Tekkamen" DR30 Skyline.  We dyno'd the Skyline and chatted for a bit before setting off for LB the following morning: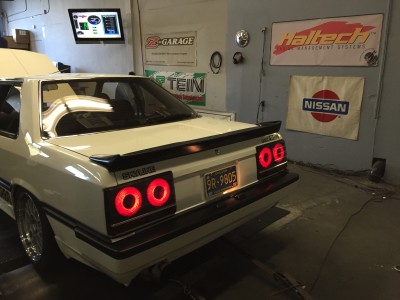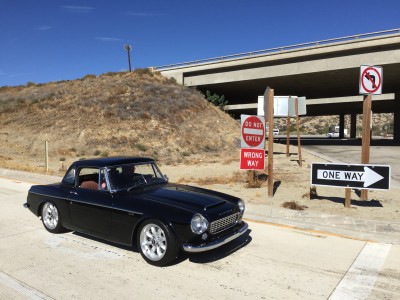 Arriving Friday evening before the show had its benefits. We staged the roadster and Eric unloaded the DR so we could have a relaxing morning on show day: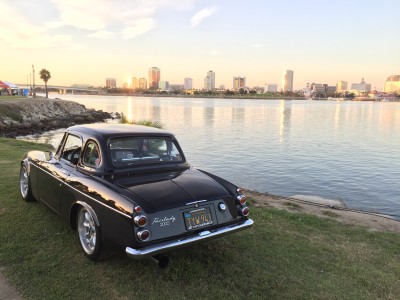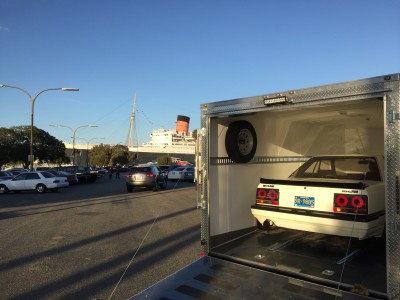 While staging our cars we came upon the empty parking lot with two mean looking RocketBunny  "Boss" kitted S14s. Left: Robb Ferguson's KA24DE-T powered creation and Steve Pham's unorthodox turbocharged BMW N54 turbo. Wildly different but very cool with interesting interior/exterior cues abound: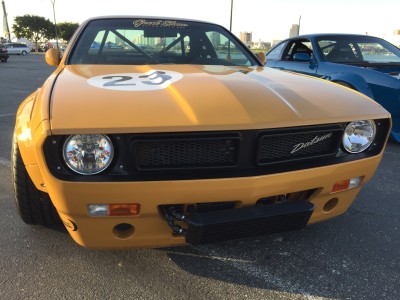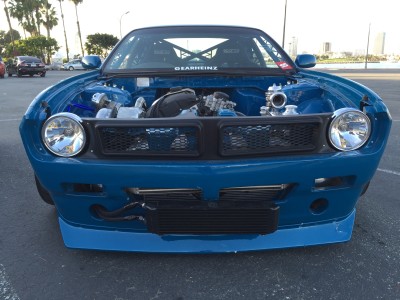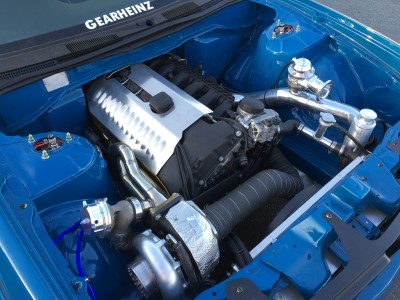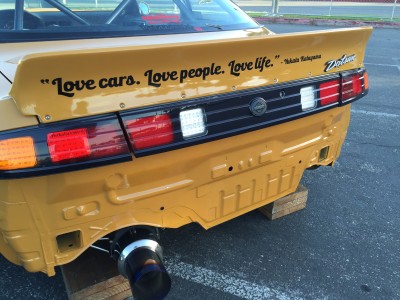 Attendance was impressive but surprisingly not over-whelming like previous years.   At JCCS we love that every pass up and down an aisle of cars reveals a new detail, emblem, decal, or set of wheels.  The folks at JCCS also take care of their show participants…in addition to the T-shirt they also supplied us with Pocky sticks! This has to be a first for a car show. I can't think of a better snack at 9am in morning surrounded by J-Tin and the beautiful shoreline: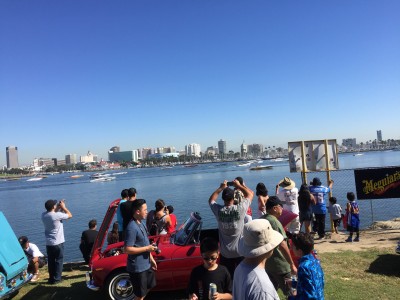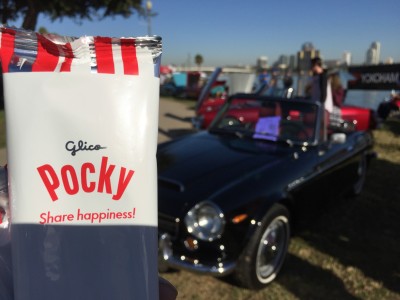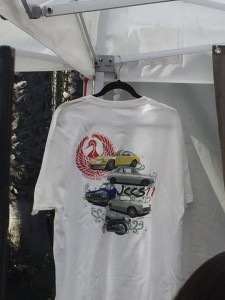 Nissan's return to JCCS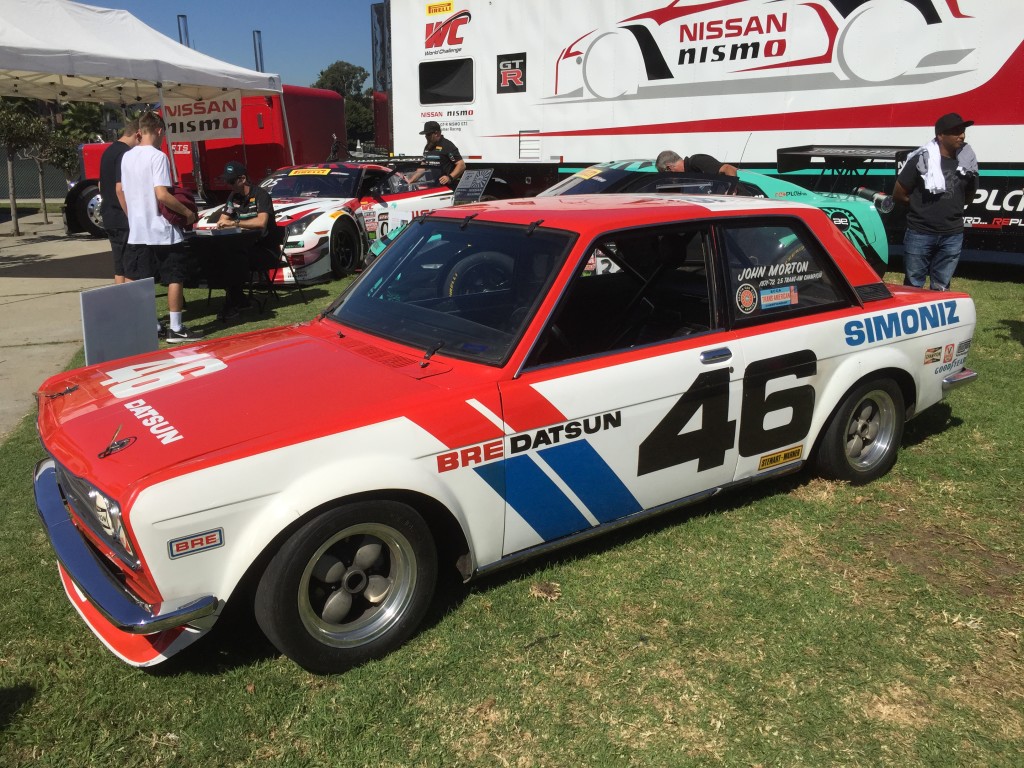 The OEMs participated in record numbers this year. That's right, in addition to Mazda, Toyota and Honda our beloved Nissan participated again since debuting last year with a great showing of rare and unique vehicles from their vault. They even chose JCCS to unveil the 2015 Nismo GT-R for the first time in North America! My favorite was the BRE Datsun 510 race car, sent over from Tennessee HQ just for this event. Nissan's "DNA" collection also included included a 1969 Nissan Patrol and 1960 Datsun Fairlady SPL213 Roadster: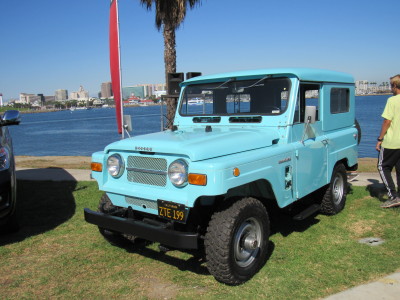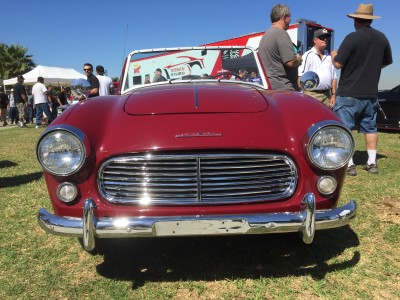 Here are few of my favorite Nissans and Datsuns, starting with that not-so forbidden fruit commonly known as the hakosuka Skyline. There was no shortage of C10 chassis Skylines this year and my favorite was Rick Ishitani's restored 1971 2000 GT-X. Our friends at JNC arranged for this Hako to be displayed with Matchbox's release in the Nissan display.  A mint interior, correct spec badging, spot-on stance with re-barreled and step-lipped gunmetal Watanabe wheels stuffed under flares set this one off from the rest.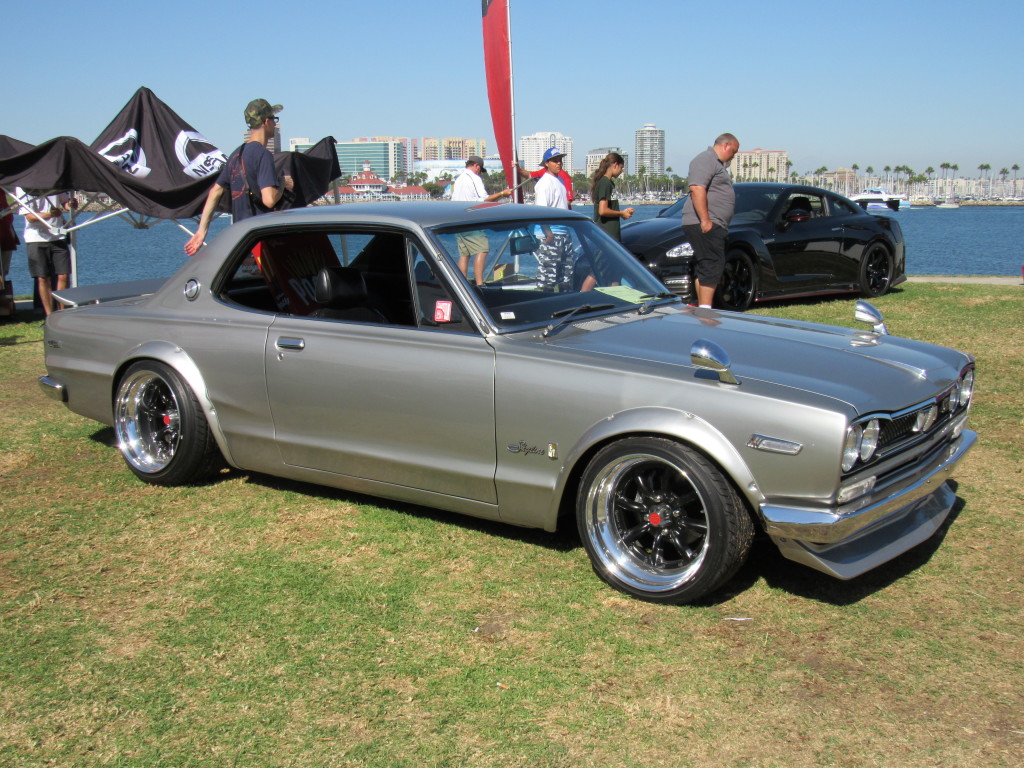 Just across from the Nissan display, however, sat an authentic 1971 Skyline GT-R. Yes,  the real deal unicorn status, KPGC10 hakosuka!  Displayed with the trunk open, appropriately sized Watanabe wheels and mighty S20 engine it was a real treat to see.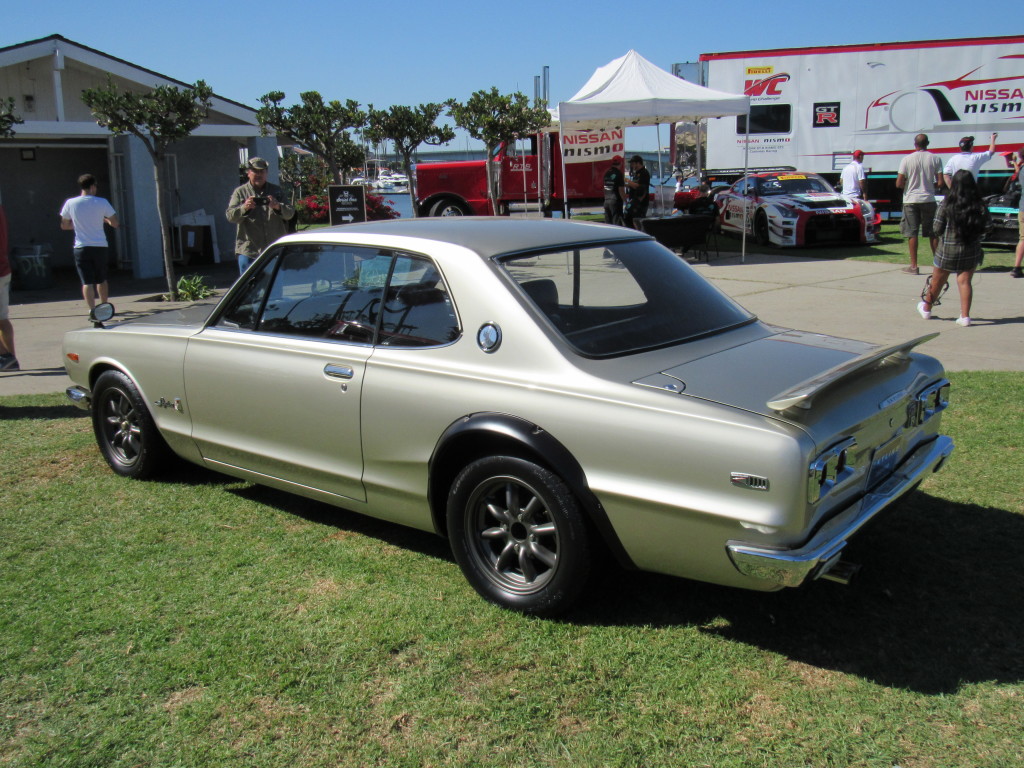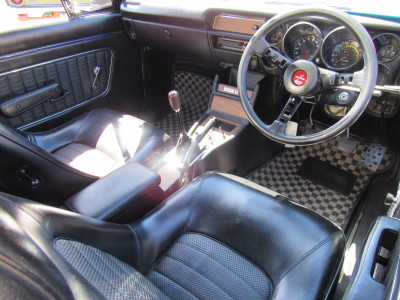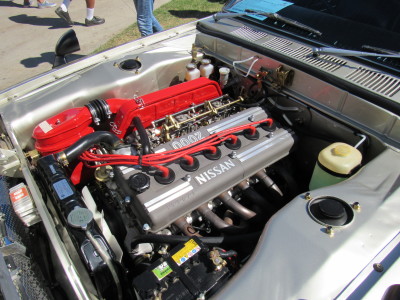 More C10s in the parking lot: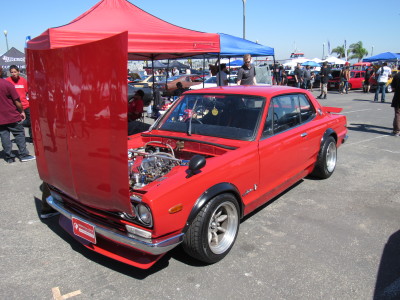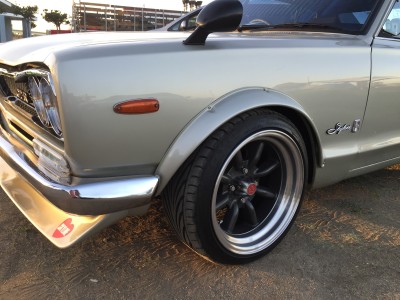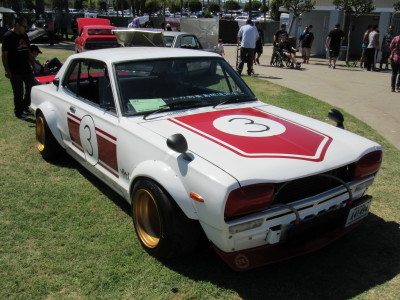 Kenmeri Skylines too!  Patrick Soliman's RB26-powered stunner (right)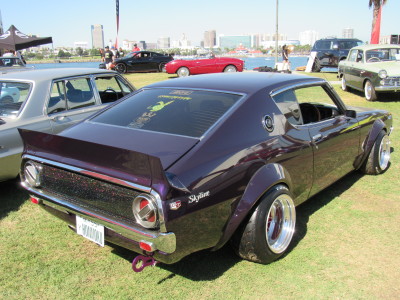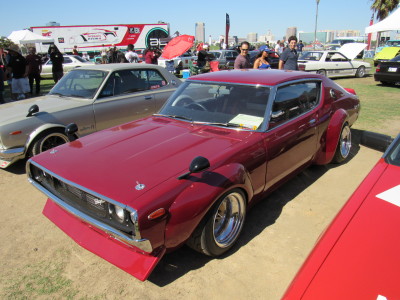 This 240k came to JCCS all the way from UAE. The current owner added his own touches: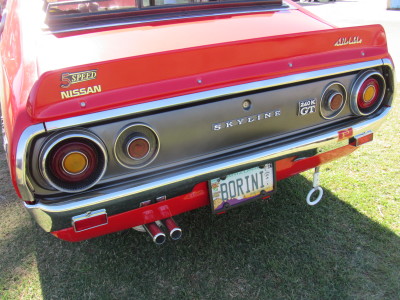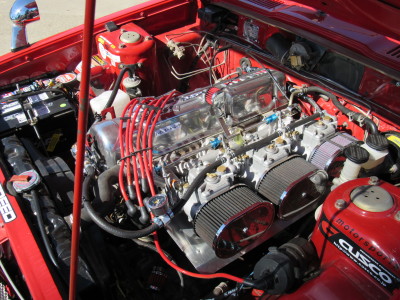 DR30  Skylines!
Eric's 1984 "Tekkamen" or "Iron Mask" Skyline was a rotisserrie-restored, RB26DET's powered, Brembo-braked masterpiece. He won awards for Best JNC and 2nd place for Best Skyline, both well deserved! Look for a detailed feature soon.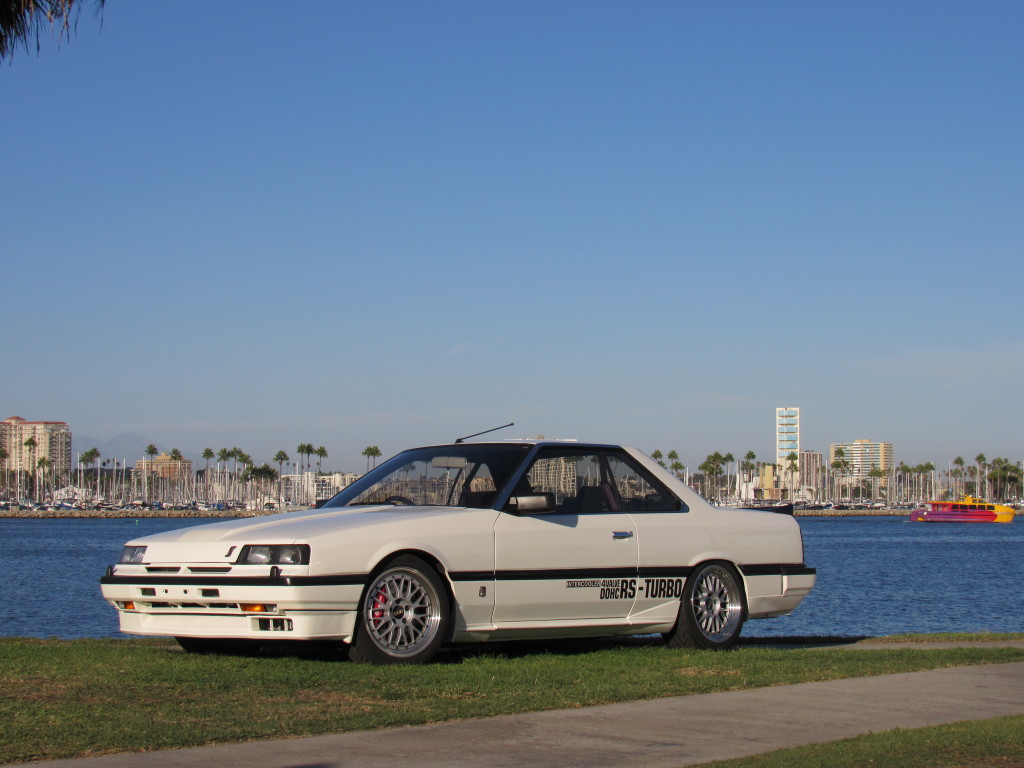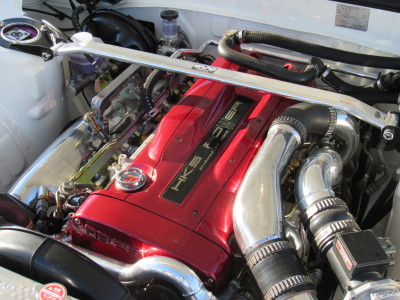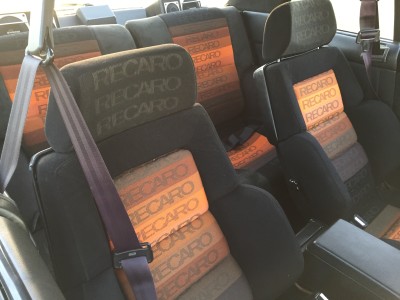 Jay Kho's 1983 DR30 Skyline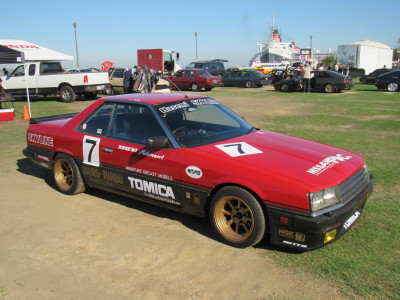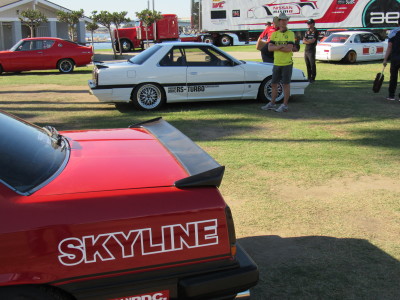 R32s a plenty:
We drooled over this white R32 from International Vehicle Importers. VOLK CE28N wheels with Project Mu calipers and a spoiler-less trunk made this one stand out from the rest.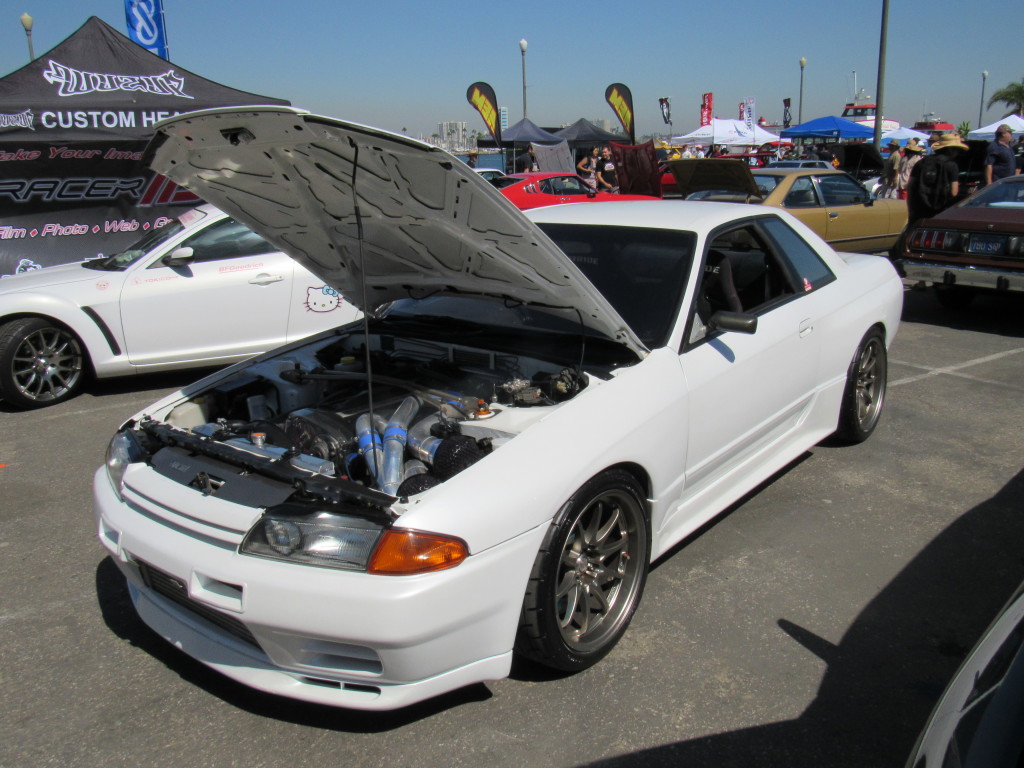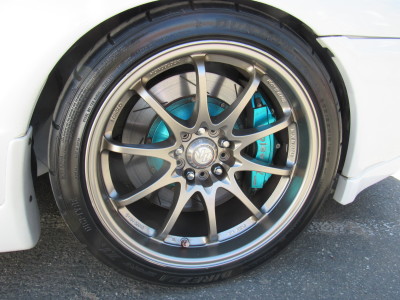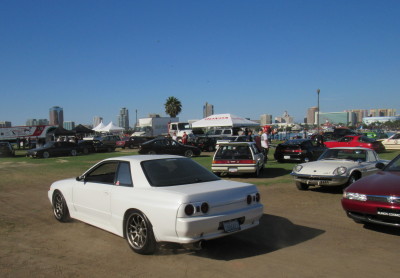 An impressively bone stock R32, followed by a pretty metallic blue R32 with R34 wheels I spotted in the parking lot: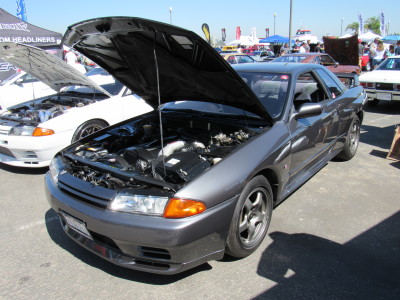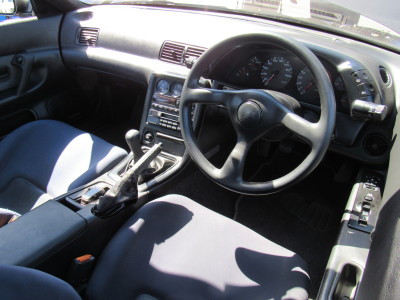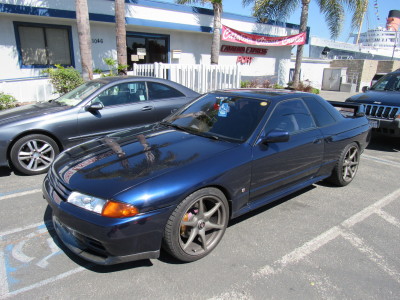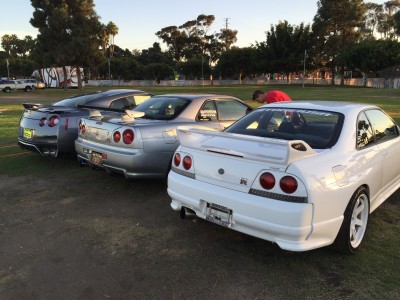 Above Right: Finally, SAGE automotive group put together a "generations" display ranging from R35 to C10.
Z-Car Extravaganza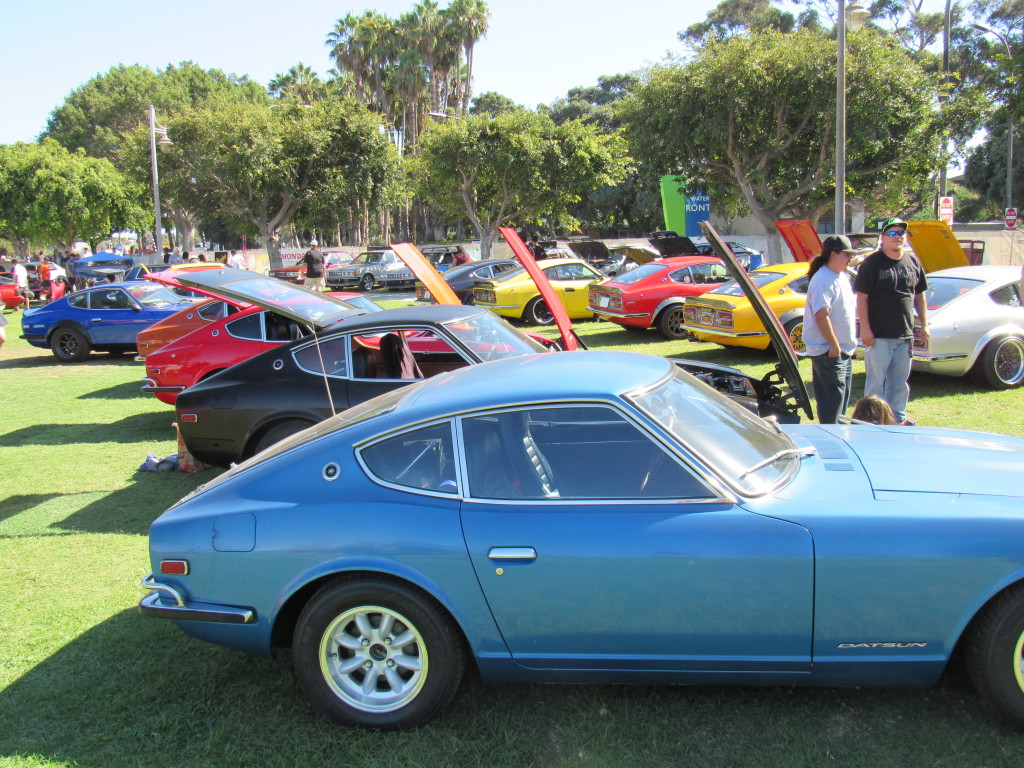 Z cars from all generations were in full force with cars spanning the tarmac near the Queen Mary to the bayside lawn.  I'm a big fan of subtle modified Z's but I can also appreciate pristine, bone-stock examples and the occasional shakotan build. This S30 had subtle body-colored flares, deep Simmons wheels and a neatly executed RB25DET engine swap, another case of the "why wasn't this car in the show?!"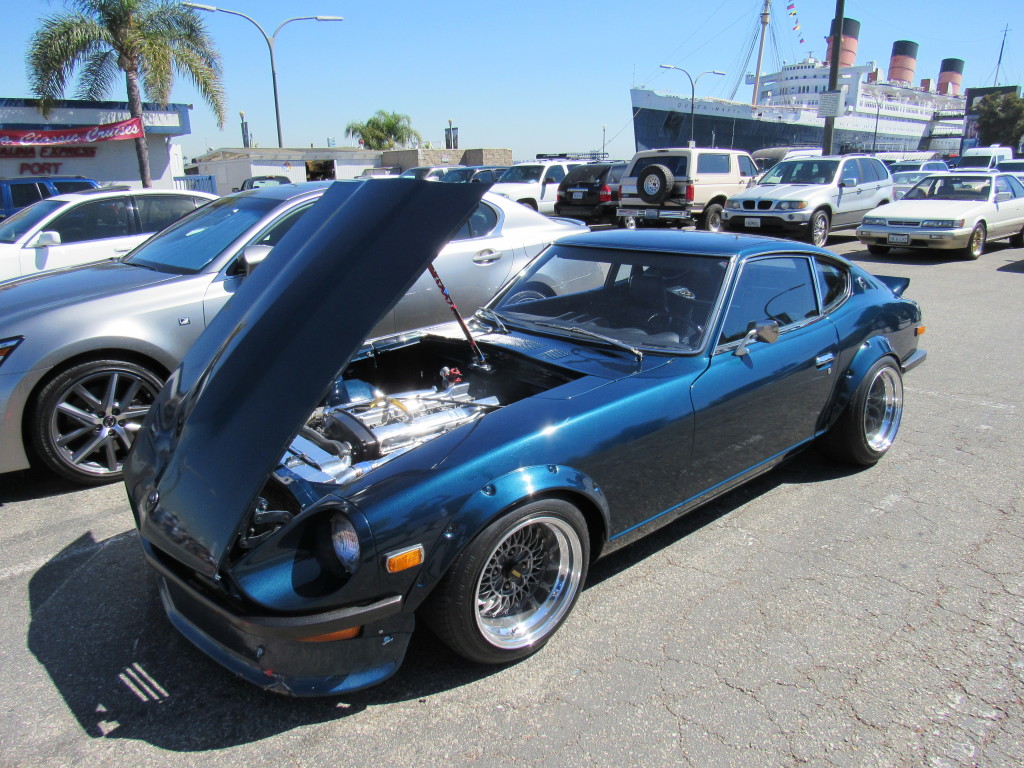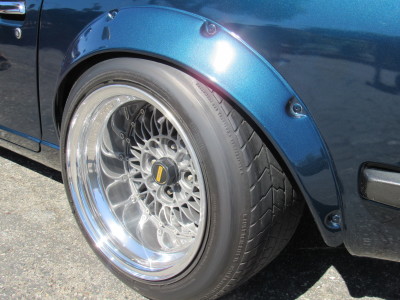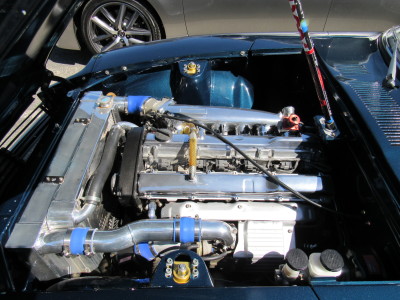 By contrast Richard Madlangbayan's RB25DET-powered S30 is wildly flared with a killer Gulf-inspired livery and extensive aero.  To-die-for NISMO LM GT2 wheels were re-barreled and stepped up to 18″ by FiveOneWheels. Check out the rear diffuser, side skirts and spoiler too: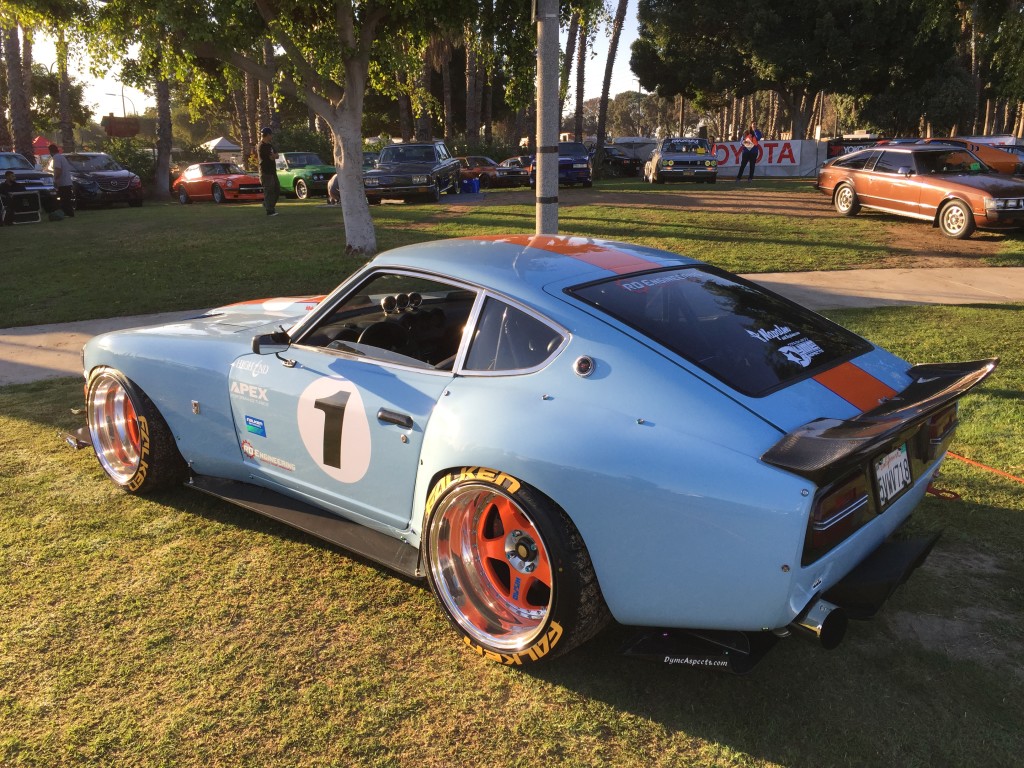 It's hard to believe that last year it looked like this:
Rich's new aesthetic choices ticked all the right boxes…the now 500hp RBwas icing on the cake, well done!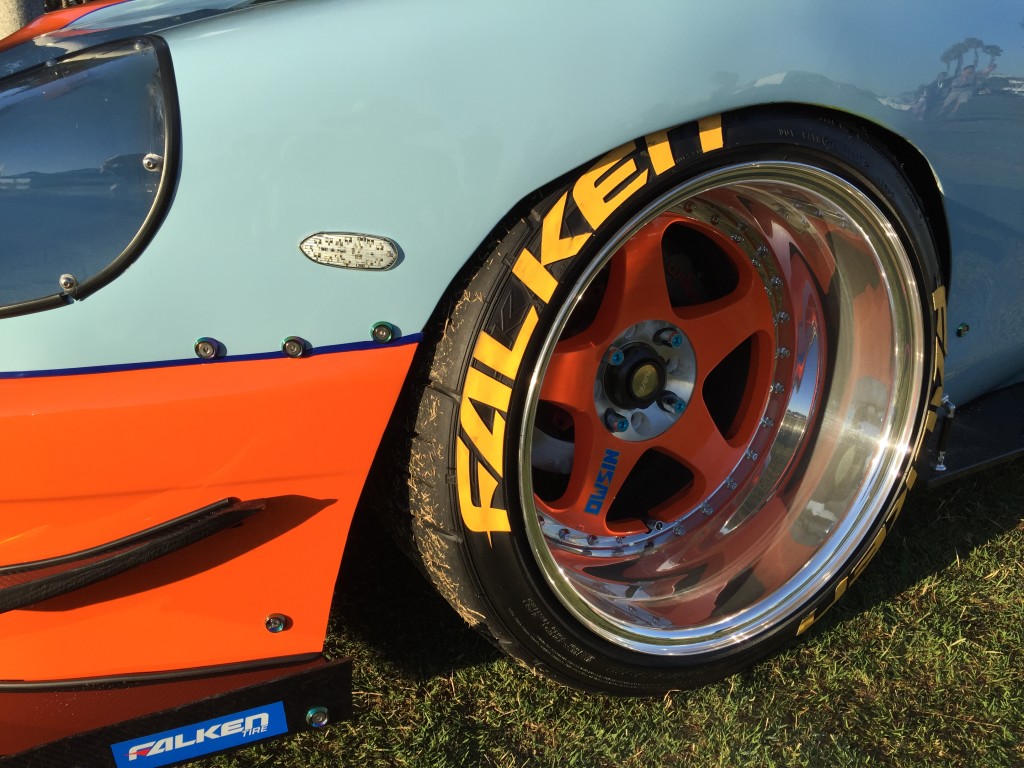 This S30 sported molded in flares housing gorgeous step-lipped SSR meshies. Clean and simple: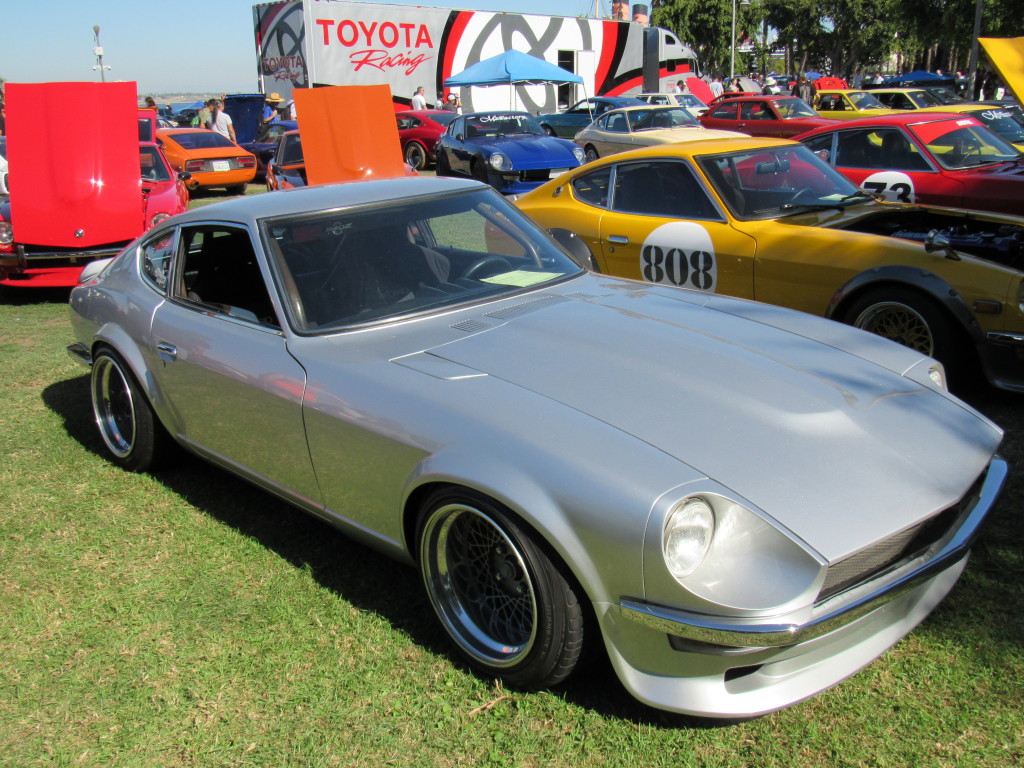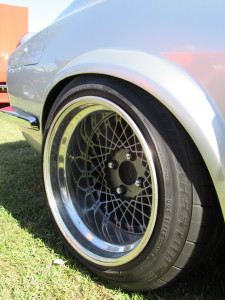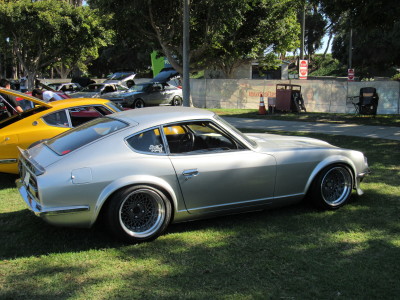 Next to the silver Z was Taka Sato's 1971 S30. Built in his garage and regularly exercised on local SoCal road courses, Taka's Z sports Glowstar wheels, fender flares color matched to air dam/rear panel and neat, functional items in the interior.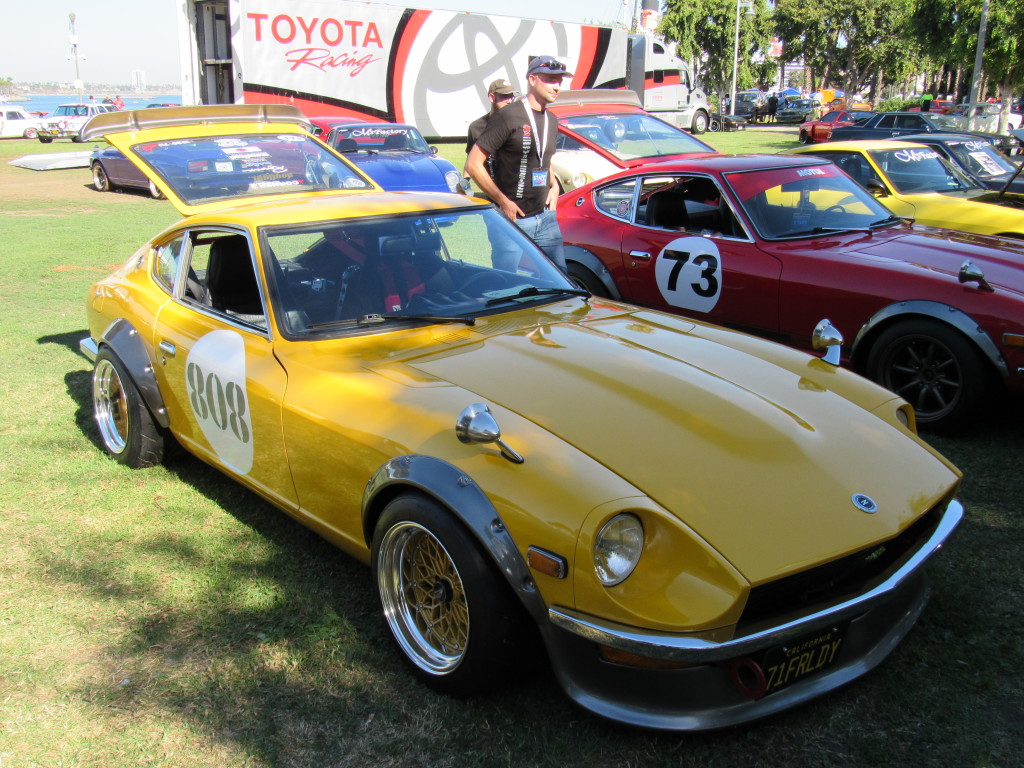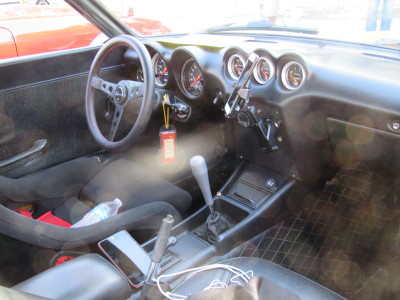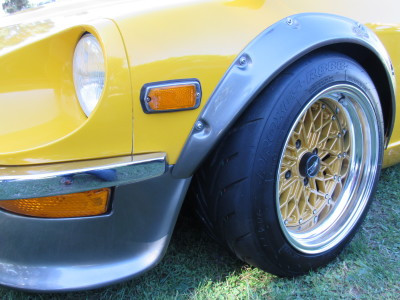 Stock is good: The nicest stock S30 in orange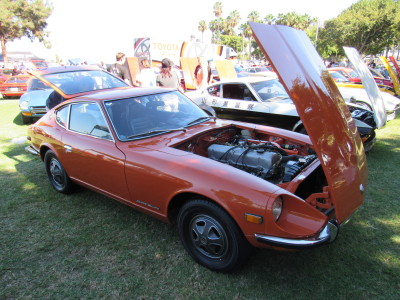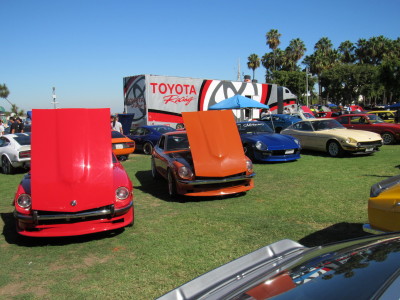 Glenn's Race CAr
Since 2015 we have been following Glen Chiou's heroic restoration of the #39 race car piloted by Loren St. Lawrence in the 1970's. The best part, to us, is that Glenn is doing the restoration by himself and with the help of several key Datsun folks like Troy Ermish and Les Cannaday at CDM. Glenn was at JCCS while finishing up a race at the Coronado Festival of Speed…Do It In A Datsun!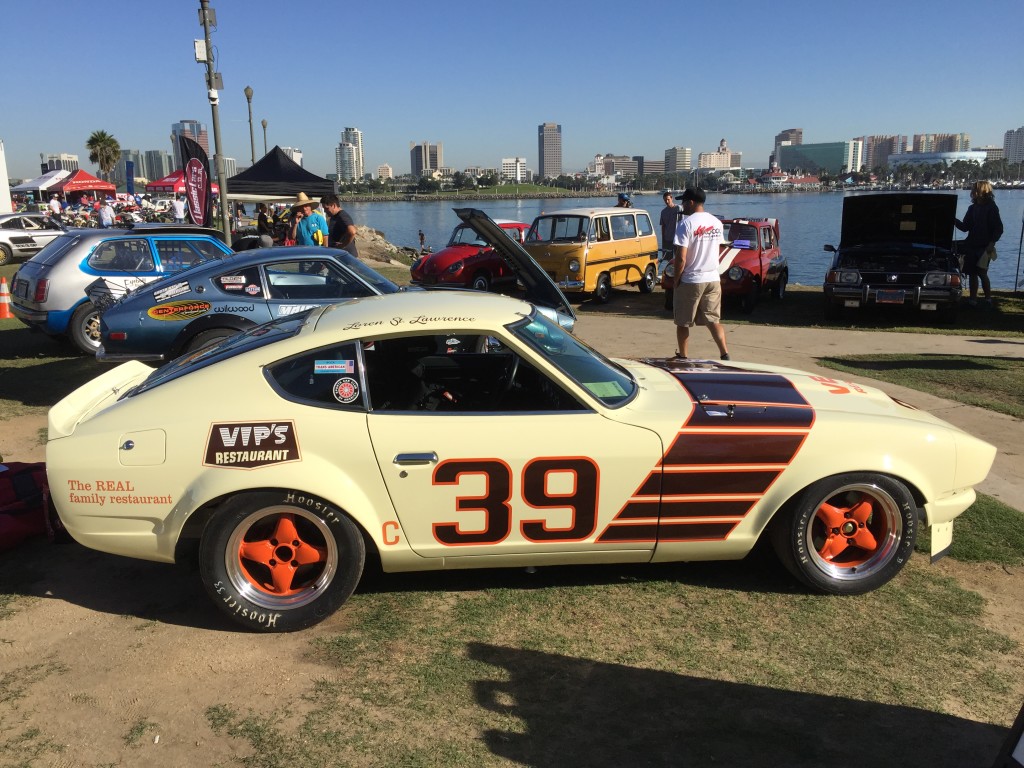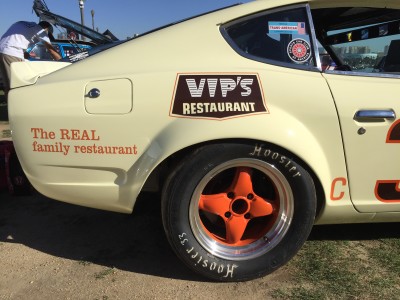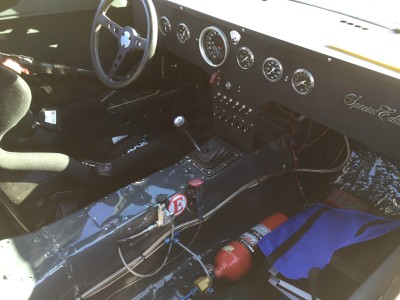 Z31s were plentiful too! :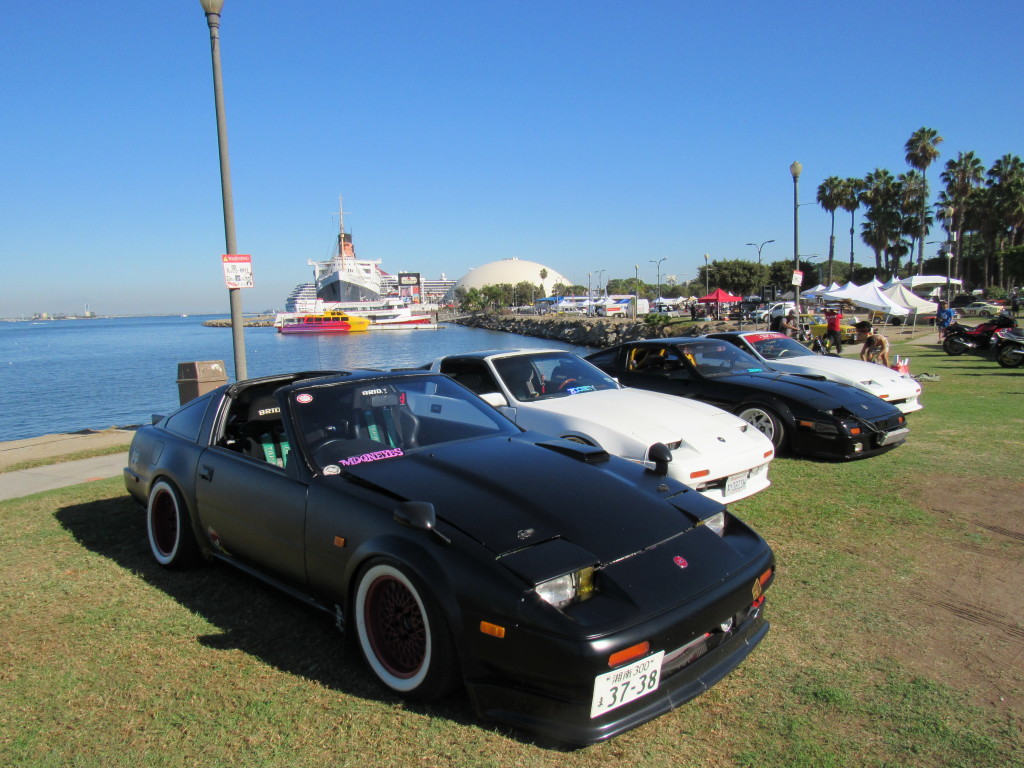 Some 2+2 love. This 1974 280z was lovingly restored…only at JCCS! http://jdm-car-parts.com/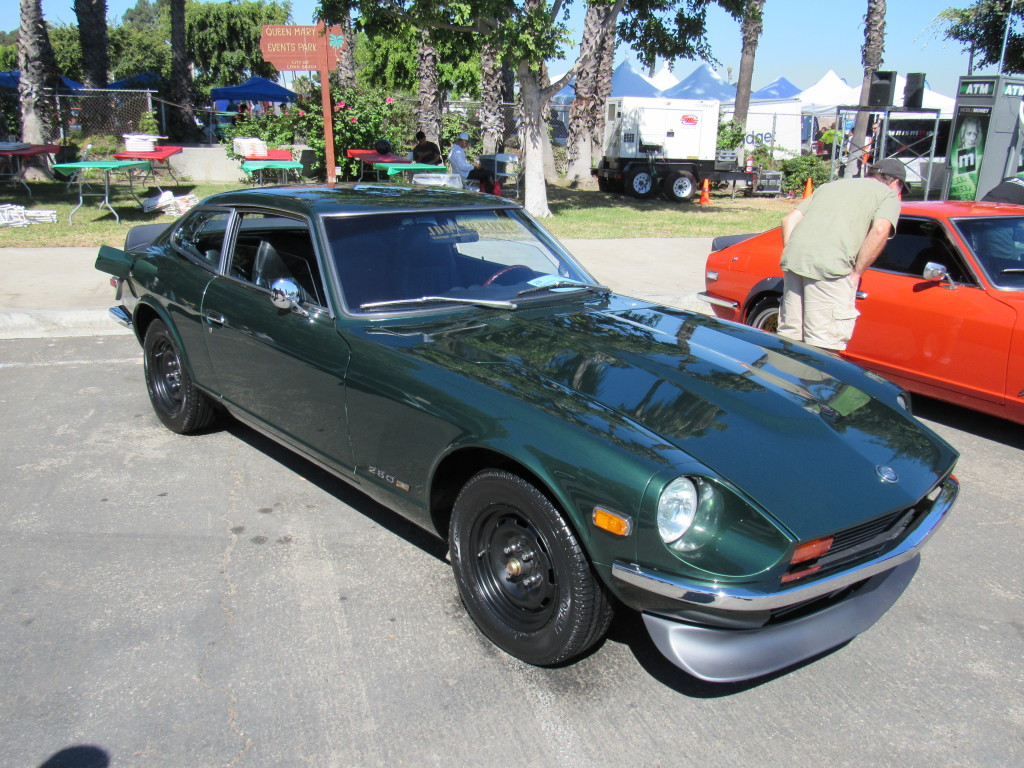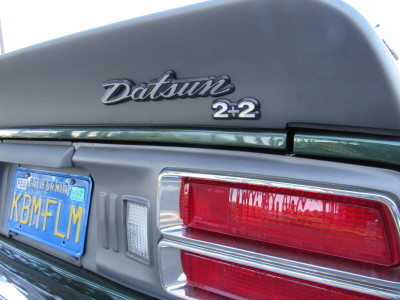 The Nissan S12 chassis has been growing in popularity. Known as the "200sx" stateside there were some cool examples of both hatchback/coupe bodystyles. S130s were also represented: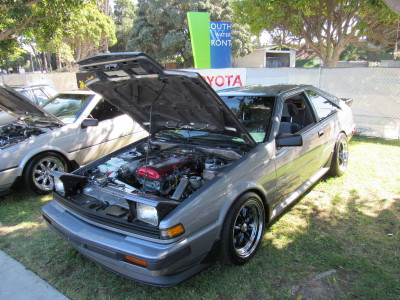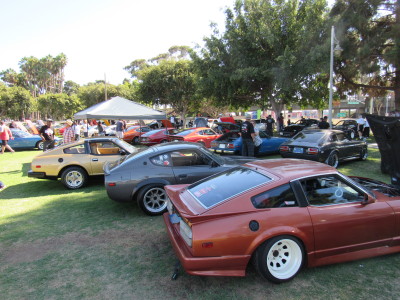 The only Z32 sporting Stoptech brakes, SSR wheels and subtle JDM cues: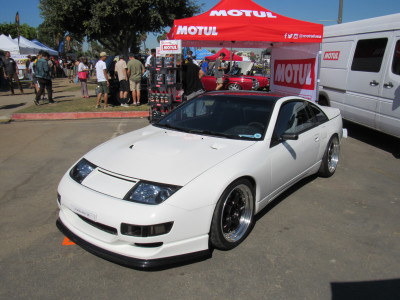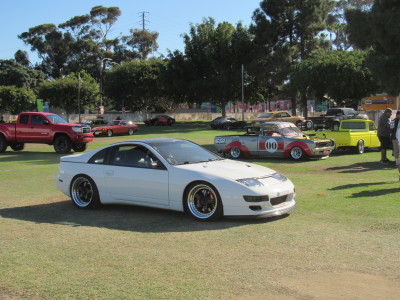 Although Mr.K passed away last year, we think he would enjoy roaming around JCCS. Mr. K's very own G-nose 240z, now owned and currently driven by his secretary!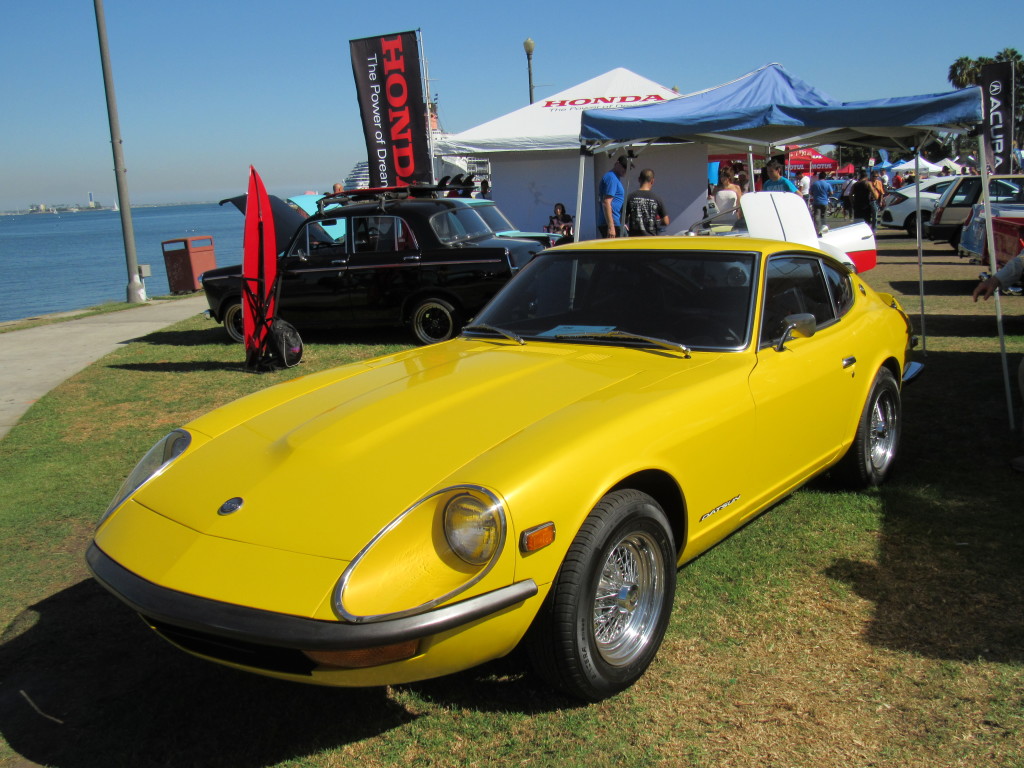 Datsun Fairlady Roadsters
The Datsun Roadsters enjoyed prime bayside parking this year at JCCS. Down in numbers from previous years, the selection still wowed the public at the main show entrance.  SoCal roadster owners lined up their cars with both stock and modified examples while the JNC booth provided a nice bookend with lots of goodies. We were honored and proud to have our roadster on display, so big thanks to Ben and the gang at JNC!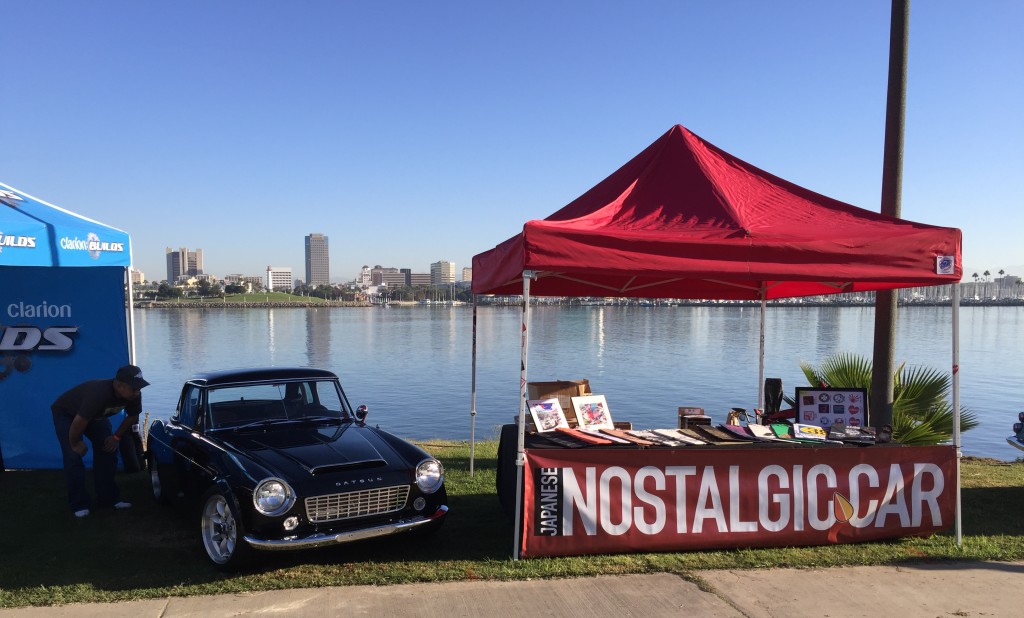 JNC's Fairlady-themed display included commemorative T-shirts,  Hot Wheels giveaway and autograph session with legendary engine builder John Knepp. It was great to see him having a good time with fans: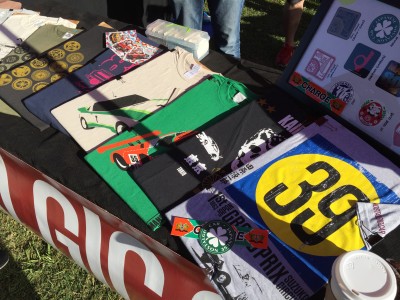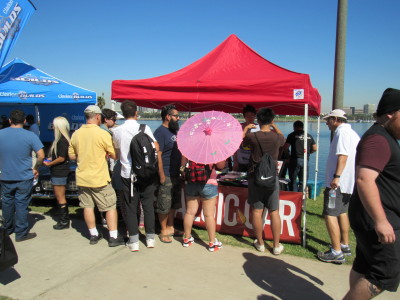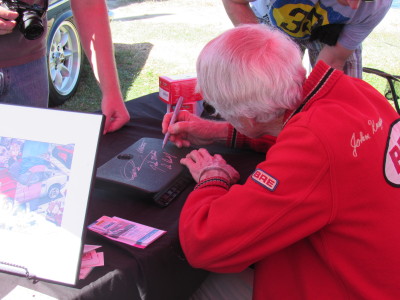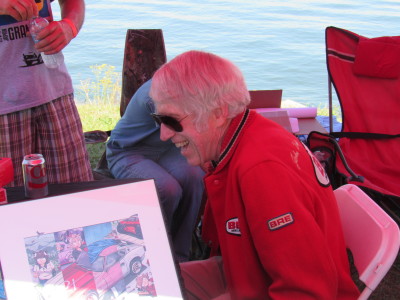 And of course, yours truly couldn't resist a photo op with the man himself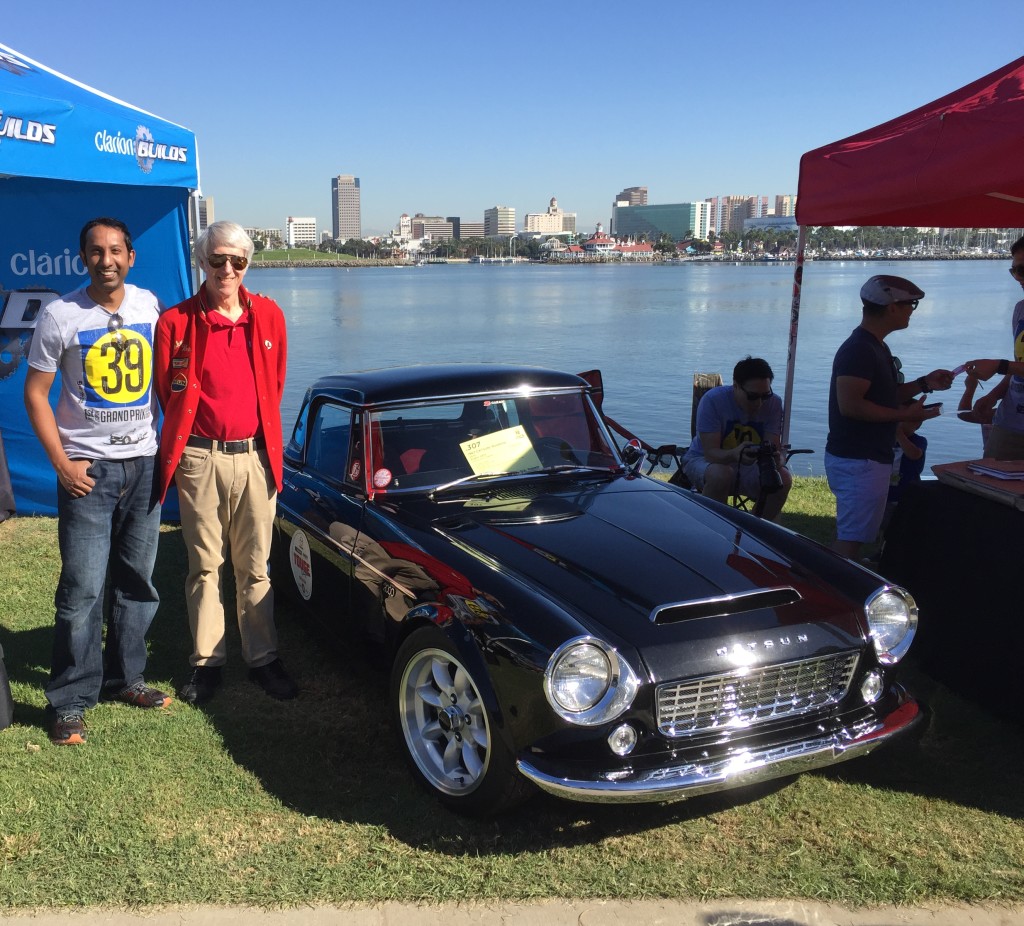 John Baker's 1969 Datsun 2000 was one of best stock restorations on display. I've seen it evolve recently with nice attention to detail for keeping things period-correct. Take a look at that engine bay!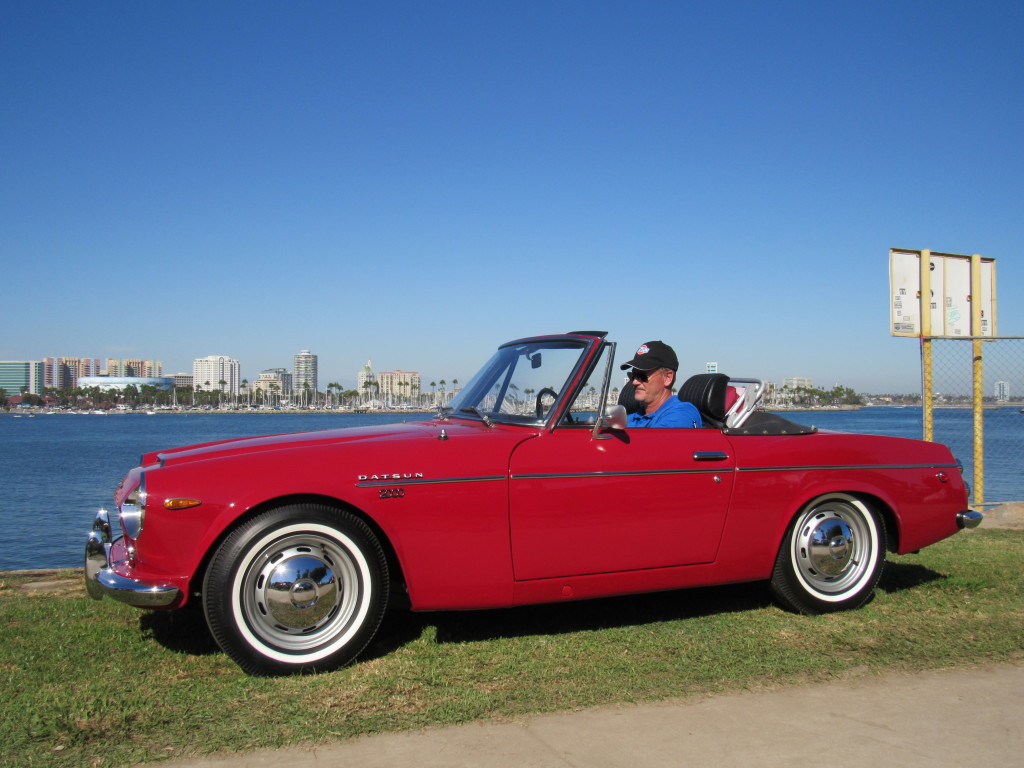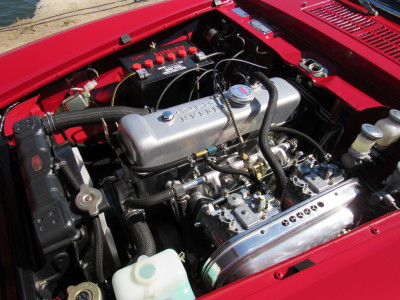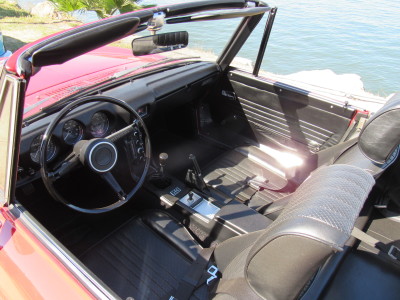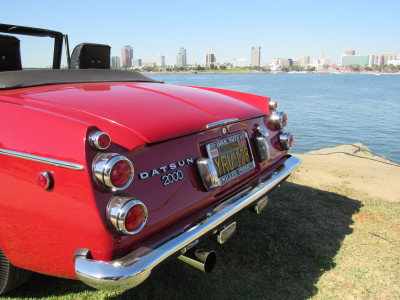 Kevin Desirello of KRD Roadsters built 4 roadsters in the display. In true "best son ever" form, he built these SR20DE and SR20DET-powered roadsters for his mother and father, respectively: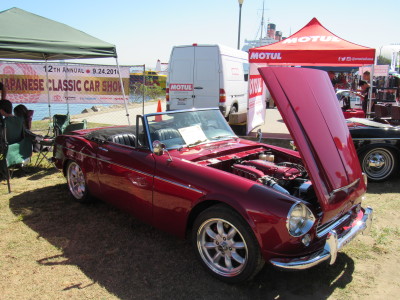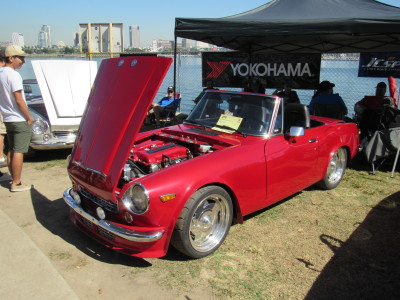 You might recognize John Frampton's 1967 
SR22VE-T
 monster from our SEMA and Solvang reports. Also built by Kevin, the 341whp, fully restored silver bullet is now featured in
SuperStreet Magazine
!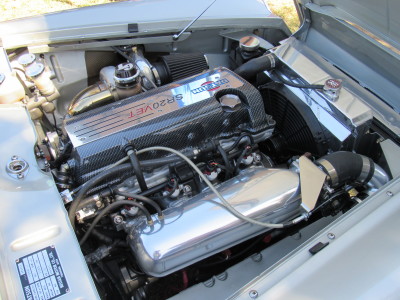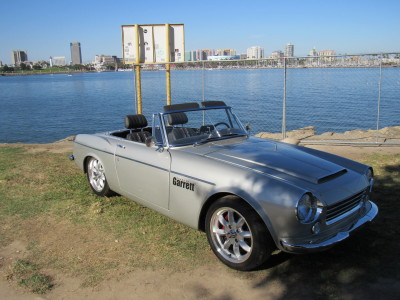 On either end of the roadster display were Harlan Katz gorgeous '66 SPL with a KRD installed SR20DE and Jon Toktas' stunning '69 SRL.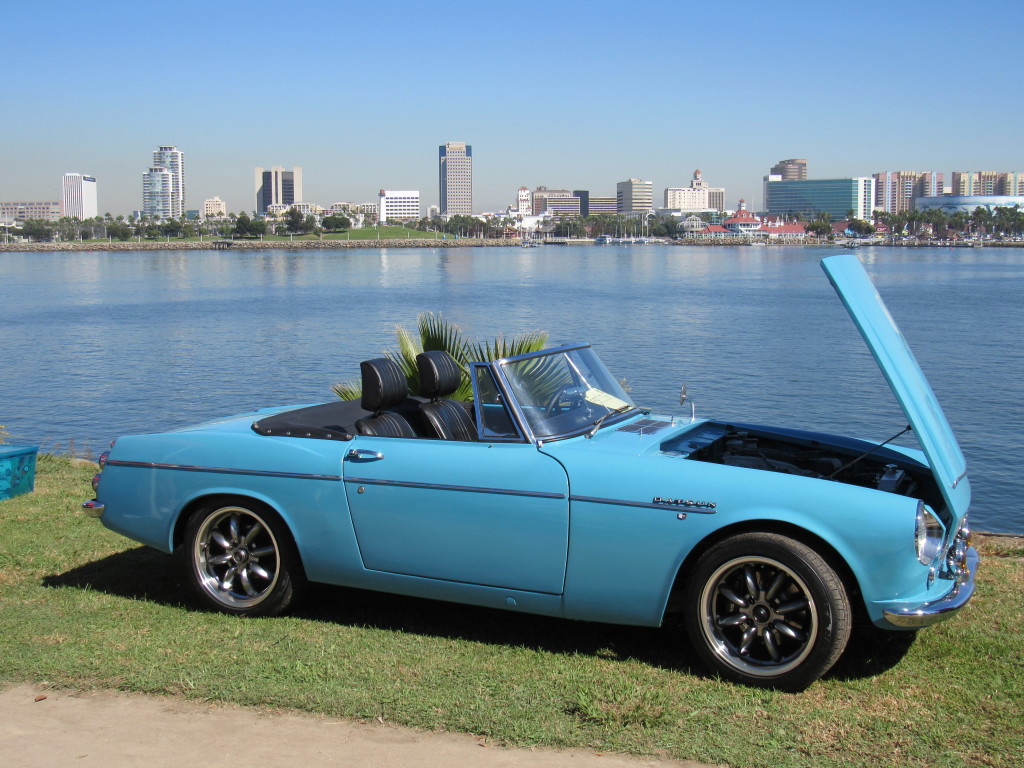 My favorite color combo for the roadster is Black/Red: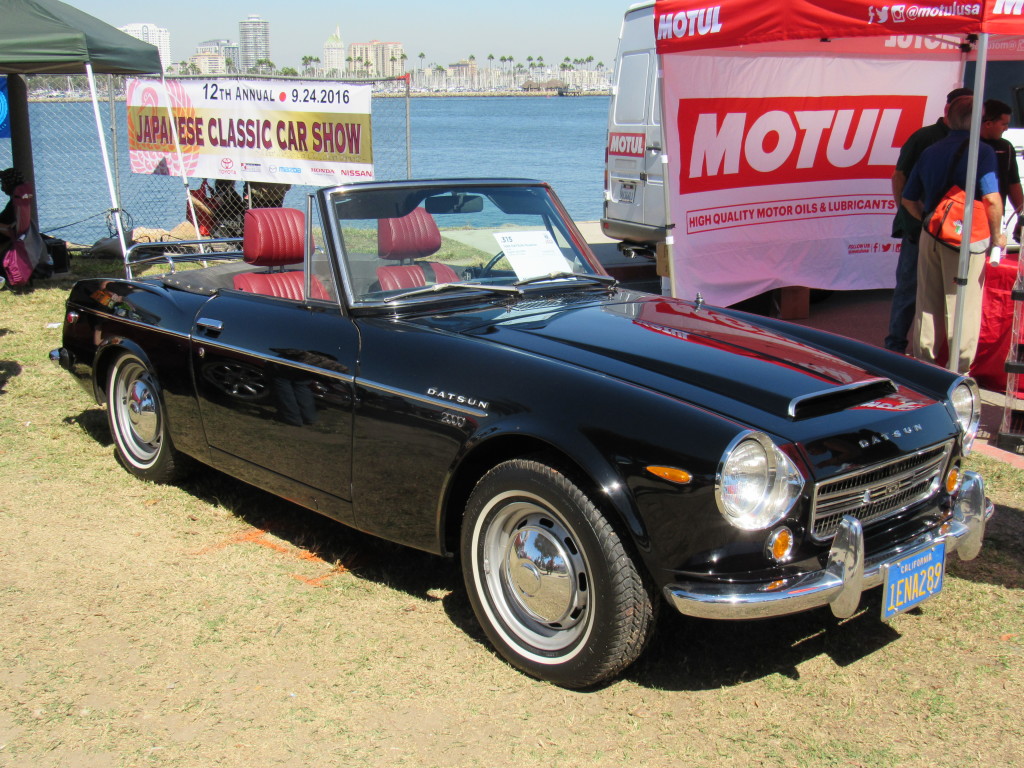 Not in the 311 roadsters display, Jeff Silvey's bonkers SPL212 racecar which debuted at The Solvang Show was a polar opposite to the stock SPL213 Nissan displayed a few steps away. A built S15 SR20DET drivetrain puts power to the ground with a full S13 IRS! ps. Jeff also built a Z18ET diesel powered NL320(see below) truck…he's kind of a nut, in a good way: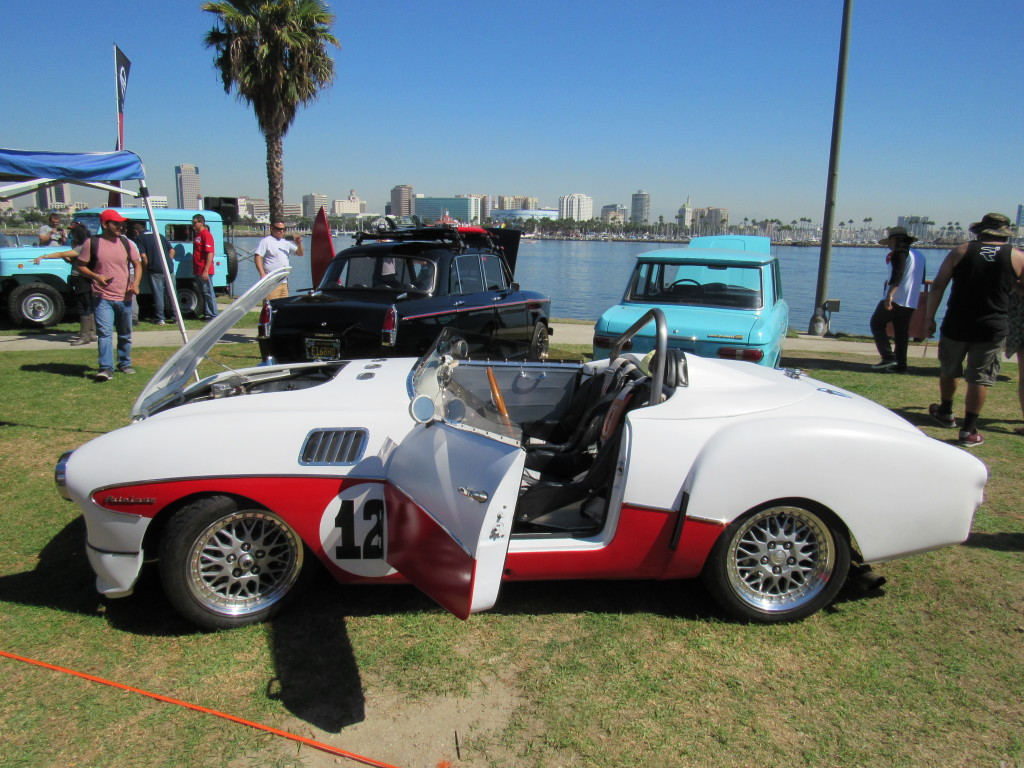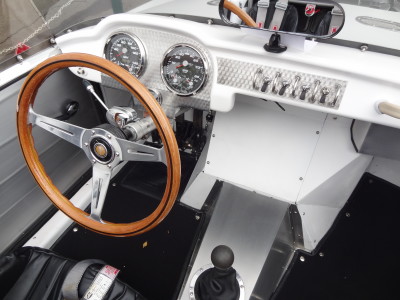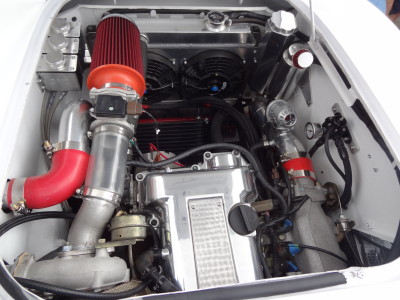 In the parking lot I spotted Monty's '69 SPL.   Former owner Garm Beall (Subaru 360 owner currently) setup this roadster with a hot-rodded U20 and rare Hayashi center-lock wheels: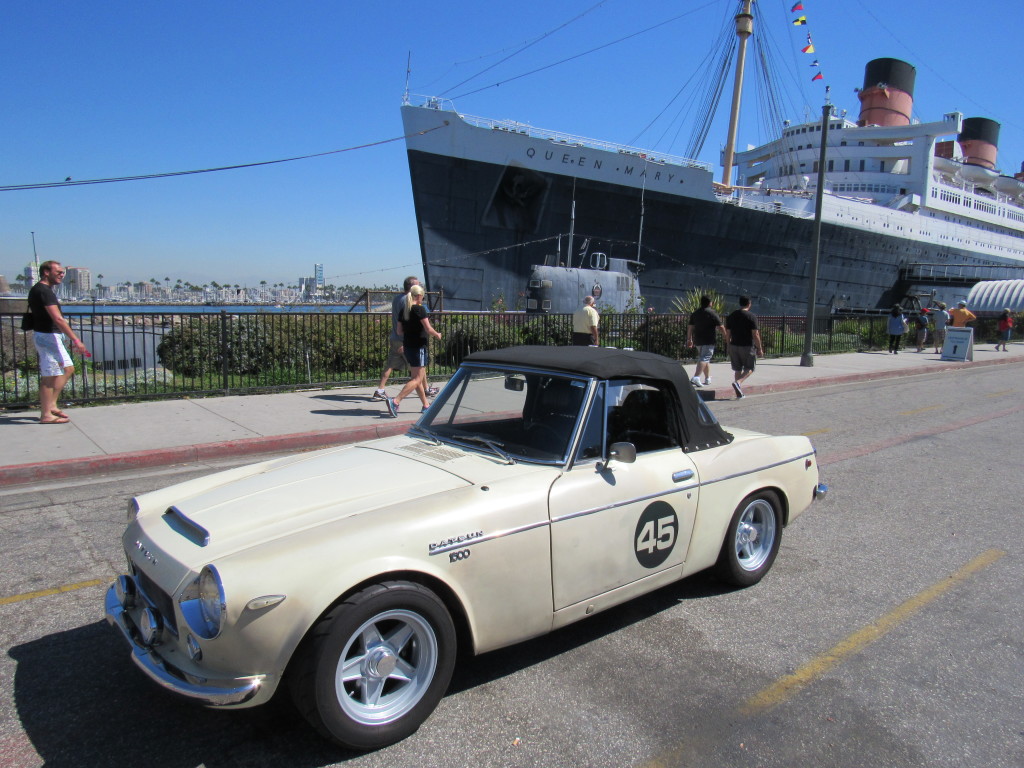 Datsun 510s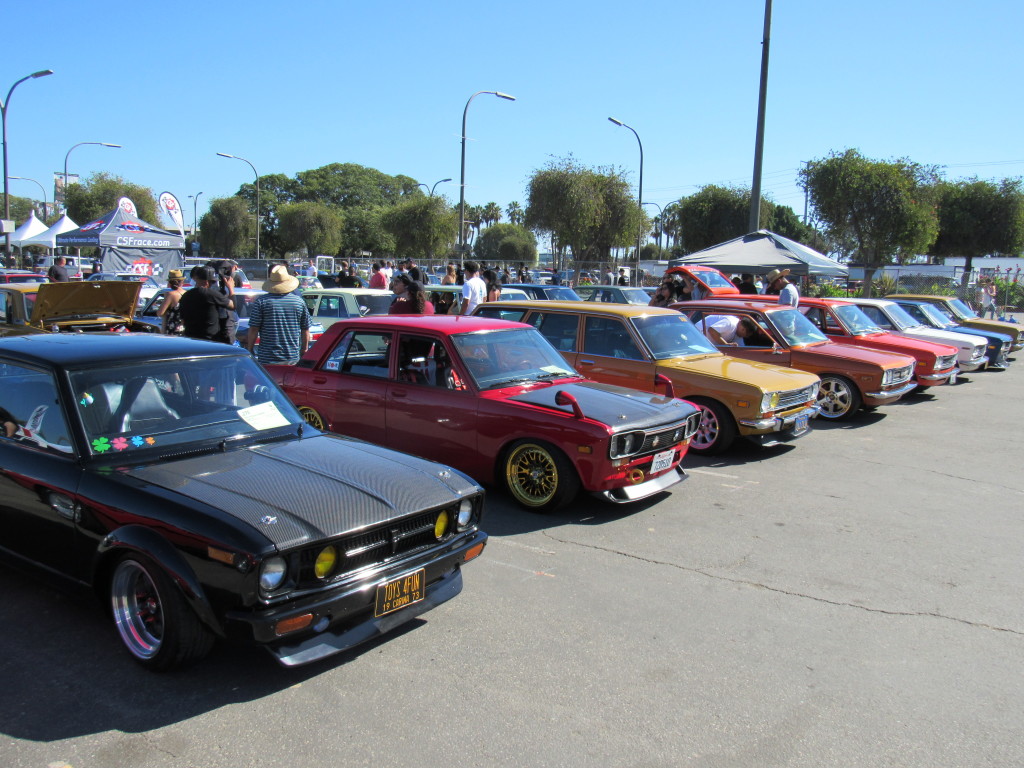 This year felt like an incredible number of Dimes were displayed! The shiny engine bay of this Datsun 510 stood out and sported some Volk TE37 wheels, Brembos and a loud interior. Not everyone's taste, but it certainly reminded me of a TSR Fabrication (Mario Lozano) build that made me long for the days of the All-Datsun Meet at Mt. Shasta. Good times. Reminiscing aside, it's hard not to appreciate Mario's superb fabrication skills and weld porn, see the beads on that expansion tank!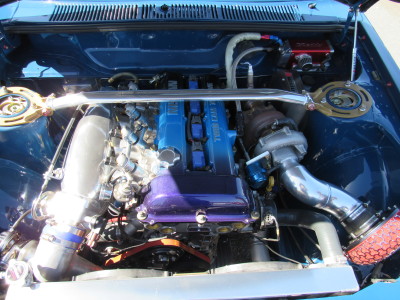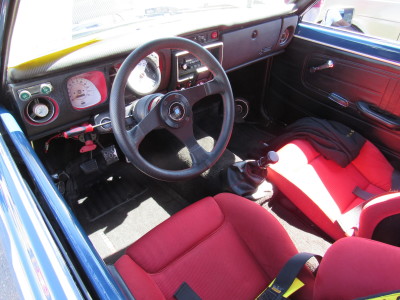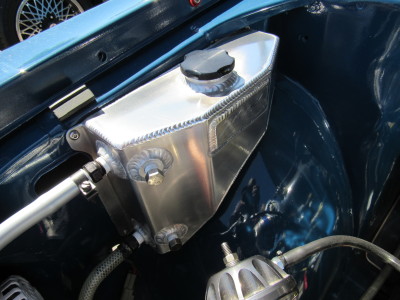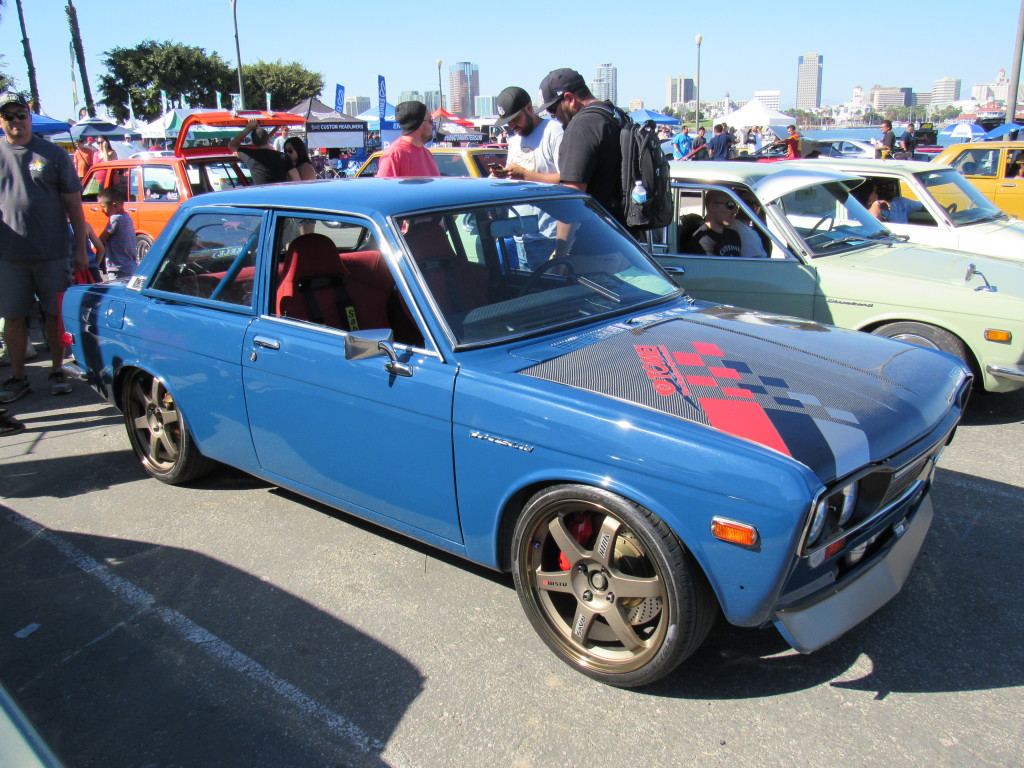 More Dime goodness: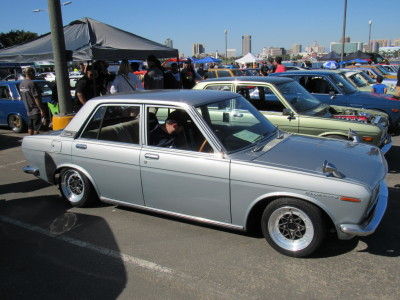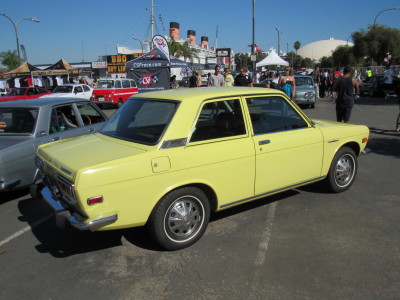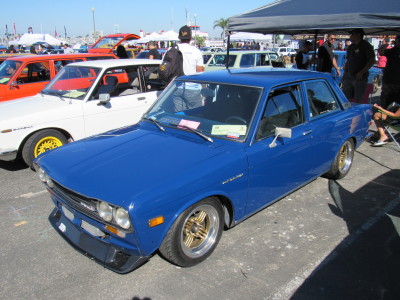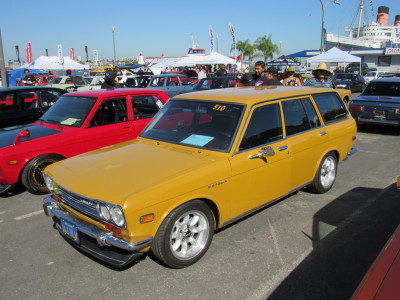 Not a Dime
But extremely rare, cool and placed next to the 510s was this Hino Contessa 1300S Coupe. Owned by Myron Vernis, thank you so much for sharing this beauty with us! Only at JCCS, people!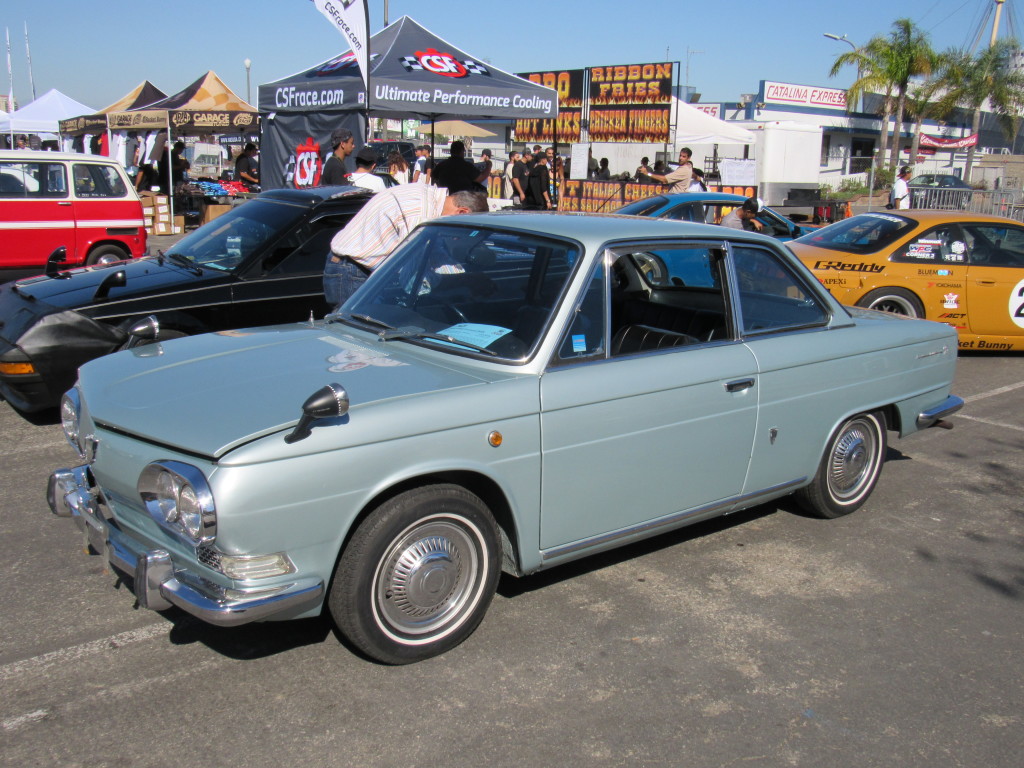 RHD Datsun 610 and Sunny: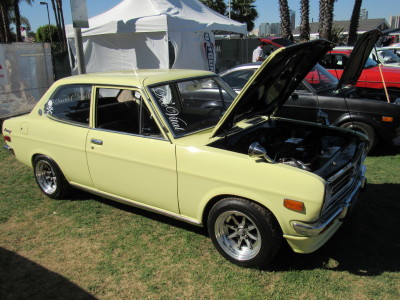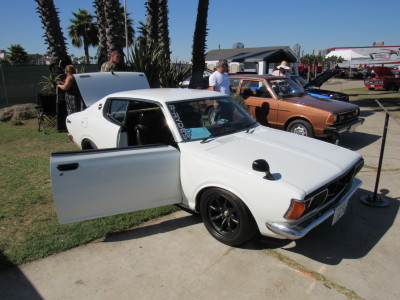 Dogs Love Trucks!
Datsun trucks were kind of scattered about the park area. Jeff Silvey's turbo-diesel NL320 truck: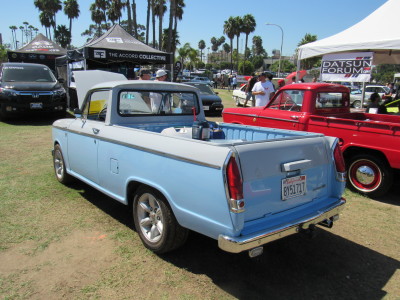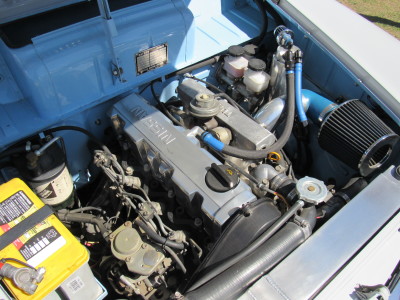 Kenny's 320 pickup and a 520 pickup: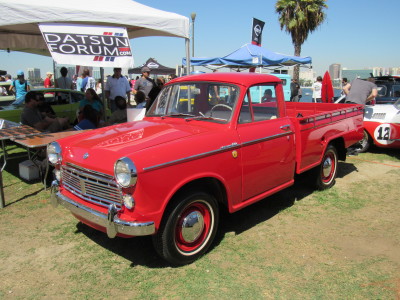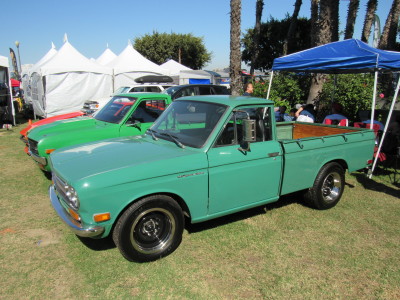 And finally, a 510 regular attendee I never get tired of seeing with 13B turbo power, Brembos and VOLK RE30s: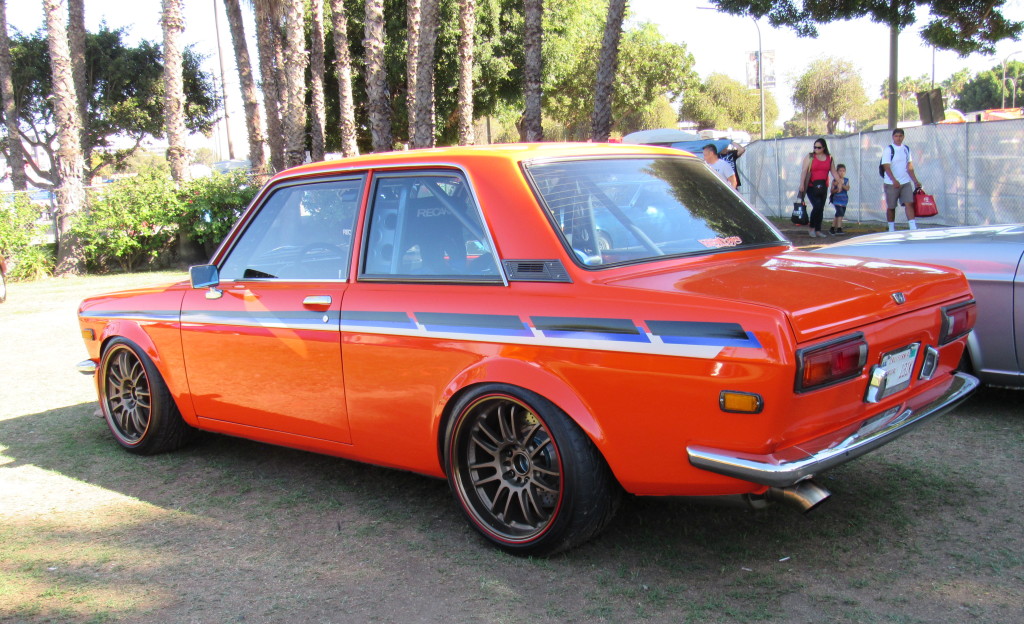 Toyota
Toyota always has a huge corporate involvement and brought an assortment of race cars and a rare 1967 2000GT.  This year felt like the AE86s and Celicas were not as numerous but Celica-Supras and Cressidas were sweet!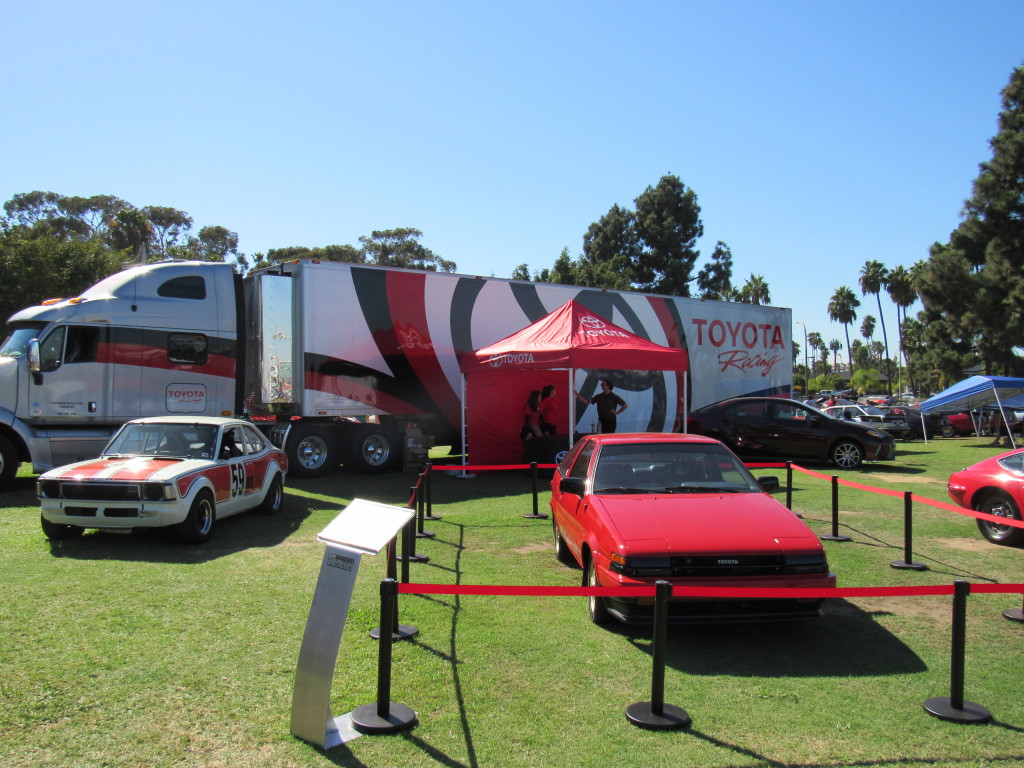 Great showing of RA29 (Liftback) Celicas! The red car had perfect, meaty fitment on Epsilons meshies. Actually, all 3/4 of these Liftbacks sported some variation of mesh wheel…I dig it: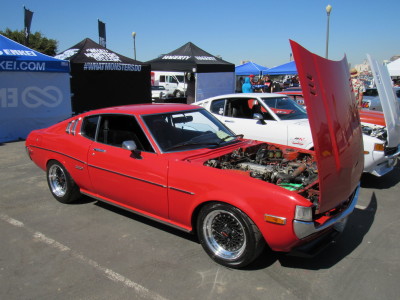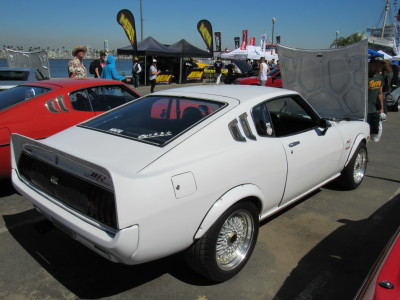 My favorite Celica though was this blue specimen on SSR Formula reverse meshies….super sano build: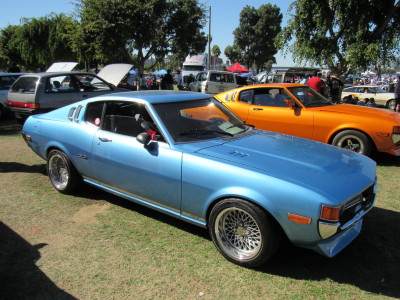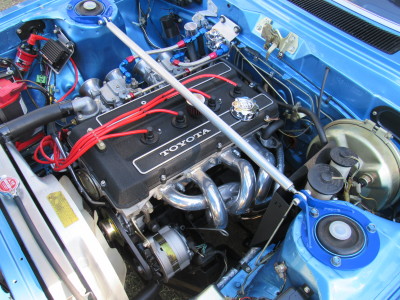 Brad Reynold's MX32 Cressida looked fabulous. Sitting on full black Glowstar wheels and running a full 2JZGE engine swap this is my kind of sleeper: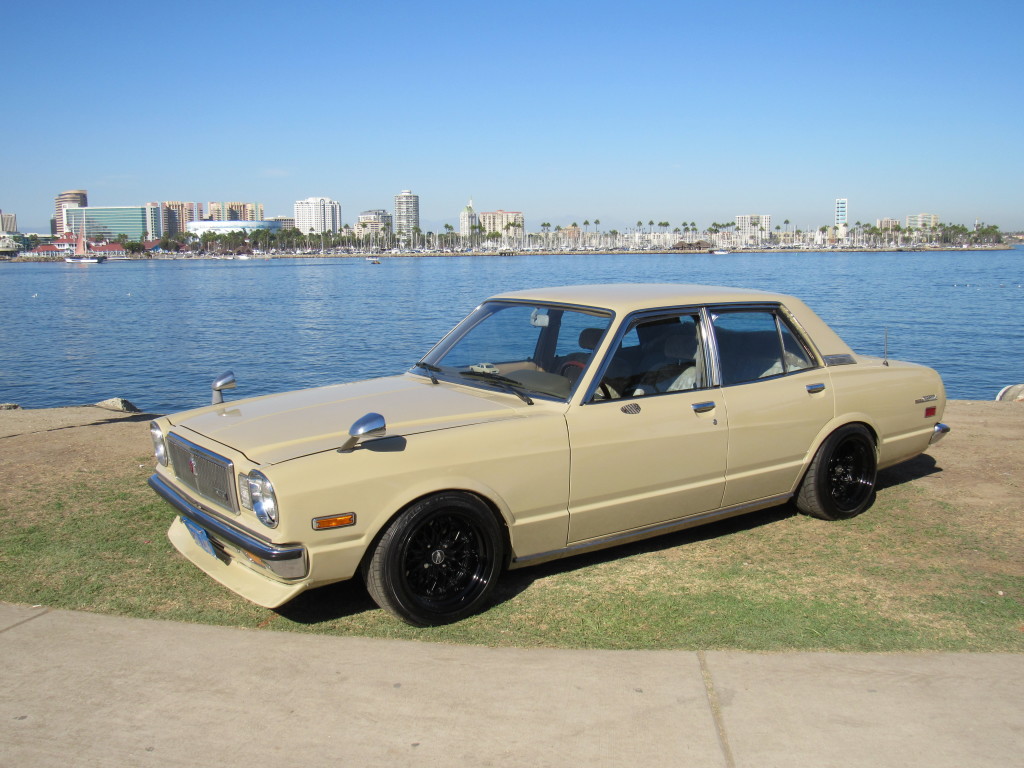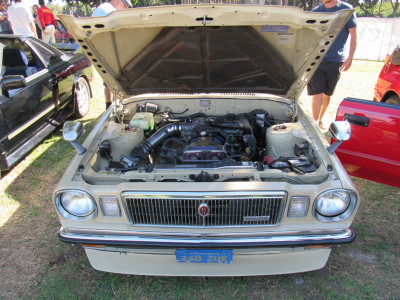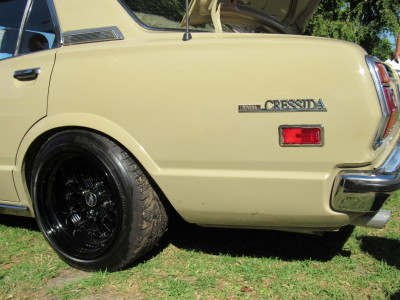 This AE86 Corolla had me double-taking. RHD, with "Black Limited" decals indicated a very rare, outgoing 1987 model that marked the the end of RWD and beginning of the FWD AE92 platform. Regardless of its authenticity, those massively lipped WORK Equip 01s had me drooling: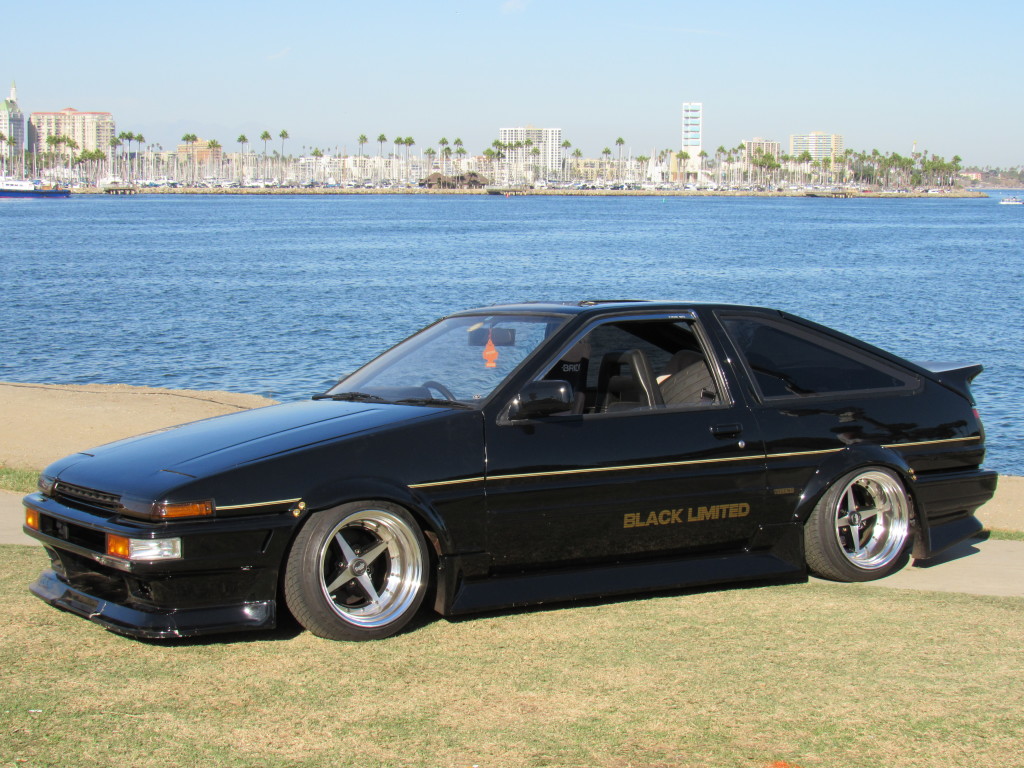 I'm a sucker for the A60 Celica Supras with their bulging fender flares and blocky styling. These two had choice mods like Watanabe and SSR wheels, plus a big surprise under the hood: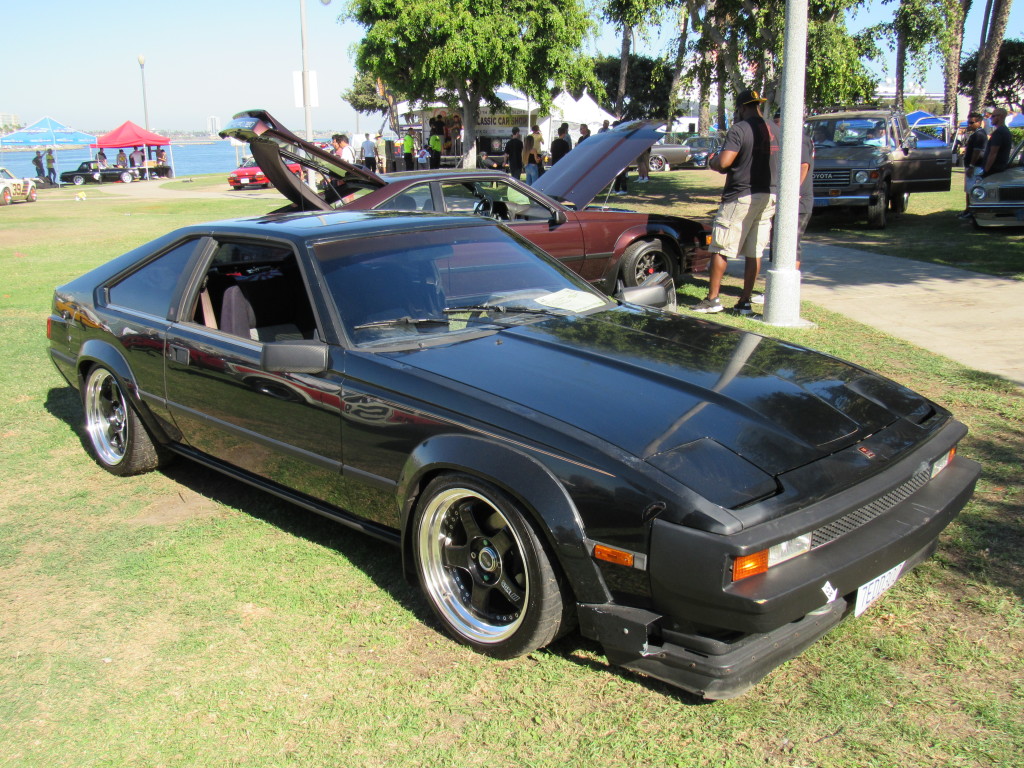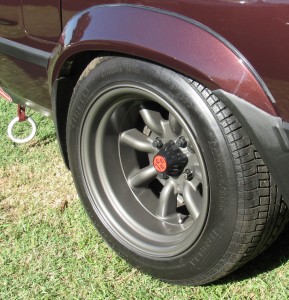 Not one but TWO Celica 'verts: bone stock, and gangsta-fitted!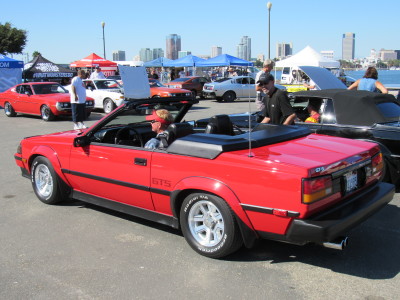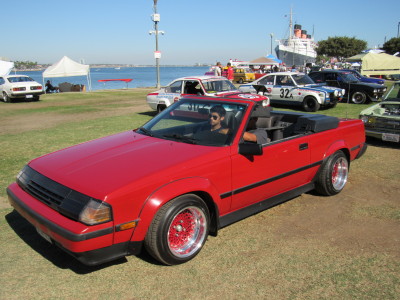 E70 Corolla with a hot rodded, injected Toyota twincam: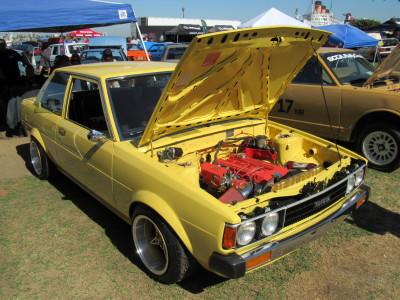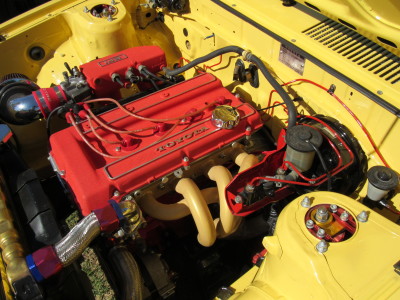 Land Cruisers!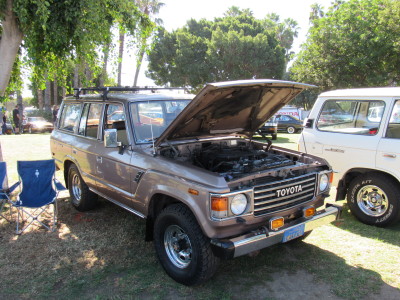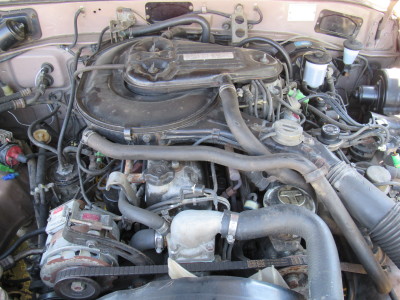 And if you are in to the whole supercar thing, there was a Lexus LF-A near the entrance and a LC500 inside: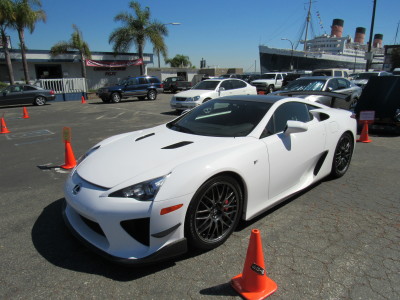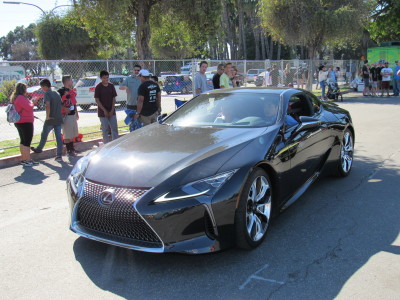 Finally, what is probably the best juxtaposition of Toyota entrants at JCCS…The coveted 2000GT and, wait for it…a first gen Camry: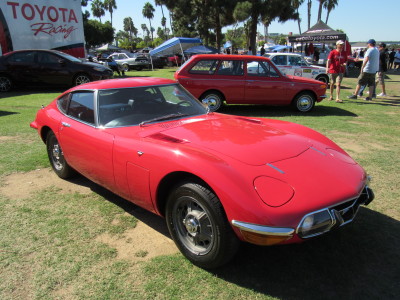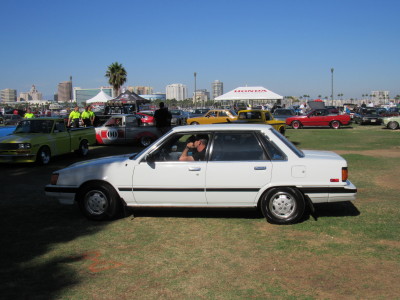 Honda
Honda brought several interesting cars including the recently restored, first ever N600 imported into the US: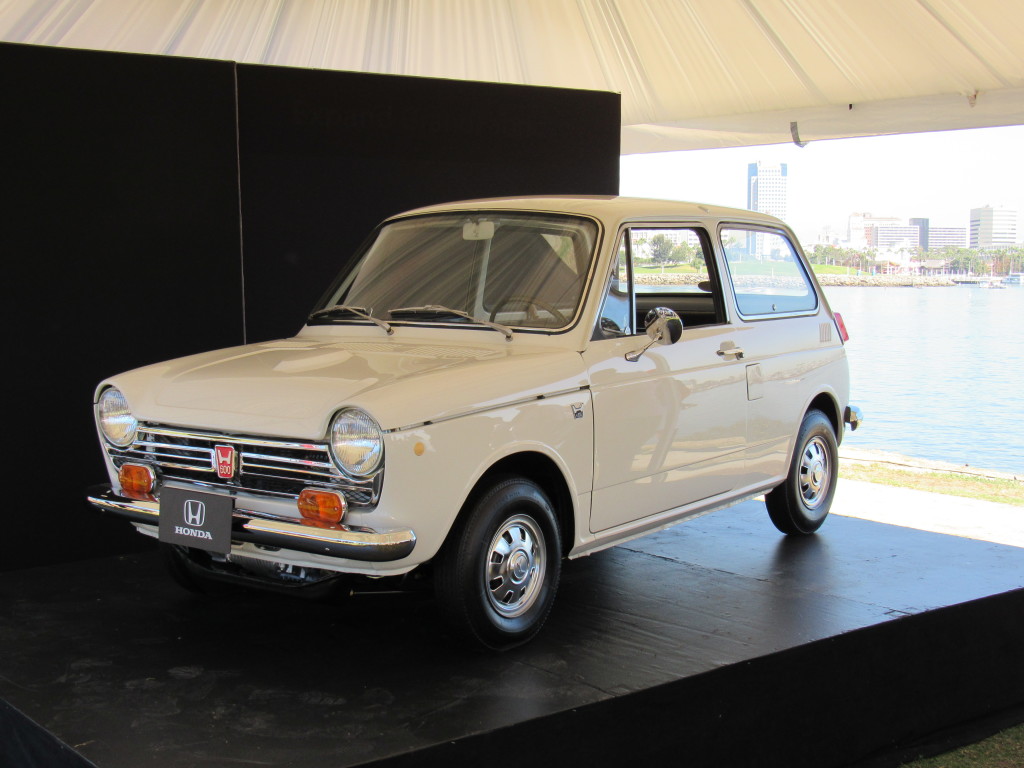 You can read about the restoration by renown Honda specialist Tim Mings HERE
The "heritage" theme continued here the new NSX along with a NA1 beauty. Here is our good friend Jan Trondsen who actually helped design the new car.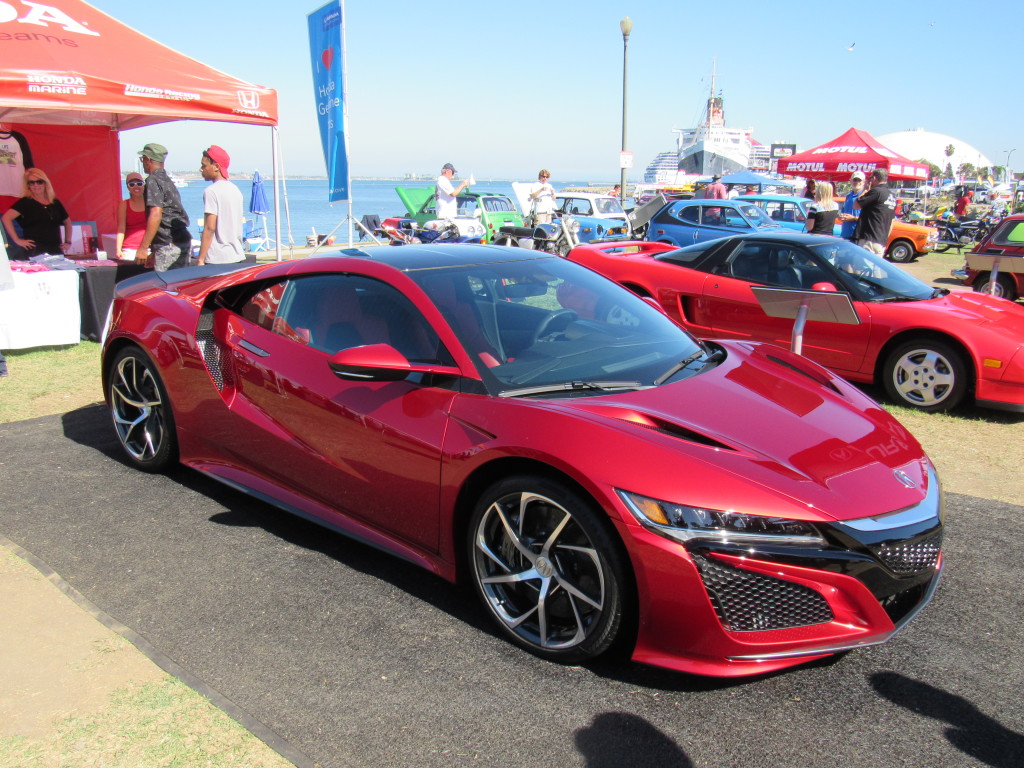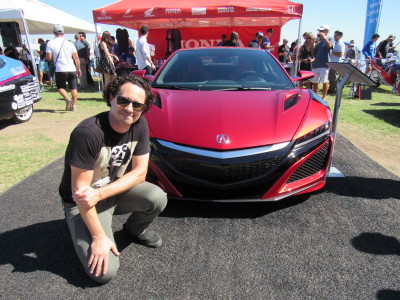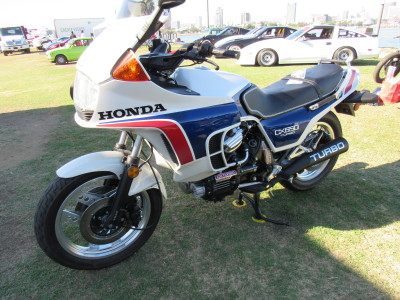 In a sea of CVCCs and N600s, most from years past a few cars did catch my eye.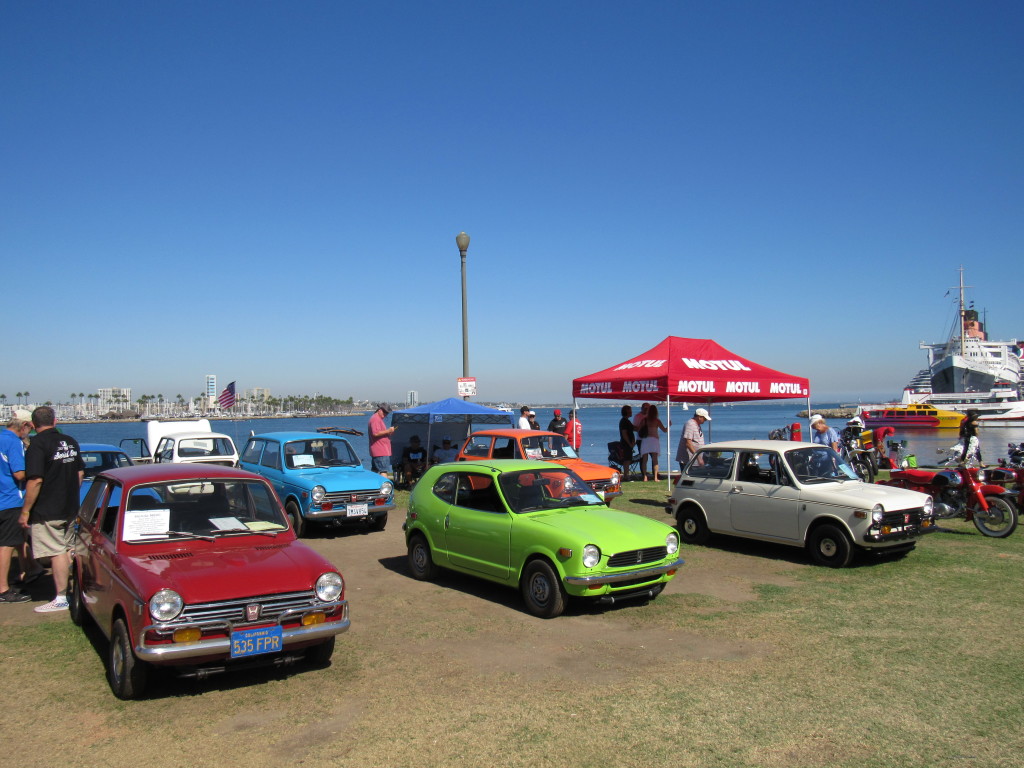 Left: a road racing 1973 Civic, and right: Bob Klemme (fellow roadster owner of SRL #004!) showed this little '71 N600 monster powered by a 1200cc Yamaha superbike engine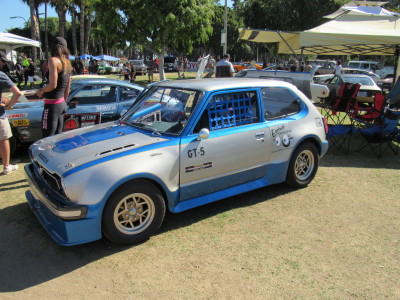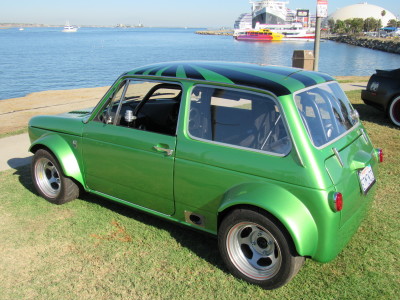 The 80's and early 90's Civics are some of my favorite Hondas. I was surprised to see no EF-chassis hatches but there were some heavily modified CRXs
1st and 2nd gen CRXs: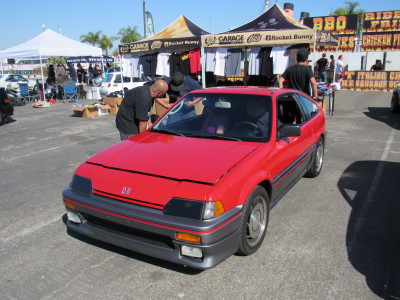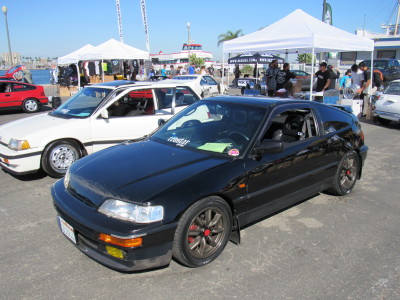 My favorite Honda was this white EA-T chassis. Followed by the almost DR30-Skyline-like Honda Accord Coupe (3rd gen) and 1st gen Acura Integra. All were superb, representative examples.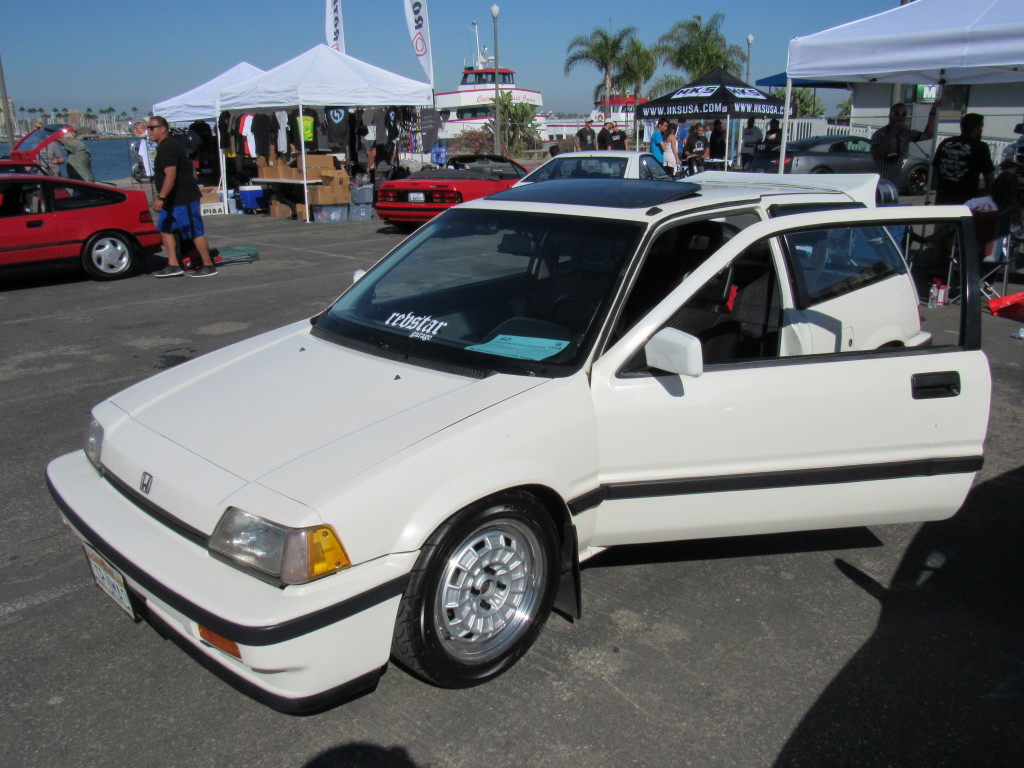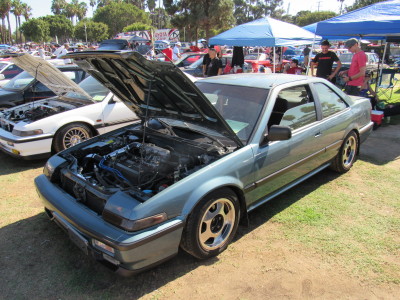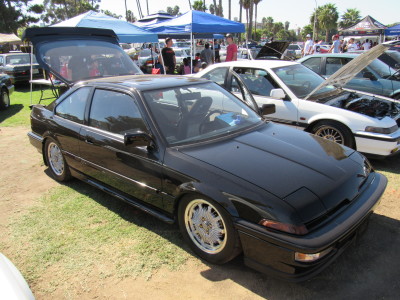 Mazda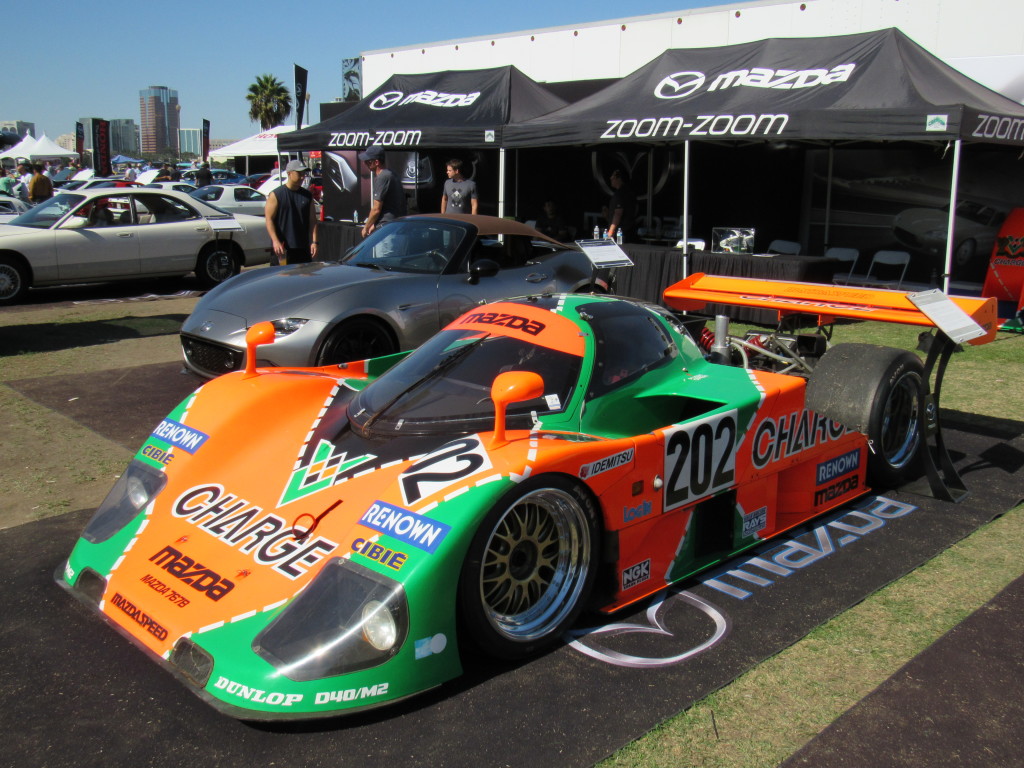 Mazda brought out a few gems of their own with probably the best OE display including the R100s from the Monterey Historics Races, 1979 IMSA GTU RX-7, freshly restored 767B, ND Miata and a 1967 Cosmo Sport: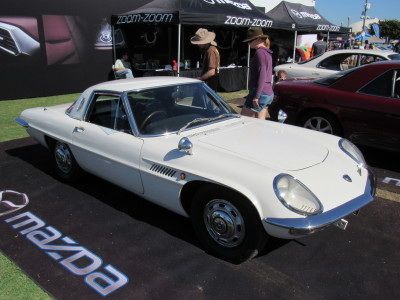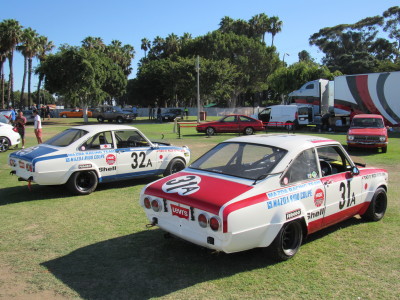 Albert Medrano's 1971 RX-2 looking sinister with deep-dish BBS RS wheels: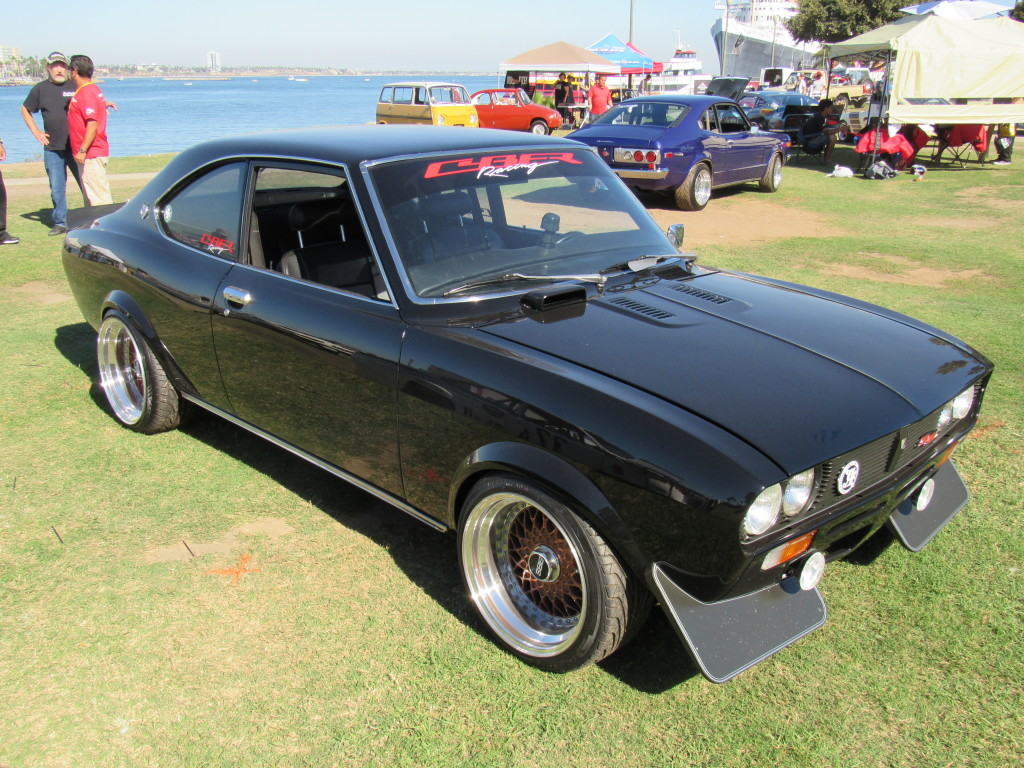 We remember Kelvin Chung's pretty 1973 RX-2 and Armando's 1974 RX-4 from the Touge California: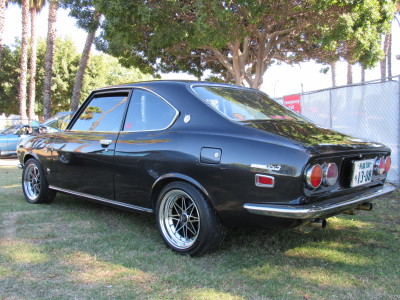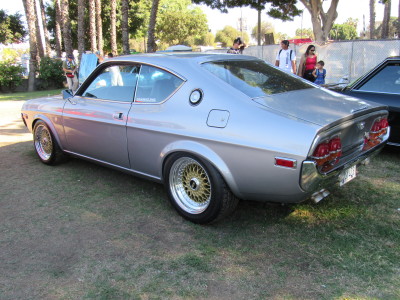 Mazda's iconic RX-7 series was well-represented with SA22 and FC models. From preserved stock and built-to-the-hilt turbo 13B examples it was a Rotary fanatic's fantasy, especially in red. We even spotted a turbine-powered FC!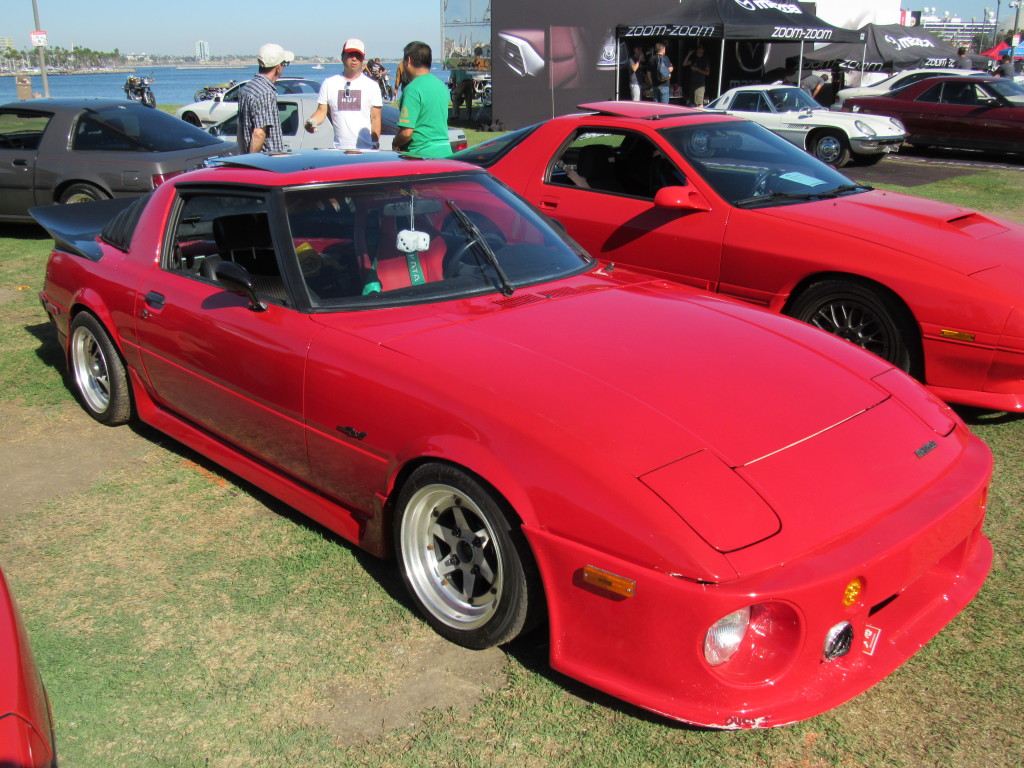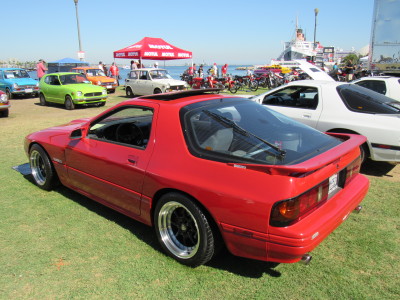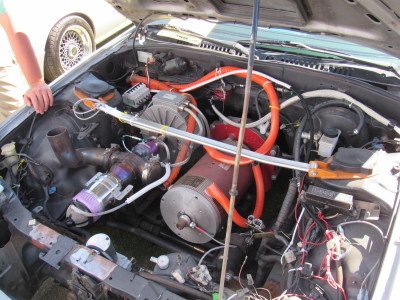 Mitsubishi
Our fellow Datsun Roadster owner and friend Mark Nakashima's freshly restored '72 Dodge Colt (Mitsubishi Galant) coupe also deserves its own feature. He drove the little pillar-less coupe down from Hollister!   A 1980 Lancer converted to full GSR spec was also a rare sight to see: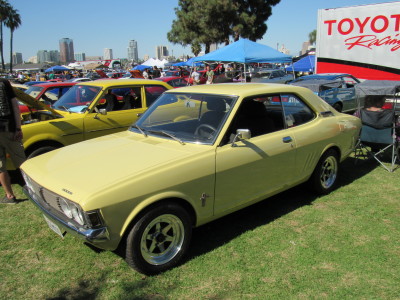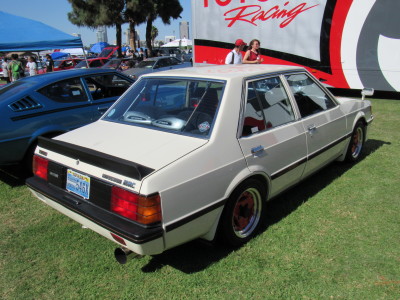 We first saw this full Time Attack prepped Starion at SEMA 2015. It has been further developed with extensive aero and an LS2 engine swap. A stock, Starion in silver was nearby: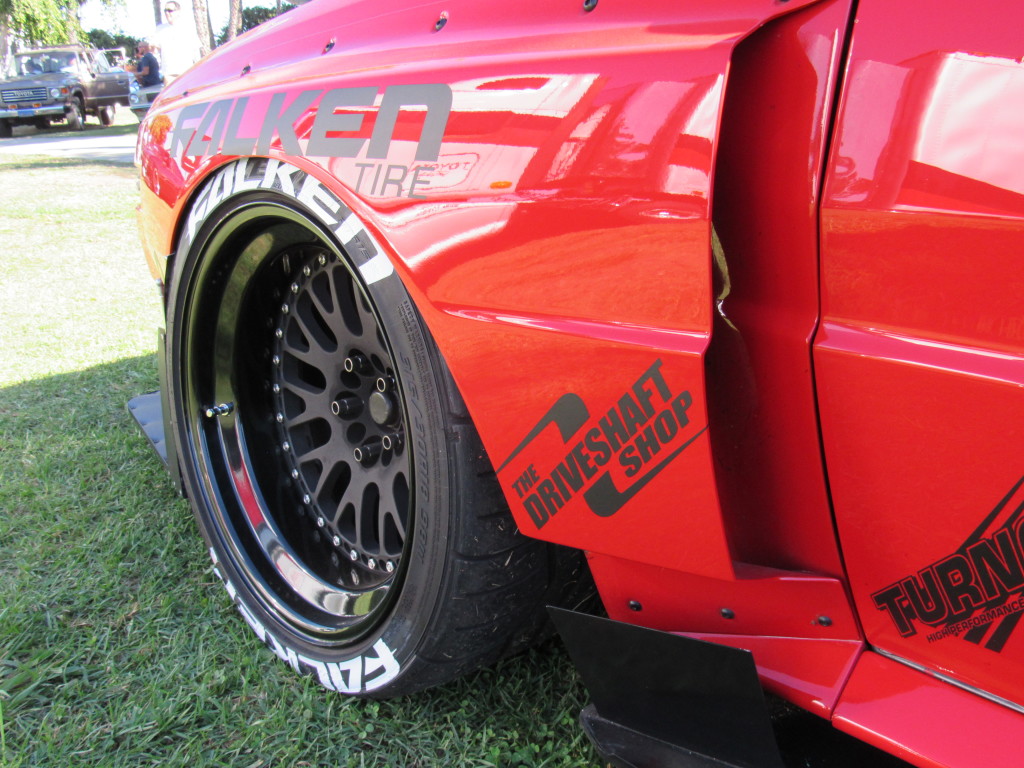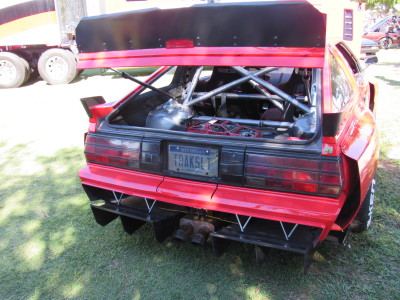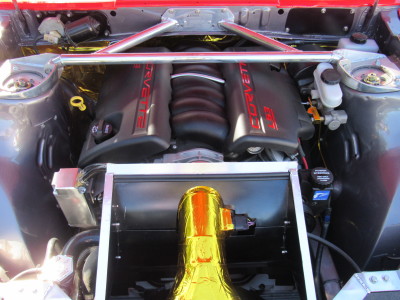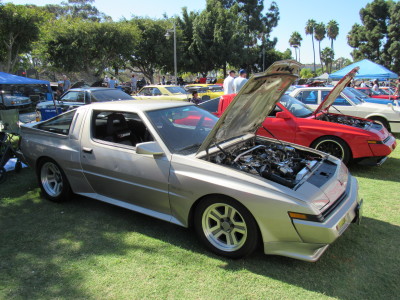 We can't forget Matt De Mangos' Colt Galant GTO, another Touge California veteran: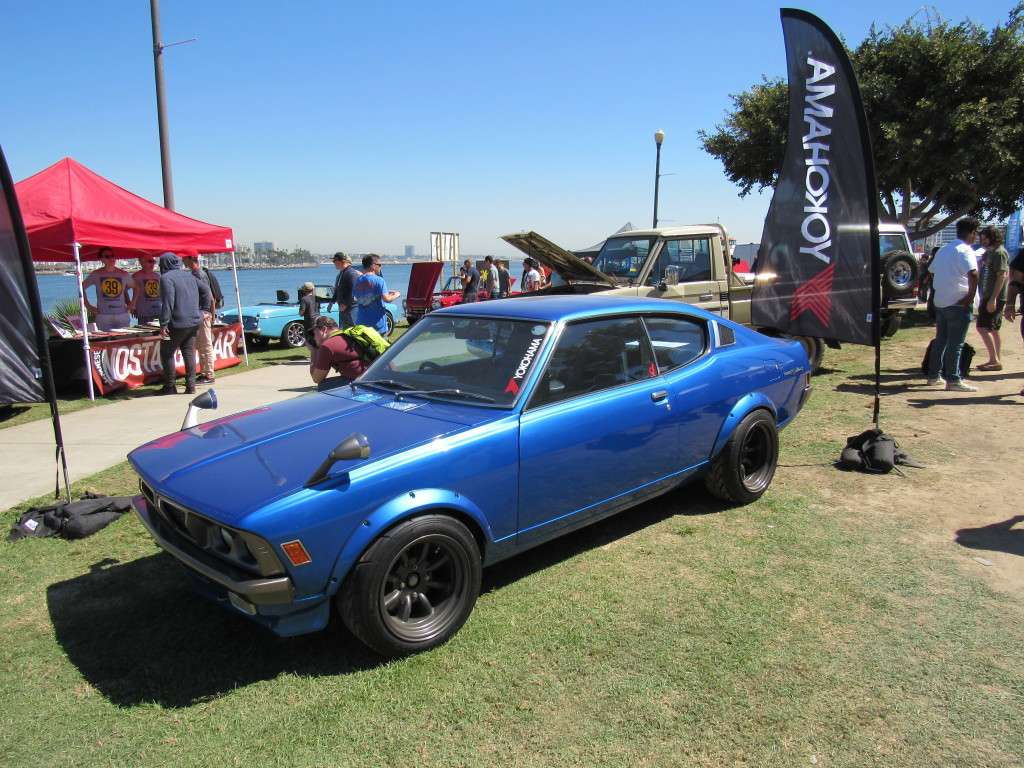 Subaru
You can always count on Subaru nuts to bring out the quirky cars. Garm Beall's famous butterscotch 360 van is aways a crowd-pleaser. You must see this thing in person to appreciate its diminutive stature. This year there two vans!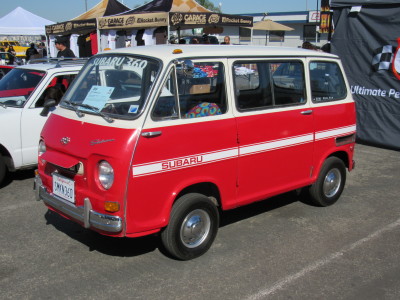 Wheels For Fantasy
I personally love going to JCCS because I get to see very rare Japanese/tuner wheels and parts. Preservation of authentic wheels and appreciation of the time and effort spent to find certain specimens that most folks have never heard of in this generation is what I admire most.   My favorite wheel at JCCS: WORK Equip 01: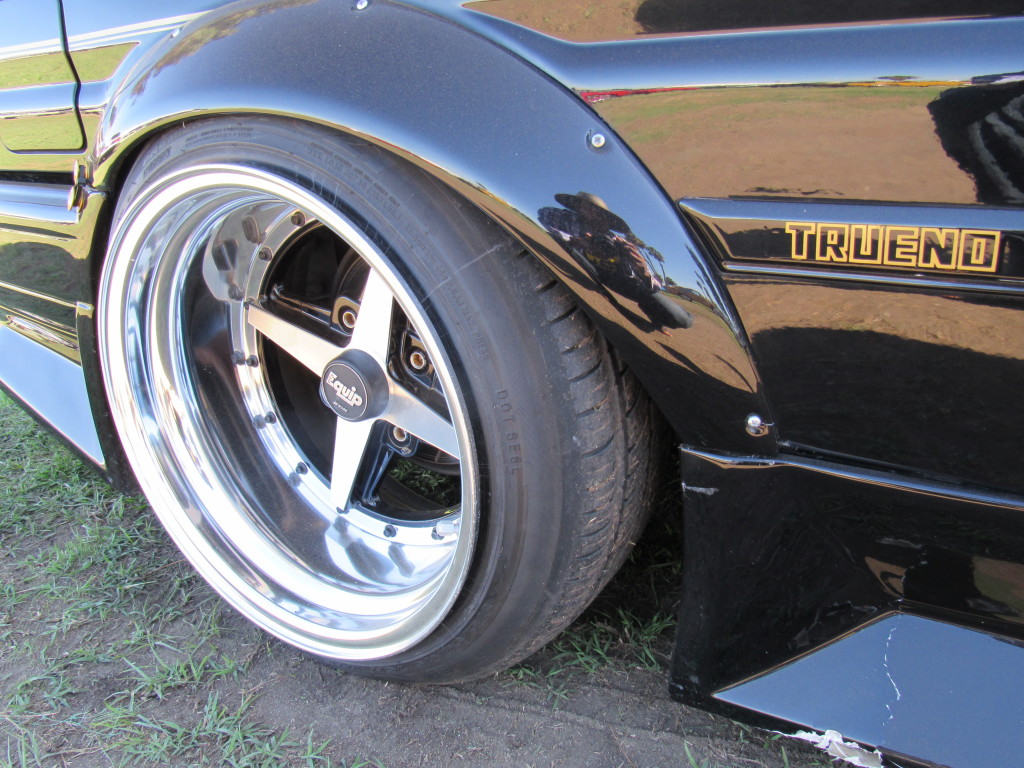 Variations on the mesh wheel from BBS, Epsilon, SSR, Volk, Bahn and more. You can't go wrong! SSR Formula below: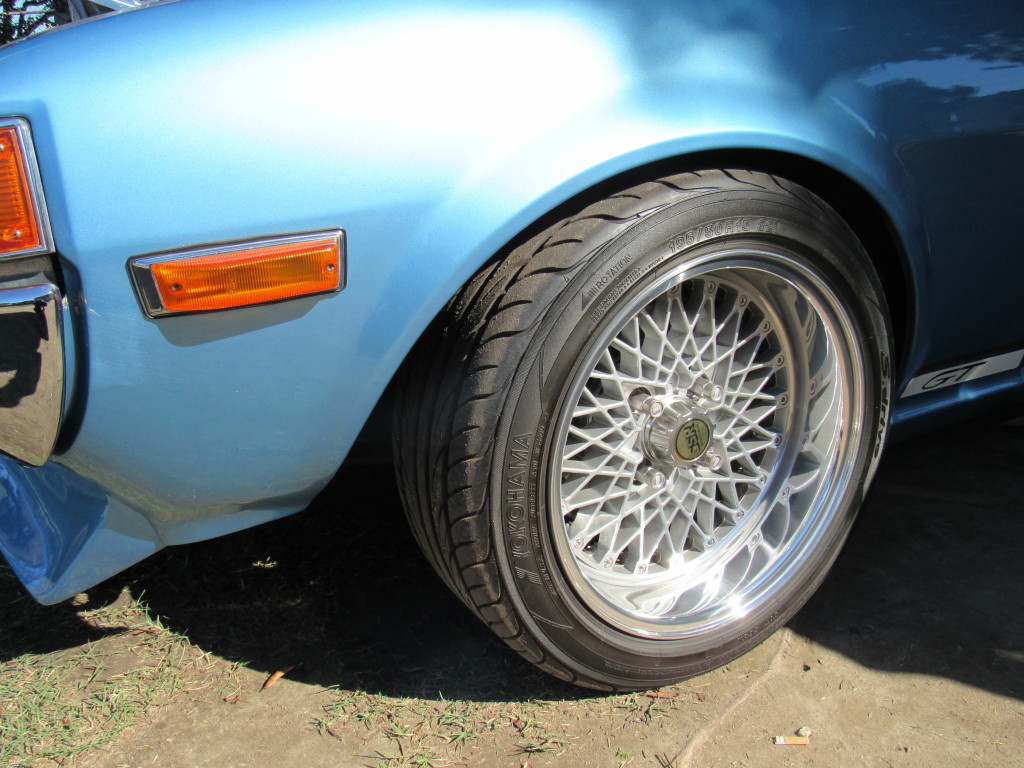 Step-lipped SSR Formula Mesh, Hayashi, Glowstar, Simmons and Epsilon: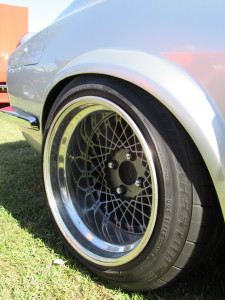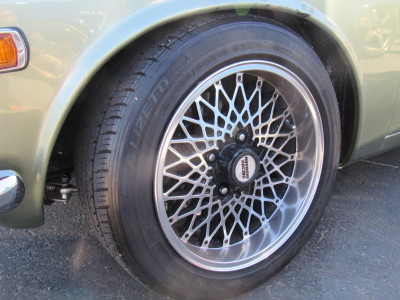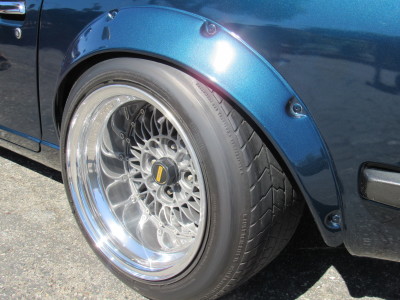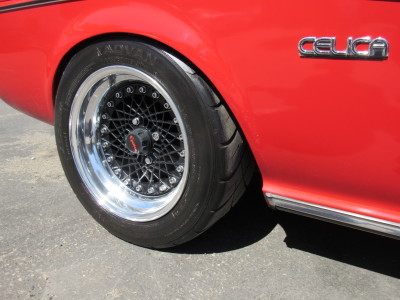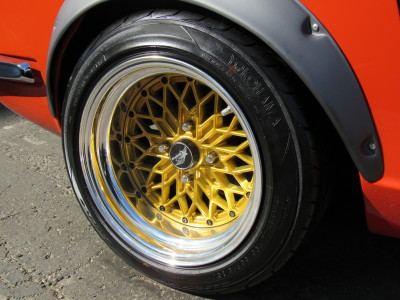 Modern wheels can work well with vintage metal depending on the build theme. Timeless VOLK TE37 and CE28N: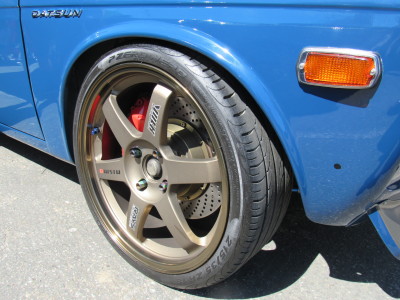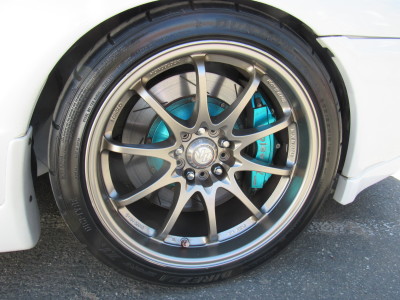 Sometimes smaller is better.
Left: The uber rare Techno Racing Yayoi wheels are also called, "Sakura" for cherry blossom. Right: SSR Star Shark: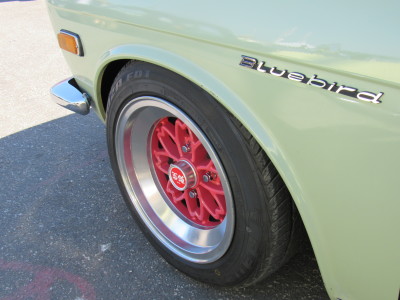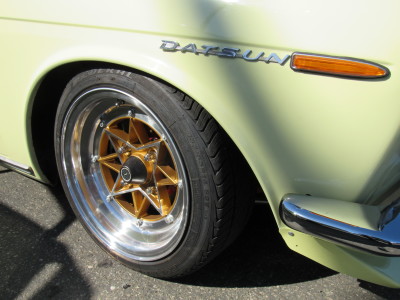 Not to be confused with SSR Star Sharks, Patrick Soliman's insanely sized Hayashi Racing Techno Phantoms: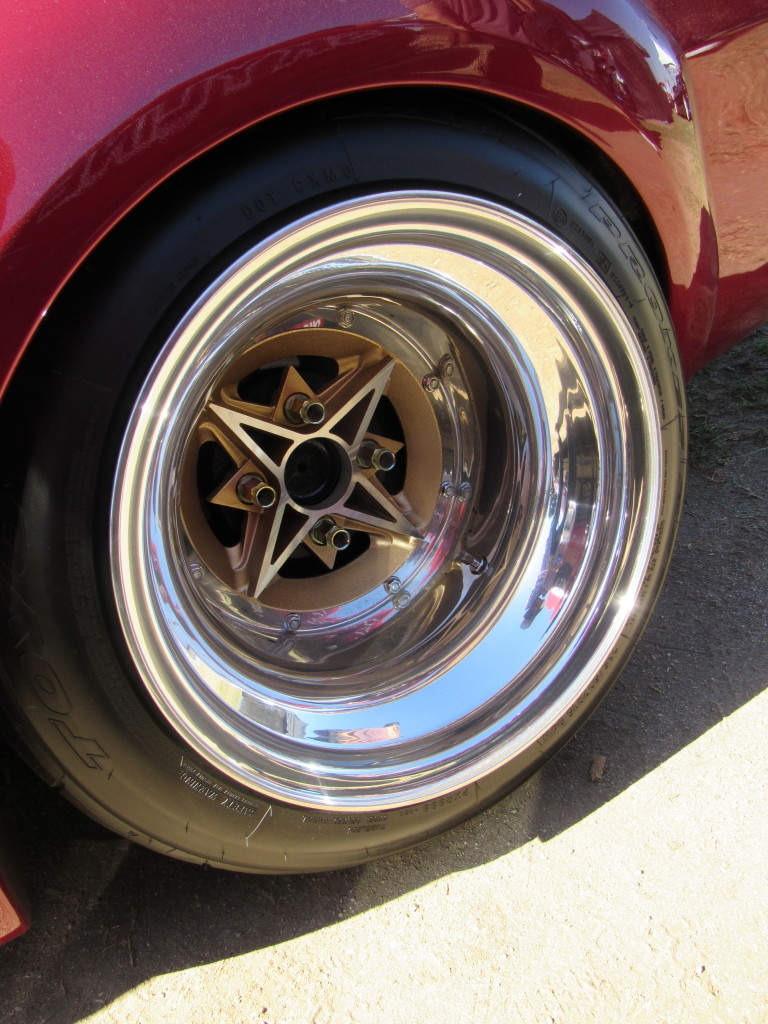 I have never seen these in person until JCCS! Devil Shadow spoke: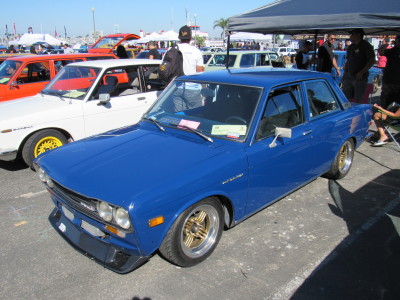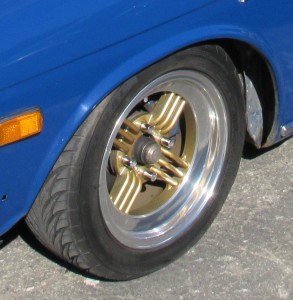 The quintessential old school wheel award probably goes to the RS Watanabe: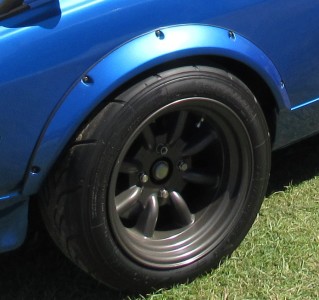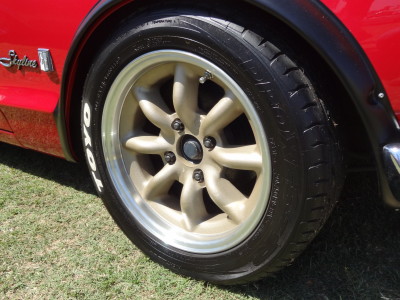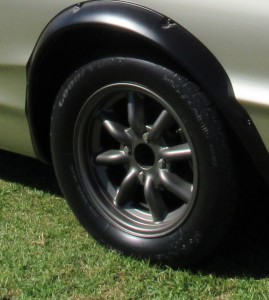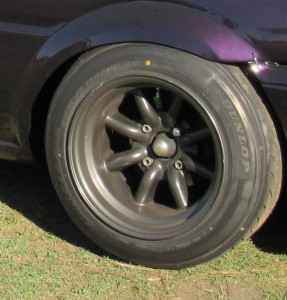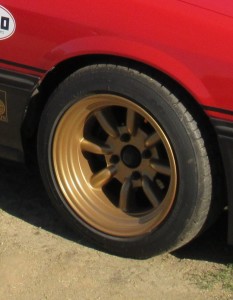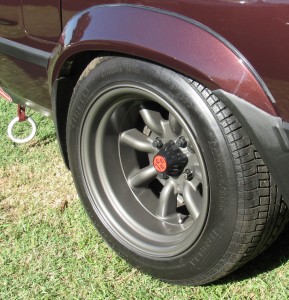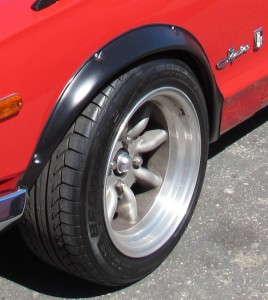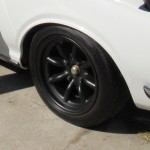 Many more pictures from JCCS in the gallery!
Thank You JCCS!
It is difficult to run a car show and keep up the quality and interest levels but the folks at JCCS have managed to do exactly that for 12 years! No other show gives you the chance to see obscure, pristine, modified Japanese classics…and we look forward to next year's entrants. We hope you have enjoyed our coverage and please visit our mega-gallery for more pictures. Special thanks to the ZCG crew, Diamond Dave and Eric Straw and Japanese Nostalgic Car for an amazing weekend!