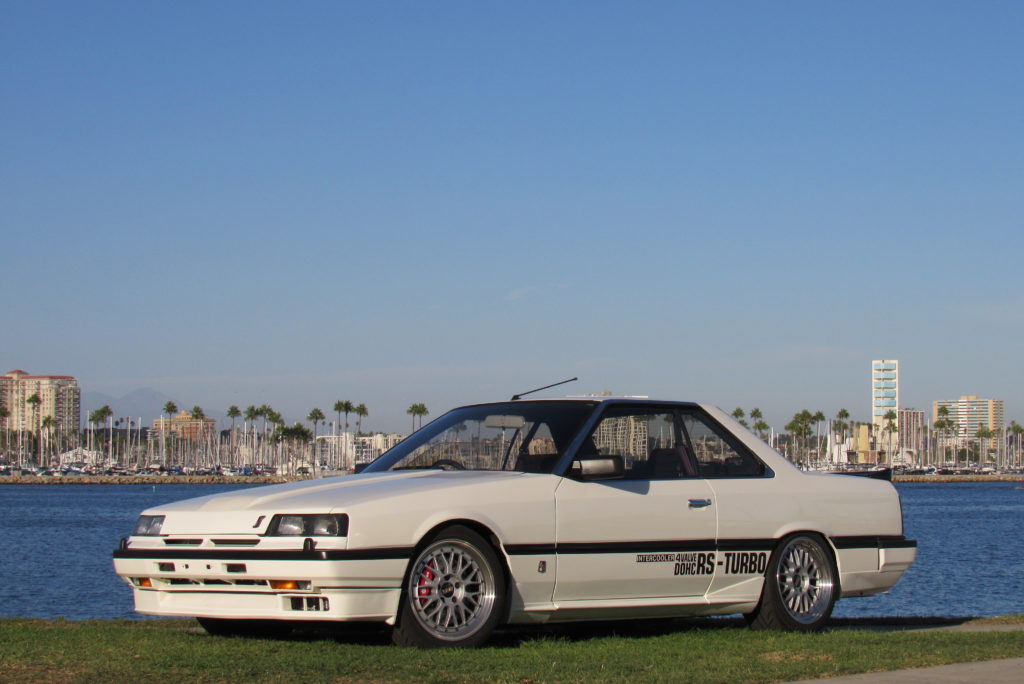 Eric Straw is a long time friend of the shop and hails from Oregon. Last year he visited Z Car Garage on the way down to the JCCS show where he debuted his latest masterpiece, this 1984 Nissan Skyline RS-X. Most Americans are familiar with the classic 70's Skylines and later GT-R series, but this 6th generation (R30) chassis remains unknown unless you are a JDM-nerd. In Japan the R30 sold well and had a great following with Nissan enlisting the famous actor/racer Paul Newman to appear in ad campaigns. The R30 also formed the basis for the insanely cool SuperSilhouette race car: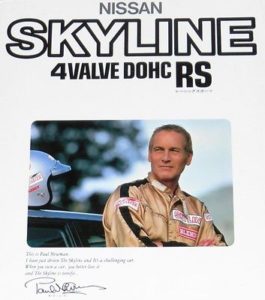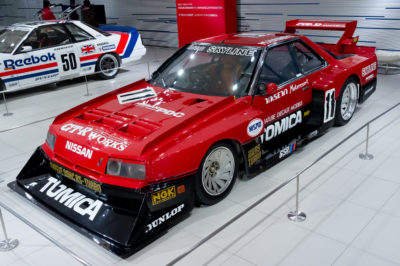 The details of Eric's R30 are endless. I don't want to reveal too much as it deserves a major media feature first. It would be easy to write thousands, if not ten thousand words about the character, the touches, and the simple uniqueness that make the "Straw30" one of a kind. Where I fall short of storytelling, I hope photos suffice.
To get an appreciation of Eric's talent as a fabricator and his build aesthetic take a quick look at his other Datsuns, a 1969 Datsun Roadster and 1971 Datsun 510: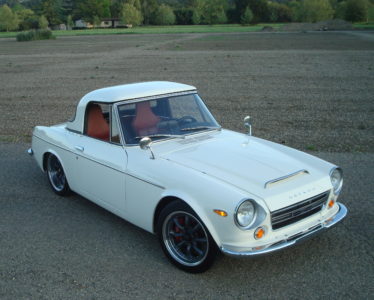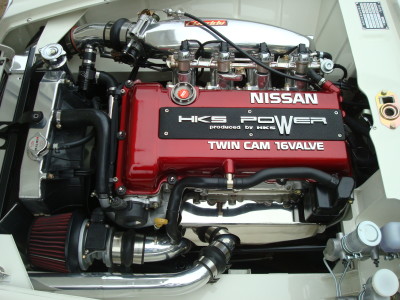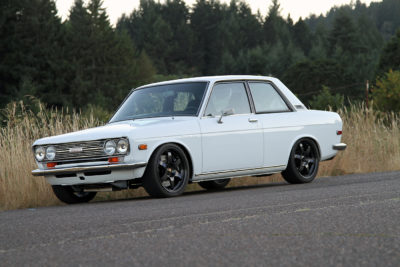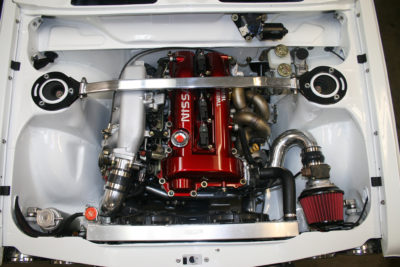 Both deserve their own feature but can you see a theme starting to build here? Eric has a penchant for white paint and red valve covers…and turbocharged Nissan powerplants!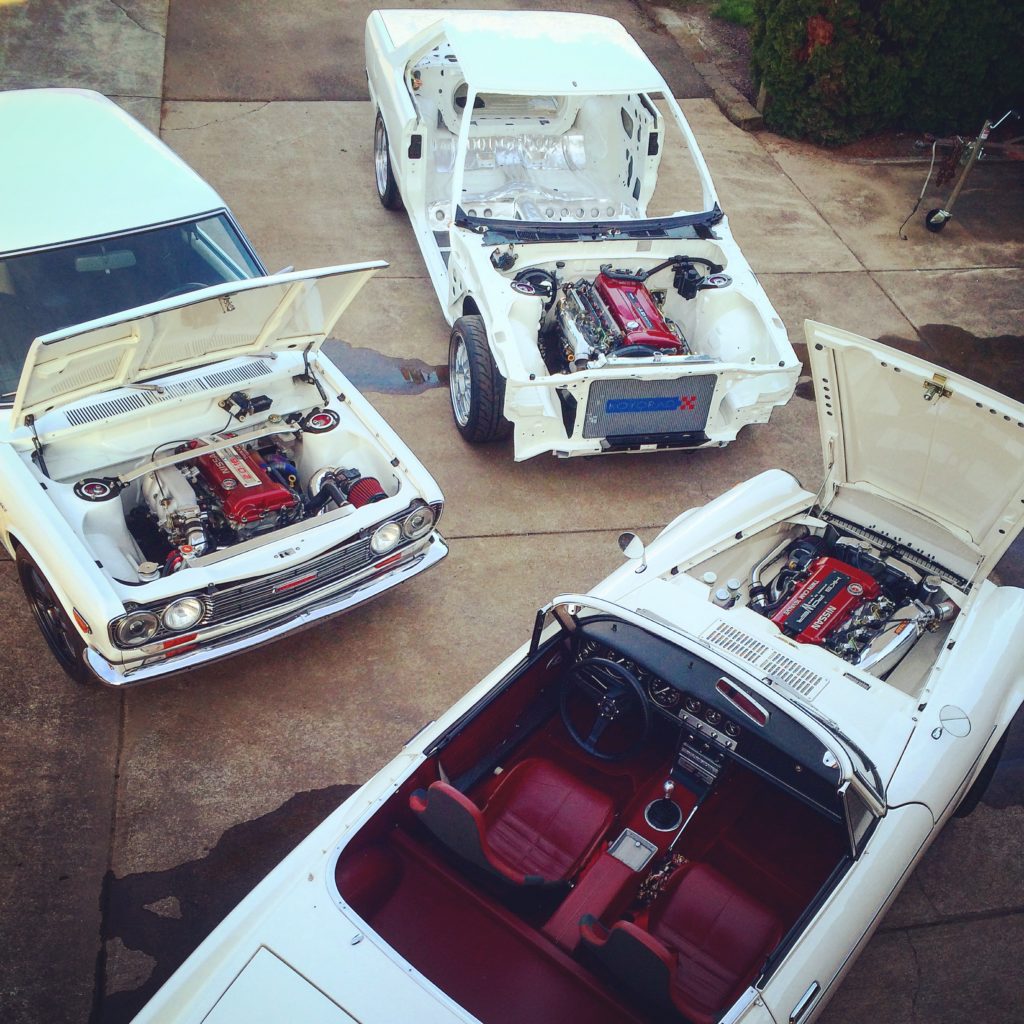 Finding A Skyline
It all started with an ad spotted on our good friend's site, Bring A Trailer for a 1984 Skyline without an engine. This appeared to be the perfect specimen with the distinctive Tekkamen or "Iron Mask" front end compared to pre-facelift models with a conventional grille. Fellow Datsun enthusiast/restorer Michael Spreadbury of Spriso Motorsports joined Eric on the trek to Washington to pick up the R30.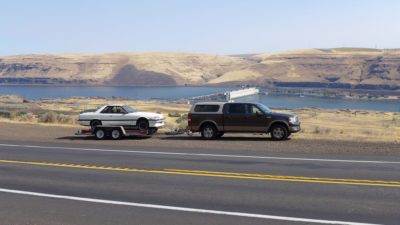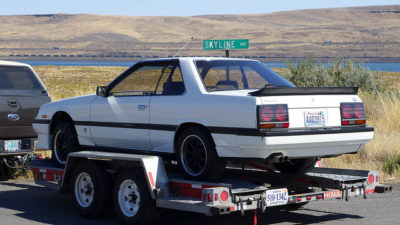 As with most of these vintage Japanese cars, rust was a hidden issue as Eric discovered:
"When I first saw the car I wanted to make a really fun driver with lots of power and for sure RB powered. I didn't plan on restoring the body when I bought it. After digging in, it was obvious I had to do a complete restoration as there was a lot of rust."
Chassis restoration
What begun as an engine swap turned into a full blown bare metal restoration. Eric's work simply goes beyond an OEM restoration. There are so many areas of custom fabrication throughout the chassis. We simply have not seen this level of care and love executed on an R30.  Here is Eric putting in work: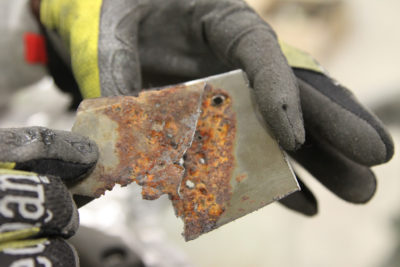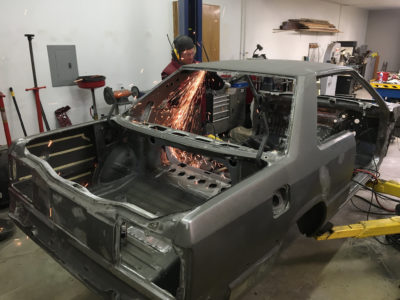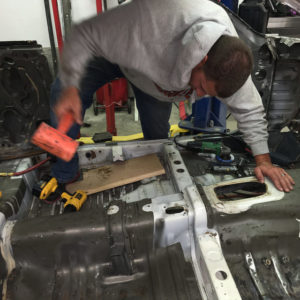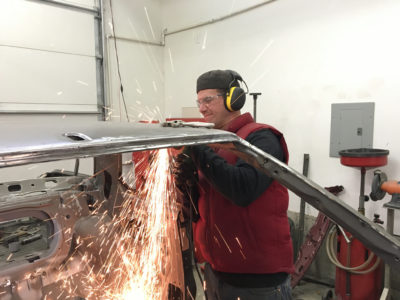 In anticipation of big power from the RB26 the chassis received strengthening/bracing in key areas.  All in addition to rust repair that had been fiberglassed over. Shown below are full length frame rails from an Infiniti M30, floor bracing with new seat mounts, reinforced (front) frame rails and A-pillar bracing: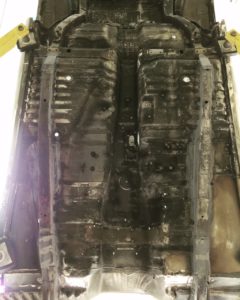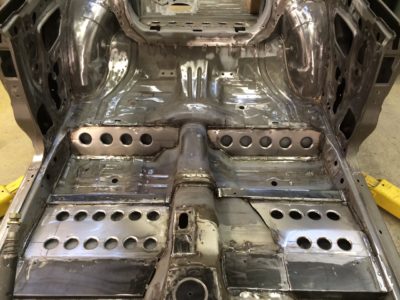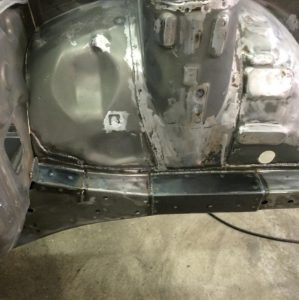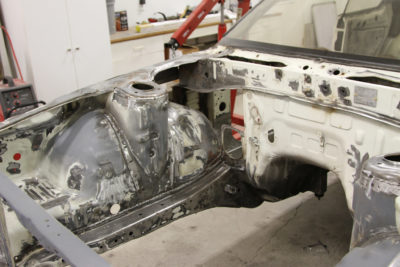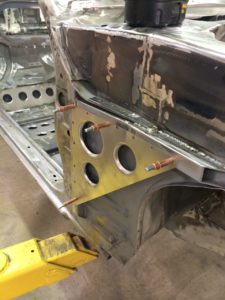 After the entire chassis was prepped by Eric what color do you think he painted it? Nissan 002 White paint, of course!  This choice is a nice departure from the common red/gray over black two-tone R30 schemes. The body was adorned with a plethora of NOS trim from OEM glass to tail light assemblies.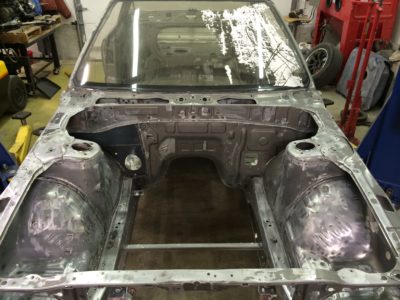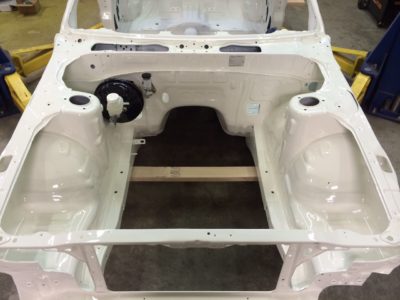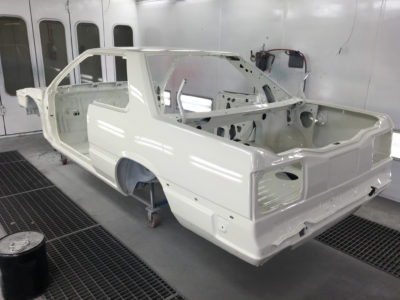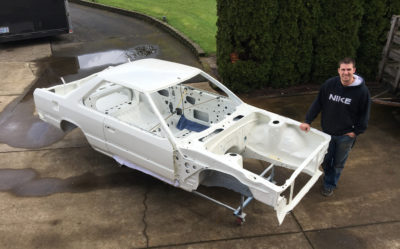 Suspension
Also in preparation for higher-than-stock power levels, the fortified chassis received a thorough suspension upgrade to S13/S14 Nissan spec.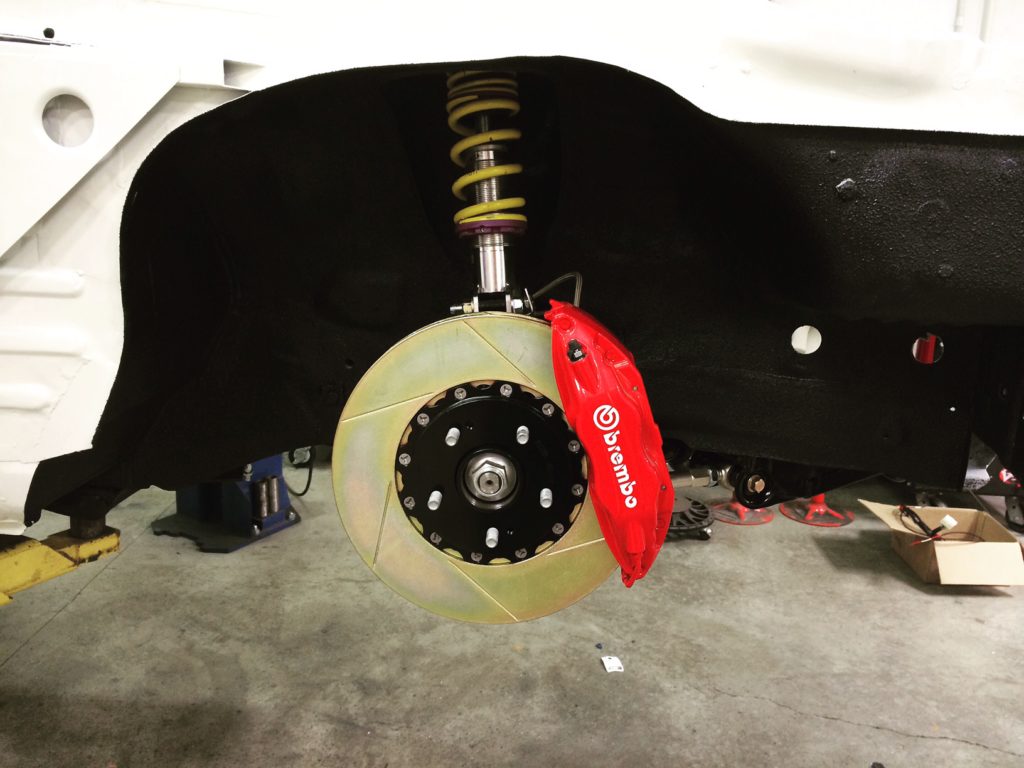 Up front: "I went with the s13 rack as it was easy to get parts in the USA. The crossmember is Skyline R33 that is heavily modified for the RB26."  KW coil-overs and big Brembo calipers at all four corners replace stock units.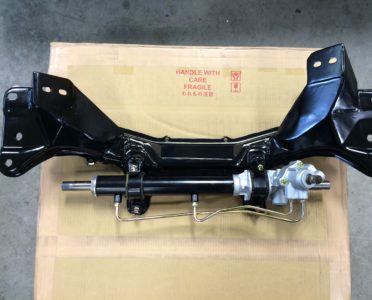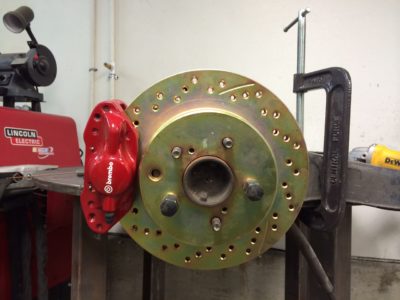 In the rear, Eric prepped the crossmember with custom brackets for the trailing arms and the whole assembly was powdercoated. New, stronger CV axles deliver power through the longnose R200 diff with finned aluminum cover: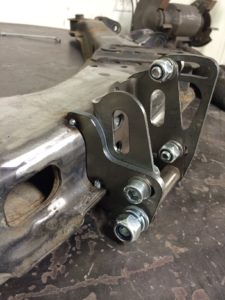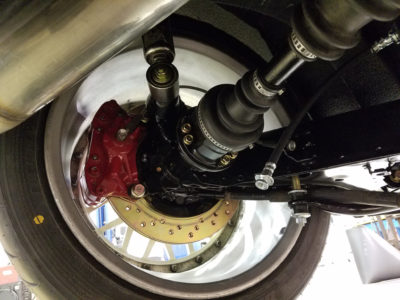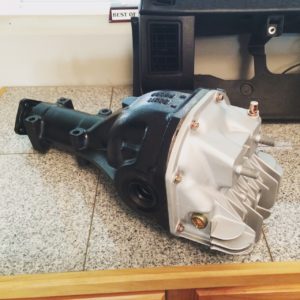 Along with every nut/bolt being zinc plated the underbody looks incredible: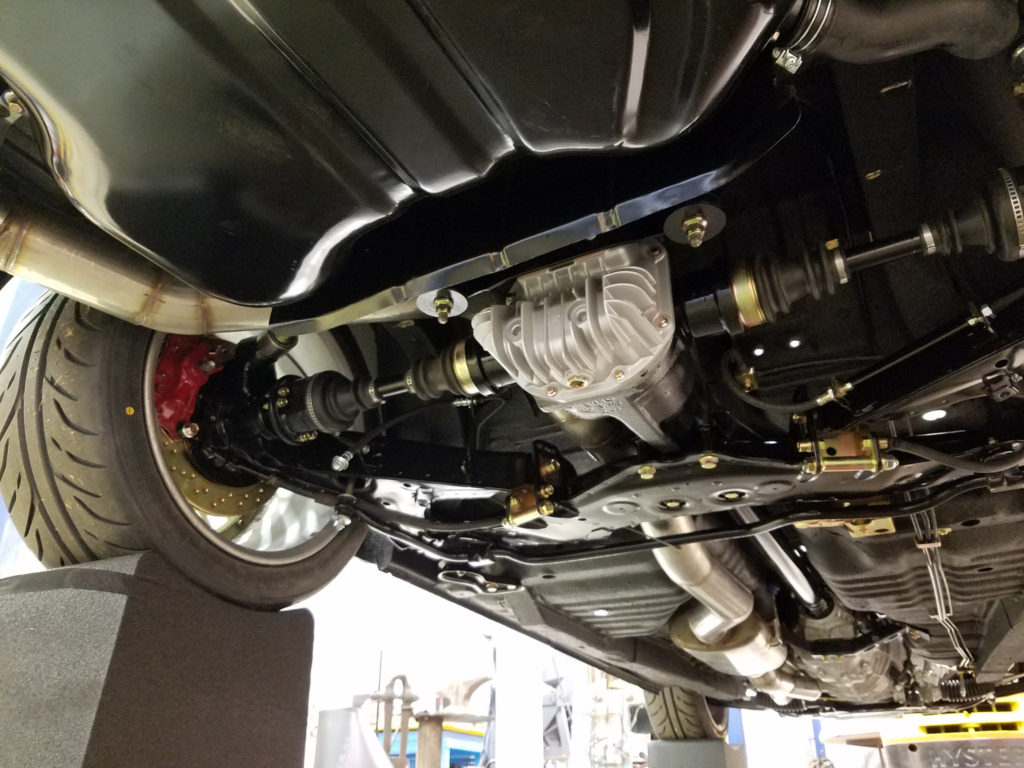 Wheels can make or break the visual impact of a car and Eric chose wisely. BBS LMs sized 17×8 and 17×9 frame the Brembo calipers nicely and fill the stock fender flares. No white tire sticker'd R888s or all-season tires here, Dunlop Star Specs put power to the ground.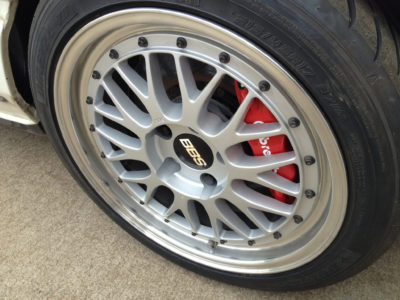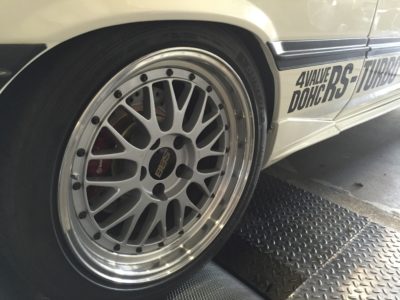 Godzilla's Engine: The RB26DETT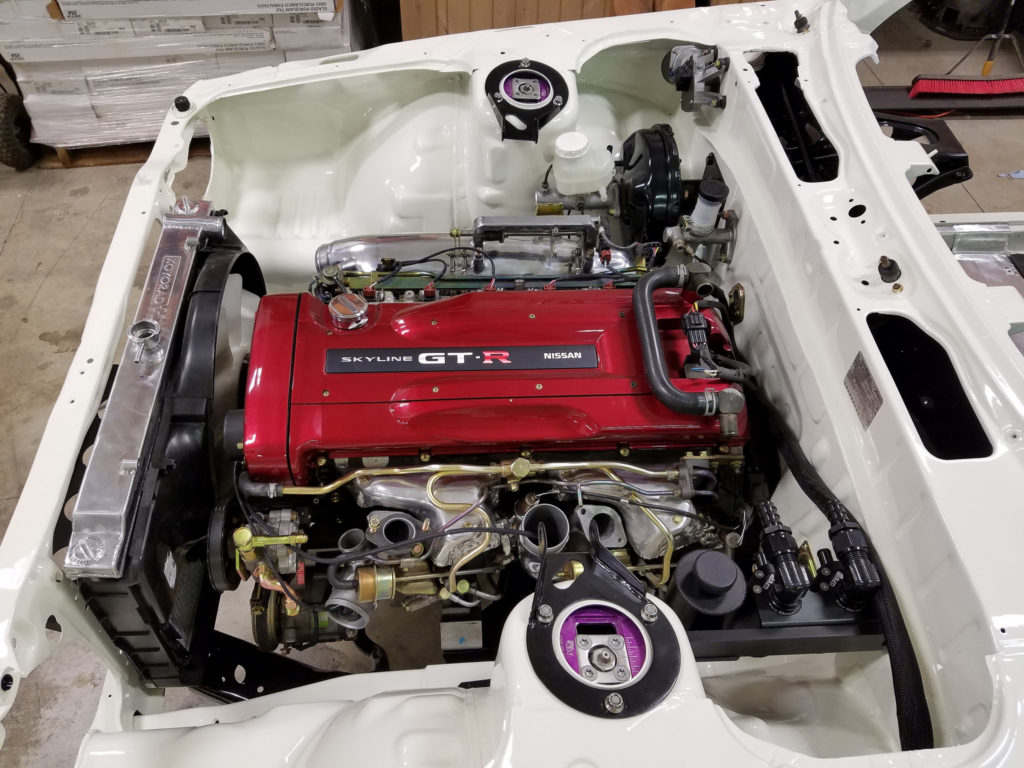 The R30 came with several engine options from Nissan and we have seen everything from L-series, FJ's and SR's but for Eric only one drivetrain would do:
"I picked the RB26 because of a few reasons. Everyone kept saying just do a Rb25 as it is cheaper and much easier and I wanted the challenge. I personally feel it is one the prettiest engines produced and I loved the fact is had twin turbos, ITB."
What better way to celebrate the excess of the 80's than the most revered engine from Nissan!  Eric began the engine swap process, from mounting to wiring all performed in his garage. The finished driveline installation looks seamless and OEM: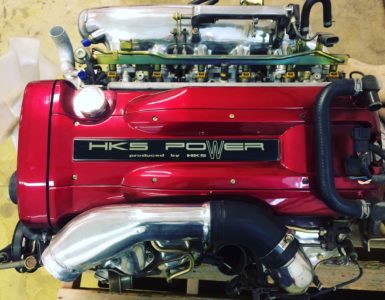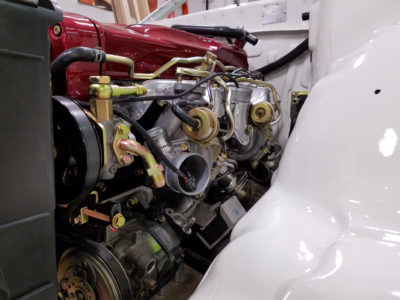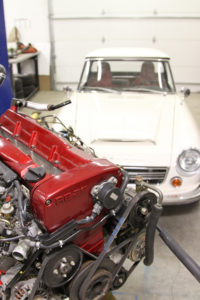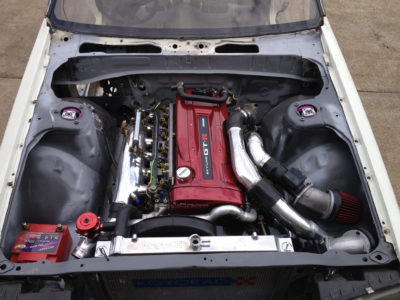 An Interior Made in the 80's
Chassis and drivetrain are not the only highlights of the Straw30. Open the door and prepare to be transported back in time!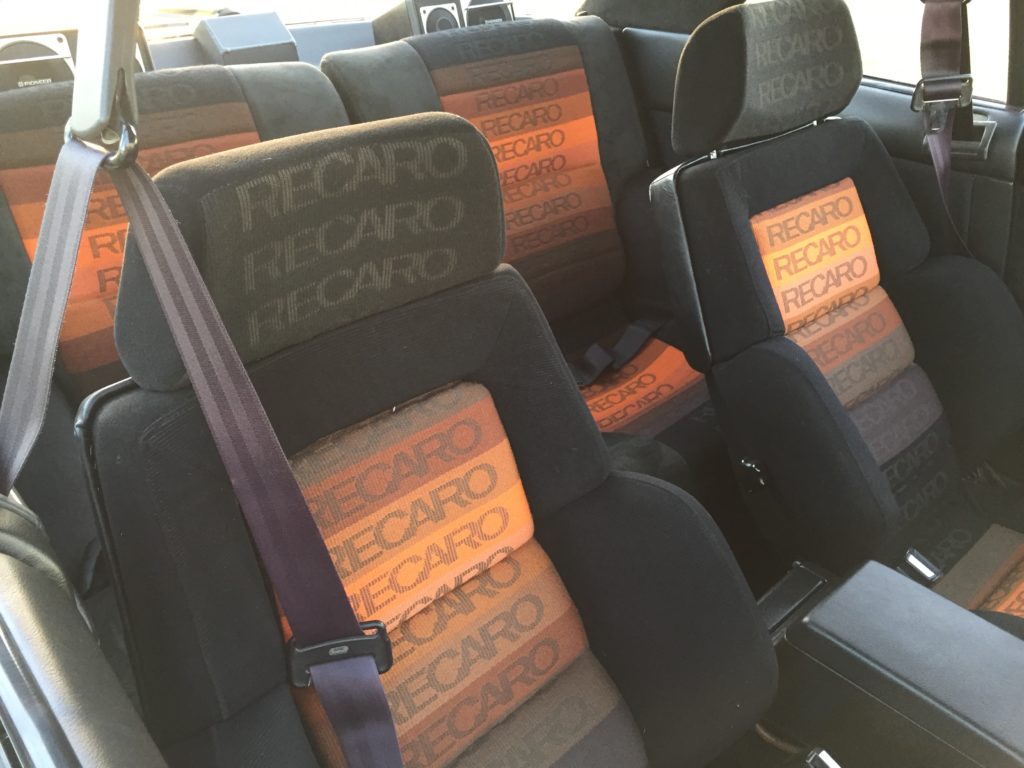 Full sound deadening/insulation for the interior before dash assembly goes in. Eric is fond of the custom gauge assembly utilizing Speedhut units integrated in OEM fashion. They look great at night as well: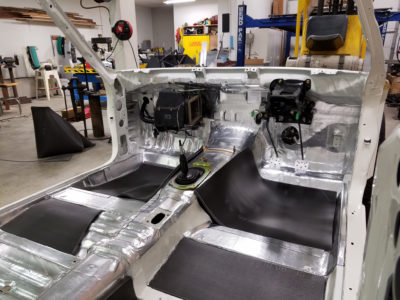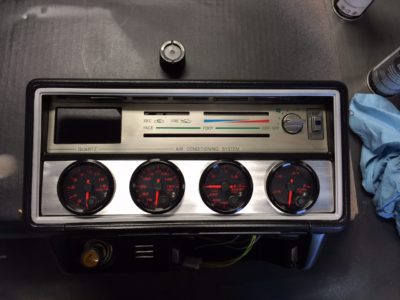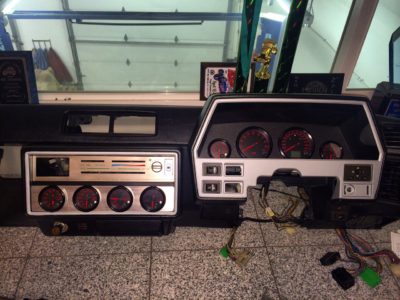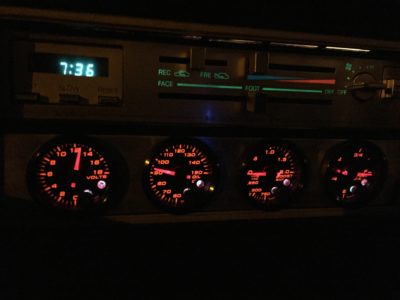 My favorite part of the interior has to be the Orange Spectrum Recaro Ideal seats. Eric scored some NOS fabric and covered the rear seats to match. These units are powered and heated!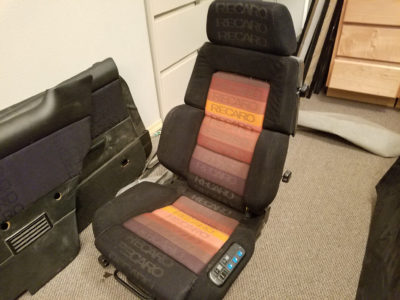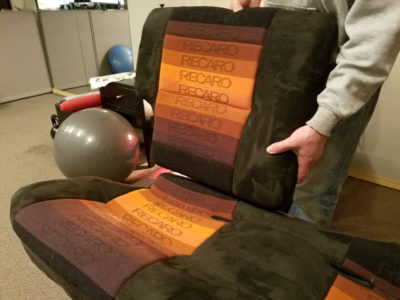 It's All in the Details
Deciding where to start when it comes to dissecting the intricacies of such a build is near impossible. Things like the shaved engine bay and hydraulic plumbing may go unnoticed to some and appreciated by others, while the Brembo brakes and the Recaros are sure to leave enthusiasts both drooling and perplexed.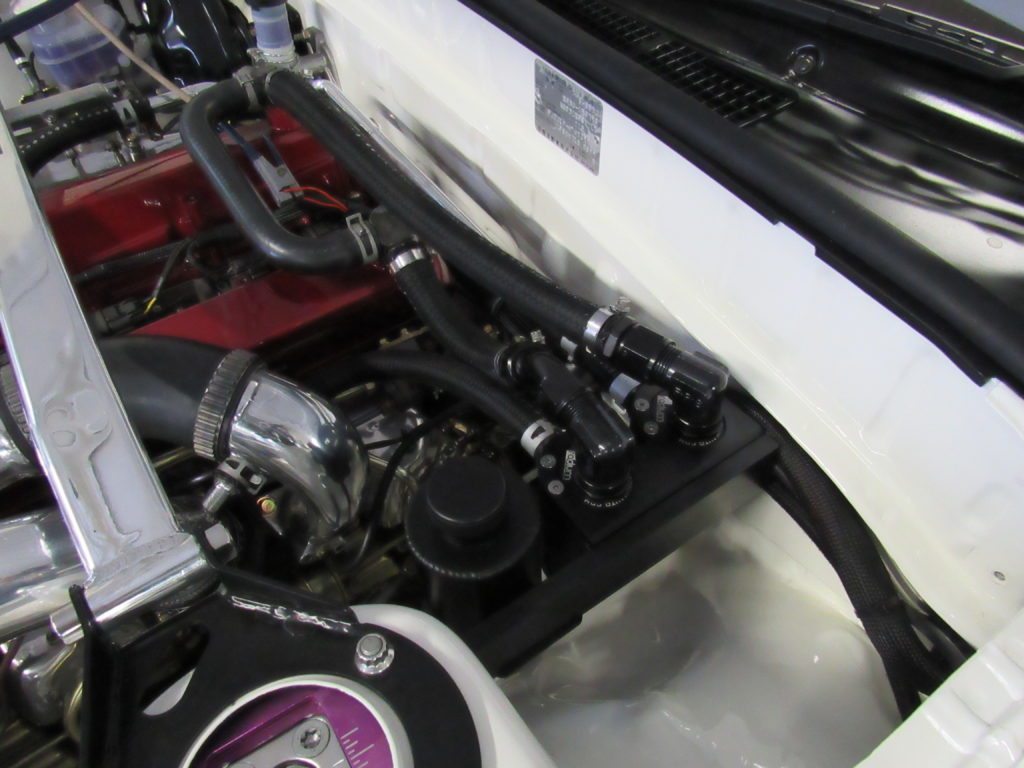 The fabricated bracket for power steering/Radium Engineering catch cans and the fabricated coolant overflow are all touches of perfection, and surely set the benchmark for many J-Tin builds.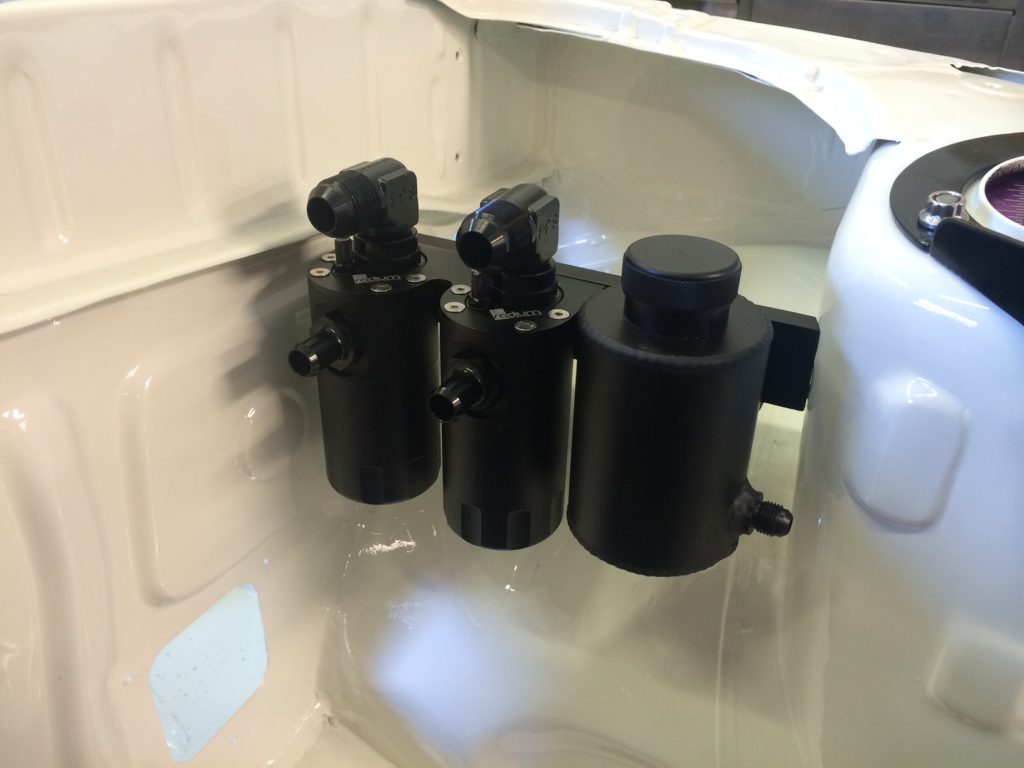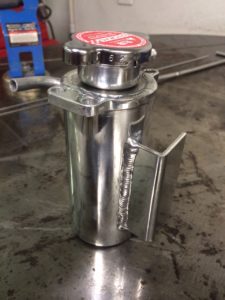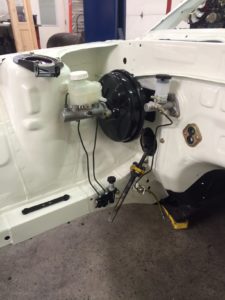 And then there's the exhaust system.
"It is hard to say one thing but the packaging would be what I'm so proud of. Twin turbos and 3.5″ stainless exhaust was challenging. I learned so much on this project from a sheet metal and fabrication side."
Constructed entirely of stainless by the masterful hands of Eric Straw. It's a 2.75″ to 3.5″ work of art: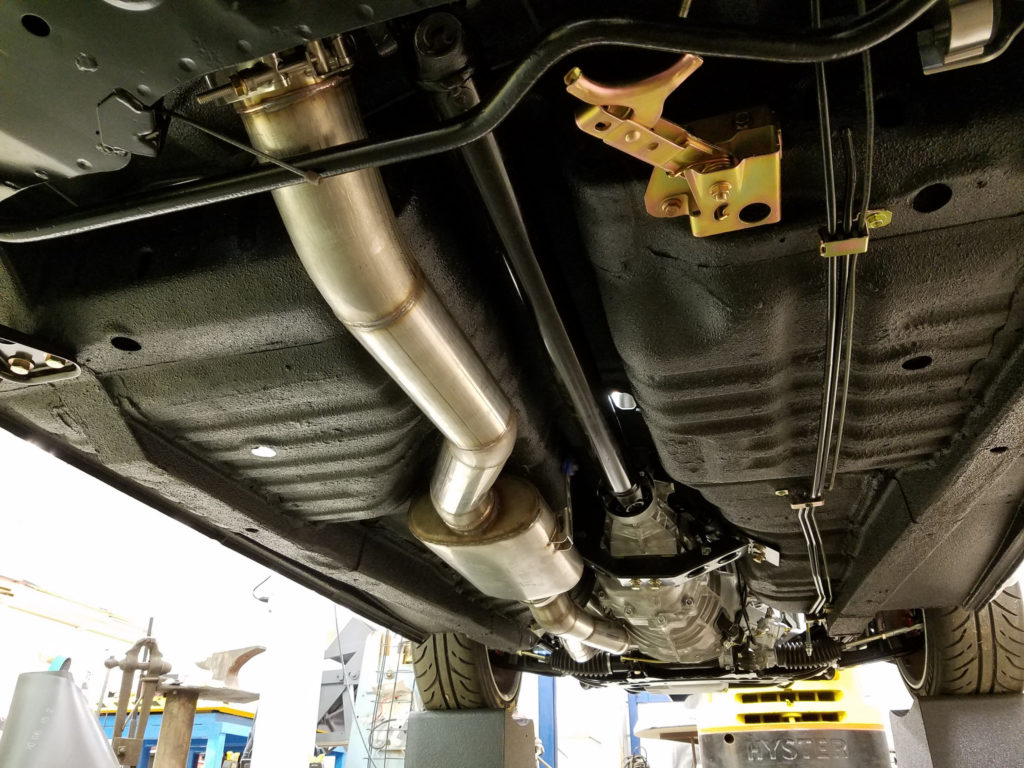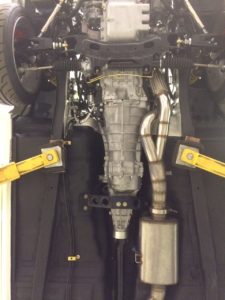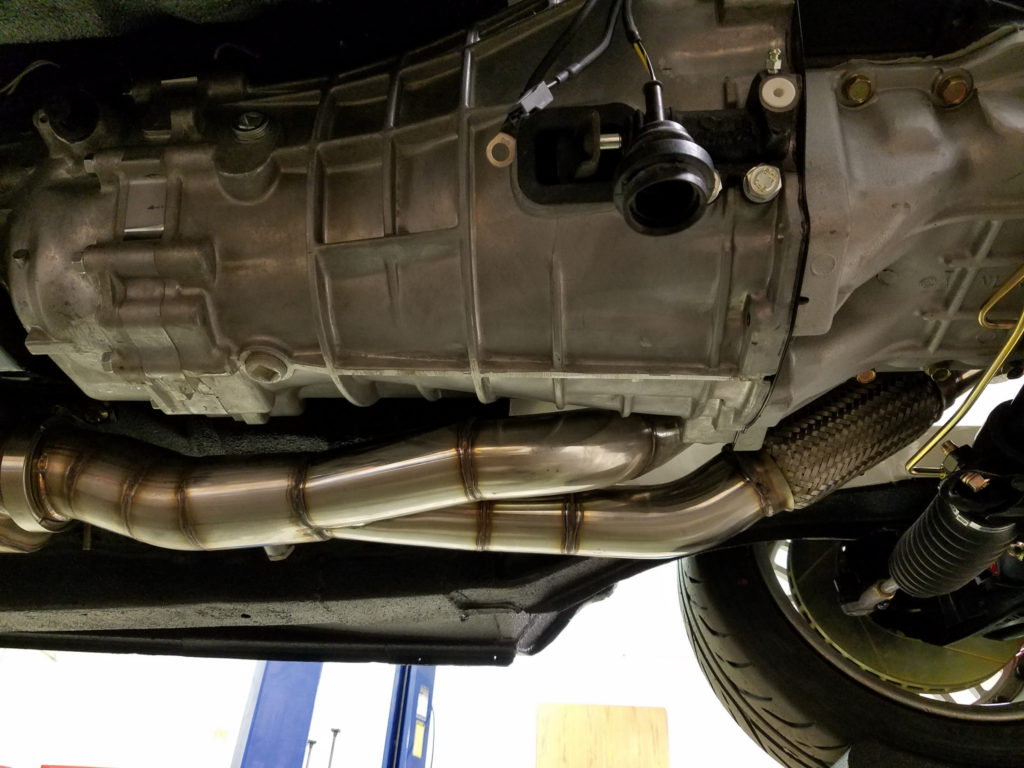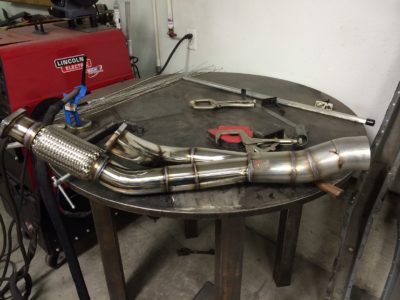 One of the more thoughtful (practical) details Eric thought of was a novel spare tire solution. He needed a spare that would fit in the trunk and clear the big brakes. Turns out an '07 STi Subaru satisfies both requirements. The R30 with its huge trunk/pass through makes a willing ski trip partner: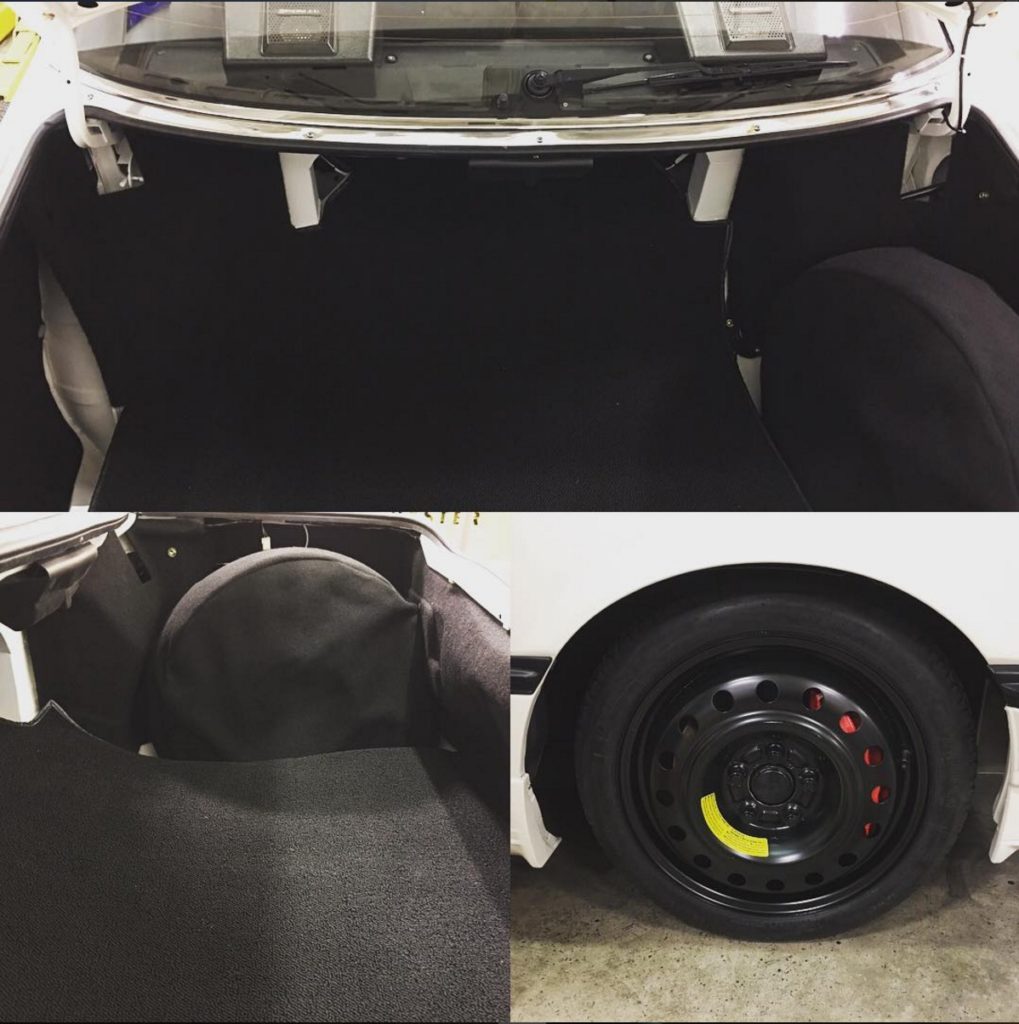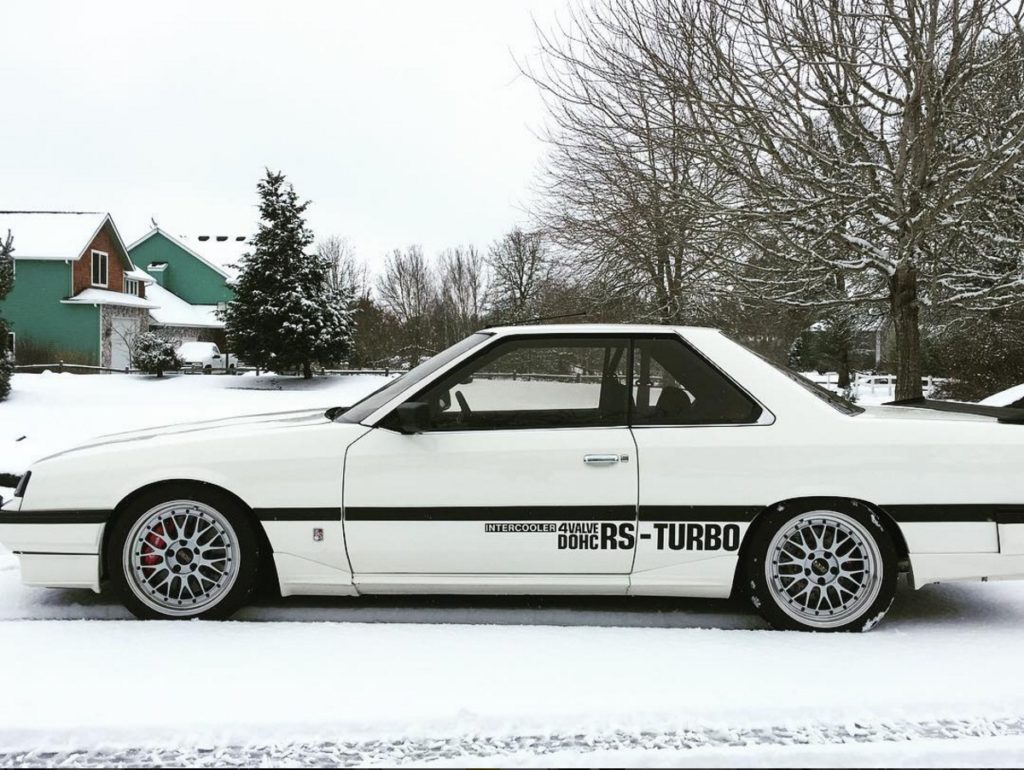 Simply 80's
Considering all the painstaking work and bright, shiny newness Eric's DR30 flies under the radar. It's quite the wallflower. The windows are completely devoid of stickers or loud visual cues that scream "I'm JDM!" There are no tire stickers.  He doesn't have a "team" banner across his windshield. In an era chock full of crazy wheel offsets, mega-wide fender flares, vinyl-wrap livery schemes, and every conceivable nicknack fixed to the front and rear of most builds this is a breath of fresh air.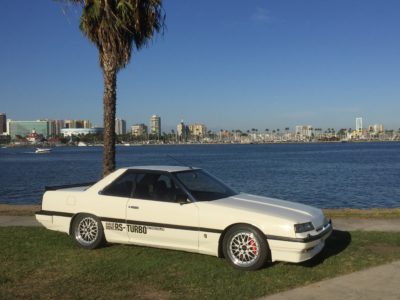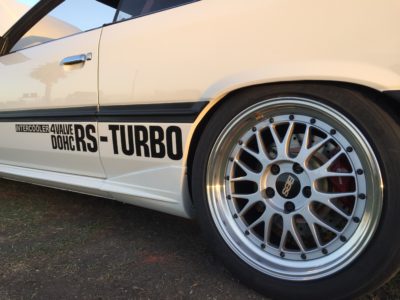 Now behold the R30 in all its boxy, angular, wedgy 80's glory!
I snapped these pictures at the 2016 JCCS show where the R30 was loved by many attendees. At its debut Eric won two awards: The coveted JNC award and Best Skyline (2nd place)! It also caught the eye of Speedhunters: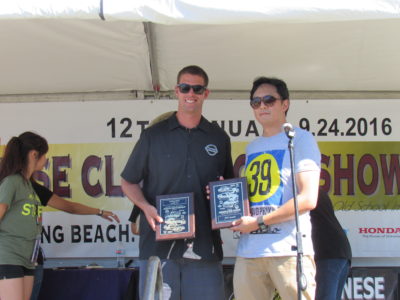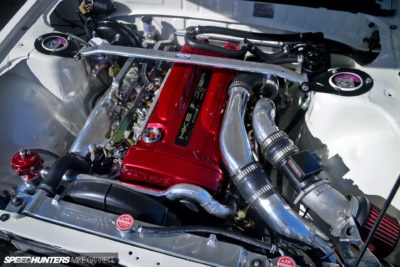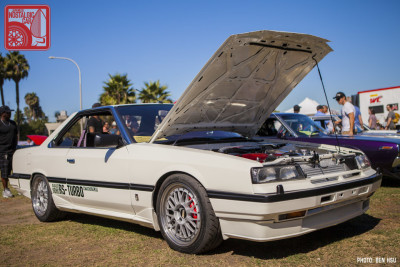 Tuning The Beast
So what's next for Eric and the Straw30? If you can recall, Eric stopped by the shop last year and we put the Skyline on the dyno. It made an impressive 462hp/348tq to the wheels with stock turbos:
"The only plans I have for it at this point is a pair of GT2860R, new injectors (13000cc) and Haltech Platinum Pro Tuning by Z Car Garage in spring"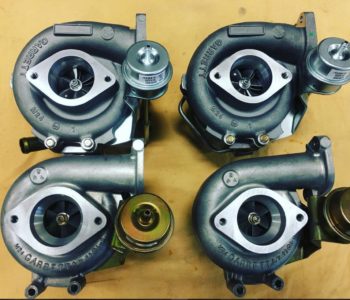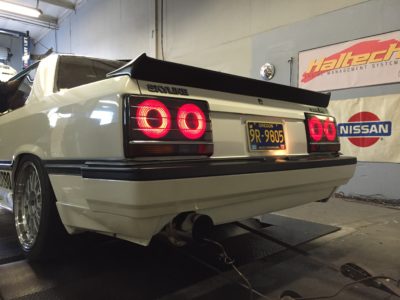 That's right, we are super stoked to see Eric in just a few weeks as he brings the R30 back to ZCG for a Haltech tuning session. You can bet I will be there to capture video. Eric we are humbled by your skills and determination. Your craftsmanship inspires us all!
*Eric thanks Michael Spreadbury as a mentor and builder*