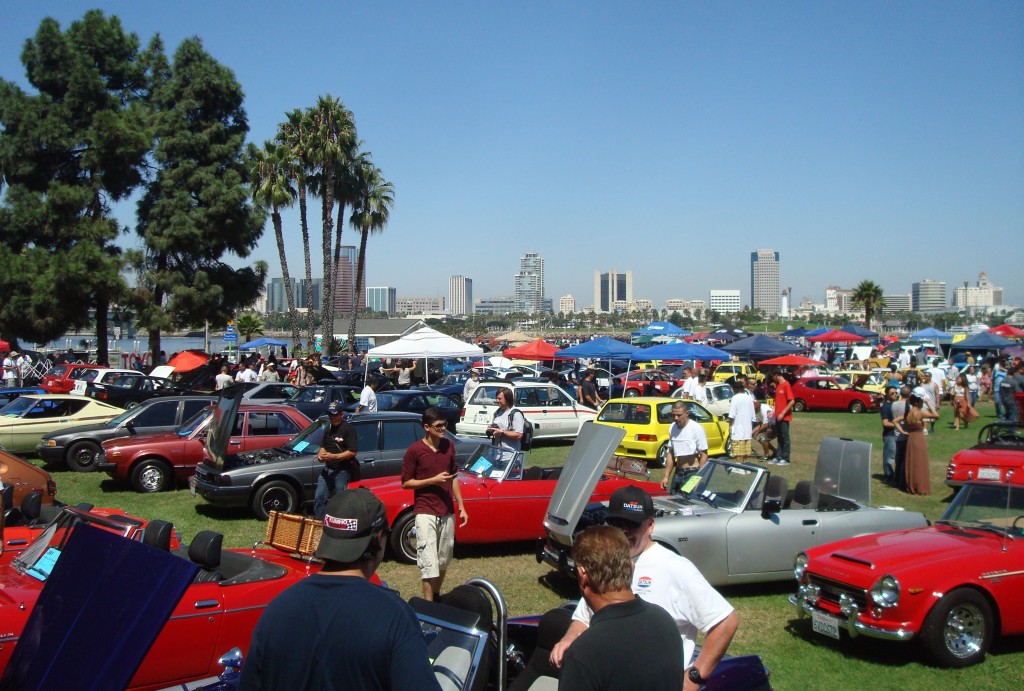 The 2012 Japanese Classic Car Show (JCCS) was a J-tin fan's dream come true with hundreds of vintage cars displayed near the Queen Mary in Long Beach, CA. We left San Jose Friday am and enjoyed the 400-mile roadtrip in our Datsuns. Rob drove the
'67.5 Datsun 2000 Roadster
, I drove my 67.5 roadster, and Lou drove his
RHD Fairlady Z
: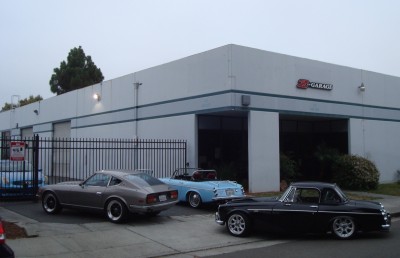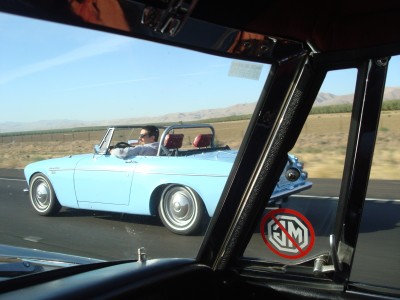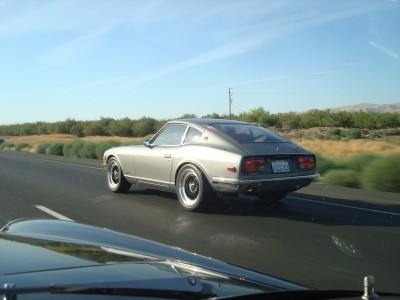 100+ degree temps tested our physical and mental capacities but all three vintage Datsuns barely protested even in heavy Los Angeles traffic.  This year's JCCS show featured Japanese cars from Toyota, Subaru, Datsun, Mitsubishi, Honda, and even some Dodge/Chrysler imports. The sweltering heat did not keep folks from enjoying both the grass and parking lot displays and there were so many vehicles it was easy to overlook some real gems. Check out the gallery for pictures, here are a few highlights from Datsun point-of-view… The Datsun Roadster community had a strong showing with 18+ cars, most from Socal with a few cars from the Bay Area as well. These owners love their cars and have all flavors from bone-stock to heavily-modified.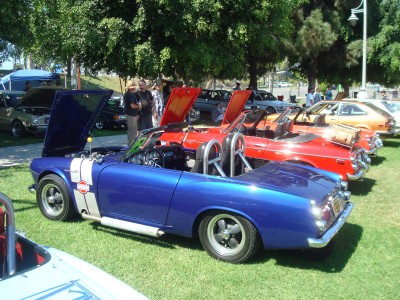 Gary W. has restored several roadsters and his current project is resurrecting this extremely rare, factory "lightweight" racer:
The Z-car showing was extensive with the S130 cars now being included. My favorite Z was Rob B's turbocharged 280z. The deep, perfectly applied silver paint and crazy details in the engine bay made everyone drool and take a second look: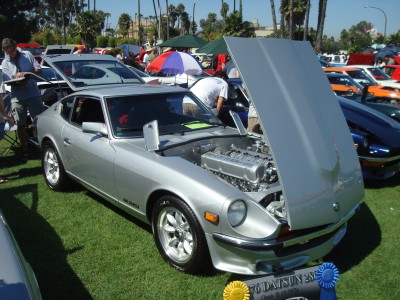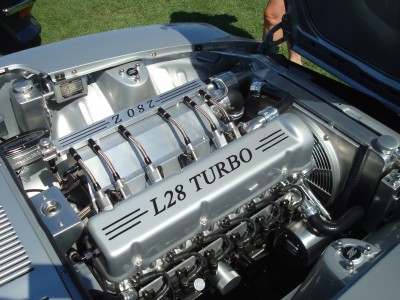 Z's everywhere! From triple-carb'd L-series to, V8,  RB and even SR20 drivetrains: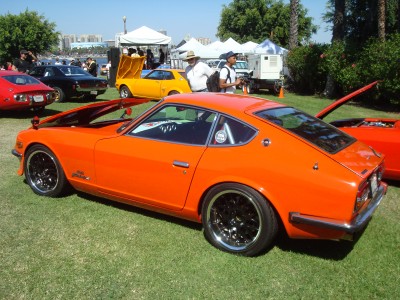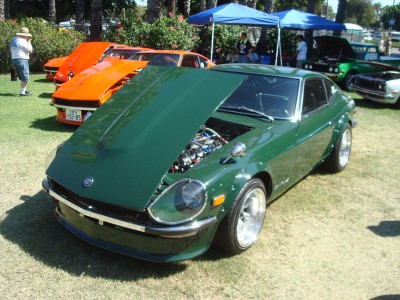 A large gathering of Skylines from C10/110s to the 2013 GT-R was a real treat:
JCCS is also a wheel-lover's candy store. Deep dish, negative offset, shiny, dull, new, vintage, repros, etc. it's all there. Enkei display its newest reproduction wheel on Patrick N's 1973 TE27 Corolla….ridges are good!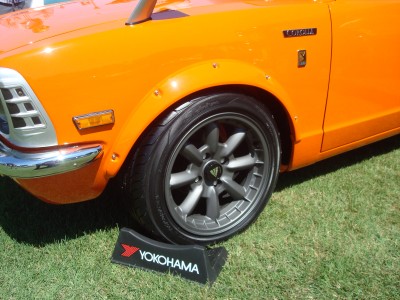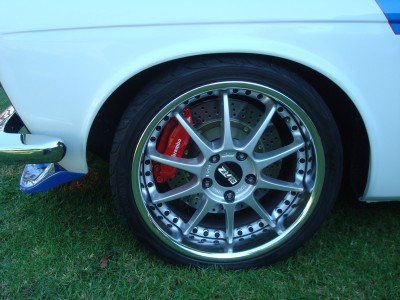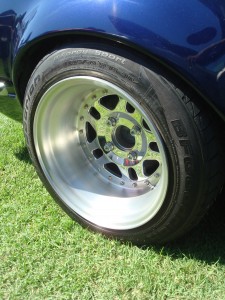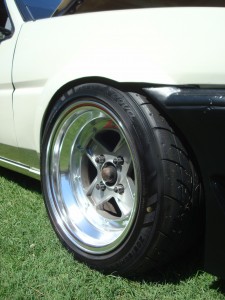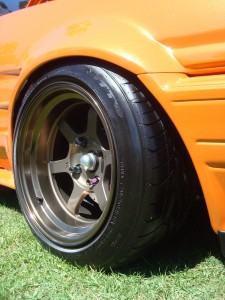 My "wildest-JDM" goes to this Toyota Hilux with a boosted JZ drivetrain, full tube-frame chassis, Project MU brakes and TE37V wheels. Ok, I will also award this Corolla with a crazy supercharged V8 and massive flares:
More engine swap madness…I heard both of these V8-powered cars while parking and I immediately assumed GM LSx drivetrains underhood but I was wrong…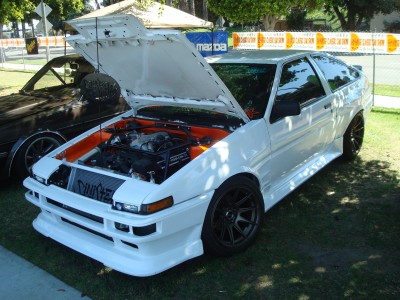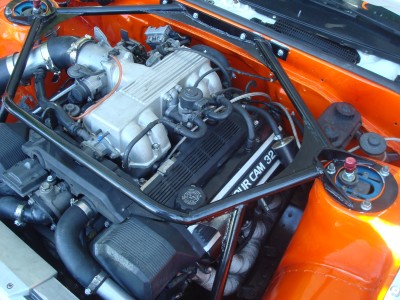 Both AE86 and Starion had Toyota V8s!
Super sano S2000 swap in this AE86 goes over the top with a hair dryer and equal length exhaust manifold: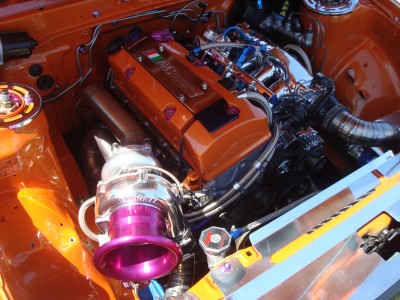 JCCS also invited special guests from the motorsports and celebrity world. Datsun Hero John Morton, Skyline ad celebrity Mary (Diane Krey), and Hot Wheels designer Jun Imai all braved the heat and crowds for fans.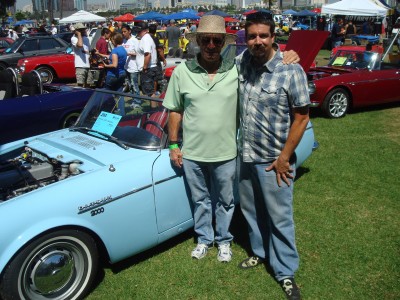 Thanks to the JCCS organizers for putting on another great event! See you in 2013!
Don't forget to see pictures from the rest of the show below!